Meal planning is tough work for most of the moms I know. I could easily spend several hours a week thinking of ideas, searching for new recipes on Pinterest, making a grocery list and shopping. Two ways that I have drastically cut down on the time it takes to meal plan is by having a set meal rhythm each week and a master list of meals.
I've followed a meal planning rhythm for several years after reading Simplicity Parenting and combining the meal rhythm with a master list takes the guesswork out of menu planning and makes it a simple task instead of a daunting one.
Meal Rhythm
Rhythm is an important concept of the Waldorf educational philosophy. It is said that rhythm is life, rhythm is strength, rhythm can carry you. Having rhythm in a home allows for a peaceful flow from one task to the next, from one week to another because everyone in the home knows what to expect. Having a meal rhythm simplifies meal planning and serves as a foundation for our family to gather around the dinner  table in a deeply grounding way.
The concept of a meal rhythm is simple: designate a theme for each night of the week. In theory, there's no wondering what to cook and nobody complains about what they're eating. I'd say for the most part, having a meal rhythm helps with those things but doesn't totally eliminate them. I started with a very strict meal rhythm, but it's changed through our different seasons of having more/less time to cook, food allergies, picky eaters, etc. Right now, we follow a loose meal rhythm of:
Mondays: Mexican
Tuesdays: Small Bites
Wednesday: Soup
Thursday: Italian
Friday: Pizza or Burgers
My weekend meals don't have a theme but they are usually either a super quick meal like a casserole that I can make ahead of time or something new or super involved that I would never dare to try during the week without help from my husband keeping the kids busy.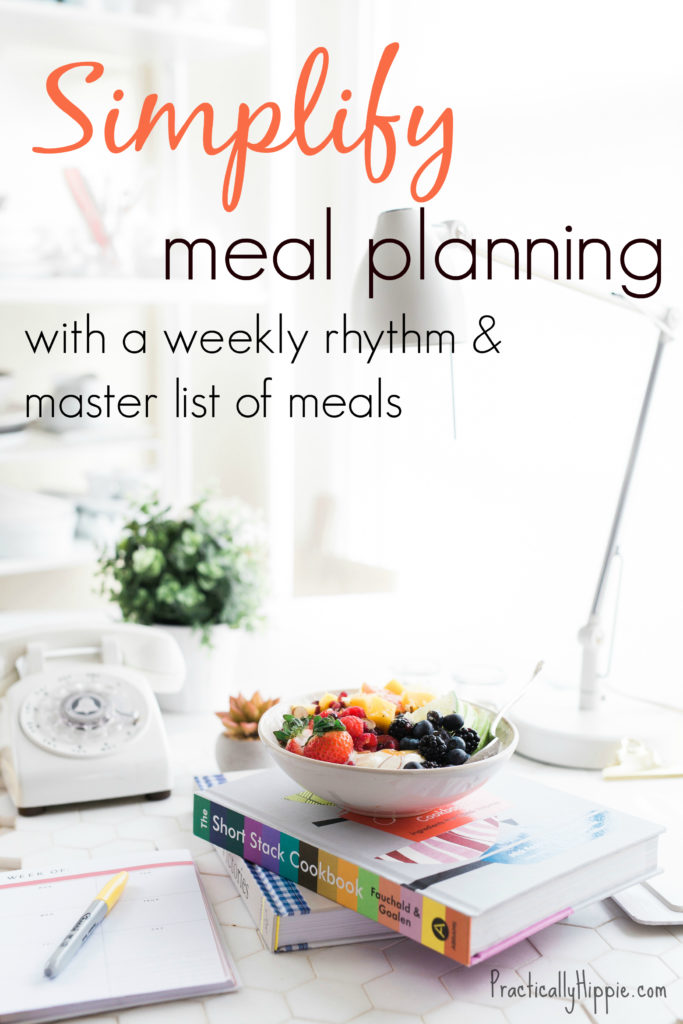 Making a Master List 
I love to cook, and I think I'm pretty good at it. I love cooking with new ingredients or using them in new ways and can usually whip up a decent meal with whatever I can find in my house. For me, the problem isn't that I can't cook, it's that I don't have time to cook. I have a 5 year old, a 2 year old and a 2 month old and 5 p.m. is basically when everyone is ready to melt down.
Weekday dinners are no time for experimenting with new recipes or trying to show off my culinary prowess. Weekday dinners are about having a healthy meal on the table when daddy gets home so that we can all enjoy each other's company for the limited time we have before bedtime.
My master list of meals is a list of tried and true recipes that I know my family enjoys, the kids will eat, fit our dietary needs and can be made mostly from staple ingredients we usually have on hand. They're foods we know, like and want to eat again and again. I am a creature of habit and like to serve the same sides with the same main dish to keep things even easier. There's no need to reinvent the wheel every time I serve a meal. We eat green beans with spaghetti. Every. Single. Time. And my kids will totally live!
I update our master list about every 3-4 months to reflect new recipes we like or changing tastes or the seasons. Like we probably won't be eating soup every week in the middle of August. Here's what is on my master list right now:
*Note: My 5 year old has a wheat allergy, I am currently mostly dairy free and we try to eat a diet of whole foods so I usually make up my own recipes based on our needs. When possible, I'll link to my inspiration recipes, just know that I probably put my own spin on it.
Mexican 
Small Bites
Soup
Italian/Pasta
Pizza/Burgers 
Weekend Meals 
I like to have about 40 meals on my master list so that I have plenty of options, but not too many so that it is overwhelming to choose. My master list may look totally different than your master list, but that's OK! It really should be personalized to suit the needs and tastes of your own family.

I hope you have a better idea of how a meal rhythm and a master list of meals can simplify your meal planning. Come follow me on Pinterest to see what new recipes I'm trying that may be added to the master list in the future. What are your tried and true family favorites? I'd love to hear what you're cooking! Share with me in a comment or on our Facebook page.