We've had a mostly plastic-free kitchen for several years, but finding sippy cups that aren't plastic and actually work is a tall order!
Three babies and countless sippy cups later, I've realized that there isn't one perfect cup. In my ideal world, babies start drinking out of an open cup at home around a year old. But for on the go, a sippy cup is a necessity.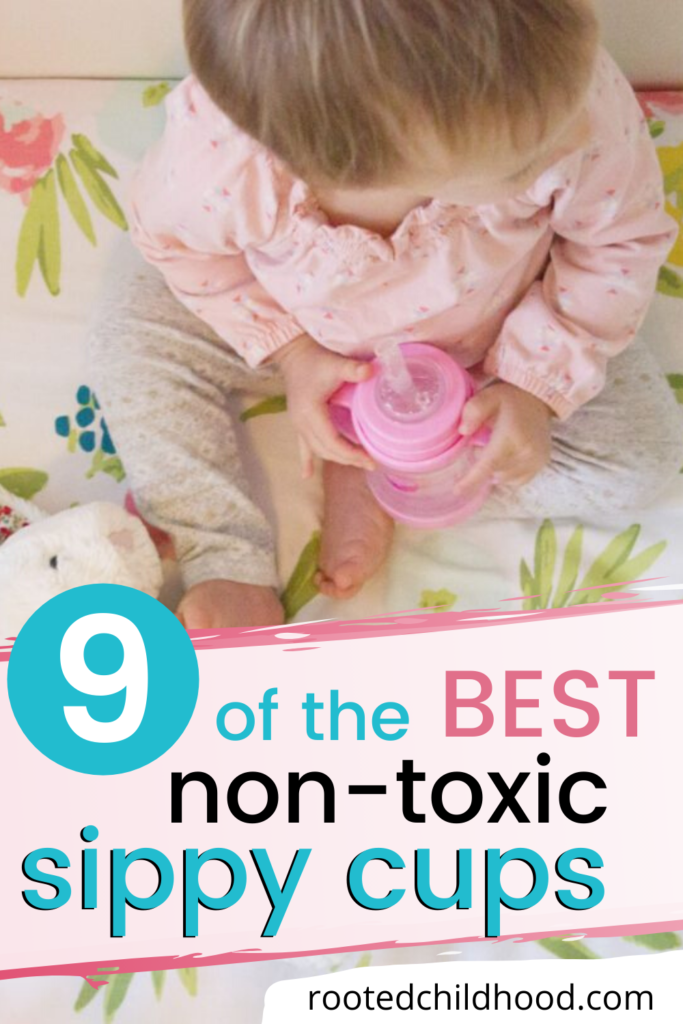 There are so many options when it comes to materials used for baby cups these days. BPA in plastics is a real concern.  We like to avoid all plastics that come in contact with our food- whether they have BPA or not.
I'm not a scientist, and I'm not going to pretend to have a bunch of research to back this up. I just use my mom common sense, and figure that water sits in a sippy cup all day and must absorb some of whatever it is sitting in.
I'm going to play it safe and look for the best non-toxic sippy cups.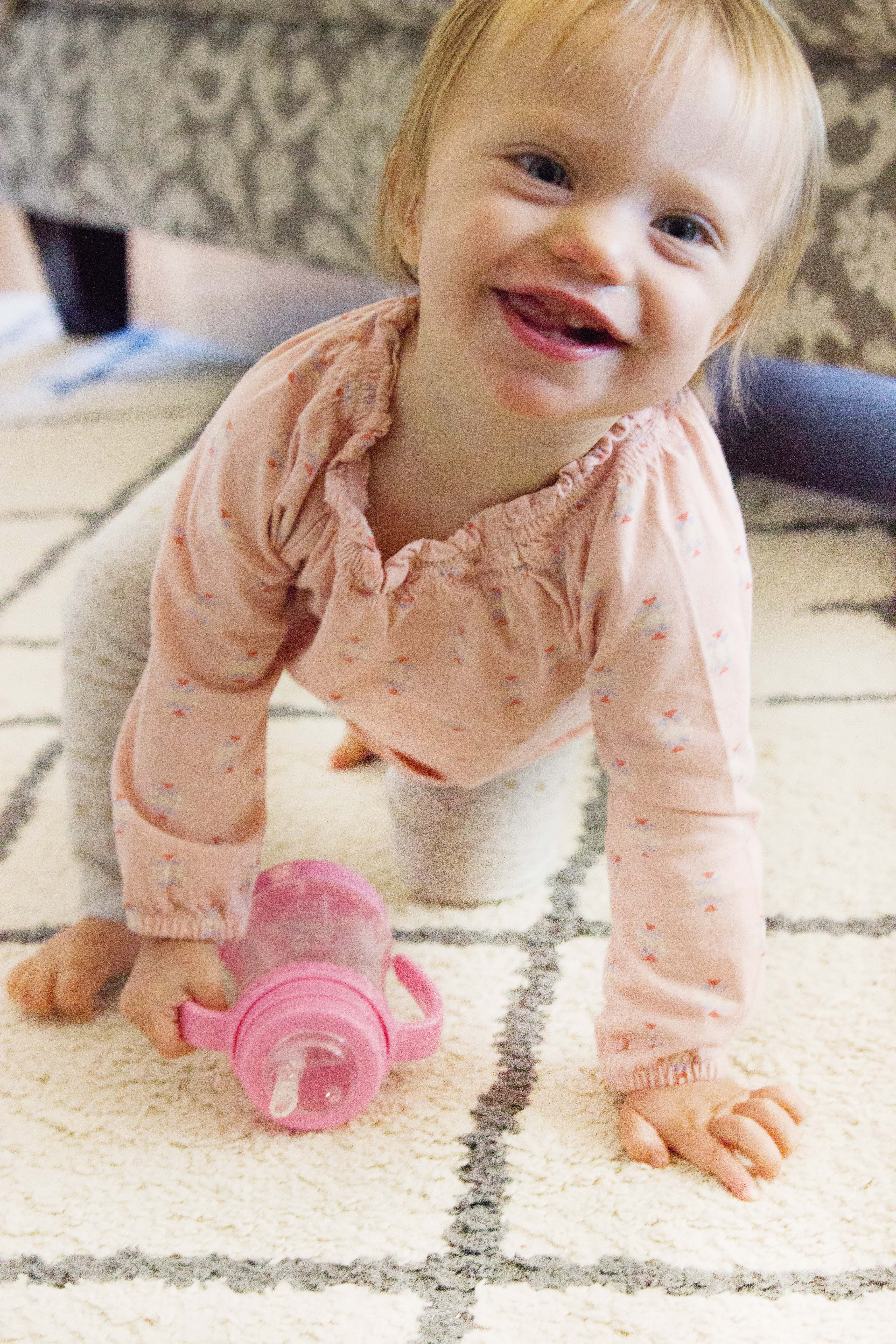 Considerations when choosing a sippy cup
I start using a sippy cup with my babies around 6 months old. At that age, they are tiny, clumsy, and just figuring out what to do with a cup. We skip the soft spout and go straight to a straw cup because it is so much better for their development.
A 6 month old with tiny hands can't grasp a big cup very well. That means ones with handles are better suited for younger babies. They also need a lighter weight cup that won't be too heavy to lift when filled with liquid.
Most babies like to throw things from time to time so finding one that is durable is a must. I also like to look for ones that are easy to clean in the dishwasher.
Favorite Non-Toxic Sippy Cups 
Green Sprouts Glass Sip 'N Straw Cup 
This cup is our current favorite, but it comes with a BIG disclaimer. I saw this cup and got excited because it has an internal glass container. The glass holds the liquid so that it isn't in contact with any of the plastic. It has handles, which make it easy for young babies to handle, and it's pretty lightweight. It also comes with a soft spout and a straw.
I didn't realize until after I got it that there was a big controversy because the measurement markings on the glass insert contain lead. What??? I work so hard to protect my family from lead and other toxic elements, and now I was handing it straight to my baby.
The markings are on the outside of the glass insert and inside the plastic housing. Technically the lead paint would never come into contact with the liquid or the baby under normal circumstances. But I was washing it in my dishwasher and handling it myself when assembling, and that was worrisome.
Thankfully, the company offers a lead-free replacement glass insert with no measurement markings free of charge upon request. Get your replacement insert HERE.
We used this stainless steel sippy cup with my oldest and it's a great non-toxic option. It has handles which would be great for younger babies, but it's a pretty big cup at 11oz. The stainless steel is protected from inevitable drops and bumps with a silicon sleeve. The silicon straw is short and easy to clean.
Munchkin Miracle Stainless Steel 360 Sippy Cup
I actually had the plastic version of this cup for a short time when I was just desperate for a cup that wouldn't leak. The 360 lid is some kind of magic. I wasn't sure my baby could figure it out but even at 6 months she had no problem drinking out of this lid. I wish they made it in the smaller size with handles for younger babies, but this is still a solid option.
THERMOS Foogo Vacuum Insulated Stainless Steel Straw Bottle
If you only buy one sippy cup, this would be my top choice. It's excellent for on the go because it doesn't leak. Ever! We've had some of these for 5+ years and they are still going strong. It doesn't have handles which means it isn't the best option for very young babies, but by 10-12 months, they can usually grasp it with two hands to drink.
You can find these at plenty of local stores, but I prefer to buy mine on Amazon and wait for a deal. They'll put certain colors/designs on sale quite often so I usually snag them for under $10 which is a steal!
Pura Kiki Stainless Steel Sippy Bottle 
Pura Kiki gets excellent reviews for being a totally plastic-free choice. It comes with a silicone soft spout and a straw option. It has internal marking for measuring, and the wide mouth and simple structure makes it easy to clean, which any mom can get excited about!
THERMOS Foogo Soft Spout Sippy Cup with Handles
We looooove our THERMOS Foogo straw cup so much so this one has to be a winner too. With handles and a soft silicone spout, I'm not sure you could find a more perfect starter cup for a baby. The vacuum insulation keeps liquids cold for hours which also makes it a great choice if you're using it for milk.
Kleen Kanteen Kid Kanteen Classic Sippy
Kleen Kanteen is a popular option for adults and kids alike. These cups last forever, and can take a beating. The lid *is* made from BPA-free plastic so this wouldn't be my top choice, but it's a popular cup so I wanted to include it.
We typically avoid plastic altogether, but BPA-free plastics are widely considered to be safe. Also, the liquid is not in constant contact with the plastic which makes this a much better choice compared to conventional plastic sippy cups.
Thinkbaby Thinkster Steel Bottle
This cups checks off a bunch of my requirements- stainless steel, handles, straw. It would be an excellent option for young babies just learning to drink from a cup. Some reviews mention the straw being damaged easily if chewed on, but non of my babies have ever been ones to chew on things.
Beyond the Sippy
Sippy cups definitely aren't a necessity, but they are so nice to have, especially on the go. I try to get my kids driving from open cups as soon as possible at home. By age 2, they are serving themselves water which makes it easier for me and so rewarding for them! 
At home, we use small glass juice cups from IKEA, but a stainless steel option like this would be great too if you're hesitant about glass. I know it's not technically a sippy, but a simple open cup is an open worthy of consideration even for babies under 12 months old. Just try it, and you might be amazed at what your little one can do!
Did I miss one of your favorites? I'd love to hear from you about what you're looking for natural baby products or some of your favorite brands! Be sure to follow me on Pinterest for more product round ups and natural baby posts!