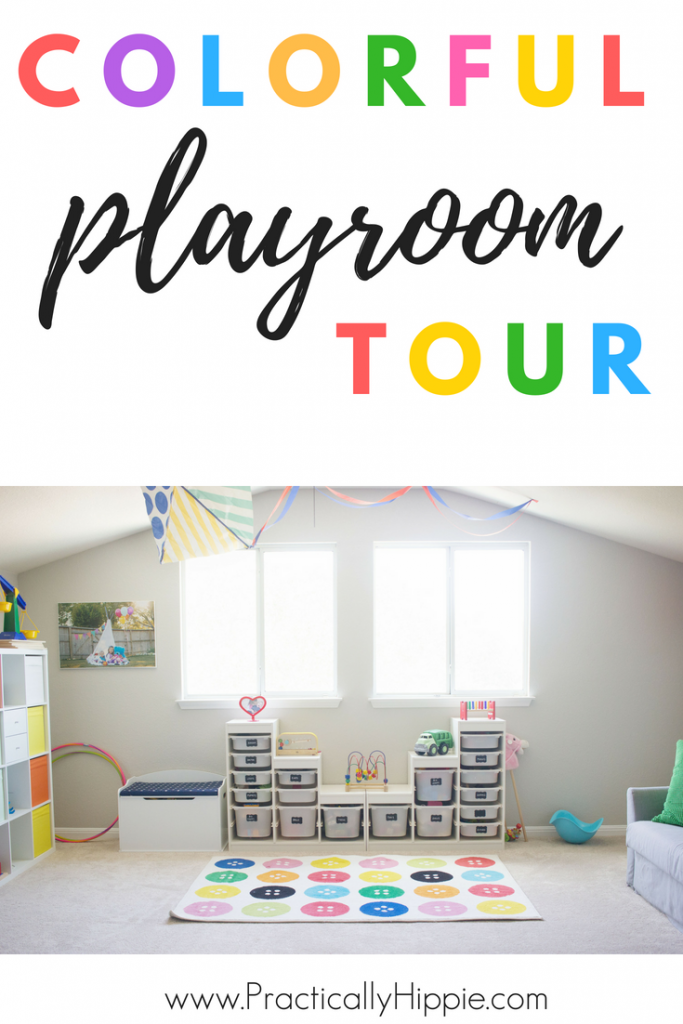 I've considered myself a minimalist when it comes to toys since before my first child was born. I read Simplicity Parenting while I was pregnant and was lucky enough to start off on this parenting journey with the end goal of raising calm, happy kids and set up our environment to do just that.
Playroom Tour 
During the baby stages, I focused mostly on creating connections and rhythm in our home, but once we entered toddlerhood, the toys started making their way into our lives, cluttering not only the physical spaces, but our mental and emotional spaces as well.
Downsizing the toys 
When I discovered "The Life-Changing Magic of Tidying Up," we decluttered our toys to a manageable amount of mostly open-ended toys that inspired the imagination.
We kept a lot of simple toys like blocks and balls and got rid of most of the toys that had batteries or were based on licensed characters. Once I had the toys in order, I decided we needed a playroom to store them so that bedrooms could be zen-filled havens just for resting and sleeping.
I made a trip to IKEA, bought several of the Pinterest-tauted Kallax shelving units and got to work on setting up our playroom. I had just started doing homeschool preschool with my oldest so I designed the room to double as a school room as well.
In 2015, we decided to downsize and moved to a smaller home with a smaller, but still bright and cheerful IKEA-inspired playroom. This room still did double duty to house our toys as well as our crafts and homeschool materials.
Do you need a playroom? 
In 2016, we moved again and I am excited to share version 3.0 of our playroom. We did a lot of house hunting before settling on our new home. Having a space for a playroom was not on my must-have list.
Having a one-story house was on my playlist and most of the ones we looked at wouldn't have space for a dedicated playroom, and I was completely OK with that.
In both of our previous playrooms, I found that it wasn't a magical place where my kids would play while I cooked dinner or read a book on the couch (ha!). My children are still quite young with my oldest being just 6 and they like to be with me, need to be with me.
Version 2.0 of our playroom was a beautiful space but was rarely used. The wall separated the playroom from the kitchen and the rest of our open concept home. The kids would play happily in the living room where they could see me in the kitchen, but they wouldn't play in the playroom because of that visible and physical separation.
When we did school work or art projects, we usually ended up gathered around the dining room table, again in the center of the home.
Our new home is larger and more spacious than our previous two homes. All of the bedrooms and living areas are on the main level and we have a large loft space on the second floor.
With the experience of designing two playroom/homeschool rooms and seeing how we used/didn't use them, I instinctually knew that the upstairs space wasn't going to be a place where we did any school work or where I could expect my children to play unsupervised.
Designing a Play Space for Play 
We decided to create two separate kid spaces. Our learning space would be in the formal dining room, which is at the center of the home, adjacent to the kitchen, and the upstairs would be purely for play.
I will have to share our homeschool room in another post, but know that we do have another space and that is why this one doesn't have any homeschool materials, art supplies, craft items or many books. It also looks like we have a lot of toys, but this is absolutely everything we have.
In our previous rooms, I had a closet dedicated for toy storage and rotated them regularly. Now, I pull from this room when I was to rotate toys downstairs. I usually keep three to five toys or activities out downstairs and rotate them as needed.
And finally, come take a look at our new playroom!
The Shelving 
The bulk of our toys are stored in these two IKEA TROFAST units with white bins. These are super popular for toy storage and it's easy to see why. The bins come in different sizes which is perfect for storing categories of toys all in one place.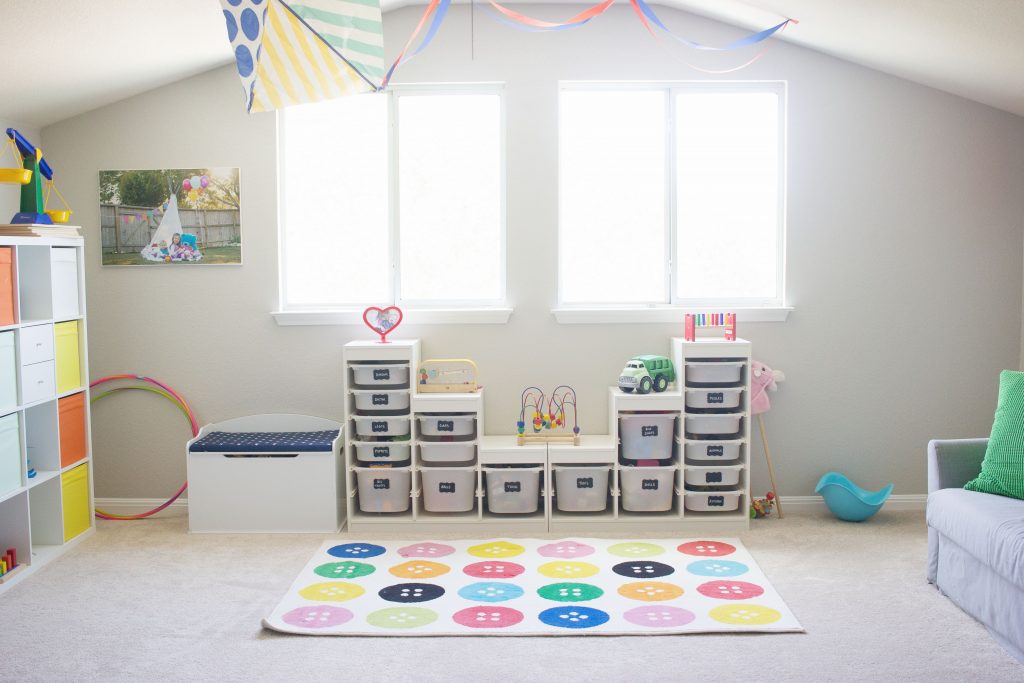 The TROFAST storage is new to this house, and I have to say I prefer it over the ever-popular Kallax units. The Kallax bins are huge, and inevitably turned into a bottomless pit. I'd have to stop everything in plastic bags within the fabric bins to keep it all somewhat organized.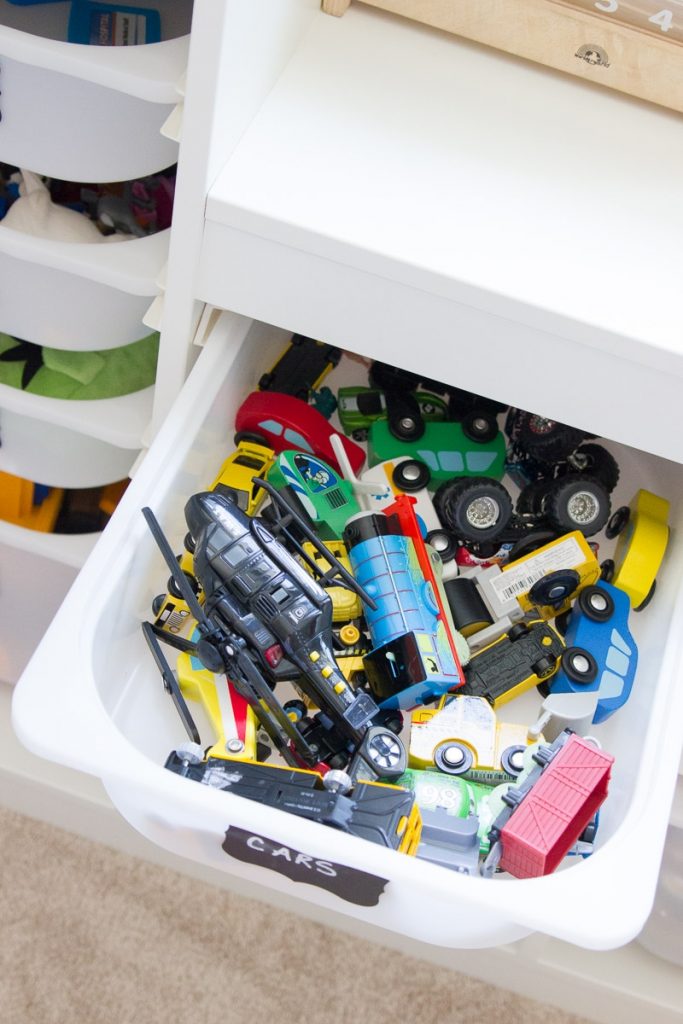 We still have a 4×4 Kallax cube shelf that I use to rotate toys on the easy-to-reach shelves and store bigger toys in the fabric bins. The drawers are great for housing toys with itty bitty parts.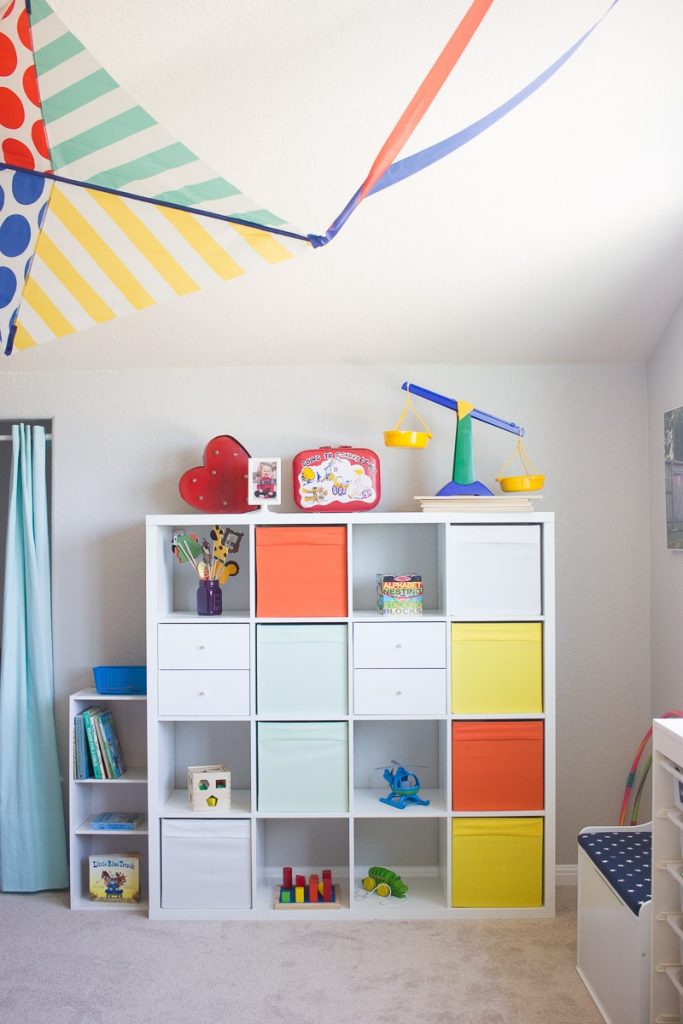 We use the KidKraft toy chest with the cute star cushion to store dress up clothes and accessories. It gets pretty crazy in here sometimes but I have three kids in different sizes with different interest so we have a lot of variety.
We have another Kallax unit that I use to store our growing board game collection.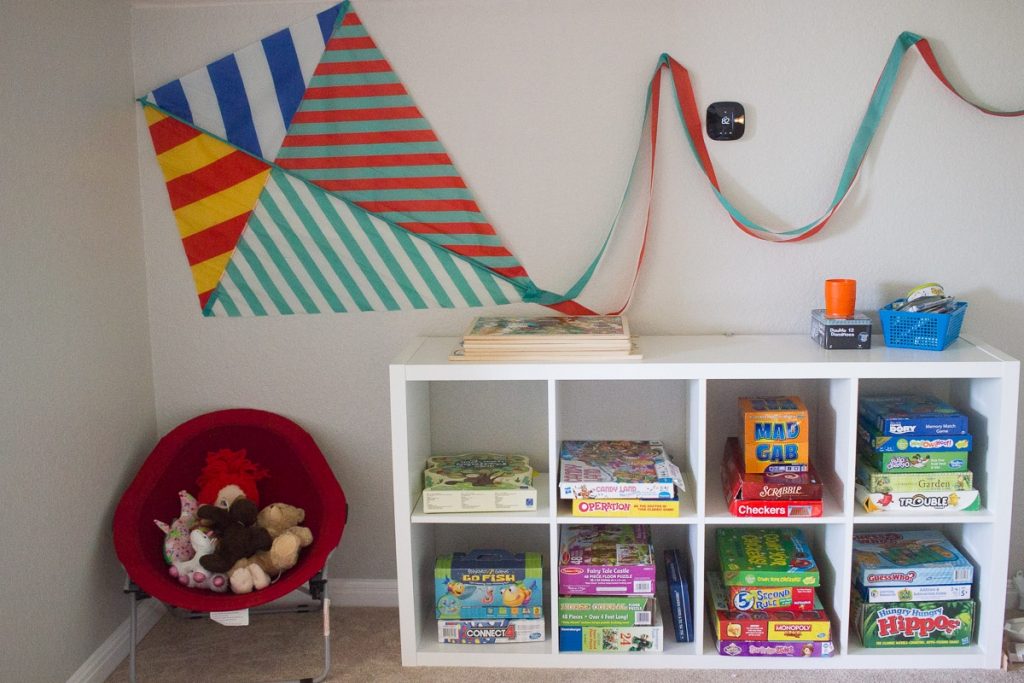 I loath stuffed animals, but my kids love them. We had a really neat bean bag to hold all of the stuffed animals, but they play with them often enough to warrant easier access, so we just store them in little corner chair.
The Extras 
When we moved into this house, we saw this huge gaping whole in the wall meant for an old school big screen TV and I had no idea what to do with it. Of course this little alcove became the best spot in the room!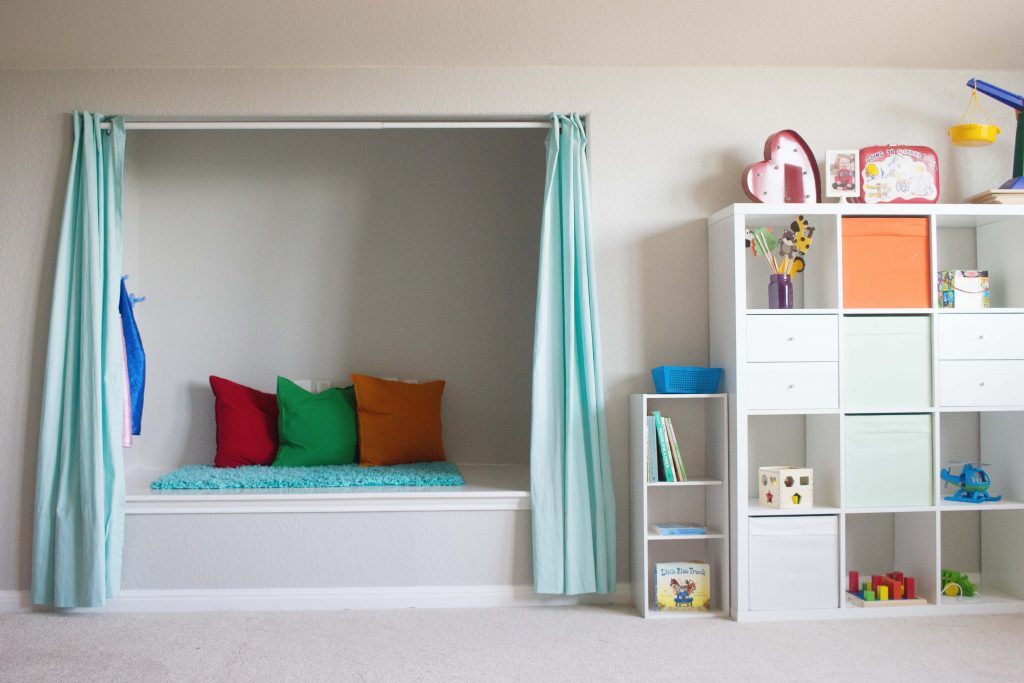 We added a tension rod across the top with curtains and a rug and some cozy pillows inside. Now we have the most awesome stage and reading nook all in one.
We have some colorful hooks from IKEA on the wall inside the stage to hang whatever dress up items are currently in rotation.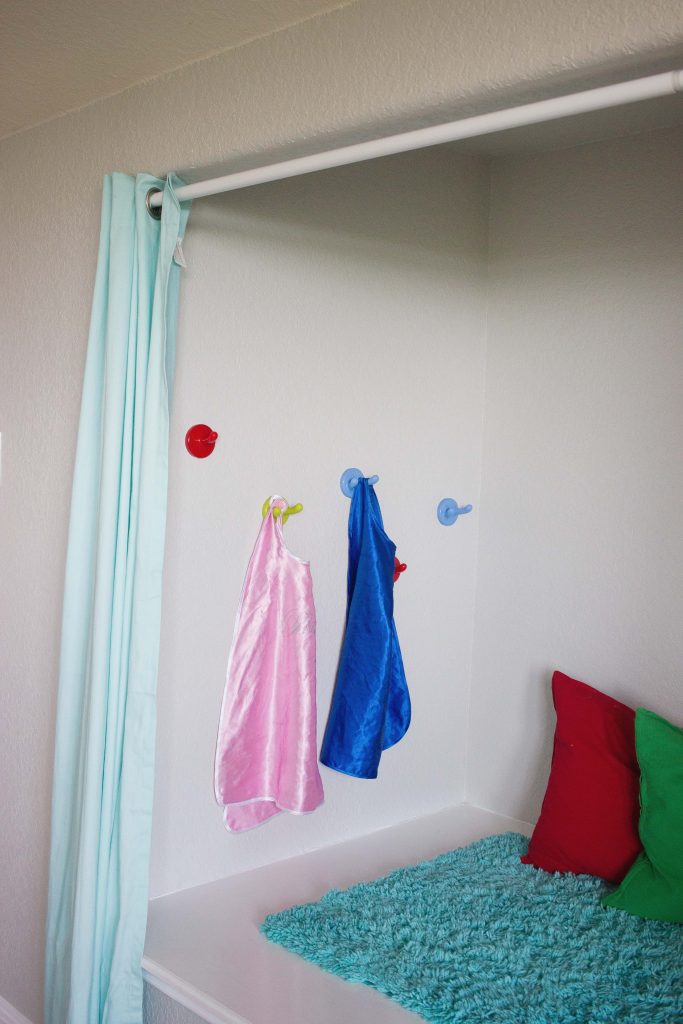 Over in this area, we have our beloved HAPE doll house and Melissa & Doug broom set.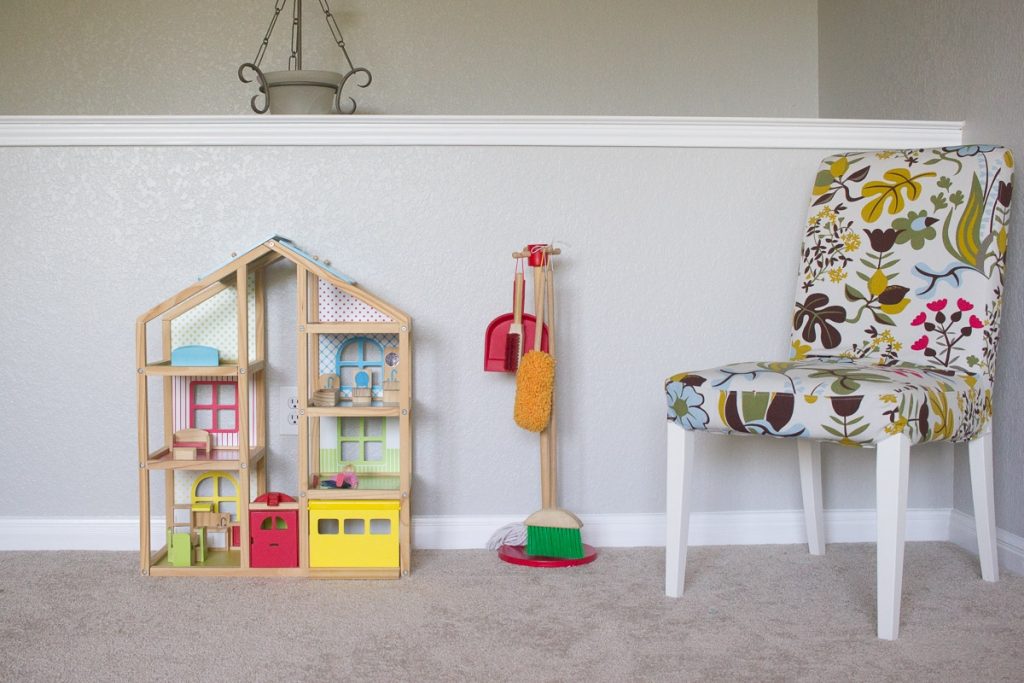 In this corner, we have our train set with the bigger pieces on the shelf and track pieces in the bin. We store the actual trains in the TROFAST unit.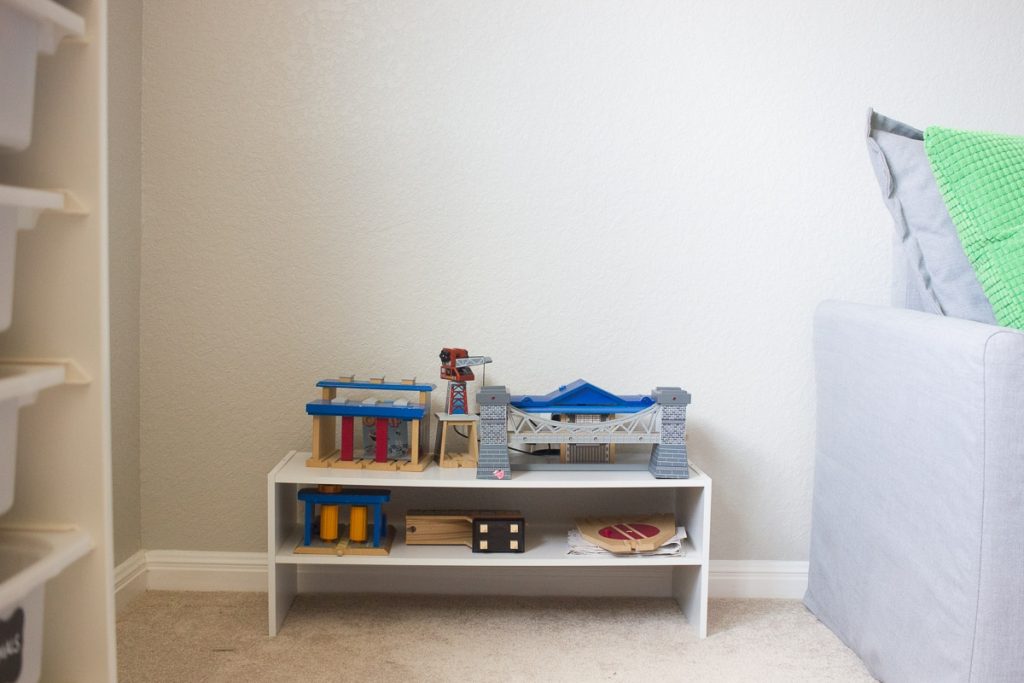 Places to Relax 
This room is so large that we have room for a pull out couch upstairs too, which is great for when we have a full house of guests. The couch is big, comfy and I love the color. It's the HOLSMUND sleeper sofa in medium gray.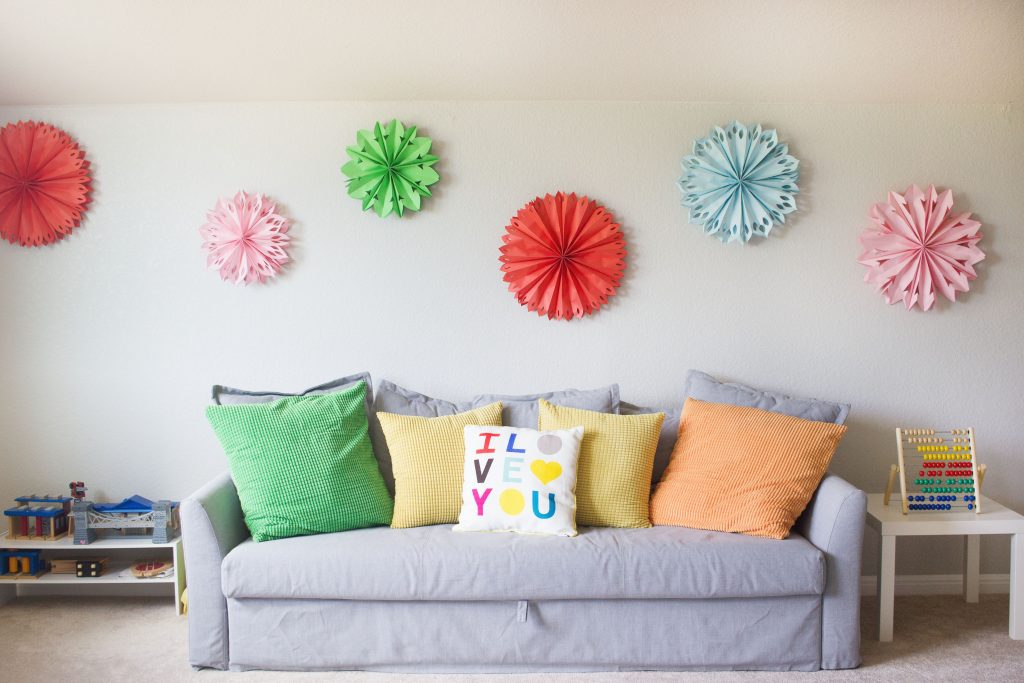 I've moved three times with these fun paper flowers and I still love how they look on the wall. I found mine at Michael's in the Martha Stewart section.
In the center of the room, we have this huge bean bag that we inherited from the previous owners. It's not a color I love, but I can't tell you how much joy this big poof has brought to my children! The climb it, jump on it, try to move it, roll of of it- so much sensory fun happens with this one pillow.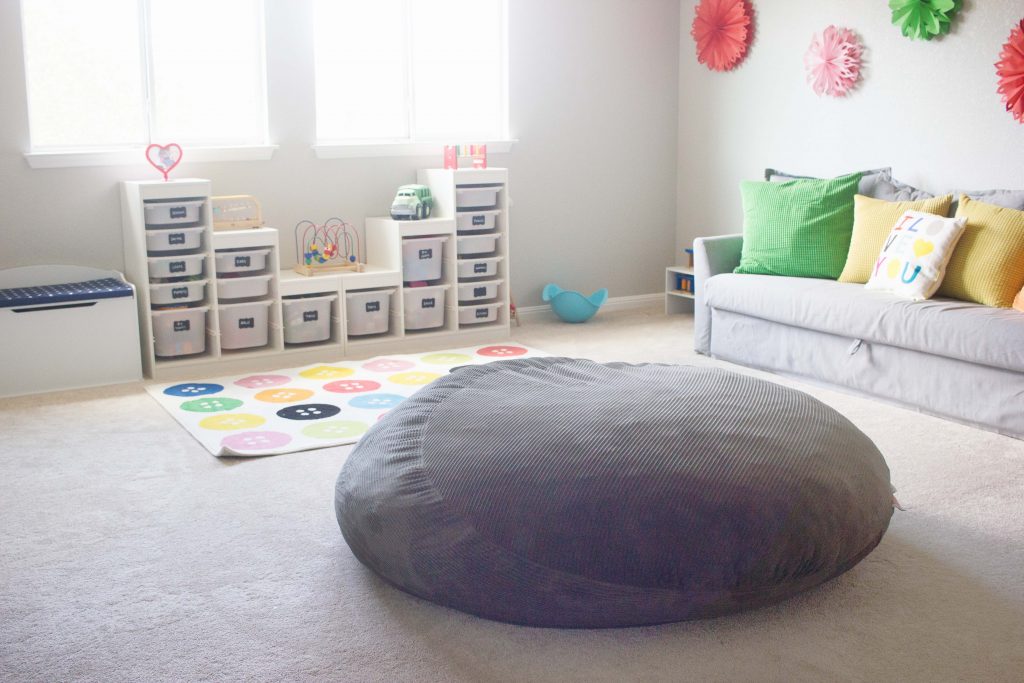 I've seen similar XXL bean bags on Wayfair– this would make an awesome Christmas or birthday gift if you have the space for it.
We have to stay on top of the mess because everything is out and available at all times, but now that my kids are getting older, it's a little easier to manage. As long as we keep our overall amount of toys reasonable that is!
This room is a lot of fun and gets a lot of use! Thanks for coming on a little tour!