Designing kids' spaces is always so fun! This bright and cheerful, budget-friendly mostly IKEA playroom is one of our favorites spots in the house.
When we moved into our new house a few months ago, I was excited to have a dedicated space for my kiddos that was separate from the rest of our home which has a very open floorpan.
This flex space is intended to be an office or study and is right off of the front door when you walk inside. It's not a large space, but there is plenty of room to spread out our things and have room to create, imagine, play and learn.
My oldest started homeschool kindergarten this year and my youngest is two, so I needed to design a space that allowed me to work with Gabriella on school work, but had plenty to keep the little one busy as well. Most of what we have in this room came with us from our old house, but we've added a few things that work better in this space than our last.
Most of my house is styled in light neutrals with a tendency toward minimalism and I know a lot of homeschoolers prefer to continue that style in children's spaces as well, but I wanted to infuse some color into this space and make it fun.
I also needed to stick to a budget, which meant a lot of IKEA, Target and discount store shopping. I hope you enjoy this peek into our bright and cheerful IKEA playroom!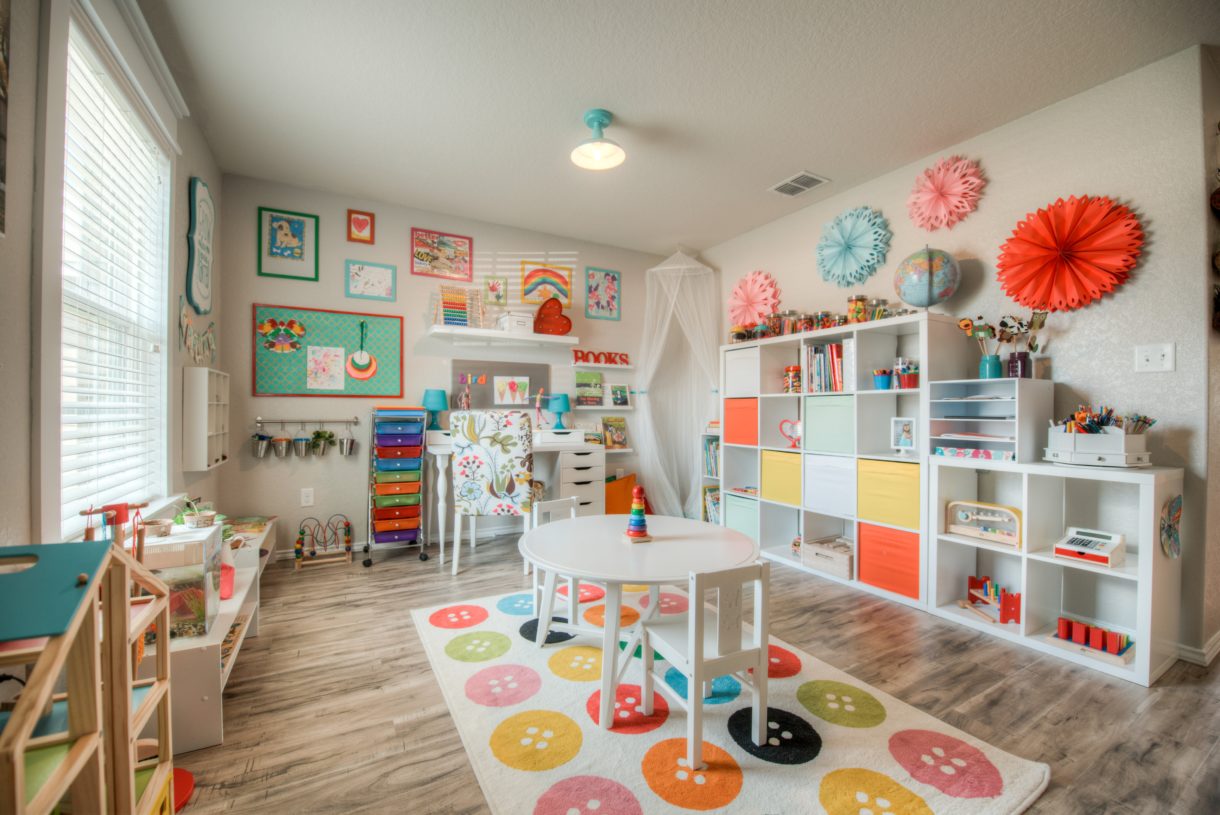 When designing a space, I start by thinking about how we intend to use it. I knew that I wanted a desk for me to work on homeschool lesson plans and organize my paperwork, a table large enough for both kids to work on projects, storage for homeschool curriculum and materials, storage for toys, space for toys currently in rotation, a comfy place for reading, a writing/art center to inspire creativity anytime and a nature center to display our ever-changing nature collection and reference books.
Since I knew the room would have a lot of color, I wanted the walls to stay neutral so we used the same gray that we used throughout most of the house, Sherwin Williams Agreeable Gray. The flooring is also used throughout the house and is a high quality laminate that I found at a local discount shop called Shenandoah River.
We only have 8-ft ceilings in this house, so the awesome IKEA light I had at our previous house wasn't going to work so we went with the standard light we used in the rest of the house, but spray painted it a fun teal color.
The colorful button rug from IKEA defines the center of the room and anchors the kids' project table. We have an IKEA kid's table, but it isn't quite big enough for two kids to spread out and get messy with art projects or science experiments so I opted to use an IKEA coffee table instead.
The kid's tables are 19 7/8″ tall and the coffee table is 18 7/8″ tall so they are close enough to work. We have the IKEA KRITTER chair, but it looks like they've discounted the style. The paint on the chairs isn't great quality anyway, so I'd recommend using another chair instead.
For storage, we have two IKEA KALLAX shelves that are great for storing a lot of stuff, especially when you add the IKEA DRONA box. After searching for the colors I wanted at multiple IKEAs for literally years, I have determined that the colors rotate and if you want certain colors, you just have to wait for them to be in stock or be willing to pay big bucks on eBay. They generally have 3-4 colors at a time in the store.
The DRONA box is huge and can become a black hole if I'm not careful. I mostly store small items in Ziplock bags in these boxes or larger items. I have one box filled with hand puppets, one with manipulative and sensory box fillers, one with coordinating items for our preschool curriculum, one with coordinating items for our Kindergarten curriculum, one with extra curriculum manuals and supplies, one with our nature exploration items, one with arts and crafts supplies, and one with coloring books and project kits.
We don't store all of our toys and homeschool supplies in this room. I keep toys in one of my kid's closet and most of our craft supplies in a small hall closet.
Above the KALLAX shelves, I have an assortment of glass storage jars with some of our manipulatives (like these, these, and these) and craft materials. I shopped around for these jars and found most of them at Big Lots and Ross, but I'm sure you can find them at many discount stores. You can also see one of my favorite parts of the room above the shelves- the Martha Stewart Crafts modern festive paper flowers. These are so fun and add a pop of color and whimsy to the room.
To create a reading nook, I used a hanging net from IKEA and have some books on display using IKEA picture shelves.  I put a cozy rug from Target on the floor and some soft IKEA pillows to make it really inviting. I have extra books stored on an inexpensive two-shelf closet organizer.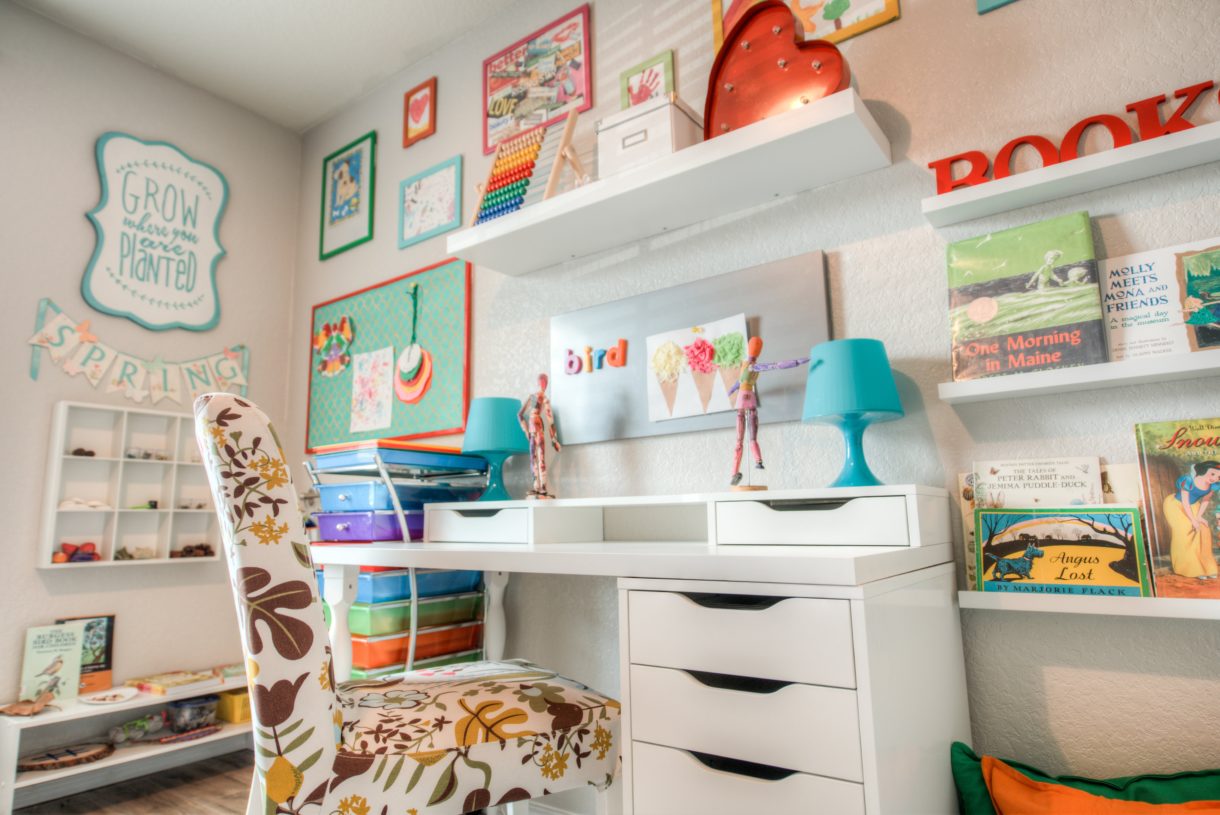 For my desk area, I have a desk created with the IKEA LINNMON table top, IKEA ALEX drawer unit, IKEA ALEX add-on unit, and two IKEA NIPEN table legs.
The chair is an IKEA HENRIKSDAL chair with the Blomstermala multicolor floral cover (which I think may be discontinued). I have two IKEA LAMPAN table lamps on the desk and an IKEA magnetic board hanging over it. The IKEA LACK wall shelf provides a little extra storage above the desk.
My kids' artwork is displayed on the back wall in a collection of IKEA FISKBO frames along with a decorative cork board that I stenciled using a tutorial from Design Improvised. Below the cork board, I have an IKEA FINTORP rail with hooks and tin buckets to store loose parts for creative projects.
Below the window and in the back corner, two low shoe organizers house our Betta fish, Kiki, and our houseplant and our nature center.
The 9-compartment display shelf from Target and is the perfect way for my kids to display treasures from nature walks and exploring outside. We hang a seasonal banner with the change of each season and switch out the reference books to coordinate with our studies and interests.
To the left of the window, we have a Melissa & Doug broom and mop set that my kids LOVE and use daily along with the HAPE wooden dollhouse and a big laminated map.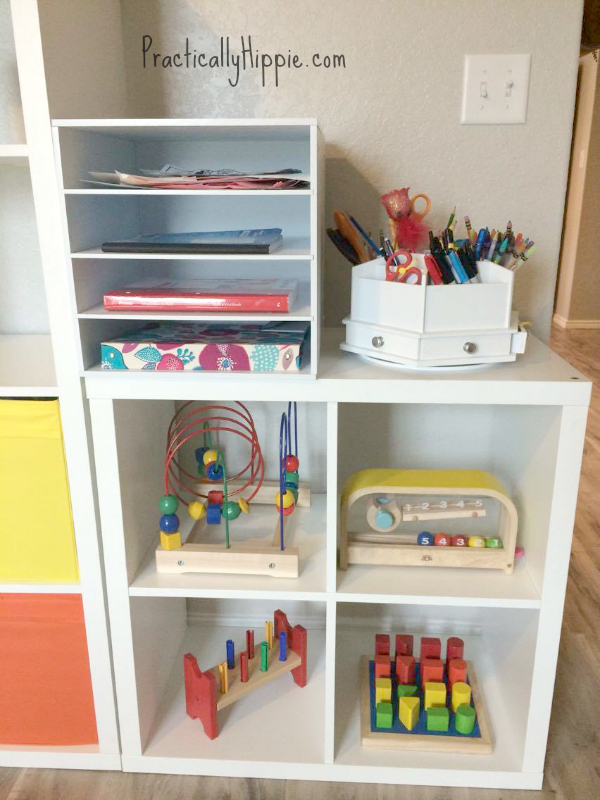 Our writing center has a wooden desk carousel from Michaels (similar here) filled with pens, pencils, colored pencils, markers and other materials and a wooden paper organizer where we store current workbooks, my kindergartener's writing journal and completed projects. We also have a craft cart filled with different kinds of paper, envelopes and stickers for the kids to use at their leisure.
We try to rotate toys, but some IKEA favorites are always on display like the wooden abacus, cash register, wooden stacking rings and the wooden artist's figurines that my kids paint over and over again.
Do you have a dedicate space for play or homeschool? I'd love to hear what your space is like as ours is always changing! I tried to list out everything in the room, but if I missed something, feel free to ask in a comment or on our Facebook page!