I grew up in a family of bibliophiles, and was an avid reader from the start. It's always surprising how many great books are out there still to discover!
The Cricket in Times Square Playlist & Music Study 
We just finished reading The Cricket in Times Square as our family read aloud book, and I'm shocked I don't remember this from my childhood. It was a true delight!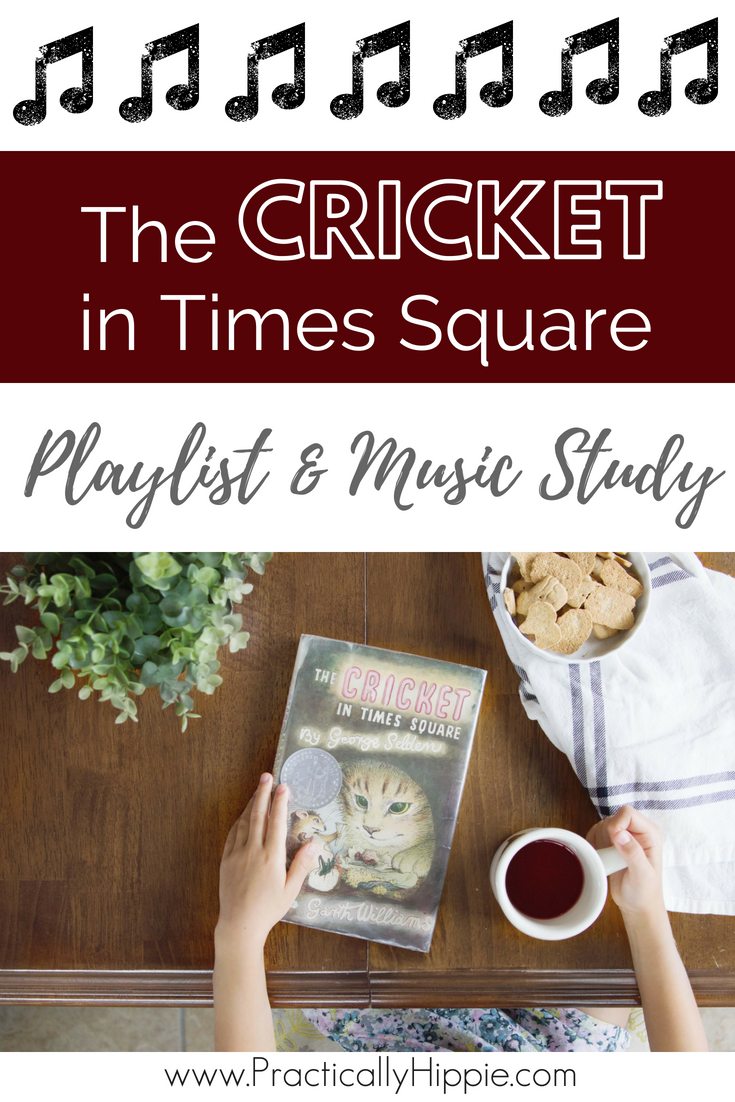 The Cricket in Times Square by George Seldon was published in 1960 and is a Caldecott Honor Book. With sketch illustrations by Garth Williams, this book is a childhood classic not to miss.
The Story
The story follows a cricket who unexpectedly finds himself away from his home in the meadows of Connecticut and in the Times Square subway station. He quickly makes friends with a cat and mouse and the Bellini family who runs a newsstand in the subway station.
His musical talents make him and the Bellinis famous, but Chester cricket learns an important lesson about happiness.
My 4 year old and 6 year old both enjoyed this story immensely. Perhaps even more so because we've actually been to Times Square and been down to the subway stations, but the story is engaging and sweet even if you haven't.
Music Is Good For The Soul 
Chester cricket's musical talent has him playing everything from opera to hymns to Italian folk songs. The music flows through the chapters in a beautiful way, adding to each scene as we see how music can affect people in deep, profound ways.
I have a heart for beautiful music, and hope to pass on a love and appreciation of music to my children. I spent many years in band all the way through college and even played professionally at a theme park for a summer. Though I don't play anymore, I definitely want my children to know how important music is to our peaceful home life.
As part of our homeschool, we study a different composer each term. Even though we're on summer break, The Cricket in Times Square offers the perfect opportunity to listen and learn about some well-known pieces of music and musical styles.
Cricket In Times Square Music Playlist 
As we read the book and kept coming across great pieces of music or musical terms, I wanted a resource so that we could talk about those after each chapter. I couldn't find one, which brings me to this post!
I put together an Amazon prime playlist with pieces of music from the book that we listened to during the several weeks it took us to read the book together. If you have Amazon Prime, you can hear the music HERE. If you don't have Prime, you can sign up for a 30-day free trial HERE, what are you waiting for?!
We have an Amazon Echo and several Echo Dots throughout our house that we use to play music during meals, while we're doing handcrafts, or just playing.
I also put together some notes on some of the musical pieces and terminology that we explored. We didn't sit down and have a lesson on each of these concepts, but we discussed them as they came up and as we listened to the music in a natural way.
1. Blue Danube Waltz
In Chapter 10: The Dinner Party, Chester hears Blue Danube Waltz on the radio, and discovers his talent for memorizing the melody. He learns to play variations of the theme without ever losing the rhythm of the waltz.
The melody is the main part of a musical composition, in contrast with the supporting harmony and rhythm. Listen to the waltz and see if you can pick out the melody and hum it with your child.
A waltz is a piece of music composed in a triple meter with a strong accent on the first beat. Learning to recognize the rhythm of a waltz is wonderful fun for small children.
2. An Aria
After Chester plays Blue Danube Waltz in Chapter 10, he hears Italian folk songs and a group of operatic arias.
The Italian word "aria" simply means "air." In music, an aria is a long song, usually in an opera, with a soloist singing.
Opera, as a genre of classical music, was new to my children.  I introduced them to Luciano Pavarotti, an Italian opera singer who crossed over into popular music and eventually became one of the most commercially successful tenors of all time.
Chester determines that it is easier to play the arias written for tenors than the ones for sopranos, contralto, and basses.
Voices can be classified based on a number of factors including vocal range. It was fun to listen to arias performed by different vocal talents:
3. Rumba 
After singing folk songs and arias at the dinner party, Chester hears a South American rumba.
"The rhythm was very tricky and it took the cricket a few minutes to catch onto it, but once he had it, he never lost the beat."
The rumba consists of eight bars played in 2/4 time, and they're upbeat songs meant for dancing. Percussion instruments in a rumba are usually conga drums and rhythm sticks or "paltios" in Spanish.
Listen and see if you can pick out the beat of the conga drums and the palitos.
Gather your own drums, rhythm sticks or shakers to try to keep the beat as you listen or make up your own rhythms.
4. Torna a Surriento
In Chapter 11: The Jinx, after a series of unfortunate events, Chester begins to play music he learned during the disastrous dinner party. He begins with an Italian folk song that just happens to be Mama Bellini's favorite song: Torna a Surriento, Come Back to Sorrento.
5. A Symphony
In Chapter 12: Mr. Smedley, Chester begins his formal music education by memorizing three movements from three different symphonies.
A symphony is an extended musical composition for orchestra in several parts called movements. A symphony typically has four movements.
Mozart's Symphony No. 41, subtitled "Jupiter," was his final and greatest symphony. It was a culmination of his life's work.
6. A Musical Comedy
In addition to learning movements from symphonies in Chapter 12, Chester learns six songs from musical comedies.
He doesn't specify which musical comedies, but we can imagine some of the songs that might have been on the radio back in this time.
Once Upon a Mattress was musical comedy that debuted on Broadway in 1959. Telling the story of the Princess and the Pea, Once Upon a Mattress is a great example of a musical comedy.
7. A Violin Concerto
Chester's evening of musical education in Chapter 12 includes learning the solo part of a violin concerto.
A concerto is a piece of music composed for an instrumental soloist and an orchestra. A concerto is meant to feature the musical skills and expressiveness of a single musician, the soloist, while being accompanied by a large group of musicians that make up the orchestra.
We have this Usborne Classical Music book that shows the different instruments in an orchestra that we love looking at.
Watch an orchestra performance and see if you can pick out the different instruments, including the violin.
8. Hymns
The final part of Chester's formal music education in Chapter 12 comes from a late night religious service where he learns four hymns:
9. A Scale
In Chapter 12, Mr. Smedley is astonished at Chester's musical abilities. He asks to try an experiment with the cricket and whistles the notes of a scale- do, re, me, fa, sol, la, te, do.
He finds that Chester has absolute pitch.
In music the pitch of a note means how high or low a note is. Each note of the musical solfège system has a name and hand signal to designate the different pitches in a musical scale.
Practice your solfege hand signs here:
10. Aida
Upon Mr. Smedley's astonished exclamations, Papa Bellini proudly boasts about Chester's rendition of Aida. Aida is a 19th century opera in four acts by  Giuseppe Verdi.
Aida's Grand March is a great example of a piece of music that is both forte, or loud, and piano, or soft. Listen to how the music goes back and forth between forte and piano.
My kids cannot help actually marching any time they hear a march and this one is no exception. We had great fun marching around the house during this piece.
11. A Little Night Music
In Chapter 13: Fame, Chester begins one of his first public concerts with Mozart's A Little Night Music.
Eine kleine Nachtmusik K. 525, is a 1787 composition for a chamber ensemble by Wolfgang Amadeus Mozart. The German title means "a little serenade," though it is often referred to literally but less accurately as "a little night music."
12. Orpheus
Chapter 14 is titled "Orpheus." Orpheus is a legendary musician, poet, and prophet in ancient Greek mythology. Legend says that he was able to charm all living things  and even stones with his music.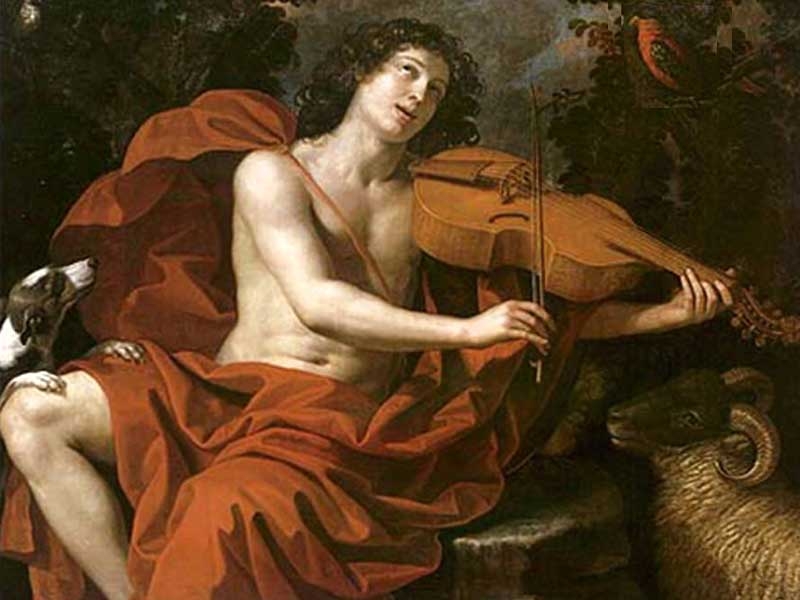 13. Stars and Stripes Forever
In Chapter 14, Tucker Mouse critiques Chester's performance of Stars and Stripes Forever saying his tempo was off. This famous march composed in 1896 by John Philip Sousa is considered to be the composer's magnum opus.
Sousa explained that the three themes of the final trio were intended to represent the three regions of the United States. The broad melody, or main theme, represents the North. The South is represented by the famous piccolo obbligato, and the West by the bold countermelody of the trombones. The three come together in the climax, representing the Union itself.
14. Lucia di Lammermoor
In Chapter 14: Orpheus, Chester wants to play the sextet from Lucia di Lammermoor for his final encore performance.
A sextet is a musical composition for six voices or instruments. Chester obviously can't perform as a sextet and is forced to do a solo. We had fun experimenting singing some of our favorite songs as duets, and trios.
Chester's last song is so beautiful it brings silence to the subway station and all the way up to Times Square above. We listed to this with our eyes closed to imagine what that scene would have been like. Can you imagine it?
My Selfish Secret
I hope that this is helpful to anyone reading The Cricket in Times Square with their children.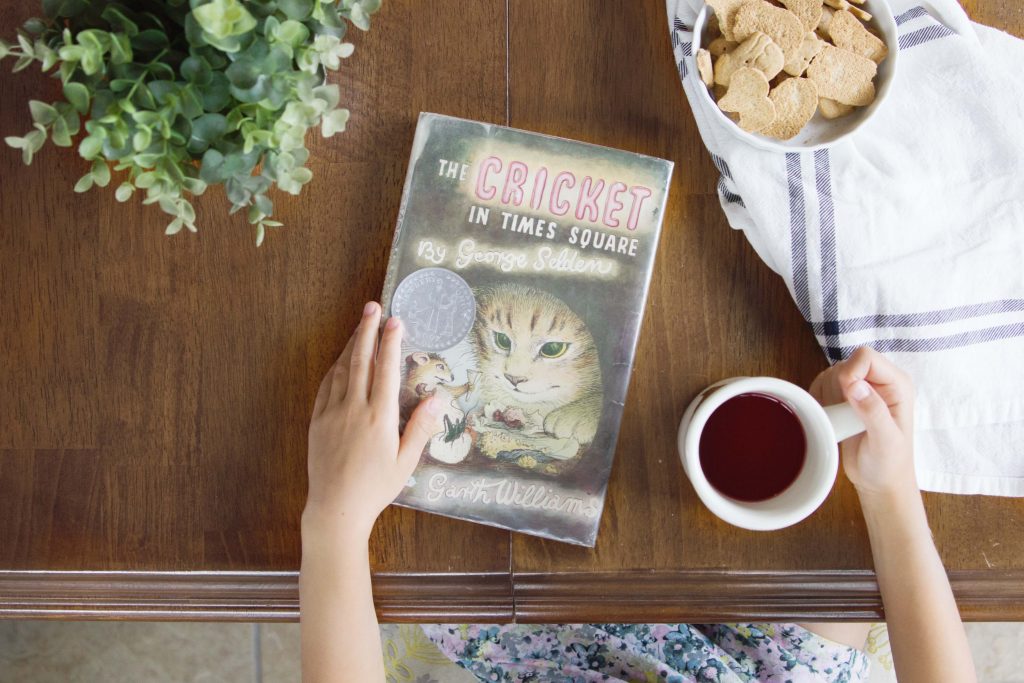 One of the reasons I started this blog and one of the reasons I continue blogging is so that I can preserve ideas to use with my younger children. Now I know exactly what to do when we read The Cricket in Times Square Again in a few years!
Happy reading and happy listening!