They say that kitchens and bathrooms sell houses.
Not the case for us.
When we moved into our current house 18 months ago, I fell in love with everything abut the house- except the dark and dingy bathroom!
The Problem
Don't get me wrong; this bathroom has good bones. But there are definitely things I want to change about it. I won't event say anything about the strange miniature ceiling fans…
The only natural light in the space comes from a glass block window. That  means it stays pretty dark even in the light of the day. The dark marbled tile and mocha walls only aggravated the problem.
This is what the bathroom looked like when we moved in.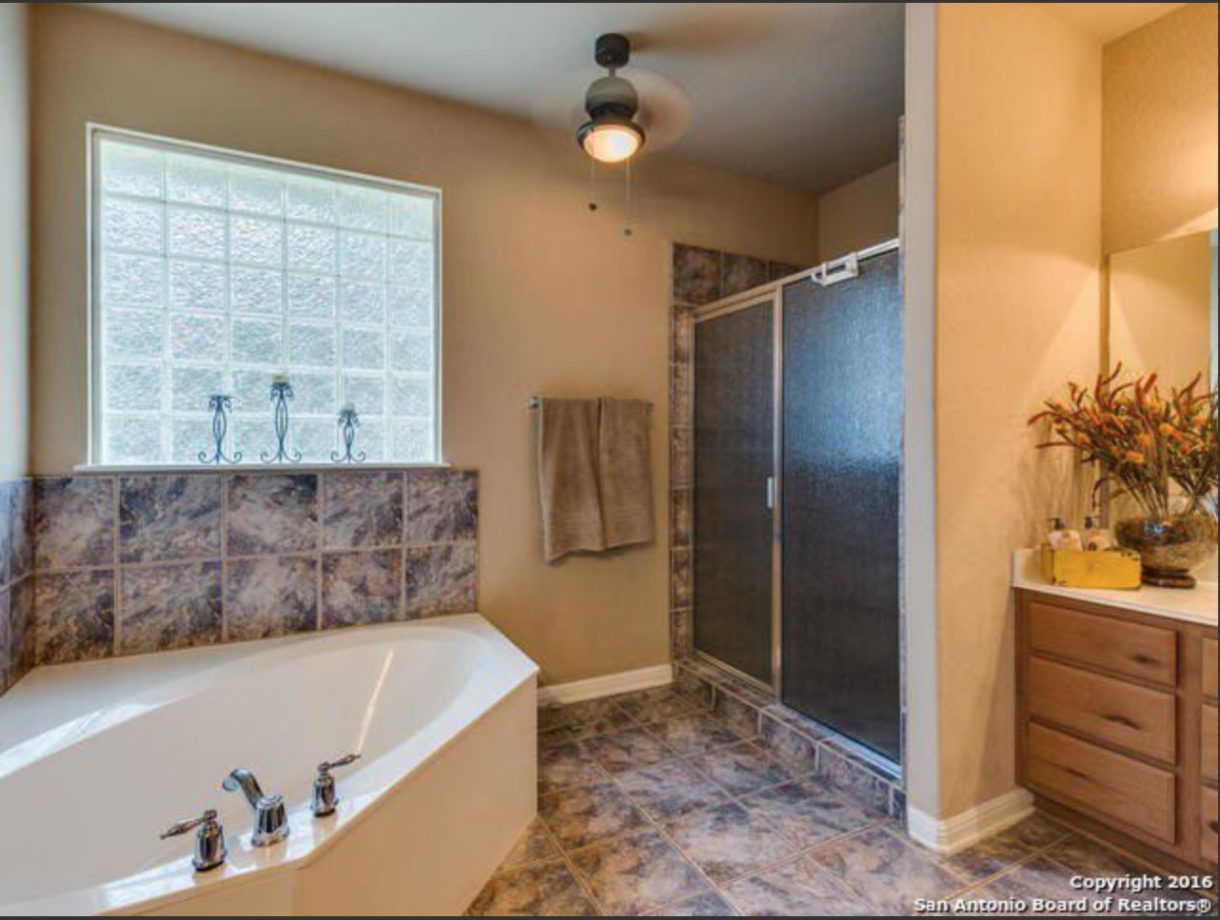 We repainted the walls a light airy shade of green right after we moved in, which helped brighten the space a bit.
But you just can't make this light and airy.
I wanted to replace the tile ever since then but we're on a budget so it had to wait. We also have a million other projects going on so this one was put on the back burner.
The Inspiration
Then, a few weeks ago I saw this painted tile on Instagram. I love Jena's whole house, and she made it sound easy.
Like I could actually do this.
I know, painting tile sounds completely crazy. But what did I have to lose? Ugly tile that I wanted to replace anyway?
I was willing to take the risk. And I have to say, I am so glad I did.
The Supplies 
 A quick Pinterest search showed me that there are many, many ways to paint tile floors. Who knew?! 
I poured over techniques and tips in blog posts like this one and this one and this one.
I went back and forth on what method and materials to use. I'm going to share exactly what I did to achieve this look.
But first, let's go over the supplies:
Prepping the floor 
Many tutorials recommended sanding the floor first. Our tile already had a lot of texture to it, and the thought of sanding made me want to run from this project before even starting.
I decided to skip the sanding and get to work on cleaning the floor. This was honestly the hardest part of the whole project.
It's pretty amazing how much grime and gunk and hair can collect in all the nooks and crannies of a bathroom over 15 years. I got down on my hands and knees and got to work scrubbing the floor with tile cleaner. I mopped the floor a few times to make sure everything was clean.
Then, I taped everything up. I'm a notoriously messy painter (just ask my husband) so I went with a 2-inch tape to make sure I didn't hit any of the walls.
Priming the floor
Next, I was ready to prime with Zinnser primer. I used a paint brush in the corners and some of the edges.
A 4-inch foam roller was perfect to roll on the primer. I could turn the roller on its side and use the rounded end to run a thick layer of primer down the grout lines.
Working in sections is a good idea if you have a large area like I did. I primed the group lines first and then rolled right over the tile and the grout.
Our tile was pretty dark, so it took three coats of primer to get full coverage. I waited the recommended one hour dry time between coats.
Between each coat, hair and little bits and pieces of funk would inevitably get on the tile. I used a lint roller to gently roll anything off of the tile before painting each coat.
Painting the floor
After the tile was primed, it was ready for paint. Deciding on what to do for the base coat was the toughest decision for this project. The white base coat for my inspiration tile is just the primer, and I saw several people used chalk paint as the base coat.
I went crazy reading all of the tips and tricks about how to stencil a floor on the Cutting Edge Stencils site. They recommend using Benjamin Moore floor paint, but that was a bit spendy for my nonexistent budget. I  decided to use Valspar Porch, Patio, & Floor paint to ensure that the base coat was durable and would stand up to the elements in our bathroom.
The Valspar floor paint comes in a few colors, and a tintable base. I wanted the base color to be Sherwin Williams Pure White, but the guy at Lowe's actually said they weren't able to tint it because the colors were too close.
They were out of the actual white color so we ended up using the floor paint untinted. I'm thrilled with the color.
The floor paint is thick and only needed one coat.
One important feature to note is that this floor paint has a slight anti-skid texture to it. When I first rolled it on, I was really scared and almost gave up on the project because I thought it was ruined. For some reason I imagined nice, smooth glossy floors.
The texture grew on me, and I actually really love it now. It's nice to have that bit of texture so the floors aren't slippery when wet, and it adds to the handmade, hand-painted feel I was going for.
Painting the stencil 
I decided to use General Finishes Milk Paint for the stencil because I've had such great results with it in the past (see how I use it here and our kitchen remodel here).
The color is a dark gray, but looks almost black contrasted against the white.
I used a 4-inch high density foam roller to roll it on over the stencil.
To keep the stencil in place, I used spray adhesive and painter's tape, though neither world very well because of the texture on the floor. If you press the stencil down firmly in the center while you roll on the paint, it stays in place pretty well.
Tips for stenciling a tile floor
When I wanted a stenciled wall, I actually let our contractor do it because I was intimidated. I'm not going to sugar coat this- stenciling a floor is time-consuming. Your back will hurt from hunching over. You may say some unkind words when you mess up a stencil. You will probably never want to stencil a floor again.
But stenciling the tile was actually was easier than I thought! The tile stencils from Cutting Edge Stencils are specially designed for tile, and you can order them in different sizes to fit right on top of your tile which saves tons of time and skips the guess work.
Since I was dealing with a big room with lots of angles and curves, I ordered two stencils in case I might have to do some cutting. Having two stencils ended up being essential to speeding up my project.
The key to painting stencils is to start with a small amount of paint on your brush.
Use a light to medium pressure on the roller. It takes a few tries to figure out the right combination on paint and pressure. If you push too hard, you risk squeezing out excess paint and bleeding under the stencil. It's better to use less paint and less pressure and roll over the stencil several times.
The process 
I painted all of the complete tiles first. Then worked my way around the edges doing the incomplete tiles, and awkward angles. The stencil is really pliable, which makes stenciling along walls or in corners easier.
I did end up cutting one of the stencils to help get into some awkward places behind the toilet, but I wouldn't recommend doing this unless absolutely necessary.
The cut stencil didn't have the weight or the structure to hold up to rolling like the whole stencil does.
Sealing the floor
Finally, the floor was ready for a topcoat. I used a standard roller to apply three coats of water-based Minwax Polyacrylic. The matte finish would have been ideal, but I couldn't find it in a gallon size locally.
The satin finish adds a slight sheen, which still looks great and also makes it easier to wipe up water and clean. The matte finish would give you more of the look of hand-painted concrete tiles.
If you're like me and take a week or more to finish your project, be sure to use a razor blade to help remove the painter's tape when you're done. Nothing like pulling off the tape and taking a few chunks of paint with you. Live and learn!
The Result 
My Abuela had a saying for whenever someone got fixed on details or perfection. An English translation might be something like "If you can't see it from an airplane, it's good enough." That's totally how I feel about the floor.
If I look at each individual tile, some look a bit sloppier than I'd like.
I admit I was more than a bit nervous at first. After I painted a handful of tiles, I was in love.
The result is better than I could have imagined. 
I can't speak for durability yet, but I will update this after a few months of use. The paint all seems rock solid so I have high hopes of getting a couple years out of this tile until we can afford to replace it.
Now that my floors look amazing, time to tackle painting the cabinets, replacing the counters, painting the shower tile and bathtub, and more.
Come follow along on Instagram for behind the scenes peeks and stay tuned for more bathroom updates.