Wondering which Rooted Childhood product is right for you? We can help!
Rooted Childhood Products
Rooted Childhood has four main product lines: The Signature Collection, The Children's Hour, Storybook Soirée, and Celebrations. Be sure to read the description on each product page for all of the specific details about each product. This page will help compare and contrast the different products if you are unsure of where to start or what to get next.
If you have any questions at all, please email us at [email protected], and we'll be happy to help!
The Signature Collection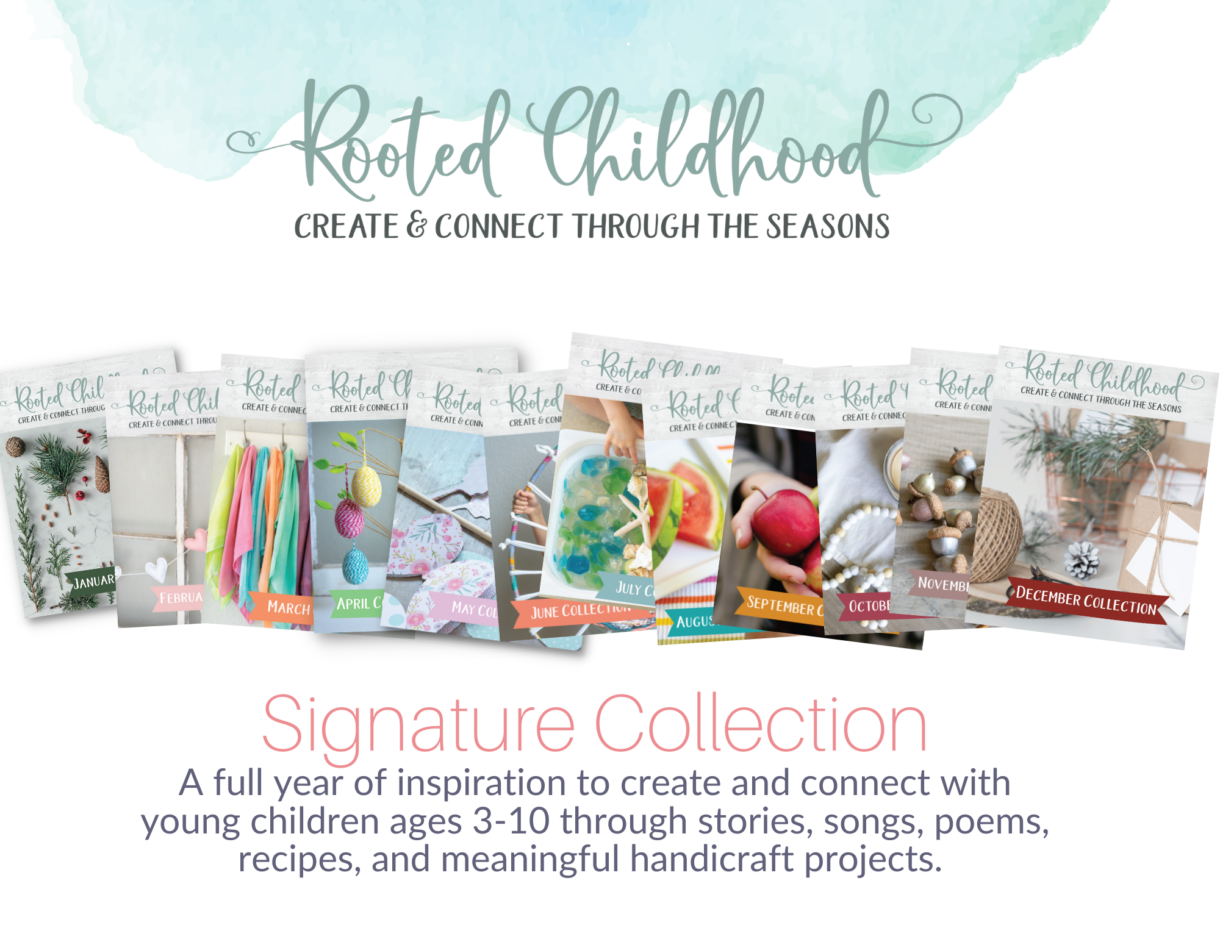 The Signature Collection is the BEST place to start if you are new to Rooted Childhood. It is the original collection featuring 12 months filled with seasonal inspiration to make sweet memories with your young children.
The stories, songs, poems, recipes, and handicrafts will appeal to a wide range of ages and are perfect to use as a whole family. Many families use Rooted Childhood as inspiration for their morning time. With eight handicrafts and three recipes in each monthly collection, you'll find that your family likely won't complete everything each month. These collections are designed to use year after year, repeating favorite projects as you child's abilities grow each year, and trying new projects when the time is right.
The handicrafts in the Signature Collection are designed to serve as inspiration. When children learn how to use real tools and learn the basic skills required for a project, their imagination and creativity can take over. Most of the projects are purposely left open ended without exact instructions or step-by-step tutorials because there is much more value in a child designing and completing a project in their own way versus mere copying.
For handicraft projects that are more in-depth or complicated, there are some step-by-step photos and you will also have access to the "extras" page for each month with printable files, patterns, and helpful videos.
All of the monthly collection are secular; there is no religious content in these collections.
The Signature Collection is available in PRINT when you purchase the full year only. I currently offer a printed and bound book or magazine-quality loose pages that you can bind at home or put into a binder. The single months are only available as a digital download.
The Children's Hour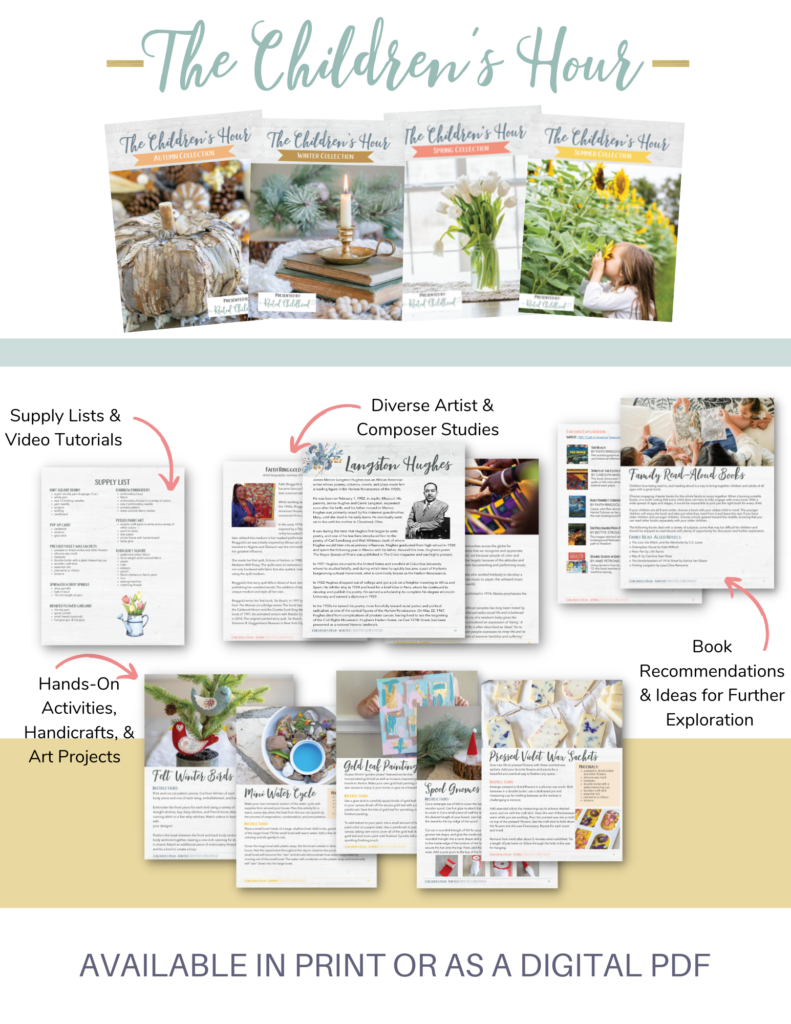 The Children's Hour was created as a "next step" for families who have used and loved the Rooted Childhood Signature Collection for years. It contains many of the same elements as the Signature Collection, but it is geared toward a slightly older audience.
While the Signature Collection is fantastic for preschoolers, The Children's Hour is designed for families with school age children 6-12 years old. The Children's Hour has elements that could be considered a part of formal lessons and activities that require reading, writing, and critical thinking. It also approaches topics and current events that may be too sensitive for little ones.
The Children's Hour collections are secular, however there may be mentions of religion when it is historically relevant or related to specific art/music pieces.
The Children's Hour is grouped into four seasonal collections. Each season is available in PRINT or as a digital download. You can also purchase the four season bundle at a discount.
What's different about The Children's Hour?
The Children's Hour is a family resource, designed to enjoy at the end of the day in the spirit of Charlotte Mason's descriptions of family reading time. It's meant to be part educational, part leisure and an inspiration to spend quality time together enjoying art, music, literature, and games.
The Children's Hour contains all-new content so that if you have and love the Signature Collection, you'll get to enjoy even more songs, stories, poems, and handicrafts.
Each season of The Children's Hour includes a study of three artists and three composers as well as additional topics such as poets and poetry, Shakespeare, and more. The artists and composers were chosen with diversity in mind. You'll find artists and composers that included men and women from all over the world with a slight emphasis on more modern day art and music.
Storybook Soirée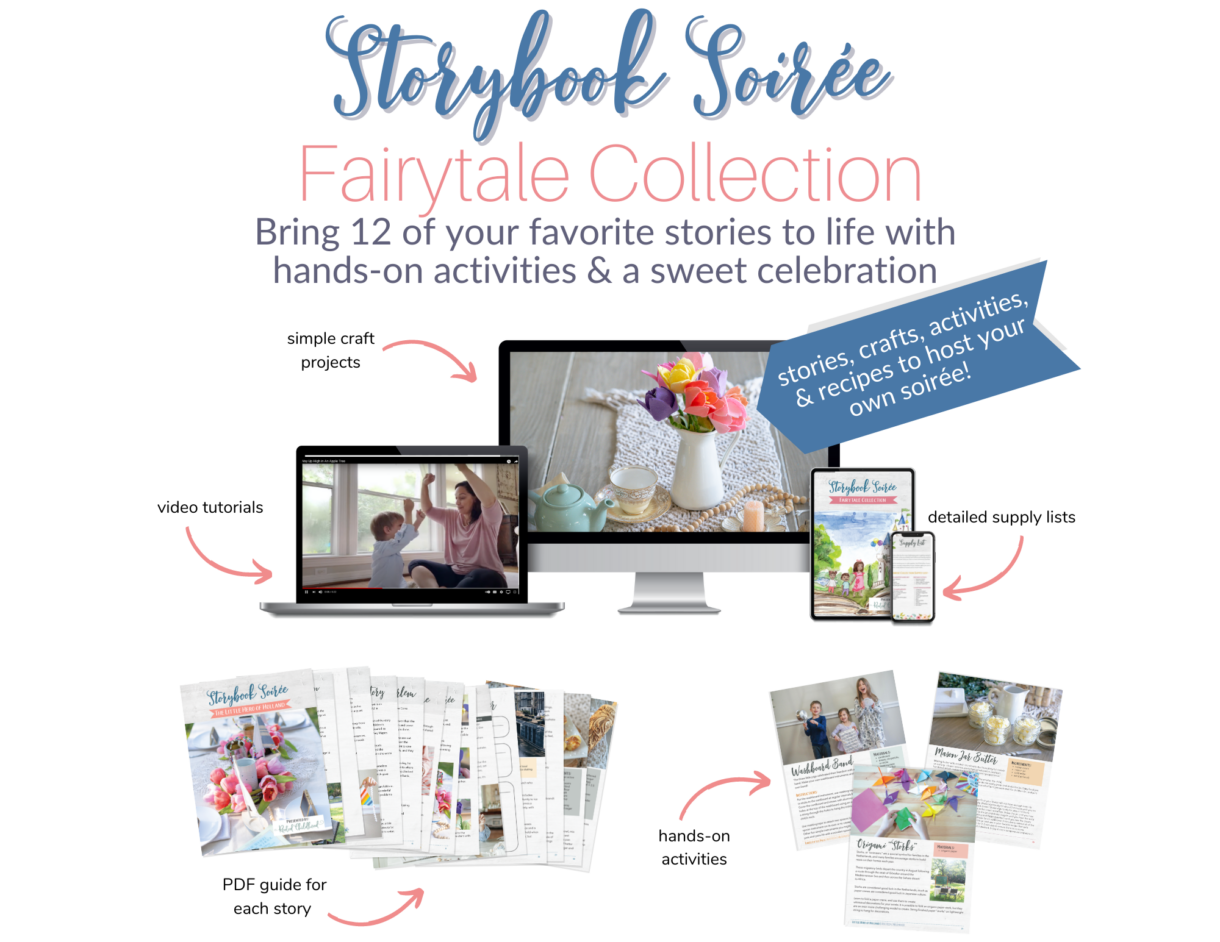 The Storybook Soirée collections include inspiration to bring some of your favorite stories to life and ideas to celebrate the story with a fun party! The Fairytale Collection will include 12 classic fairytales of which six have been released so far. The remaining stories are slated to be released by the end of 2021.
Each Storybook Soirée is different but they generally each include a favorite version of the story, some songs or rhymes to go along with the theme, four to six handicrafts and hands-on activities, and three recipes.
The Storybook Soirée Fairytale Collection is designed as a hands-on companion to Gentle + Classical Press's Primer. You'll find all 12 of these stories as part of the Primer curriculum. Each of these products can be used as stand-alone products, but they pair together beautifully as well.
All of the Storybook Soirée collections are secular; there is no religious content in these collections.
These collections are currently available as a digital download only. Once the 12 collections have been released, I will likely offer them in print.
Celebrations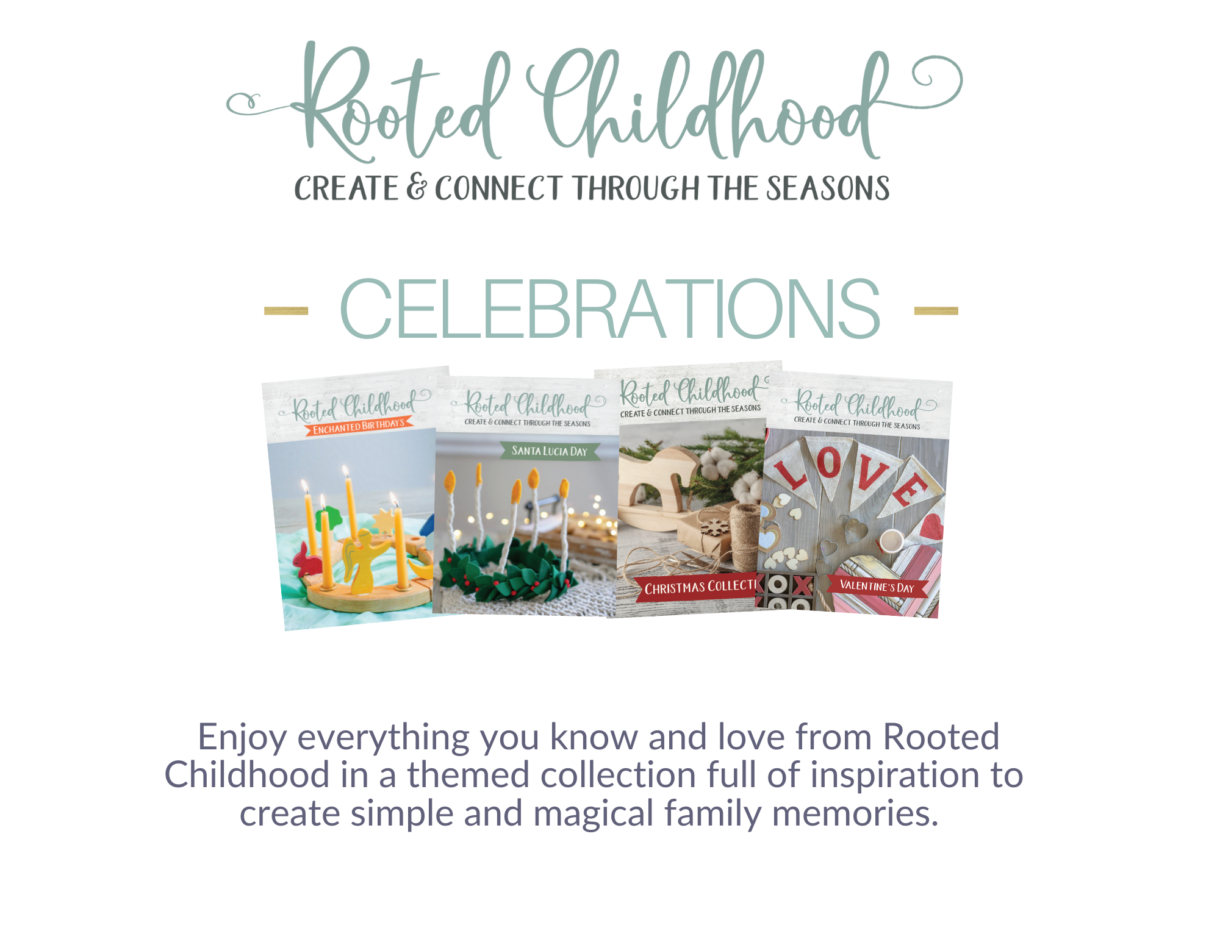 Holidays and family traditions are so special to our family! These collections featuring various celebrations and holidays are designed to inspire families to make the most of each season and celebrate in a way that builds traditions and honors your family values.
The Christmas collection is NOT secular. All of the other celebrations are secular with no religious content.
Each of these collections is a bit different, but in general they will feature songs, stories, poems, handicrafts, and recipes in a similar format to the monthly collections.