Can boys love handicrafts as much as girls? Absolutely!
I have two girls and one boy and I can say without a doubt that boys can love handicrafts just as much as girls. I've also had thousands of families across the globe use the Rooted Childhood monthly collections to bring the joy of handicrafts into their homes, and these families report back that across the board, with boys and girls, the practice of making things with our hands is universally beneficial.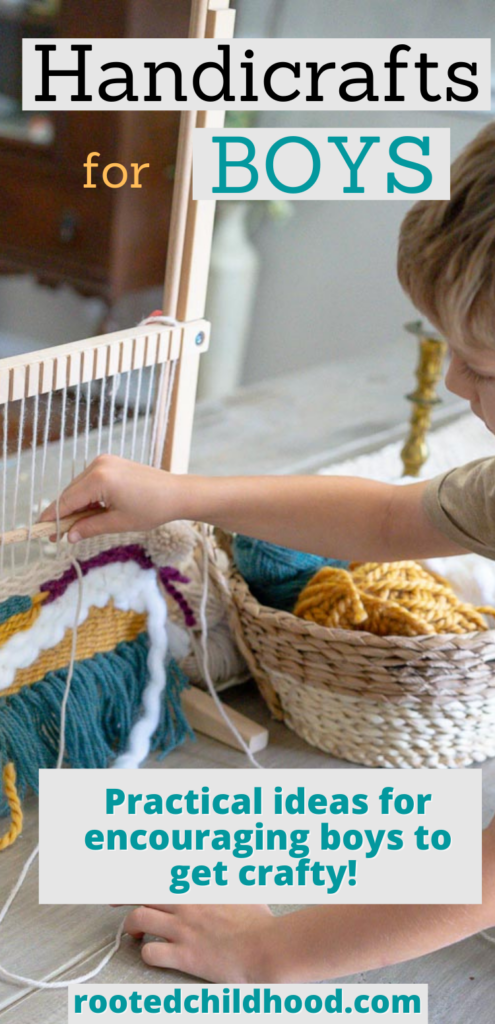 What are handicrafts?
Handicrafts are meaningful projects that have value. They might be beautiful things to decorate our home, they might teach a useful skill that a child can use later on in life, or it might be something that becomes a lifelong hobby.
Handicrafts are different than typical arts and crafts for children because they involve learning and using valuable skills and the end product has a purpose other than ending up in the trash.
Why teach handicrafts to boys?
Handicrafts are an essential part of our homeschool curriculum. There are so many amazing lessons to be learned through working with our hands! The benefits are clear regardless of the child's gender.
Here are a few reasons that boys especially can benefit from learning handicraft skills:
Handicrafts require focus. It's no surprise that boys especially struggle with focus in school today. Setting aside 20 minutes for a focused lesson on handicrafts allows the mind to focus while the body is still in motion, which is a developmentally appropriate and fantastic way to practice focus for young boys.
Handicrafts require gentleness. My son is a bit like a bull in a china shop sometimes. He doesn't have the same control over his body and the inner signals to switch to cautionary mode that his sisters do. Sitting down to work with needles or delicate materials forces the hands to move with care and intention.
Handicrafts require precision. Handicrafts like paper sloyd are wonderful for demonstrating the need for precision. I can tell my son to "pay attention" or "be careful" with this work all day long, but handicrafts are self-correcting in that sloppy work will impede the finished project. Without precision and exact measurements, the end product will not turn out as intended.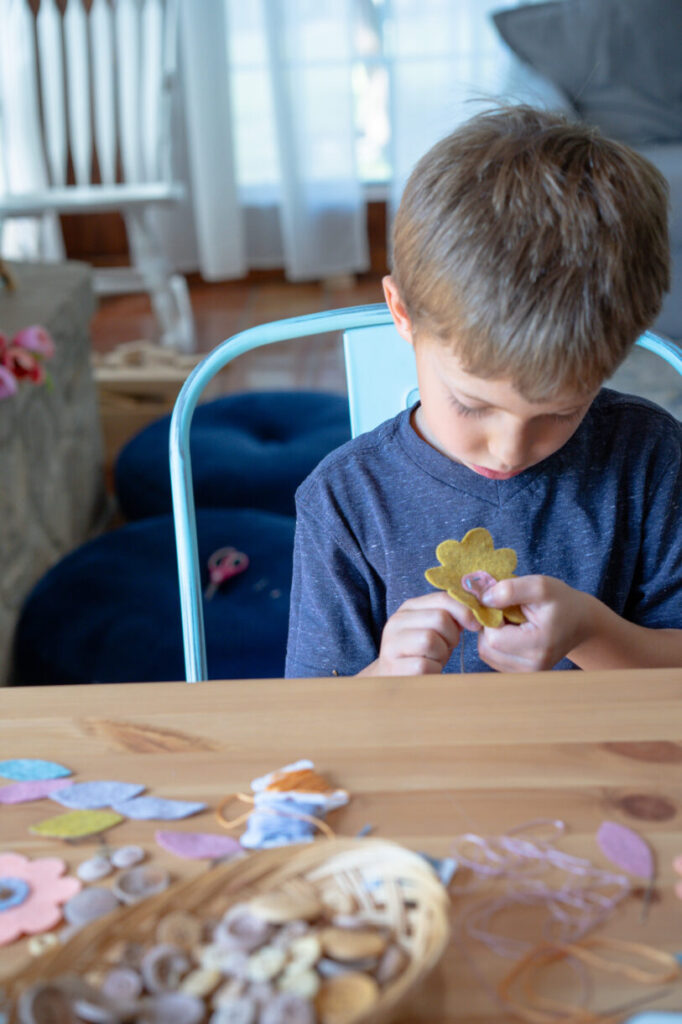 How to encourage boys to participate in handicrafts?
Handicraft lessons are required as a a part of our homeschool once a child turns 6. We do three 20-minute lessons each week where each child will give his or her full attention to the lesson.
We typically do paper sloyd for one lesson and another lesson focused on a particular handicraft that we study for the entire 12-week term. Our final lesson is usually a seasonal handicraft from the Rooted Childhood monthly collections or something else inspired by the season.
Beyond our formal lessons, we have established a family culture that celebrates creativity and encourages tinkering and making. I often set out collaborative craft projects for the kids to work on in a come-and-go fashion. This is a perfect way to invite  young boys to participate in handicrafts.
Things like weaving, macrame, knitting, and needle felting work well set up in this fashion and give my kids a good self-directed option for our afternoons while my youngest naps.
We also keep a variety of supplies on hand that are always available to use as long as they are used properly and cleaned up afterward. They can access scrap fabric, felt, needles, embroidery thread, wool roving, yarn, and more.
Handicrafts for Boys
I don't believe there are handicrafts that are better suited for boys or for girls. I truly think handicraft skills that are useful are beneficial and can be enjoyed by both genders.
I do think there are some differences in how we can approach handicrafts for boys though to ensure that they are enjoyable. While we do all of the same handicrafts in our home, the end product for my girl vs my boy are often wildy different.
Just as an example, when I taught my oldest daughter how to finger knit, she loved making necklaces, bracelets, and headbands. My son, however, preferred to turn his finger-knitting into snakes, lassos, rescue ropes, and even an eye patch!
Encouraging freedom of expression is a wonderful way to encourage boys to continue using the handicraft skills they learn outside of lesson time.
A few handicrafts my son has enjoyed:
Sewing with felt on burlap
Knot tying
Paper sloyd
Stamp carving
Weaving
Making handmade toys
Fleece blankets
My son is only six, but once he has learned the basic skills involved in a lot of handicrafts like measuring, planning, etc. I am sure that he will enjoy more complex crafts like whittling and woodworking as well.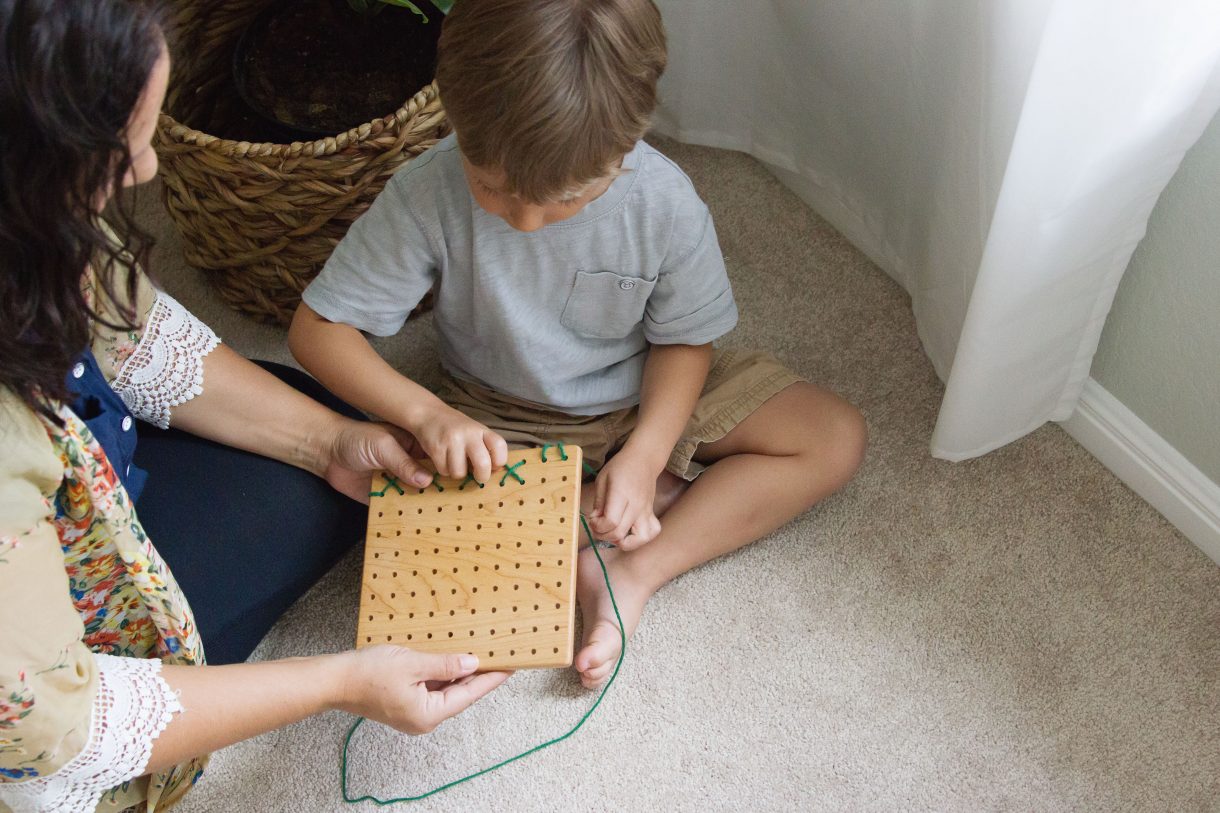 Handicrafts for everyone
Handicrafts can be enjoyable and so beneficial for everyone in the whole family no matter the age or gender! We often come together as a family and decide on handicraft skills to learn. We embarked on knot tying this term and each of us thoroughly enjoyed learning this craft!
My son became obsessed with learning different types of knots, how to tie them, and how they can each be used in real life. We used a fun knot tying book paired with a bunch of YouTube videos.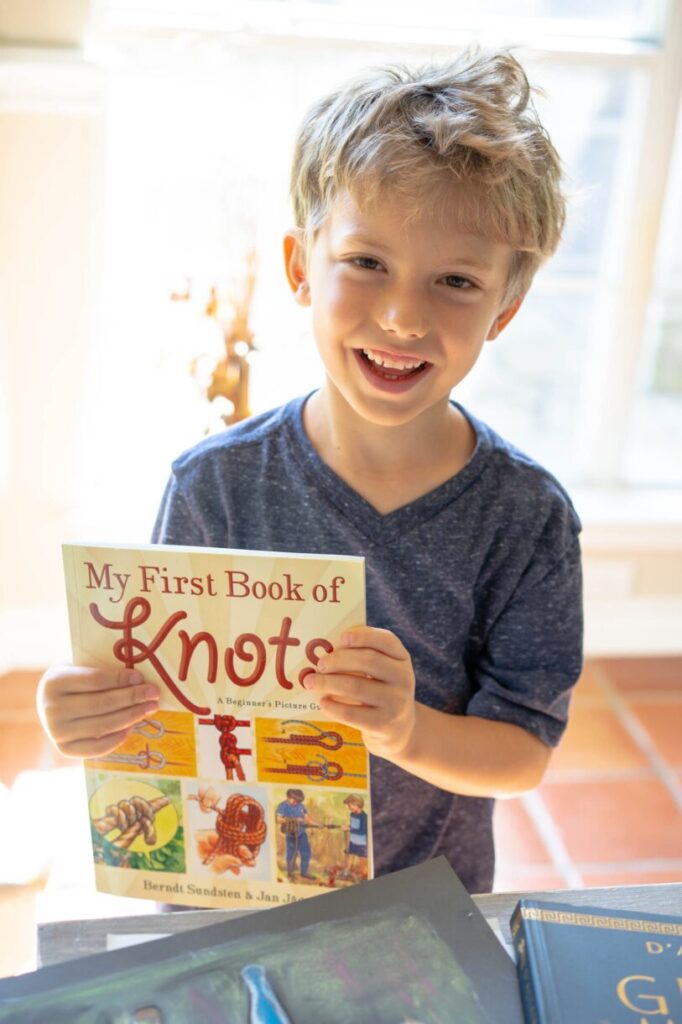 We took our knot tying skills and learned to make paracord bracelets, which became a favorite activity for both my son and daughter. We also went old school and made friendship bracelets. We enjoyed making macrame plant hangers (a project in the Rooted Childhood September Collection) and macrame leaves (a project in The Children's Hour Autumn Collection).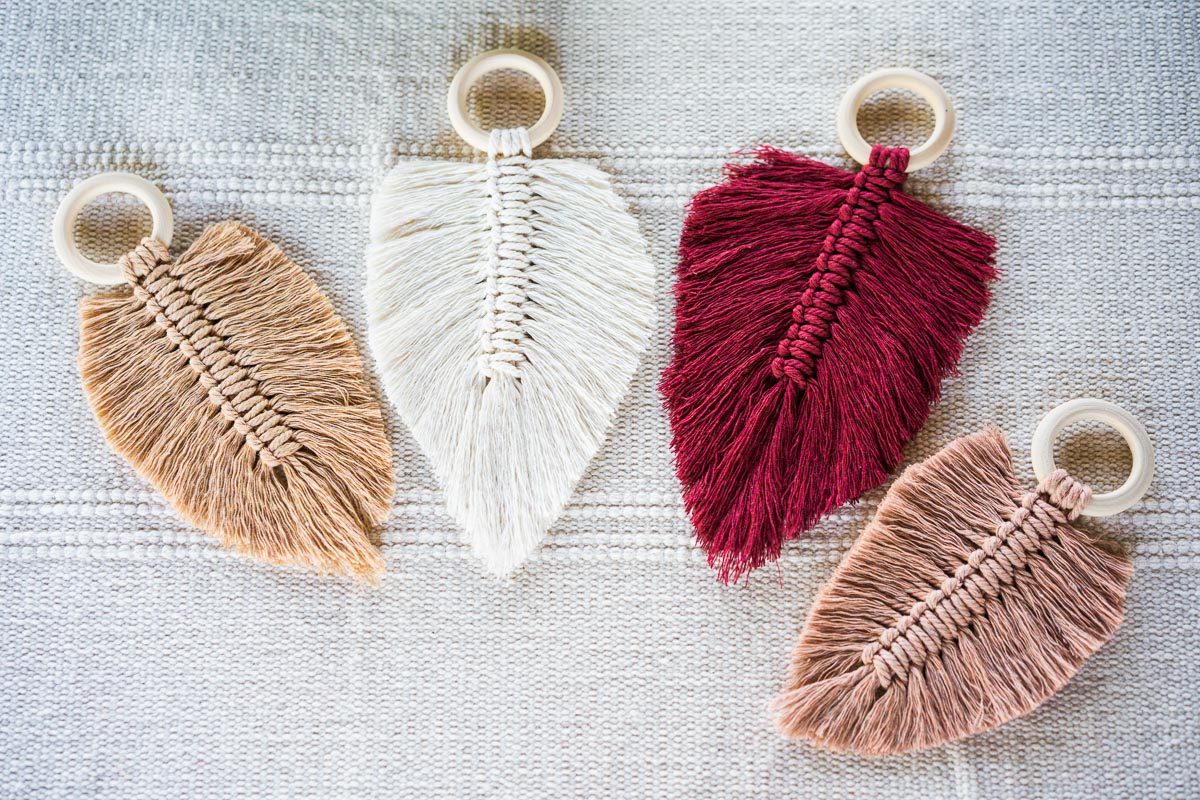 It's fun to see where learning a new skill can take you! There are so many projects and ideas that can come just from one new skill.
I hope this inspires you to encourage and include your boys in handicrafts just as much as you would your girls! Have fun with it!