It may be good and beautiful, but is it true? 
Last week, The Good and the Beautiful announced their new U.S. Constitution curriculum, which I got excited about for a moment. 
***UPDATE: The Good and the Beautiful delayed the release of the new Constitution curriculum in order to make some changes. In the Constitution course that was released in September 2021, they removed the problematic page on slavery that I shared in this blog post. Scroll to the bottom of this post for more thoughts on the updated course.***
I watched their flip-through video, and it looked fantastic! I loved that they decided to focus on primary sources and teaching children to examine documents, research, and consume news with a discerning eye. They spoke about the Constitutional as an apolitical document- neutral in every sense of the word. They spoke about diversity, not for the sake of diversity, but because of all of the incredible, diverse people that had to come together to bring the Constitution to life. Everything I saw in the flip-through would make me want to buy this course and share it with my friends and audience on social media. 
They seem to have removed the flip-through video from YouTube.
But, then I was disheartened to see this promotional video. The whole video has a very political tone, like it was designed to play at a MAGA rally. There isn't anything explicitly wrong with it or anything untrue, but it just gave me the vibe that this curriculum wasn't for me. 
When she references things like: 
"There have been constant attacks on the character and morals of our founding fathers" 

"the country our great grandparents grew up in" 

"freedom is never more than one generation away from extinction" 

"what it was once like in the USA when men were free" 
…it gave me a pause.
In recent years, there has been more of an open and honest discussion about our founding fathers. It is true that they were not perfect. It is true that many of them enslaved other humans. It's also true that the hard work and forethought that they had to create the Constitution is a big part of the reason our country has continued to prosper and evolve into the great nation it is today. It's also true that our country still has a lot of work to do to ensure that everyone enjoys the full range of freedoms that were initially only given to white men by our founding fathers. The only way that we can make that happen is through these conversations. Hard conversations need to happen. It's not attacking the founding fathers' character and morals; it's understanding where we came from and where we want to go. 
What was life like when our great grandparents were growing up? It was a world of Jim Crow Laws and segregation. Our great grandparents were only a few generations removed from slavery. Sure there were probably more yes ma'ams and yes sirs, but that's not an era I want to go back to.
Ronald Reagan's words about freedom aren't a look back into the good ol' days when men were free (because at the time of our founding fathers, obviously they were not). These words were a call to action. Reagan sought to unify, not divide.
Excerpt from Regan.com
Reagan delivered the address while the country was grappling with the threat of Communism and other foreign adversaries, all while civil rights and other domestic issues were taking center stage at home. With his Freedom Speech, Reagan sought to unify the American people around the shared common goal of pursuing freedom, which he emphasized wasn't a guarantee. He aimed to motivate listeners out of complacency, to inspire them to keep fighting for the freedom that he knew could be at risk if they weren't vigilant. That idea has survived for generations and serves as a clarion call to not lose sight of the value of freedom—and the risks of it dissipating from American society.
The comments on the promotional video sharing concerns and the subsequent responses by TGTB were very telling. Almost all of the comments have since been deleted by TGTB.
As sensitive to race and bias and the current political and social climate as they were in the flip-through video, I couldn't let my concerns go without sharing them directly with the company.
I am an optimist. I try to always give people the benefit of the doubt. I emailed them my concerns because I wanted to hear from them myself. I emailed them and got this response: 
Our children are definitely growing up in a world different than it was in decades past. Hate, rudeness, unkindness, spreading of false information, name-calling, and so much more are unfortunately rampant. What we meant is not that we wished we could go back to a time when people were oppressed–of COURSE not!
It is true that many people, including women, blacks, Native peoples, and others, did not have equal rights at the Founding or for far too long after. It is the Constitution that laid the foundation for abolition, for suffrage, and for civil rights. Principles of freedom, justice, and equality for all are our guiding lights. The Founding Fathers saw the work they did in the early days of forming the US government as a beginning. They never thought that it was the last word, nor did they believe their work to be perfect. That is why they put directly into the Constitution the means for the people to correct deficiencies as the needs and beliefs of the people changed. And Americans have risen to the occasion time after time with the passage of 27 amendments, the full context and importance of which are all taught in the course. One of the other important issues highlighted in the course is that the country was not perfect at its founding, nor were the Founders perfect. 
I appreciated this response and none of it is necessarily untrue, they just didn't really address my concerns. At this point, I thought that the curriculum wan't for me but that it might work for others.
When Facts Aren't Enough 
I am a positive, you-do-you kind of person. I have close friends of all faiths, all backgrounds, of all colors. I am on the opposite side of the political aisle from many of my friends. I believe we can all co-exist knowing that each of us is doing the very best we can in making decisions for our family, and I think we have lost a lot of tolerance for differing opinions and viewpoints. 
There were homeschool influencers and bloggers and many Black women who condemned this curriculum immediately. In hindsight, I can see why, and I appreciate the time and space I was given to come to my own conslusions.
I feel a personal responsibility to do my due diligence before making judgments about business or people. Even though TGTB is a large company now, it is one woman's dream that has come to life. As a curriculum creator myself, I know how much blood, sweat, and tears goes into creating a product, and I am more inclined to just unfollow and move on from a company who doesn't align with my family's values than to try to sway the opinions of others. 
But then, I saw a sneak peek of the curriculum on Instagram shared by @read_therainbow. 
Here's a screenshot of one of the sample pages on slavery in the new TGTB Constitution curriculum: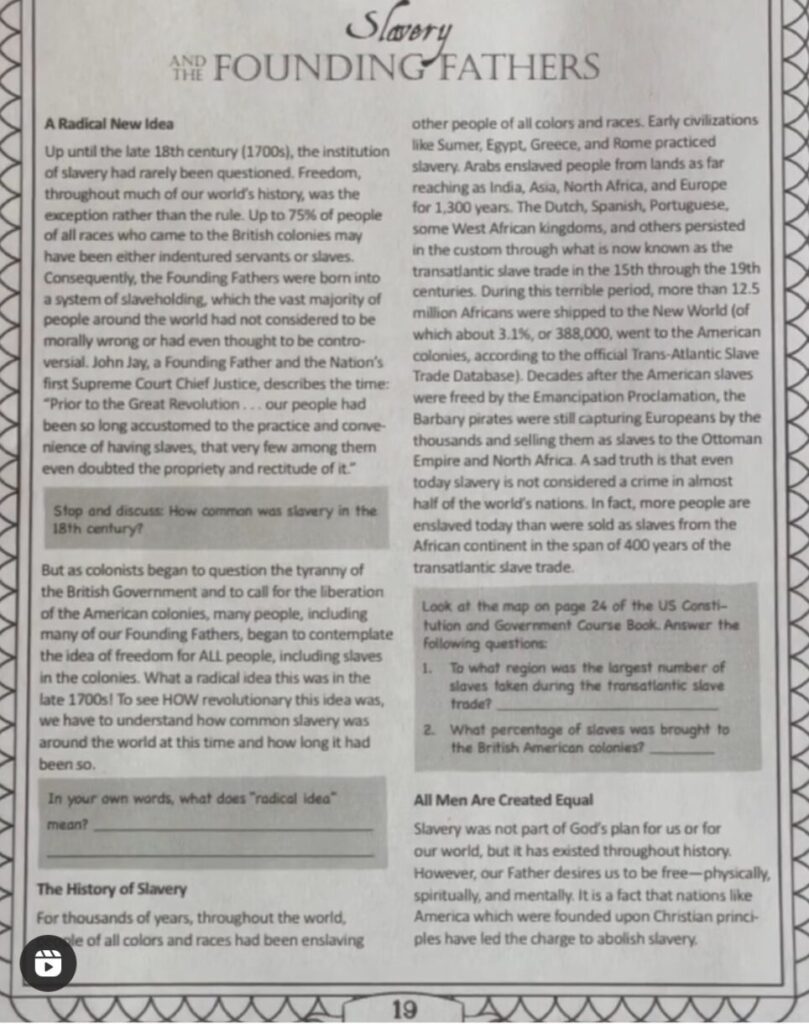 Yikes. 
Well, this was more than just a difference in politics or an alternative view. This was rewriting history. This was racism. This was a white-washed, feel-good alternate reality.
To be fair, there are a lot of facts on this page. It is true that slavery happened all over the world to people of all colors. It is true that the founding fathers were born into a system that accepted slavery.
But just as I would never accept the excuse that "everyone was doing it" if my children succumb to peer pressure, it's not an excuse for slavery either. Slavery is a messy, evil business. And the biggest problem with this excerpt isn't necessarily the facts it shares, but all of the details it leaves out.
The Atlantic slave trade cannot be grouped into a one-liner about the history of slavery. This period of enslavement was so radically different than any other era of slavery in history and to not point out those differences and the lasting effects of slavery in our country…that is lying by omission.
The last line of this page is so problematic on so many levels. Yes, there were Christians who helped lead the charge to abolish slavery. And in a Christian curriculum, I'd expect to see some wonderful stories of some of those people. But again, it's what was left out here that is the main issue. There were many Christians who engaged in the slave trade. Christianity was often lifted up as an excuse and an argument for continuing to enslave people.
In their quest to share a neutral viewpoint, TGTB has taken away the power of the truth.
The truth is we can love our country, and hate that it was founded on the backs of Africans who suffered through enslavement for 250 years and who continue to suffer through the effects of that experience today.
You can see more samples of the curriculum and of the student workbook on their website. 
Using Your Influence
Being an "influencer" is complicated. To be clear, we all have influence. Whether you have 100 or 10,000 or 100,000 followers on social media, you have influence. 
I take my influence seriously. I get emails and messages from people almost daily sharing how something I suggested or something I created has changed the course of their homeschool and their life. Those messages are the reason I keep blogging, keep writing, and keep creating. 
So that brings me back to TGTB. 
I have resisted using anything from TGTB because the company makes it pretty clear who they are, what they stand for, and who their audience is…and I am not their target audience. If I'm picturing their avatar, it's a white, LDS woman with 4+ children homeschooling in the hills of Utah. Clearly, I am not their target market! 
However, last year I reluctantly started dabbling in some of the resources from TGTB. And guess what? We loved them! They actually are good and beautiful. We pick and choose individual products, and I've been able to choose ones that are "light" on religion where it isn't espousing doctrine, but providing a positive and uplifting worldview. That was a compromise I was OK with… 
What I'm not OK with? A white-centered, rainbows and butterflies view of history. 
I believe in shielding our children from as much as we can about the evil and horrors of this world when they are young. But little by little, as our children begin to explore the world around them through first-hand experiences, books, stories, and music, we begin to give them age-appropriate, but truthful, information. 
TGTB released a curriculum for 4th-8th graders. By this age, our children need to know the truth. 
How can we reduce slavery to a blip in history that happened becuase that's just how things were and nobody questioned it? How can we say that it was a radical idea that humans are not property? How can we say that it was America and her Christian principles that led the charge to abolish slavery? 
This is not history. This is not truth. This is not OK.
So because I have shared on my blog and on social media that we have used and loved many products from TGTB, I feel obligated to make it clear that I cannot in good conscience recommend any products by The Good and the Beautiful. 
What Now?
I'm not sure where I go from here. We have several resources from TGTB that we are already using and have planned to use this year. I do not plan to give the company any more free publicity from me in the form of me sharing what we are using or tagging them on social media.
Even though we have been using some materials and enjoying them, it's hard to look at any of their materials as neutral knowing the bias and stance of the company founder and her team.
Today, we happened to be reading a book from the Good and the Beautiful library- The Boy and the Pyramids. It's a living book that depicts life in ancient Egypt for a little boy who's father was king. The boy and his family are pictured as kind, loving people who are even nice to their slaves (gasp!).
I read a line of the book today about an enslaved family living on the boy's grounds that insisted that the enslaved family was happy because they had a house and food.
I could have just read right through that chapter focusing on the living history we were getting- learning about what it was like to live in those times and learning about the distinct classes in Egyptian society.
But, I paused.
I asked my kids, "Do you think the family is truly happy?"
They responded that they might be kind of happy because they had a house and food to eat, but probably not all the way happy.
Why?
Because can you be truly happy without your freedom?
I would say no. But apparently the authors of this book and the creators at The Good and the Beautiful believe differently.
So while math and typing and read aloud books seem innocent enough, I absolutely feel like every part of everything offered by this company must be looked at with a discerning eye to ensure that it fits with our family's values.
I realize that sounds pretty obvious, but when you're homeschooling three children and covering 24 subjects each week, sometimes you choose the easy route and go with options that have good reviews or that are recommended by friends in person or online.
Which is exactly why I can't support The Good and the Beautiful anymore.
I didn't feel like it was enough to boycott them myself. And an Instagram post isn't enough either. I want people to Google "The Good and the Beautiful reviews" and I want the chance for them to see this post.
If you also find yourself in a place of already having their materials, but not agreeing with their company stance on history, there is no shame in continuing to use the products you already have that work for your family. They offer free language arts and math curriculum and it would be only from a place of extreme privilege to think that everyone has the means to drop their materials completely. I would suggest using any materials with a discerning eye.
I also feel like I have to note here that though the founder of TGTB is a member of the Church of Jesus Christ of Latter-Day Saints, her worldview is not representative of all Christians, all Mormons, or the LDS church. TGTB has been criticized by other Christian bloggers and personally, I have heard from many LDS members that don't agree with many of TGTB's teachings.
Teaching Truthful History
I know the next question I'll get is where we can find an accurate, honest history curriculum. I don't think you'll ever find one.
I appreciated this post by @theintuitivehomeschooler explaining more on why that unicorn of a curriculum doesn't exist. It's long, but worth the watch.
What does historical truth look like for our family? We teach history with the child at the center beginning with the history with the closest proximity to the child and then moving outward. 
We study Texas history because that is where we live. We learn about Mexico and the early formations of our state and country. We visit the missions in San Antonio to see what it looked like when Spanish colonialism reached as far as Texas. 
We explore the German immigrants on my husband's side that left famine and poverty in Germany for a better life in Texas only to find a desolate, dangerous land that actually belonged to someone else. We study US history and learn how those immigrants to this new land fit into the landscape of the north and south- how economics skewed the moral compass of so many.
We look to our own ancestry at Christopher Columbus' landing on the island of Hispanola and the beginnings of the slave trade in the New World along with the destruction of native communities throughout the Caribbean. 
We see the effects of Communism on my great grandparents in Cuba, and share the stories of what it means to find freedom in this beautiful country of ours. 
History Resources
I don't use any history curriculum.
We use living books, preferable written by authors who have first-hand knowledge of the accounts they are writing about. This typically means I look for Black authors when we want to learn about slavery, I find Native American authors when we want to know more about issues affecting indigenous people, etc.
You might think you need a curriculum to be able to teach  history, but anytime you introduce a middleman, you're inviting that middleman's viewpoint into your home.
You can teach the Constitution with nothing more than the Constitution in front of you. Read it. Think about it. Discuss it.
You can teach history by talking to your neighbors, watching YouTube videos with first-hand accounts of historical events, or reading good quality, living books.
There are a few places I can recommend as a starting point, but remember, YOUR history is unique and you will need to adjust anything you find to fit your family:
History is complicated and ugly yet it leaves me full of hope. We examine the past to move forward knowing that we are chasing progress. 
History is full of evil, but it's also filled with stories. Stories of real people and real families. Stories of fighting for what is right against all odds. Stories of rising up against oppression. Stories of great men and women. Stories of ordinary men and women and children surviving and thriving with whatever hand they were dealt in life. Stories of courage, hope, passion, friendship, joy, anguish, gratitude, forgiveness, and so much more.
This is the history I know to be true, and the history I will share with my children. 
What history will you share with yours?
Progress: The Updated Course
Due to backlash about the Constitution course, The Good and the Beautiful delayed the release in order to make some changes.
While I do not appreciate how the Good and the Beautiful handled this entire situation, I am thankful, relieved, and impressed that they were able to take a step back to listen to their customers and make changes to their curriculum to present a more honest viewpoint of slavery and the founding of our nation.
When I emailed The Good and the Beautiful to find out more about the changes made to the course, this is the response I received:
"We only changed a few sentences of a few pages of the course book to clarify things people have misunderstood so is clear that:
–The Good and the Beautiful does not normalize slavery or teach that it was acceptable just because it was common amongst many white people of the time
–The fact that abolishing slavery was a radical idea amongst most white people of the time does not mean that abolishing slavery is a radical idea in and of itself–it is a correct idea."

You can download a free PDF of the entire course on the Good and the Beautiful's website to see for yourself.
So what do I think of the changes? I absolutely think the Good and the Beautiful did the right thing and changed the most offensive and untrue parts of their course. I spent time looking through the entire course, and it does a great job of walking through the Constitution and the complicated issues the Founding Fathers faced in setting up our nation for enduring prosperity.
I can appreciate the care they took in presenting a positive viewpoint while not downplaying the challenges. I also appreciate the diverse viewpoints shared from Black Americans and women among others.
Would I use this course with my own family? I think with any open-and-go curriculum, we should always make sure the curriculum fits with our family's values, and I am not opposed to leaving things out that don't feel right or adding in material for a more balanced viewpoint. I probably wouldn't use this course as is with my own family, but I do think it would be a good starting point for some in-depth conversations and deep dives into history.
Side Note: Call Out Culture vs Cancel Culture
I've gotten so many comments and messages about how this post is just another disgraceful part of the "cancel culture" that's sweeping through America.
When I wrote this post, I had no intention of "canceling" anyone. I am one tiny voice speaking out against one very large homeschool behemoth.
There was one video in particular that many of you sent me where someone affiliated with the Good and the Beautiful spoke out against those who were speaking out against this curriculum. The general idea was, "If you don't like it, move on."
I know the old saying. "If you don't have anything nice to say, don't say anything at all."
But when our children's hearts and futures are at stake? I'm not willing to stay silent. And I'm so thankful to all of the voices, big and small, that rose up in defense of truth. Because that's how change happens.
Calling out companies when they are in the wrong is not cancel culture. Calling out companies when they are in the wrong is how we affect change in a world where we are all still learning.
A decade ago, when my firstborn was a newborn, I remember posting a photo of her in her carseat on Facebook. Someone reached out because she was not strapped in her carseat properly. I had absolutely no clue! I was embarrassed, but also so thankful for that person who cared enough to share information in a kind, respectful way.
As I have grown my online presence, I've continued to learn and grow thanks to my wonderful readers. I have said things that I didn't know were offensive. I have used language I didn't realize was problematic. I have recommended resources that turned out to be trash.
When you know better, you do better.
I have so much compassion, respect, and appreciation for The Good and the Beautiful and every other company that has ever been called out and then made it right. I know that is not easy! But that means so much to me as a consumer to know that the companies I support with my hard-earned dollars are doing the right thing.