How is it that there are so many great books in this world?!
I consider myself a pretty avid reader, and I have been since I was in elementary school. But I am constantly finding classic children's books that I have never heard of or read. It is such a joy to share in reading these books with my children!
Our latest read aloud book was The Wheel on the School by Meindert DeJong. I honestly had no idea what this book was about or if it was even good when my daughter handed it to me. We have a collection of Newberry Award winners that my mom gifted us, and this book was included with those.
From the very first chapter, we were hooked!
About The Wheel on the School
The book is set in the small Dutch fishing village of Shora. One of the town's six children writes an essay for school that asks why there are no storks in their village which begins a chain of events that enthralls the whole town.
The schoolteacher encourages the class to find out for themselves why there are no storks in Shora, and the children set out to bring the storks back.
They have to overcome many obstacles and learn many lessons about faith, hope, perseverance, and community along the way.
About Reading Aloud
We usually read 2-3 chapter books at a time as a family. We typically have a breakfast book, a nap time book, and a bedtime book going at the same time.
We sometimes have an additional book that we'll read with my husband also since he doesn't usually get to enjoy our read aloud time.
How do we choose what books to read?
We first started reading chapter books when my kids were 4 and 2. We started with Charlotte's Web, a truly magical book that drew us all in. I really love Read-Aloud Revival's list of first chapter books to read aloud. We just went down the list and read all of them!
Over time, we've built up a library of living books and quality literature and now we can just pick one from our shelves. Occasionally, we'll get a specific book from the library too. Right now, we're working our way through Newberry Award winners because we have a large collection of them.
My kids are currently 8, 5, and 3 so that means not every book we read is going to appeal to all of them at the same time. I generally choose books geared toward my oldest and it works out that my middle enjoys them too. My 3 year old plays while I read and listens. I'm not concerned that the books are age-appropriate for her as I know she will take what she can and leave the rest.
Books can shape your family culture
Reading together may seem like an insignificant part of childhood when we look at the grand scheme of life. But reading books opens doors and lays the foundation for creating a love of learning in our children.
When we spend time together as a family reading, we are showing our children that we truly value books. Life these days is always busy and there is always so much to do. Thin about what it says to our children that we are willing to stop, sit down, and open a book for 20 or 30 minutes or even an hour to read with them. That means something special!
Once we've read a book as a family, we all can share in the joy of the story, the inside jokes, and the memories. It's such a special part of our family culture, and I hope it can be a part of yours too!
How We Celebrate Books
Whenever we finish a book, it's always a little bittersweet. We are so happy to hear the whole story, but always sad to said goodbye to our favorite characters and settings.
We started celebrating books years ago. Sometimes we do a special teatime where we enjoy snacks based on the book and sometimes we'll make a special family outing related to the book.
The Wheel on the School turned out to be one of our favorite books of all time and it deserved a big celebration! I suggested we might throw a little party, and my 8 year old took it from there in planning out all the details.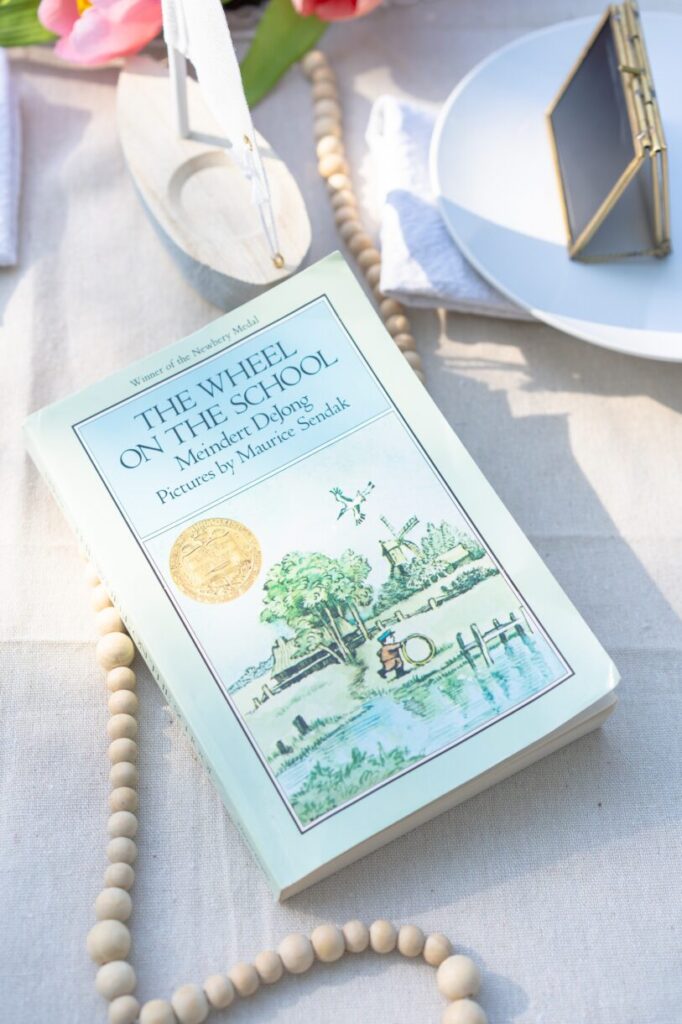 The Wheel on the School Party
We grabbed a clipboard and started jotting down some ideas that would help bring our favorite parts of the book to life.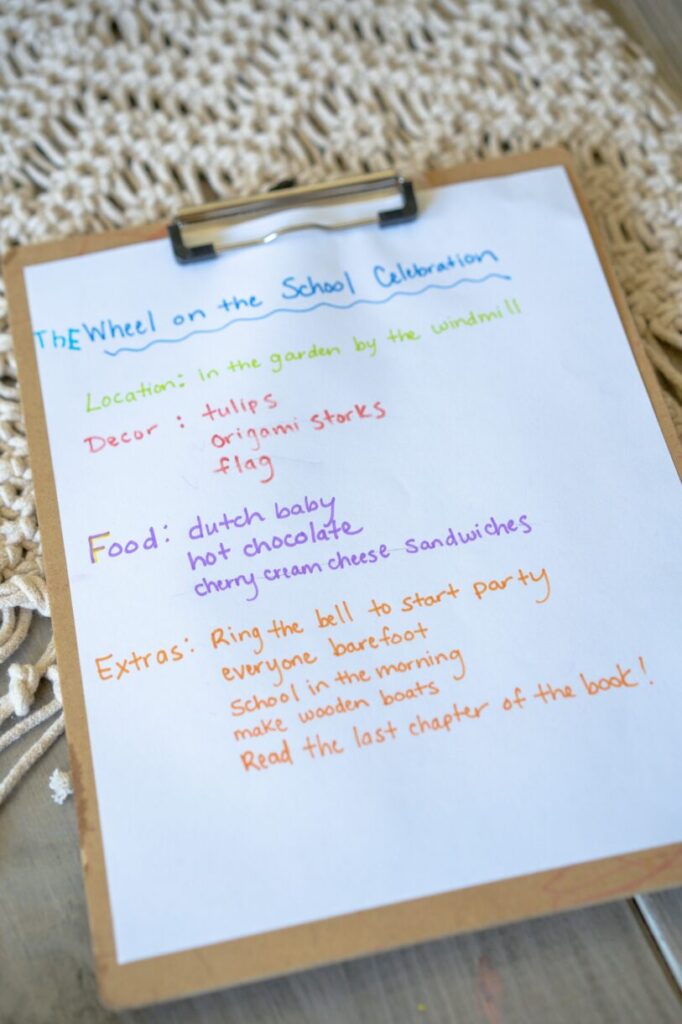 I put some video of our sweet party together so we can remember what a special day it was!
The story is set in Holland so there were a few obvious elements like a windmill and tulips.
There were some other more subtle elements like having cherry cream cheese sandwiches because the only tree in Shora is a cherry tree or hot chocolate because that's what all the mom's served to the children during the big storm that hit Shora.
My daughter also insisted that we do school in the morning like in the story and that everyone was barefoot because all the kids in the book kept kicking off their wooden shoes to run and play.
We also decided to save the very last chapter to read during the party. This was such a fun way to end the book!
Our party took a lot of planning and gathering items to use for decorations, but that is half the fun of throwing a party! It was a family affair to get everything ready and even though it was just our family, it really felt like a fancy party.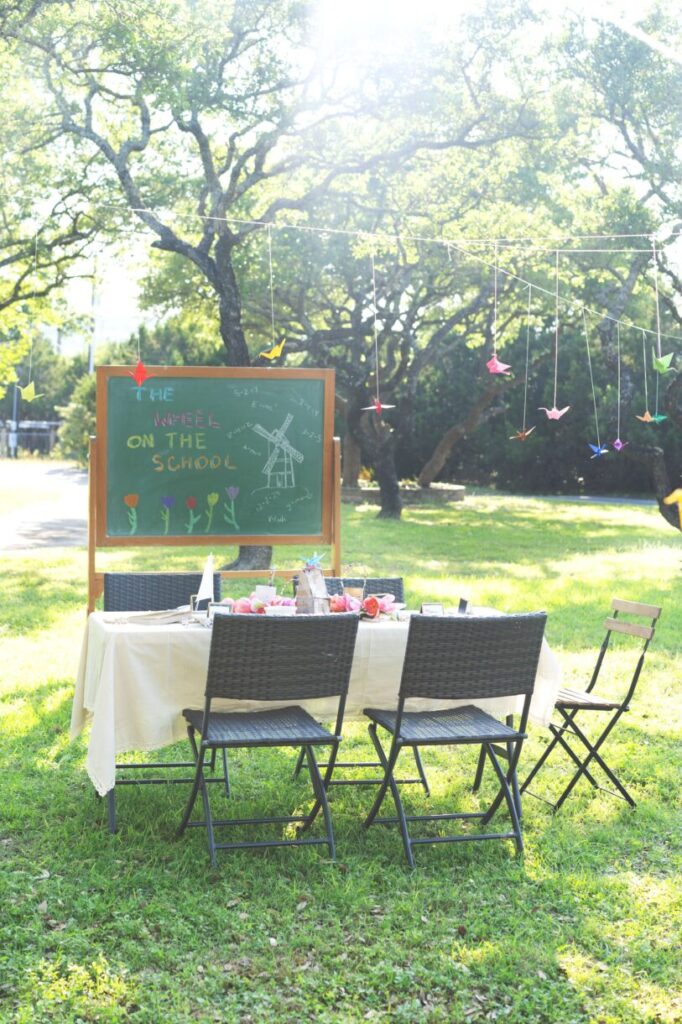 This party was so fun to put together, I thought I would share some of the details.
All the details
First up, the location. We hosted our Wheel on the School Party right under our windmill- how perfect is that?! This spot is right in our front yard, and we actually planted a garden here a few weeks ago so it really was the perfect spot.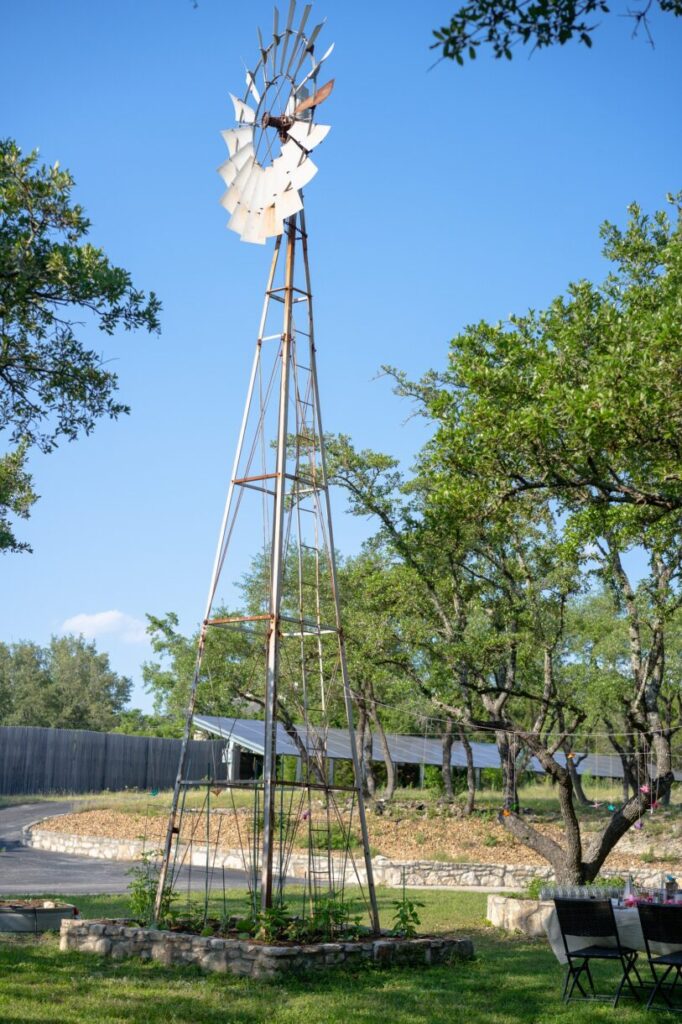 I had an idea to decorate the party area with little hanging storks. After trying an origami stork, I decided that an origami crane would suffice and still give the effect of flying birds.
My husband and I worked on learning how to fold the cranes during our weekly at-home date night, and let me tell you- it wasn't easy! Origami is all about the precision of the folds and the details which I have very little patience for.
I had to watch and rewatch multiple videos to figure the first crane out. Finally it clicked and I was able to show my older two kids how to make them as well. We were paper crane making machines for a few days!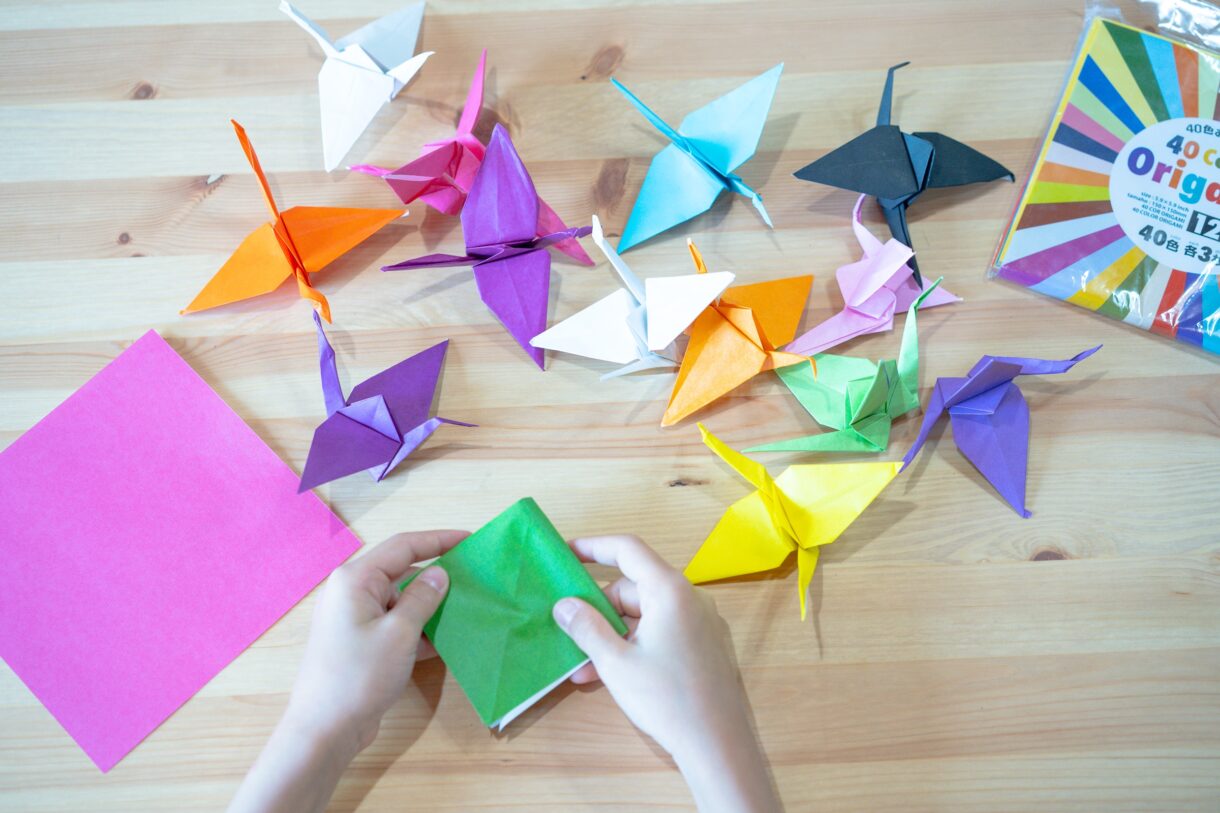 To give them the flying effect, we hot glued a string to each one.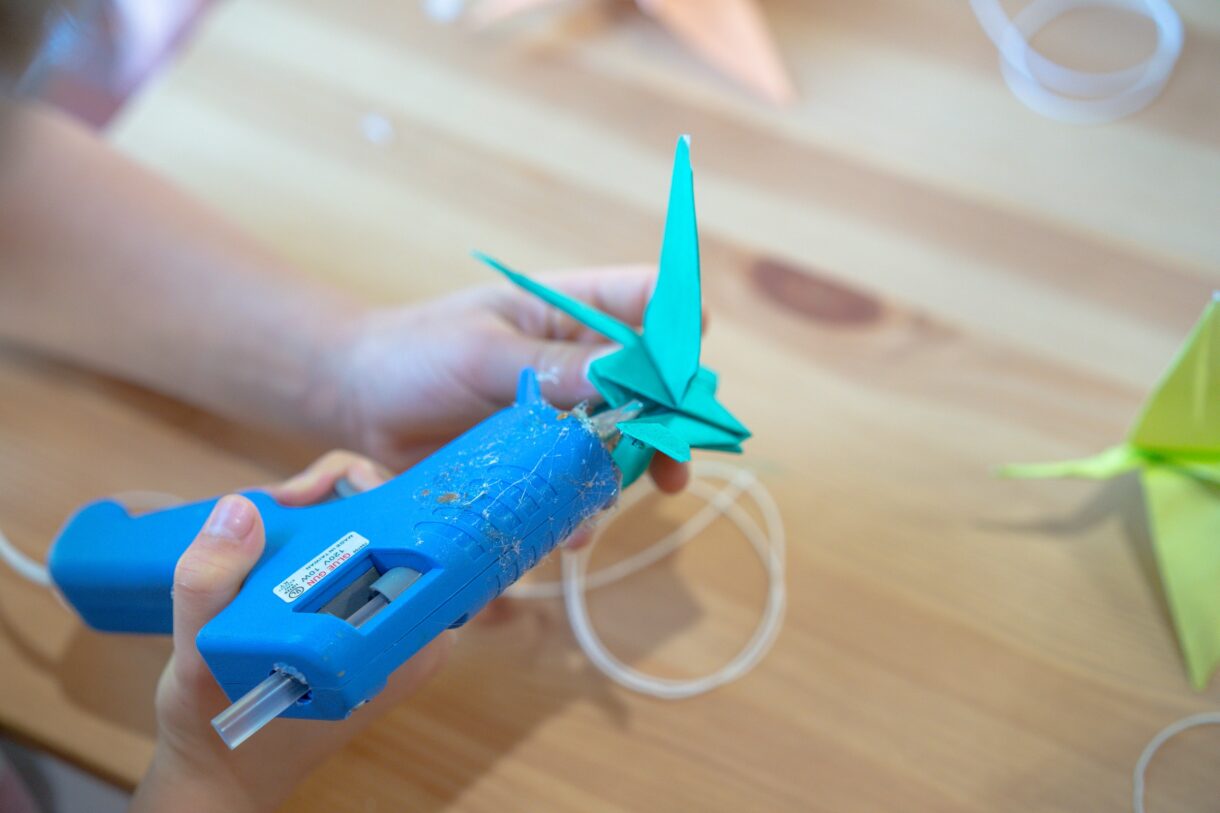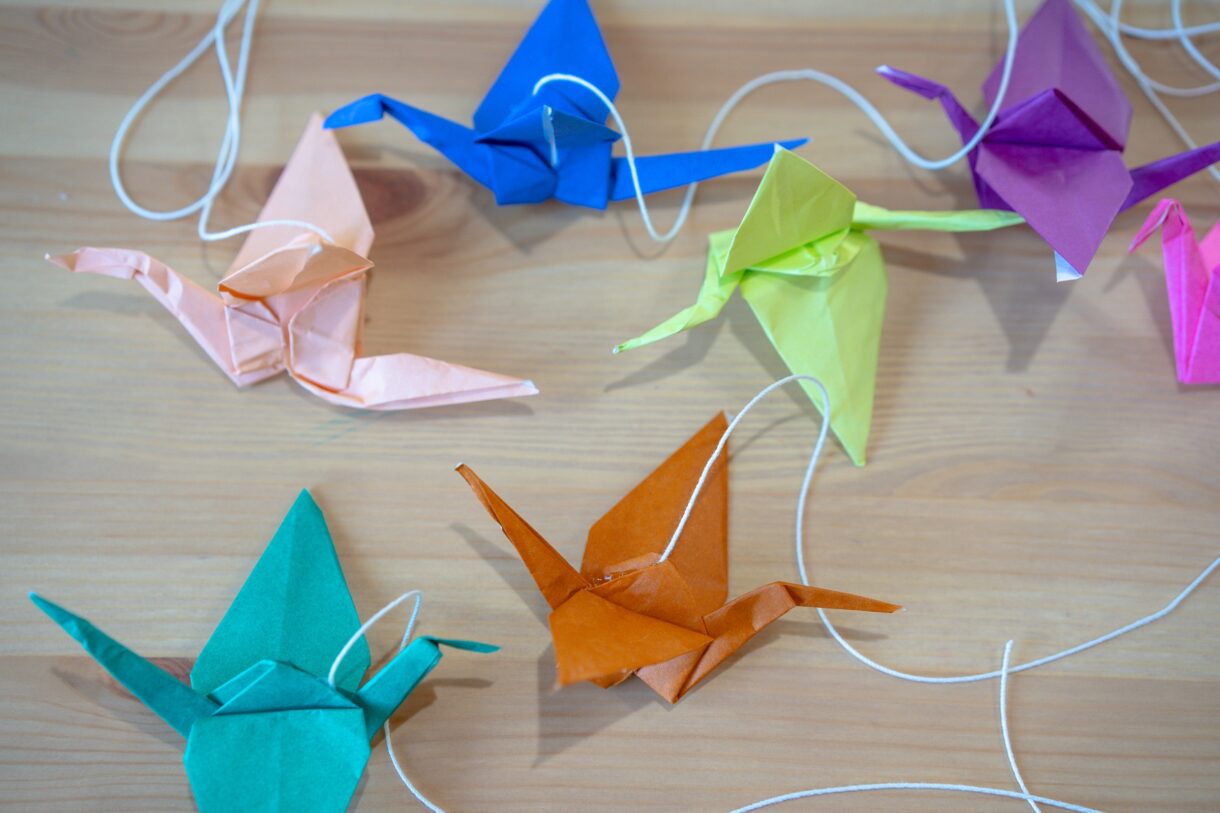 Then I criss crossed string from trees in the garden area and tied each stork to one of those strings. I had to space them further apart than I intended because it was windy and I didn't want them to get tangled up.
It was hard to capture how amazing these looked in person, but it was just magical.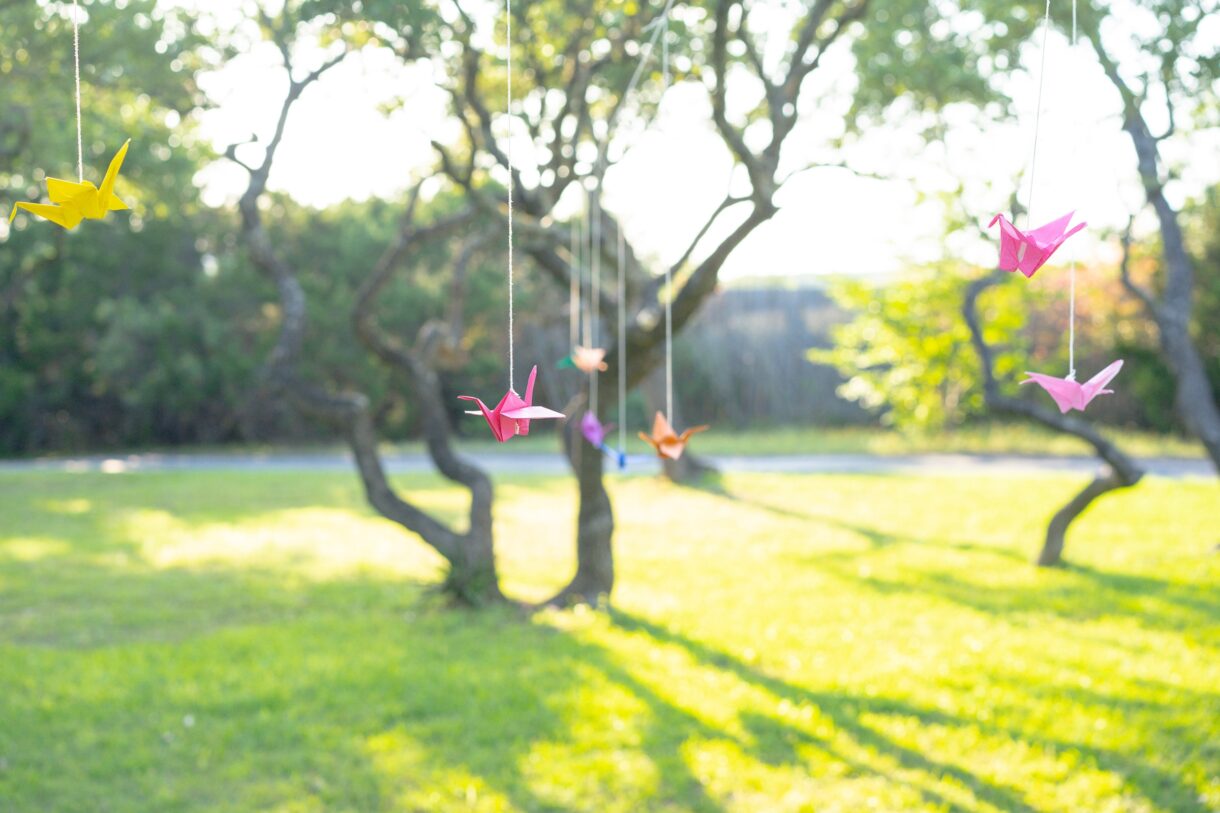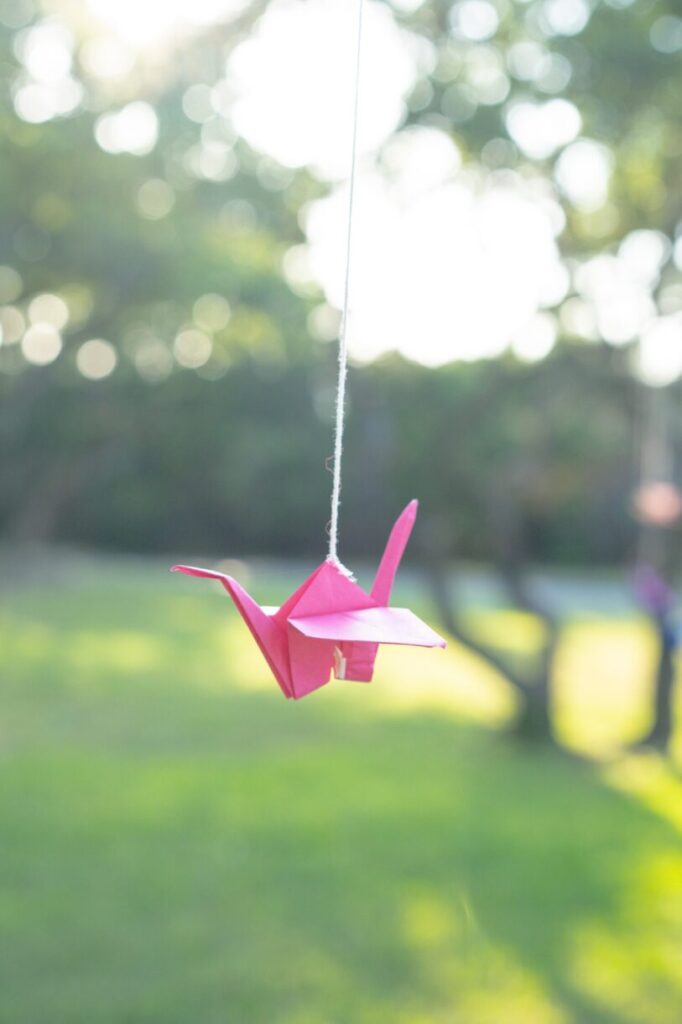 For the table decor, I wanted to get real tulips, but COVID-19 stifled this plan again! So we needed up using two sweet tulip wreaths from Target to brighten the table.
I used lanterns that we made from recycled tin cans (a project included in the Rooted Childhood February Collection) with LED votives for extra ambiance.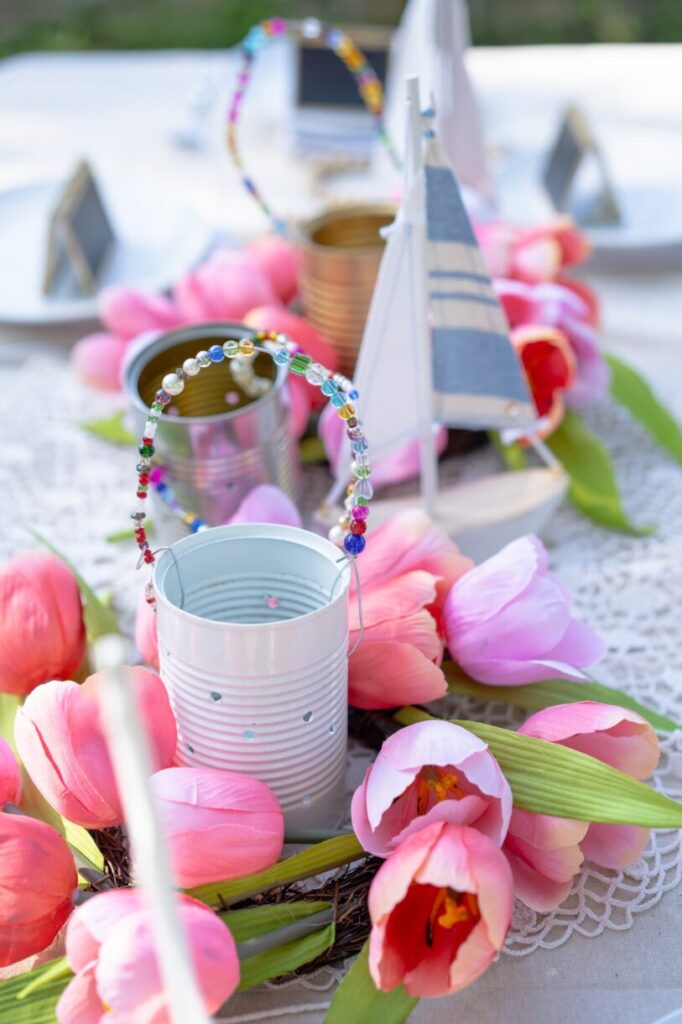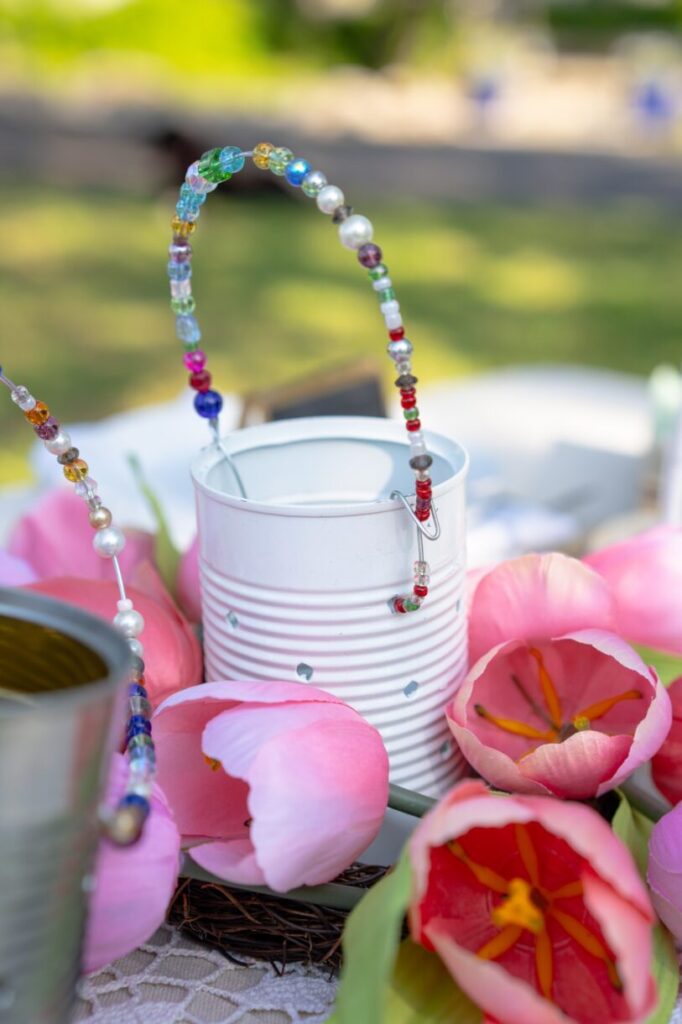 I found these sweet wooden boats in the Target dollar spot which were perfect table decorations since Shora was a fishing village on the coast.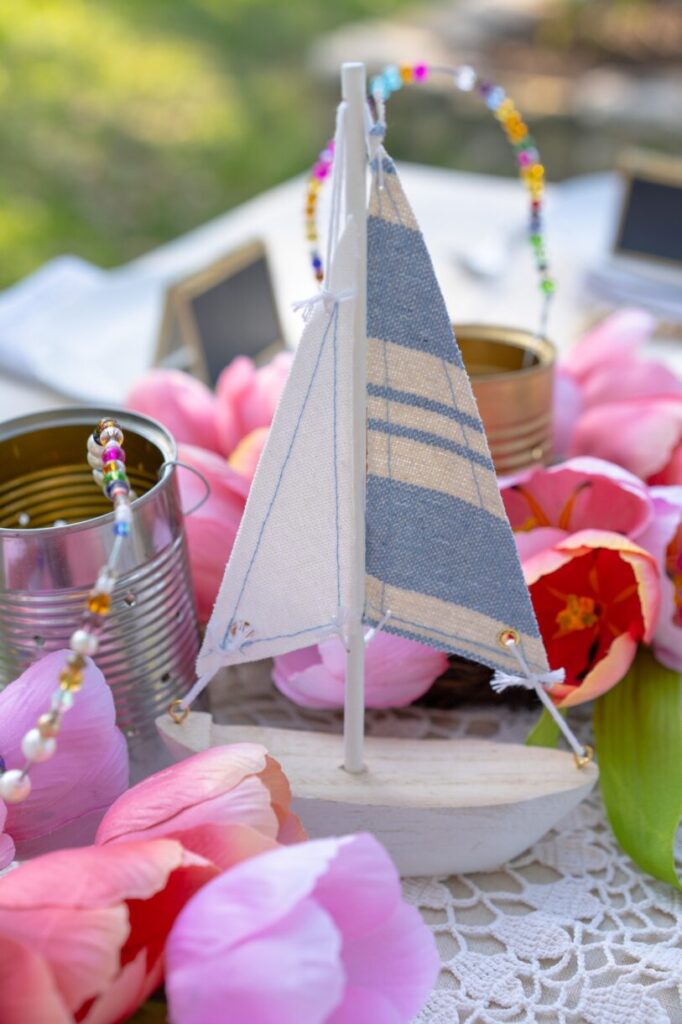 And I put out place cards for everyone using these sweet gold place card holders that I found at clearance at Target last year.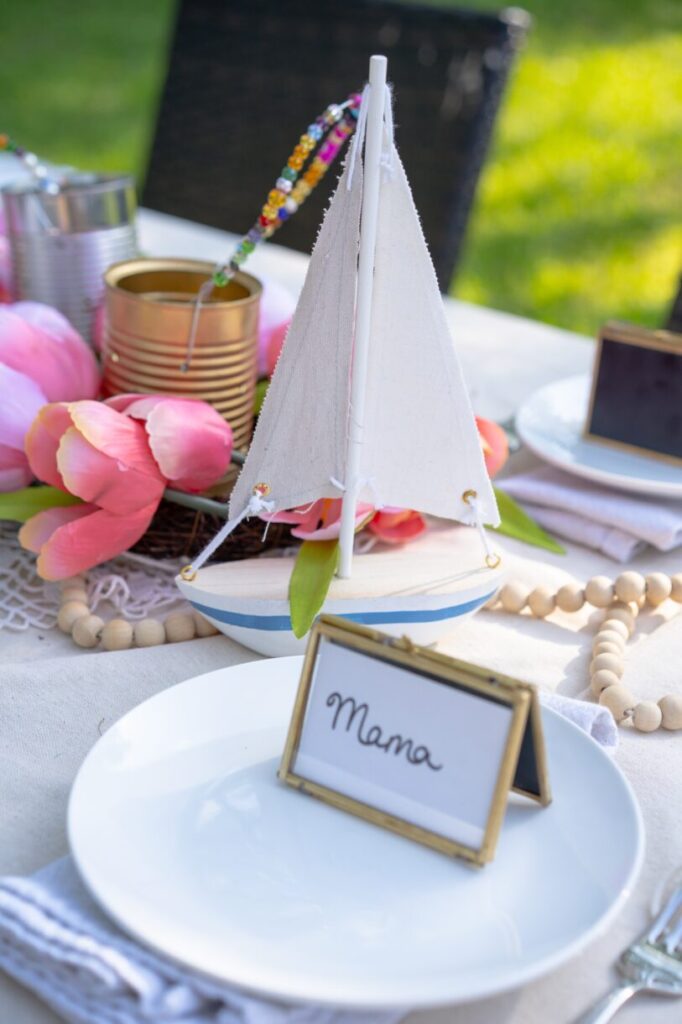 My daughter really wanted to have an actual wheel on a school. I love her ingenuity because she went and made one out of cardboard!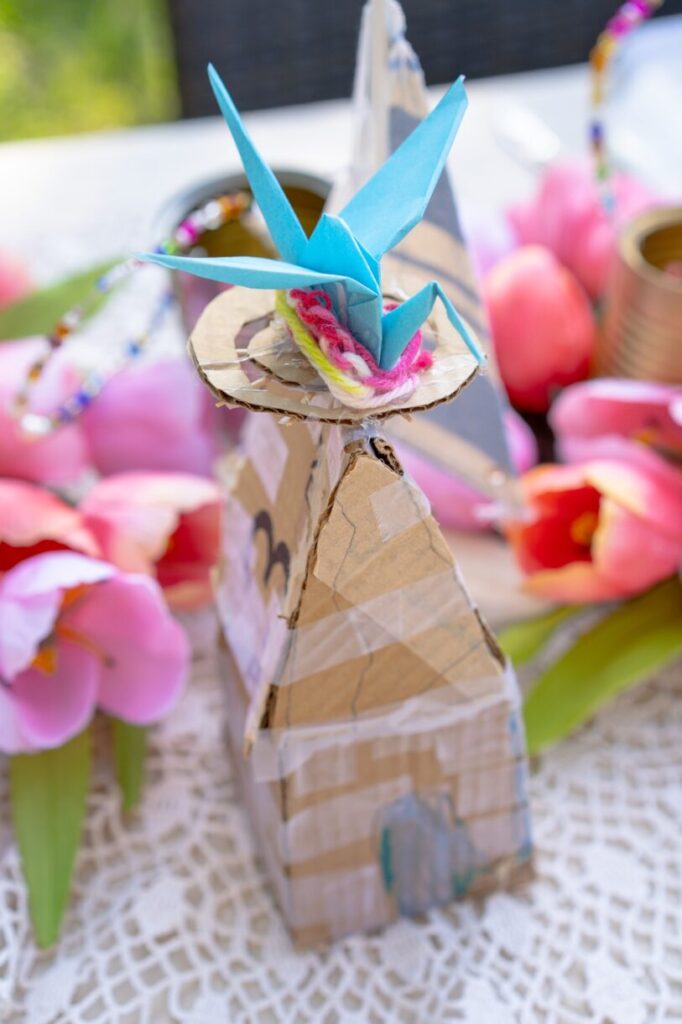 I decided to anchor the centerpiece on a special doily passed down from my husband's grandmother. Grandmothers are so special, and the book shared how knowing the past can help shape your future- a good reminder to talk to your grandmas while you can!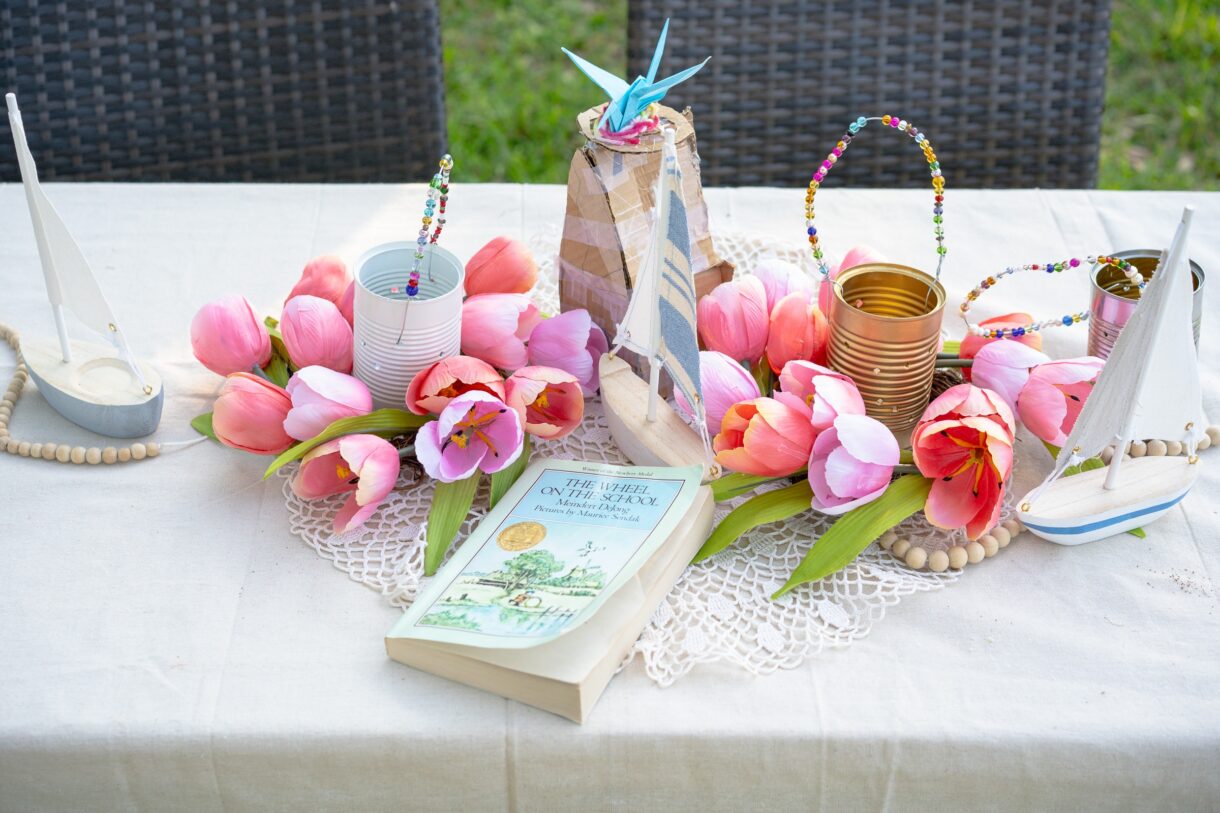 My daughter also put together this Dutch flag using cardstock and we hung it from a tree to display during the party. She was so proud!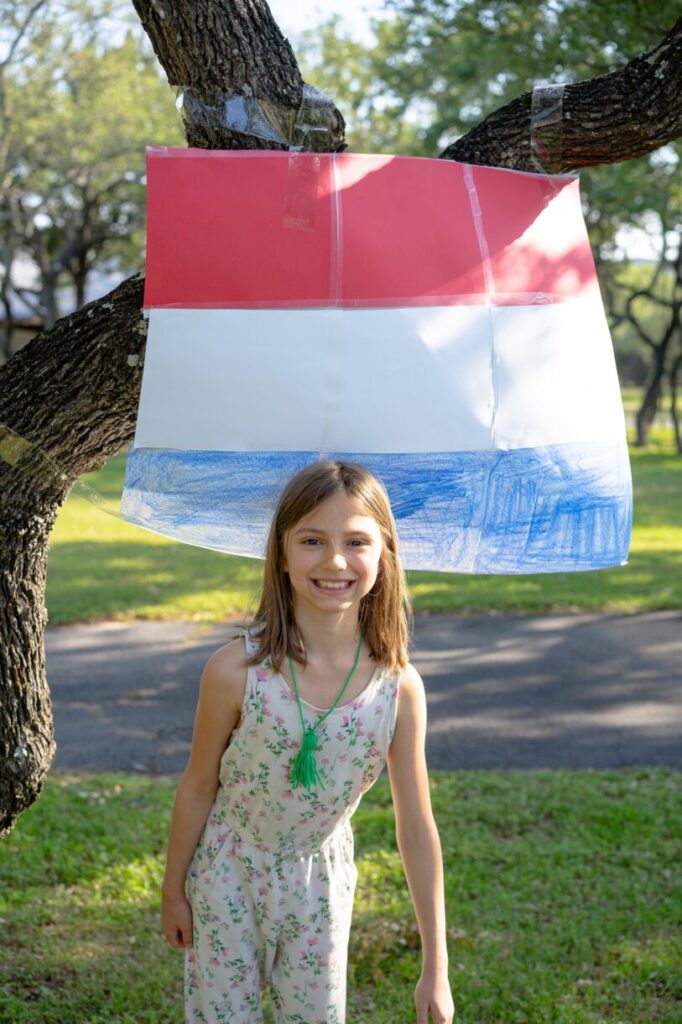 To play into the schoolhouse aspect of the story, I pulled out our vintage rolling chalkboard and decorated it with chalk pastels. I'm no artist but the kids LOVED this!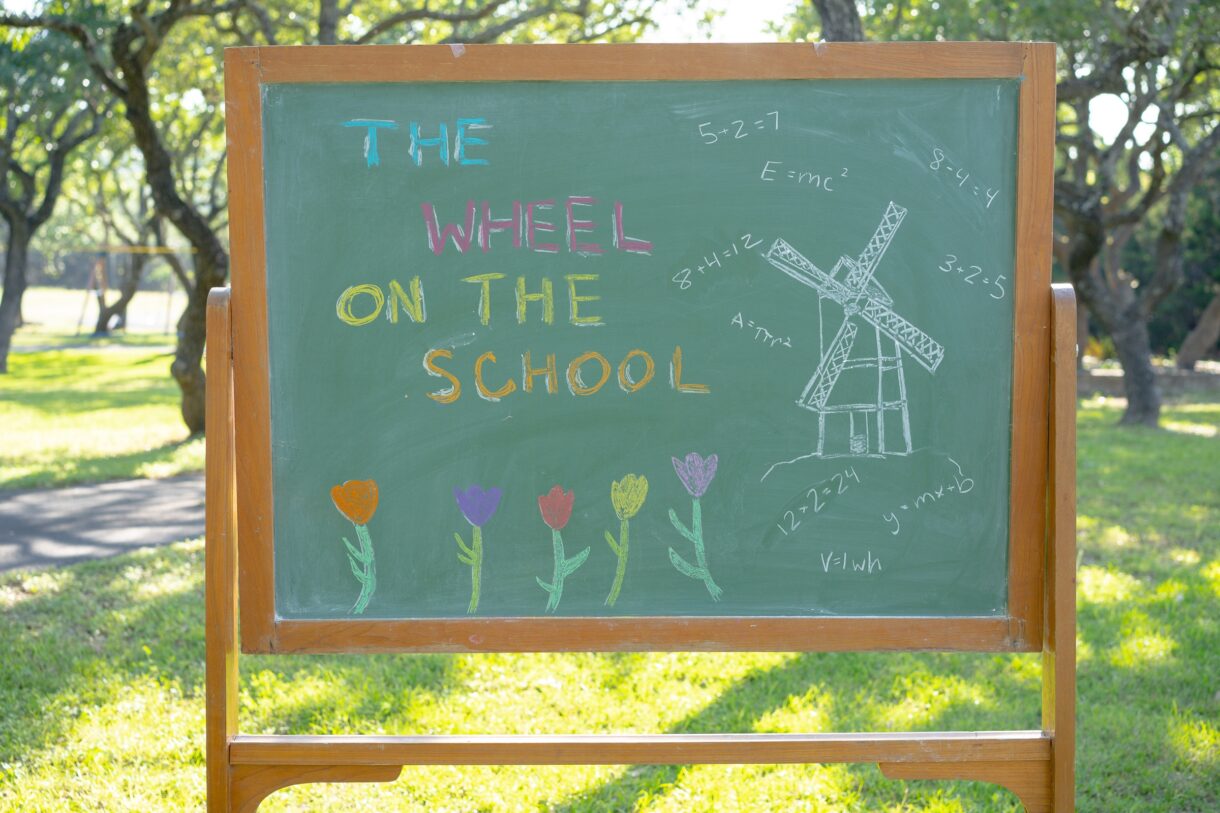 When we were ready to start the party, the kids all took turns ringing our dinner bell as the bell tower plays a big part in the story.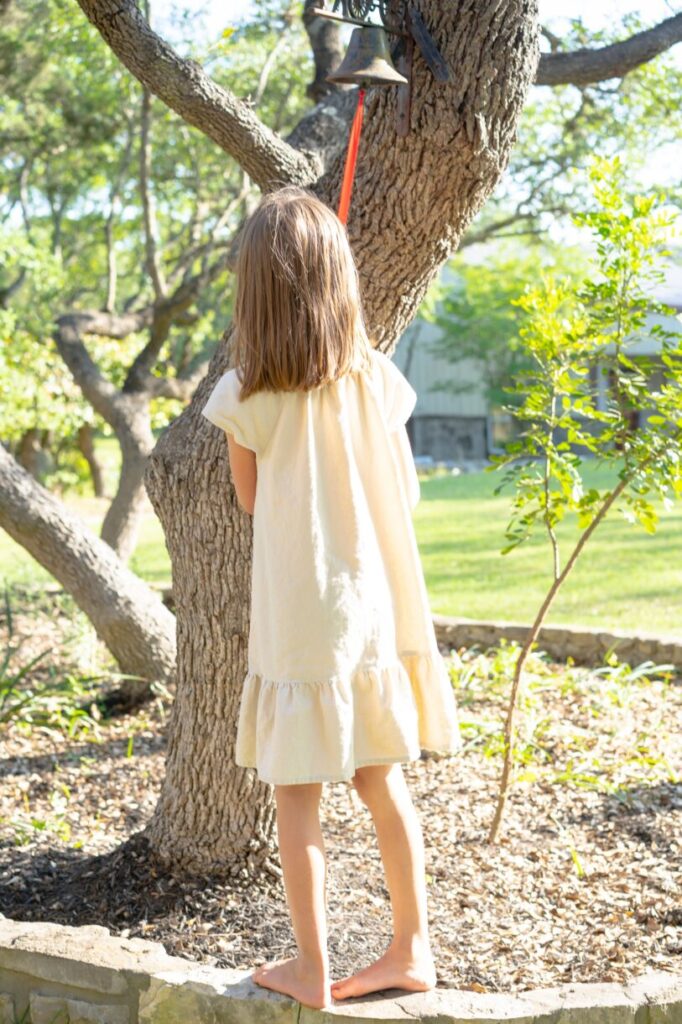 And then we were ready to get started! The party looked so pretty!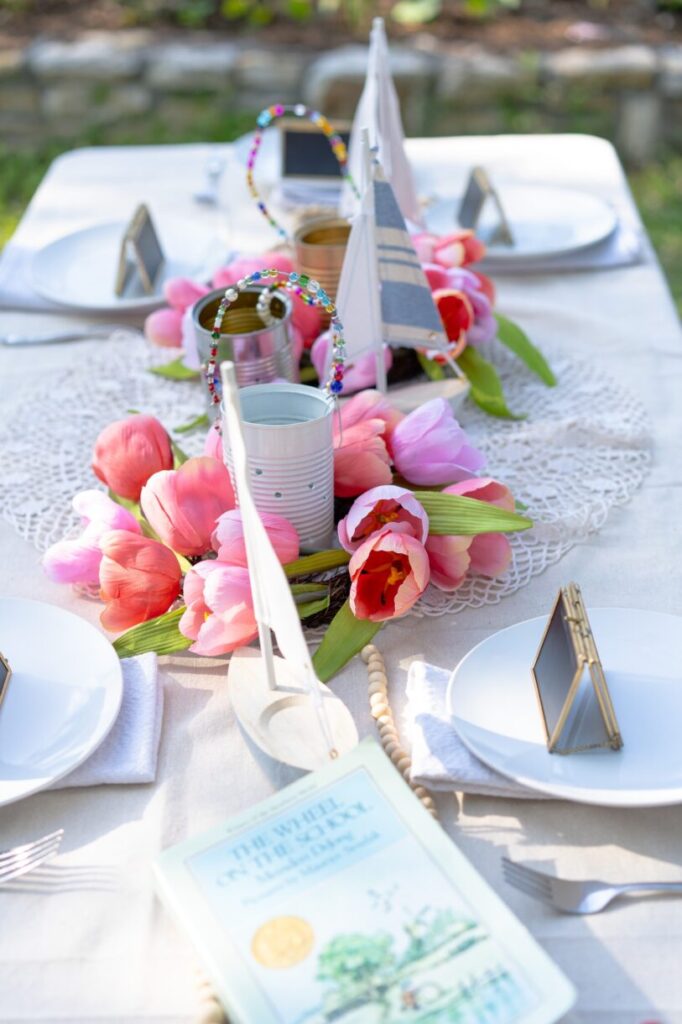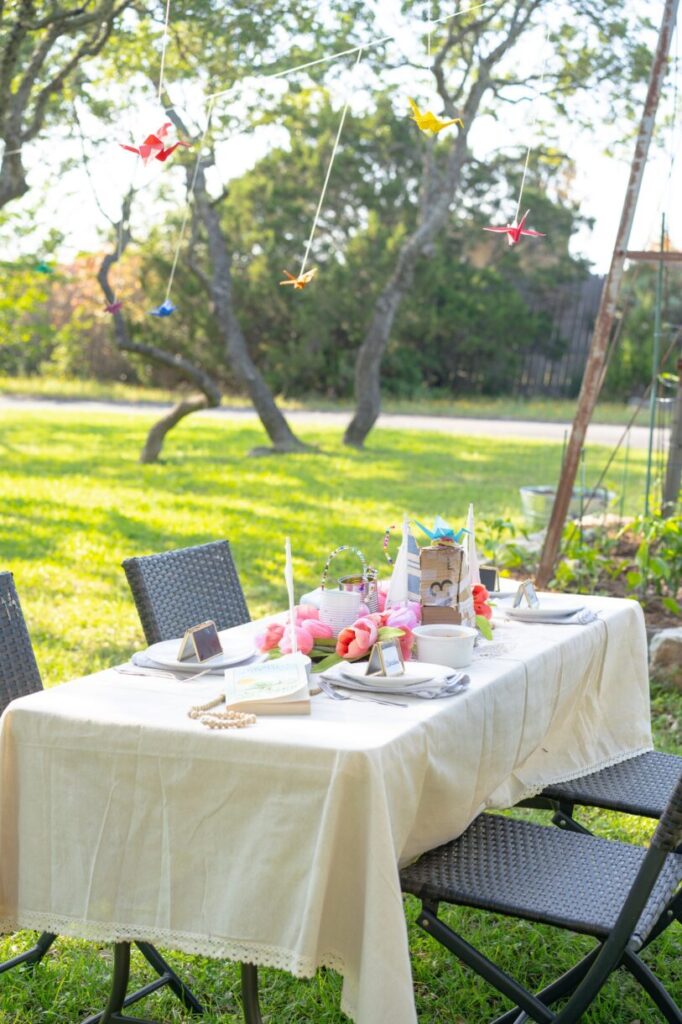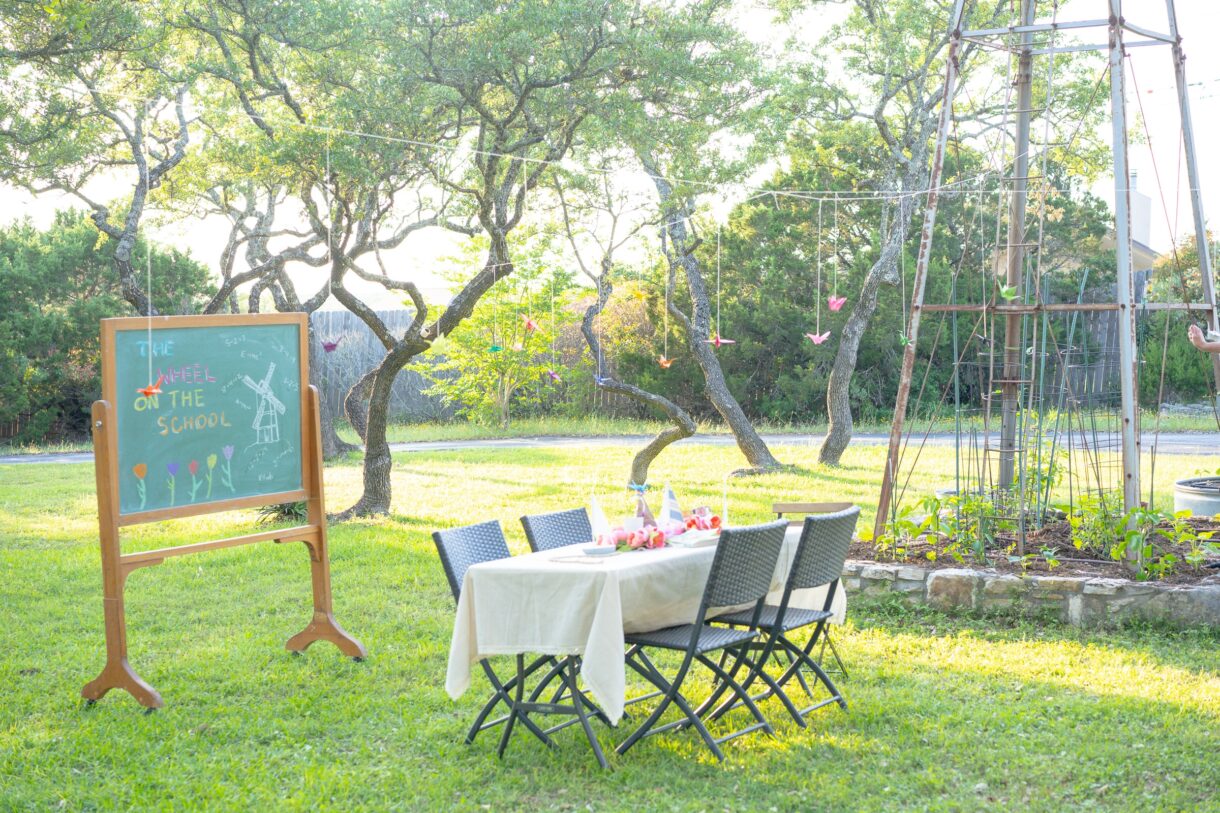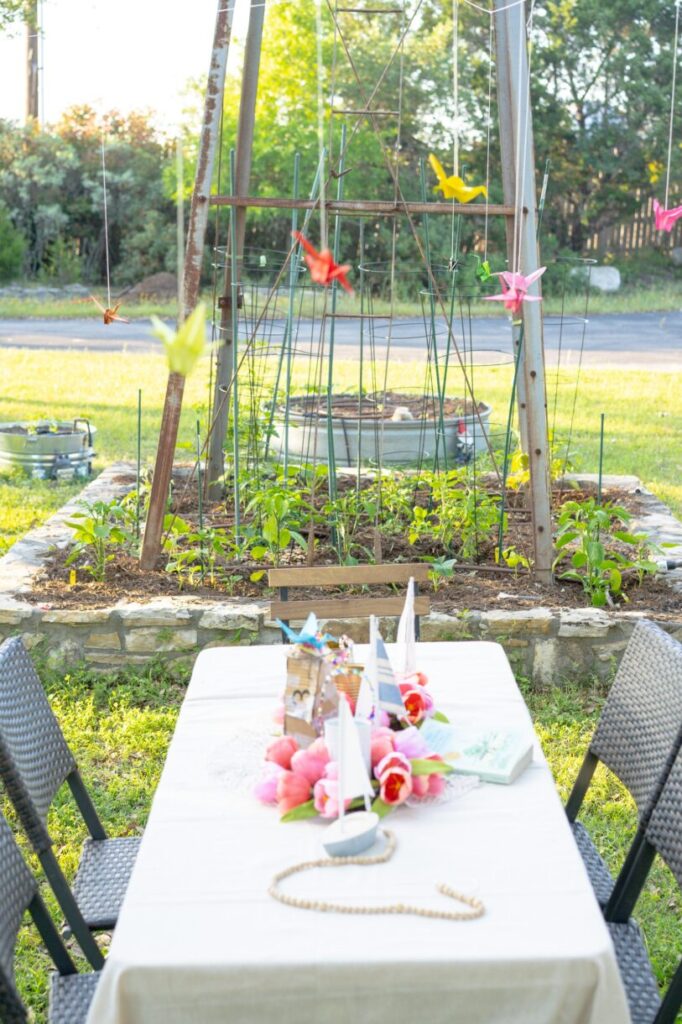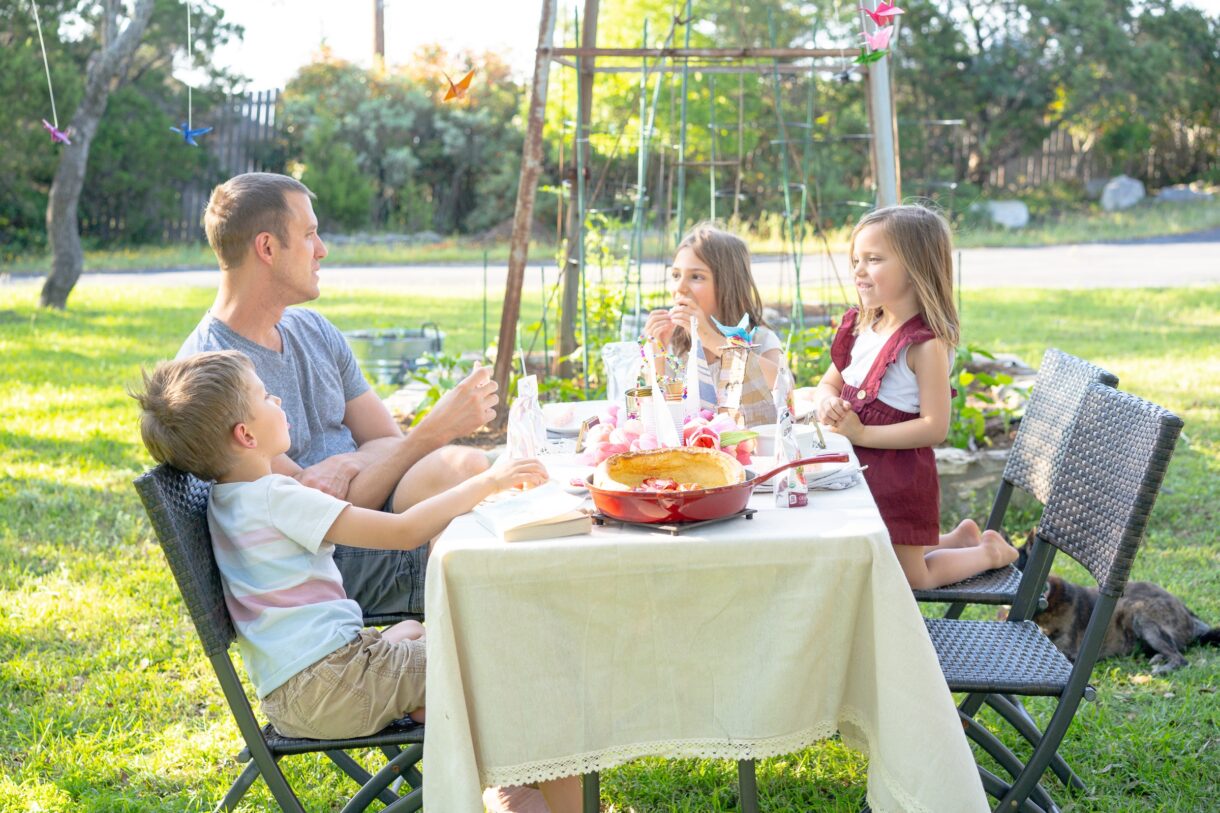 As for the food, we had our cherry cream cheese sandwiches to pay homage to the lone cherry tree in Shora. This recipe is a family favorite and comes from a now-closed tea room I once threw a baby shower at.
I just mix a block of cream cheese with a few maraschino cherries and use a little bit of the cherry juice to thin it out. I mix it all up in a food processor and then spread on bread to make sandwiches.
I usually find organic maraschino cherries without all the yucky dye at our local health food store, but thanks to COVID-19, the only thing I could get delivered was the real deal so these are extra pink and fun!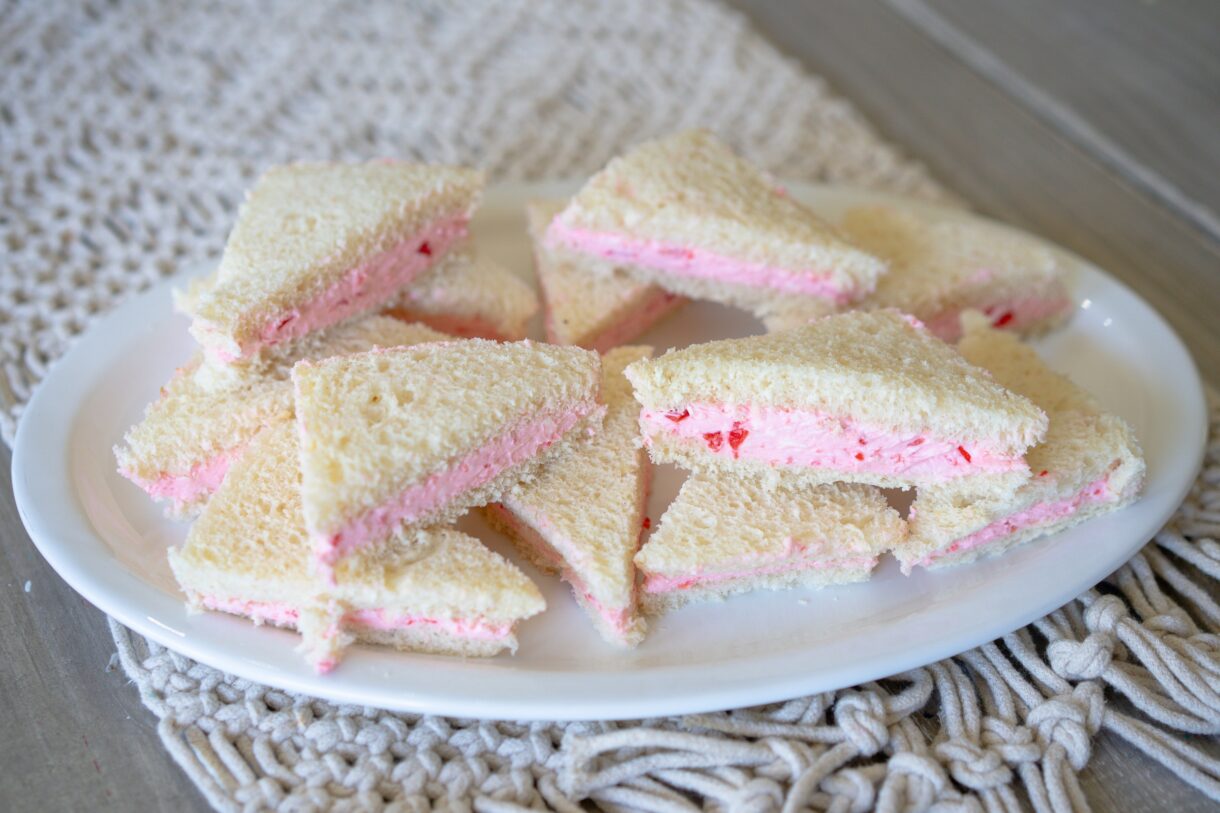 We had planned on hot chocolate but we're having an oppressively hot spring already and on the day of our party it was close to 100 degrees. We opted for cherry juice instead. It was cold and delicious!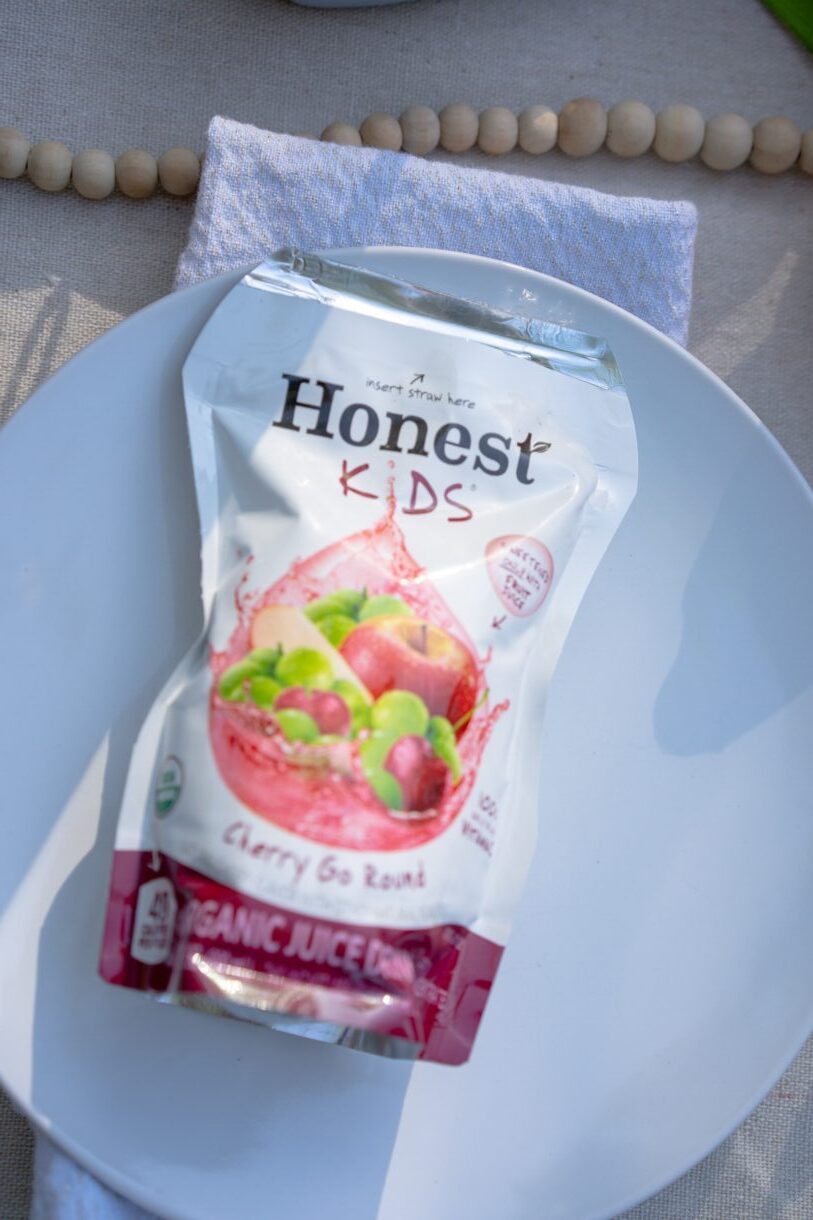 Next, I knew I wanted to cook up a Dutch baby for the party. We've never made one before and since my kids love pancakes, we couldn't resist. My 8 year old took the lead and did all the prep work on this recipe!
I followed a simple recipe with a few changes.
Ingredients:
3

eggs

½

cup flour

½

cup milk

1

tablespoon pure maple syrup 

Pinch of cinnamon 

4

tablespoons unsalted butter
First, I preheated the oven to 425 degrees F. Then we mixed up everything except for the butter with an immersion blender. My kids loving using this awesome kitchen tool.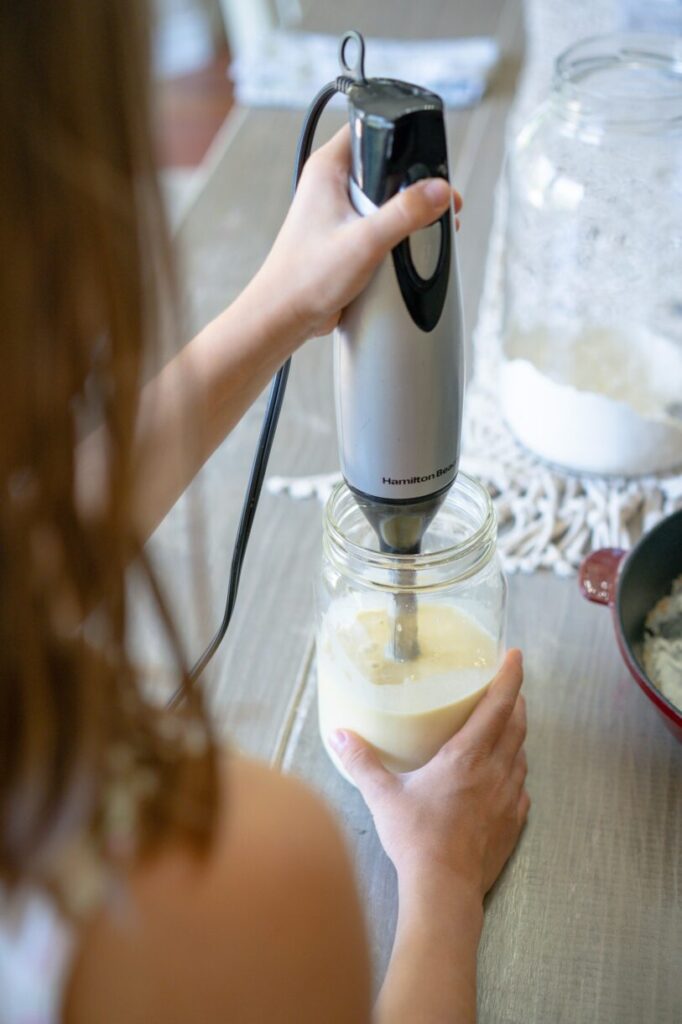 Next, melt the butter in the pan in the oven. When you pull it out, it's ready to pour the batter in.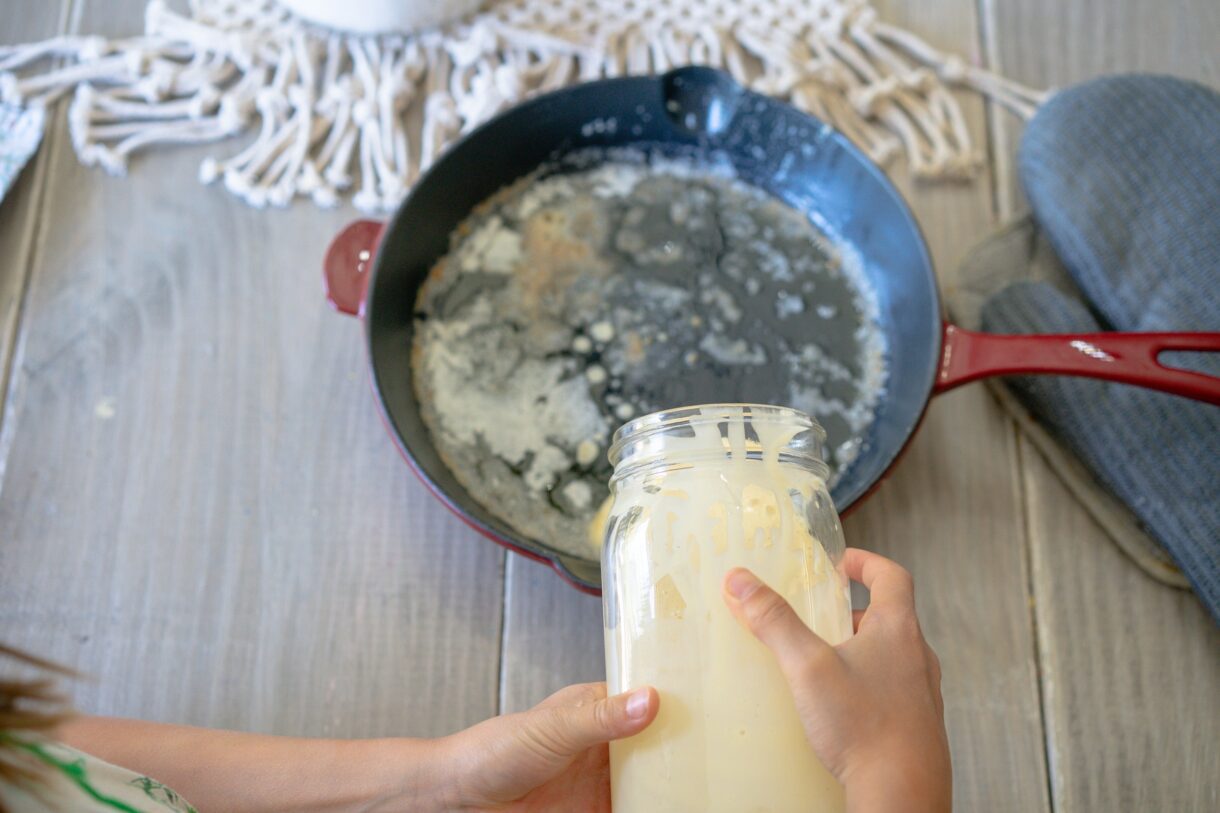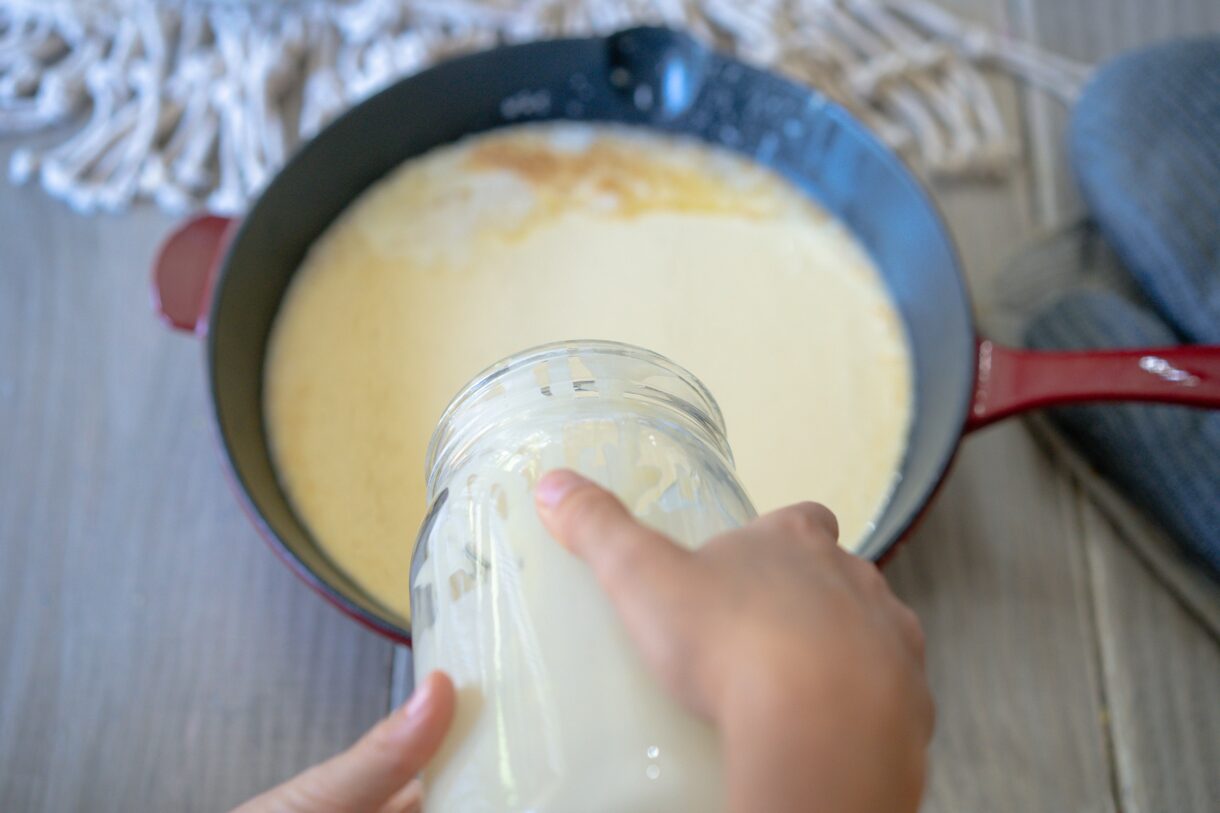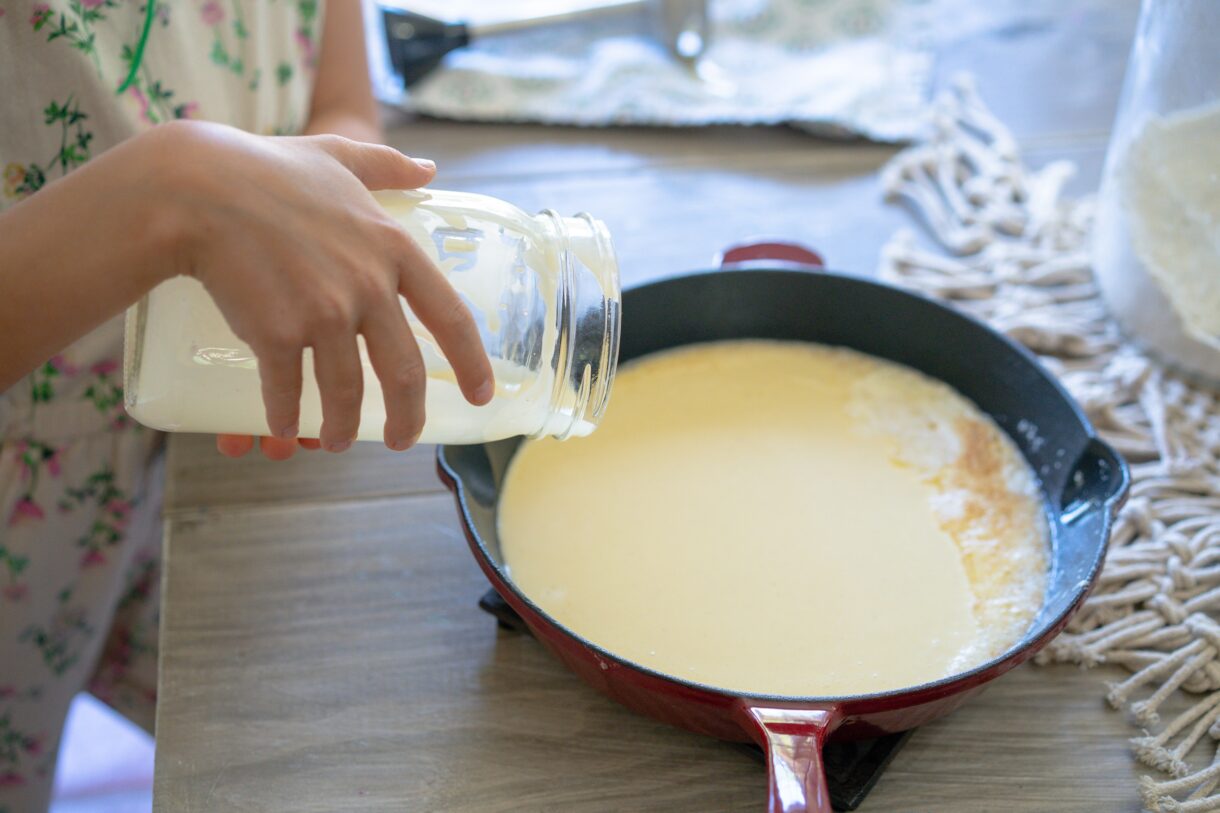 Put it in the oven and bake for 20 minutes, watching closely. When you take it out, it will be a nice golden brown and the sides should have risen. This is a really fun cooking project to watch in the oven with the light on. My kids were thrilled to watch it rise and puff up!
We topped ours with sliced strawberries and some powdered sugar. It was almost too pretty to eat!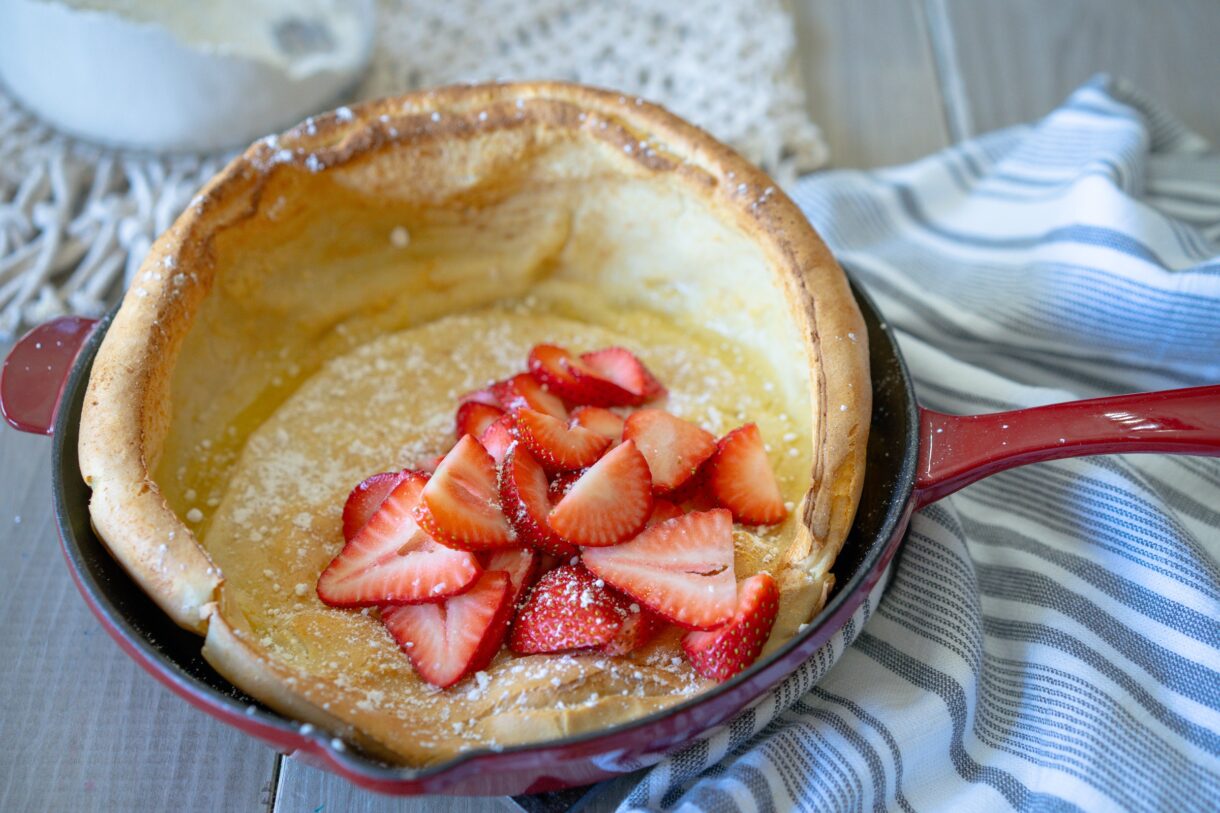 For our last party treat, we had some Danish candies. In the story, the grandmother of the town shares wineballs with the kids.
I did some research and found some recipes for chocolate wineballs but they didn't quite match the description of the ones in the story, which were definitely more of a candy. So while these probably aren't exactly a wine ball, they were still yummy.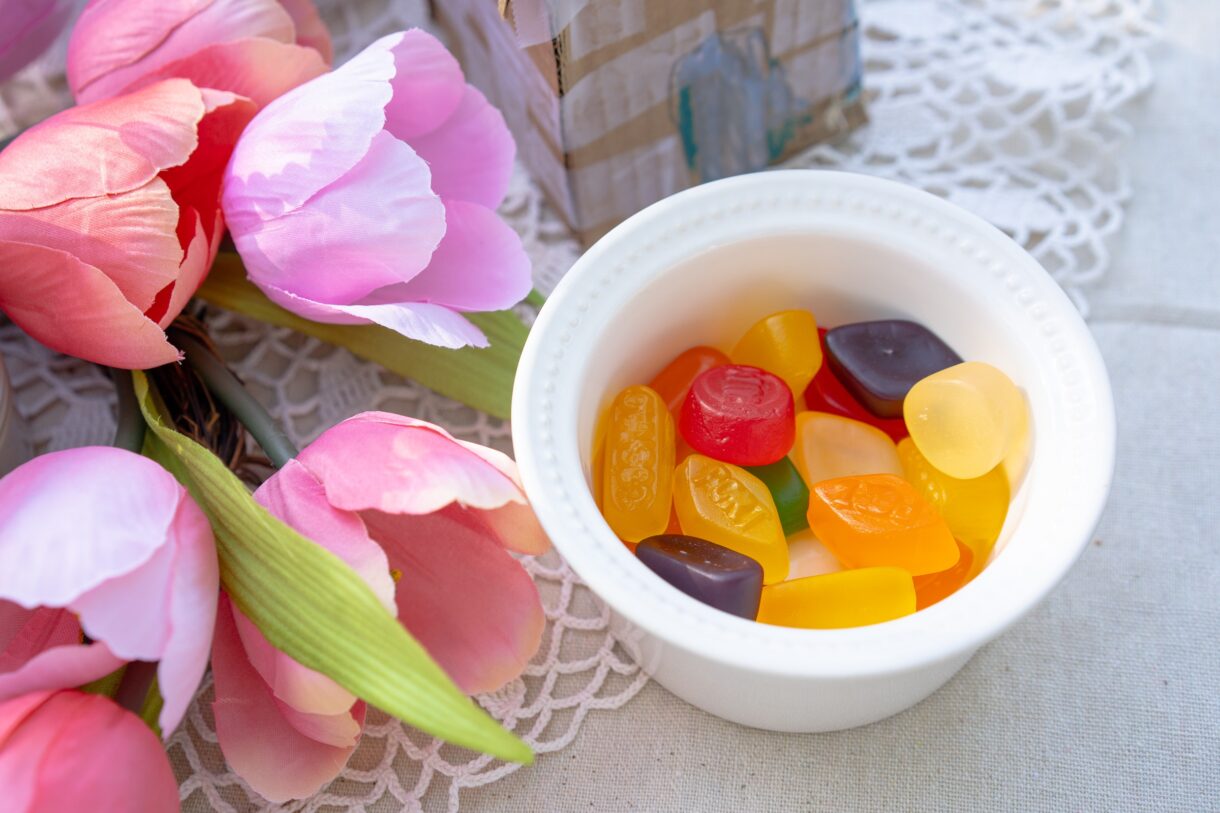 All in all, The Wheel on the School party was a roaring success! I know this book and our celebration of the wonderful story will be a cherished family memory for years and years to come.
If you haven't read it yet, plan on it! And then host your own celebration. Whether simple or fancy, big or small, these kinds of celebrations make a mark on our children's hearts in the very best of ways.