Have you incorporated poetry teatime into your homeschool or family routine? We've been doing poetry teatime for a couple years now, and it has become such a lovely tradition for us.
If you're asking what poetry teatime is, Julie Bogart from Brave Writer and the creator of poetry teatime says it "offers you and your children a break from the fast-paced demands of homeschooling, parenting, and household running. Everyone sighs a collective "ahhhh" as they settle into their chairs, tea cups or mugs in hand, poetry books scattered across the table."
Doesn't that sounds wonderful? Brave Writer generously offers so many resources for families including a quick start guide with everything you need to get started including a list of materials and play-by-play of how teatime should happen.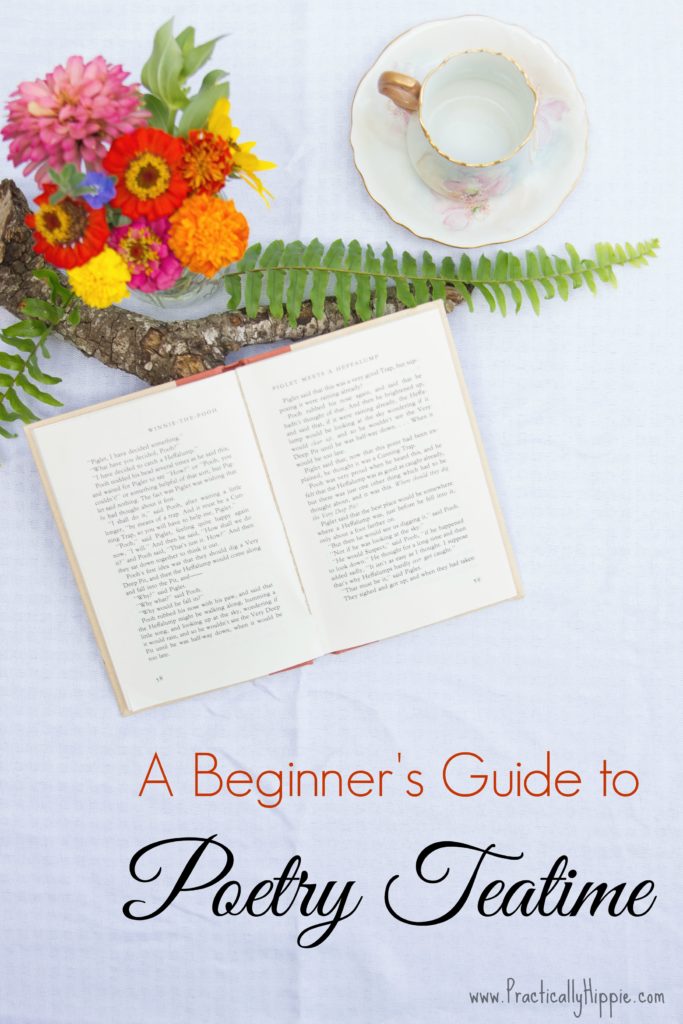 Even with all of the poetry teatime resources out there, I have friends ask me about how to get started, so I wanted to put on "paper" my tips for making poetry teatime happen. Keep in mind that my oldest is about to turn 6, my middle child is 3 and I have a baby too. How we do things has evolved and will continue to change as they grow I'm sure, so this is just what works for us right now.
Set aside time
For the first year, we didn't have a regular poetry teatime schedule; I just fit it in whenever we could and we  usually ended up doing it about once a month.
This year, I wanted to make it a part of our weekly schedule, so we set aside Friday afternoons for poetry teatime. It's become a great end to our week and a great way to pass those last few hours waiting for daddy to come home for the weekend.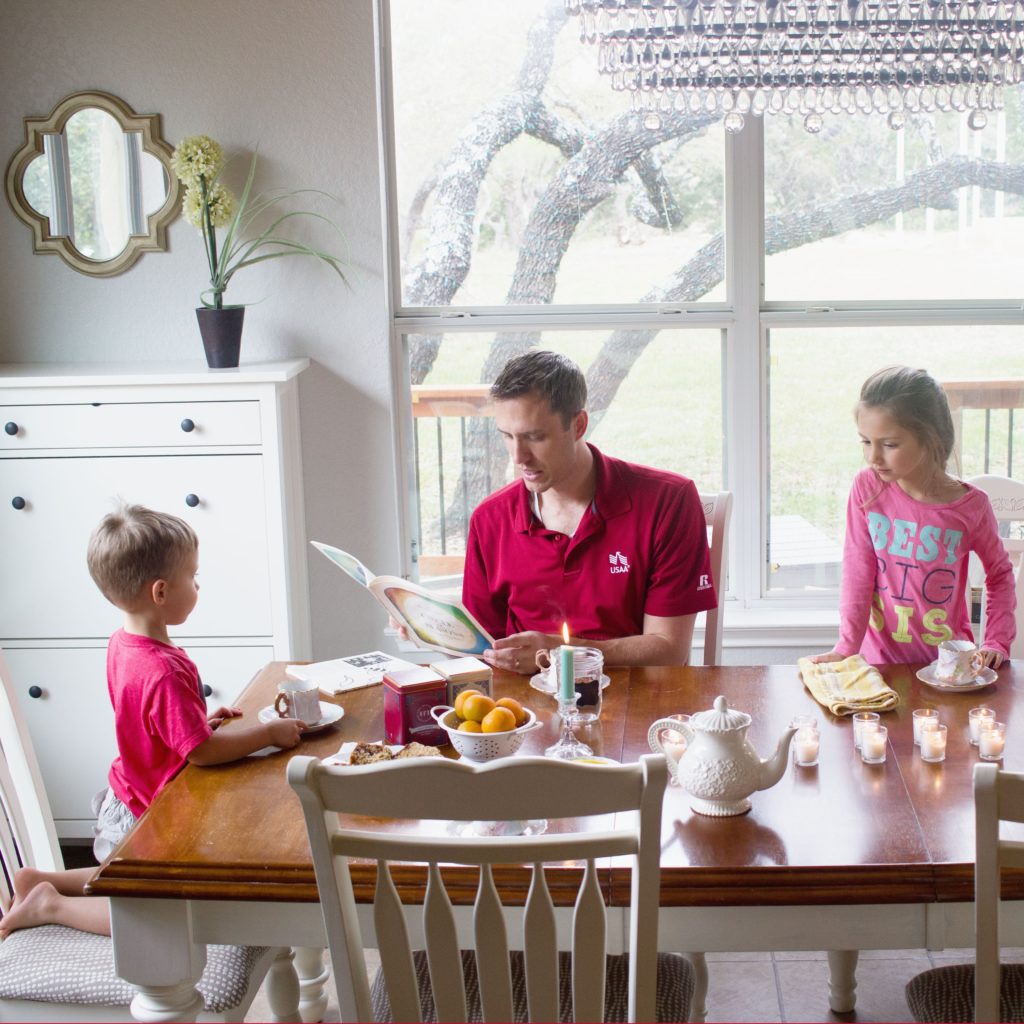 We've had days where things are too busy or we decide to go out to dinner on Friday so we have to skip poetry teatime, but most of the time, I do whatever I can to make it happen because it is a part of our family rhythm.
Set the table
Poetry teatime is a special time and when we set the table, everyone knows it. We'll start with a tablecloth- nothing fancy, mine cost $10 at Target. And if I have a grabby baby or blueberries, I might skip the tablecloth and put out a seasonal table runner or a crocheted doily out instead.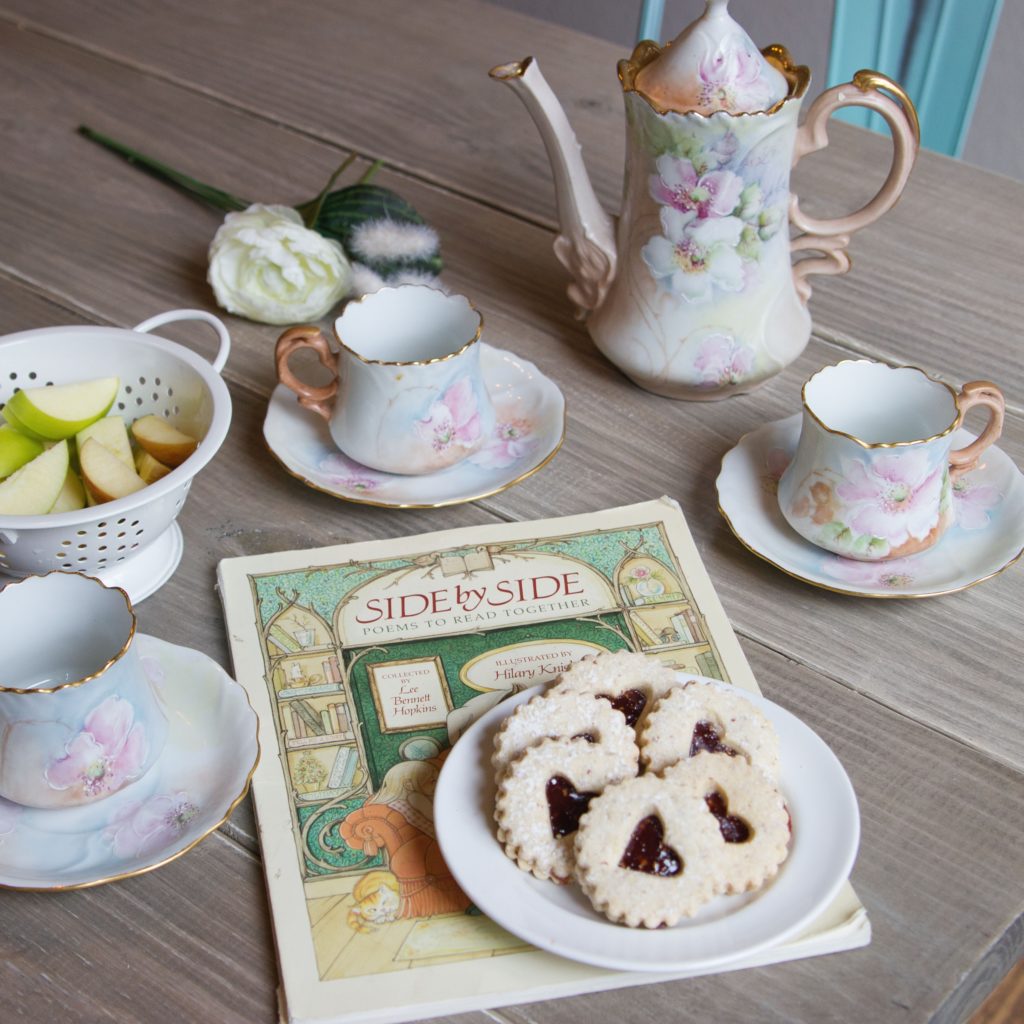 Next, we put out a centerpiece. Sometimes it's themed to go with a holiday or the season, sometimes we cut flowers from the garden, and sometimes it's weeds that my toddler picked from the backyard.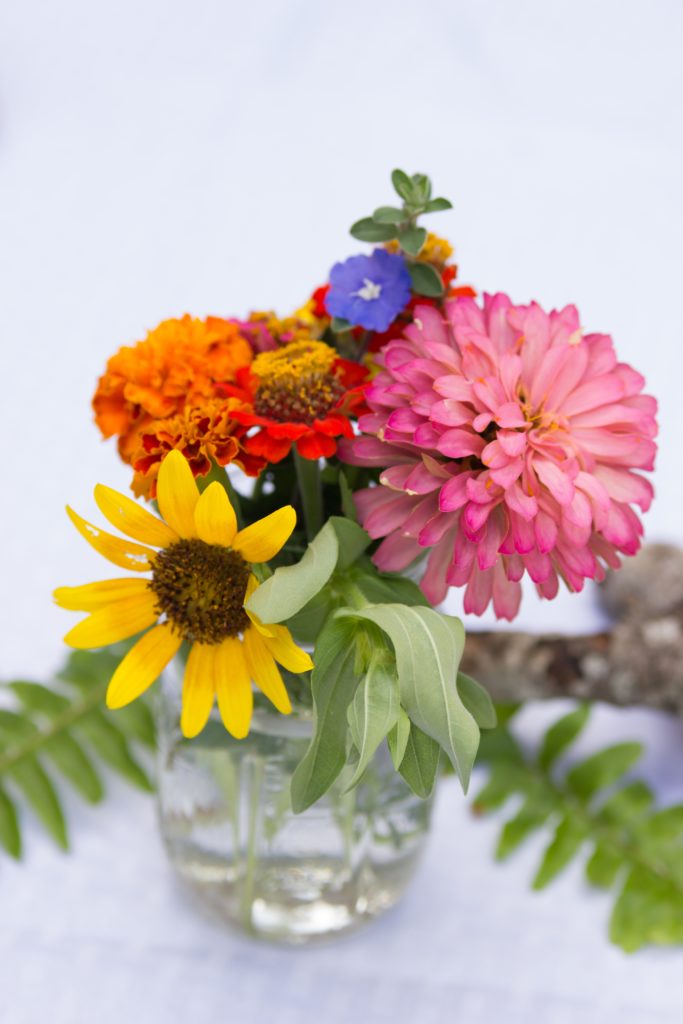 Then we light candles. Sometimes they are beautiful hand-rolled beeswax candles that we've made, sometimes they're candles from the Dollar Store and if certain children can't be trusted around an open flame, sometimes they are LED votives.
We pull out the china teapot and teacups and saucers and the sugar bowl and all of the fancy serving pieces. We started doing poetry teatime when I had an 18 month old and a 4 year old. I'm a firm believer that if a child is big enough to sit at the table for teatime, he is big enough to use real cups and plates. There's something almost magical that happens when kids have a dainty teacup in their hands. Even the clumsiest and most careless toddler knows to handle it with care.
We set each place with a cloth napkin because spills and accidents happen. It's all part of the learning process.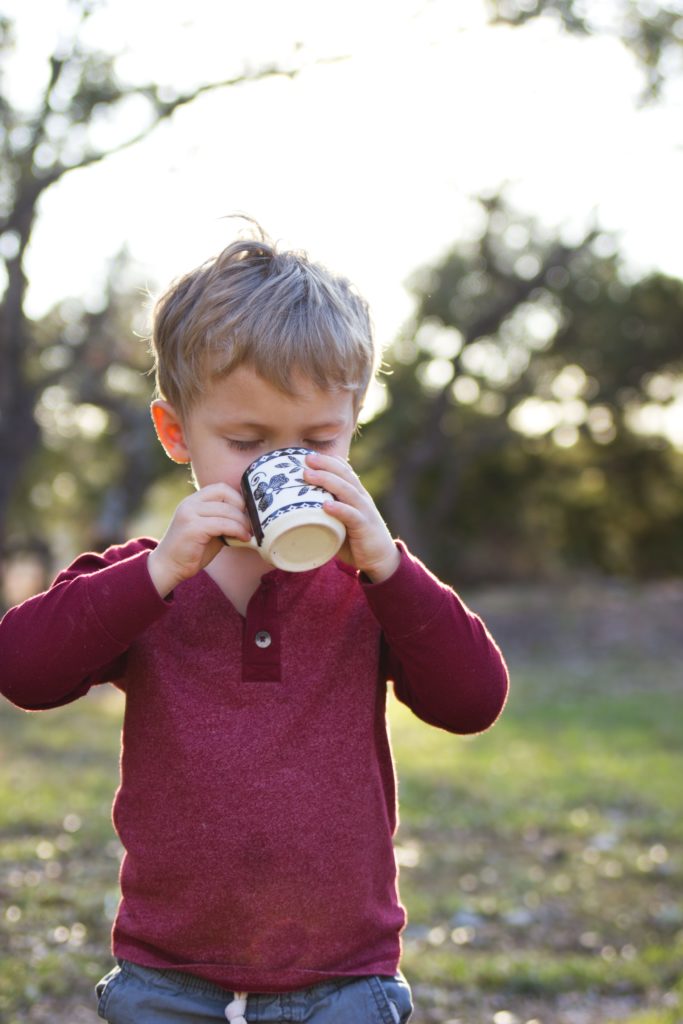 Drinks & Snacks
My kids would tell you this is THE key ingredient for poetry teatime. Anyone with children knows that the way golden ticket to a captive audience is a good snack. My kids love tea so that's usually what we drink. I shop around at World Market, Trader Joe's and Whole Foods for kid-friendly, caffeine free, organic teas and we like trying new flavors, but we usually end up with Tazo Passion Herbal Tea , which is not organic, but it's my favorite so I compromise!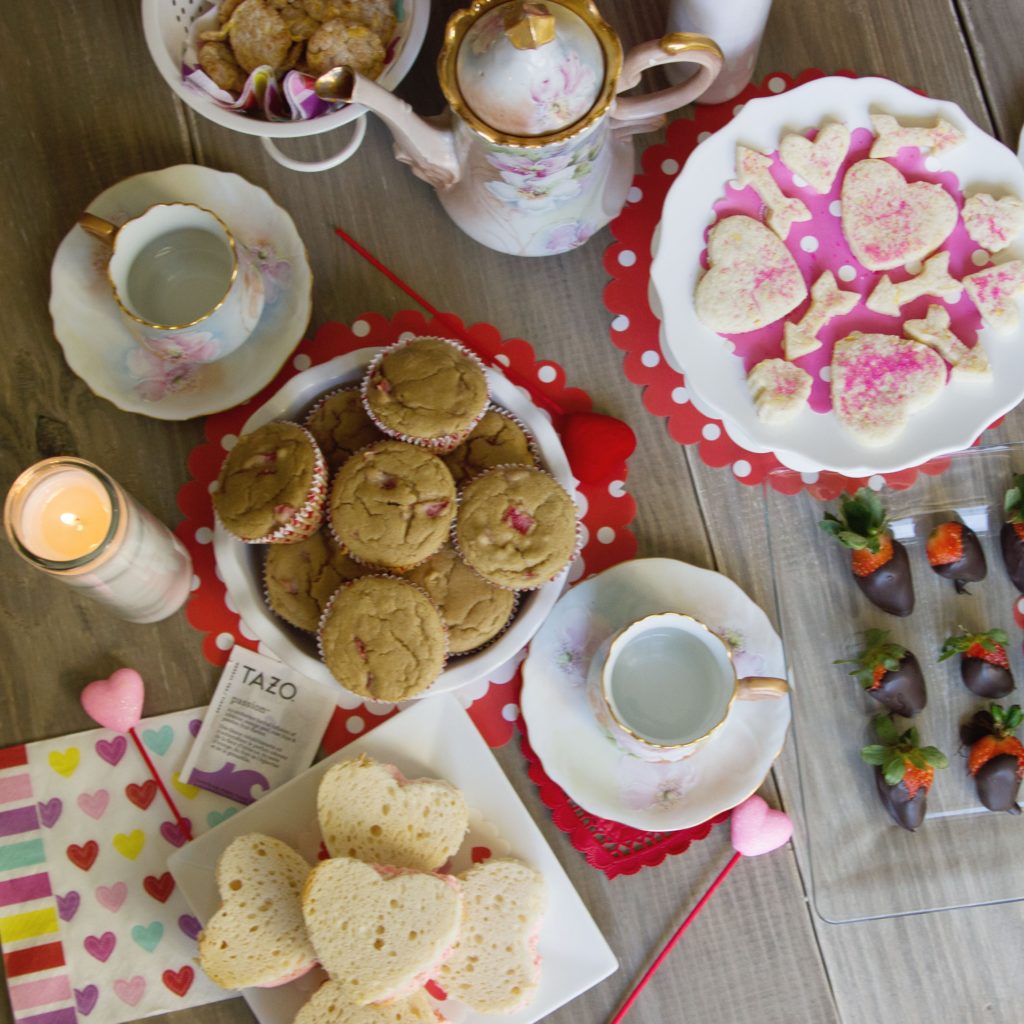 Occasionally, we'll change it up and do something seasonal like apple cider in the fall, hot chocolate in the winter or lemonade in the summer. And when daddy joins us, his drink of choice is espresso.
Snacks are sometimes homemade and sometimes store bought, but always thoroughly enjoyed! I try to serve a treat with some healthy options too because our teatime often runs into dinnertime.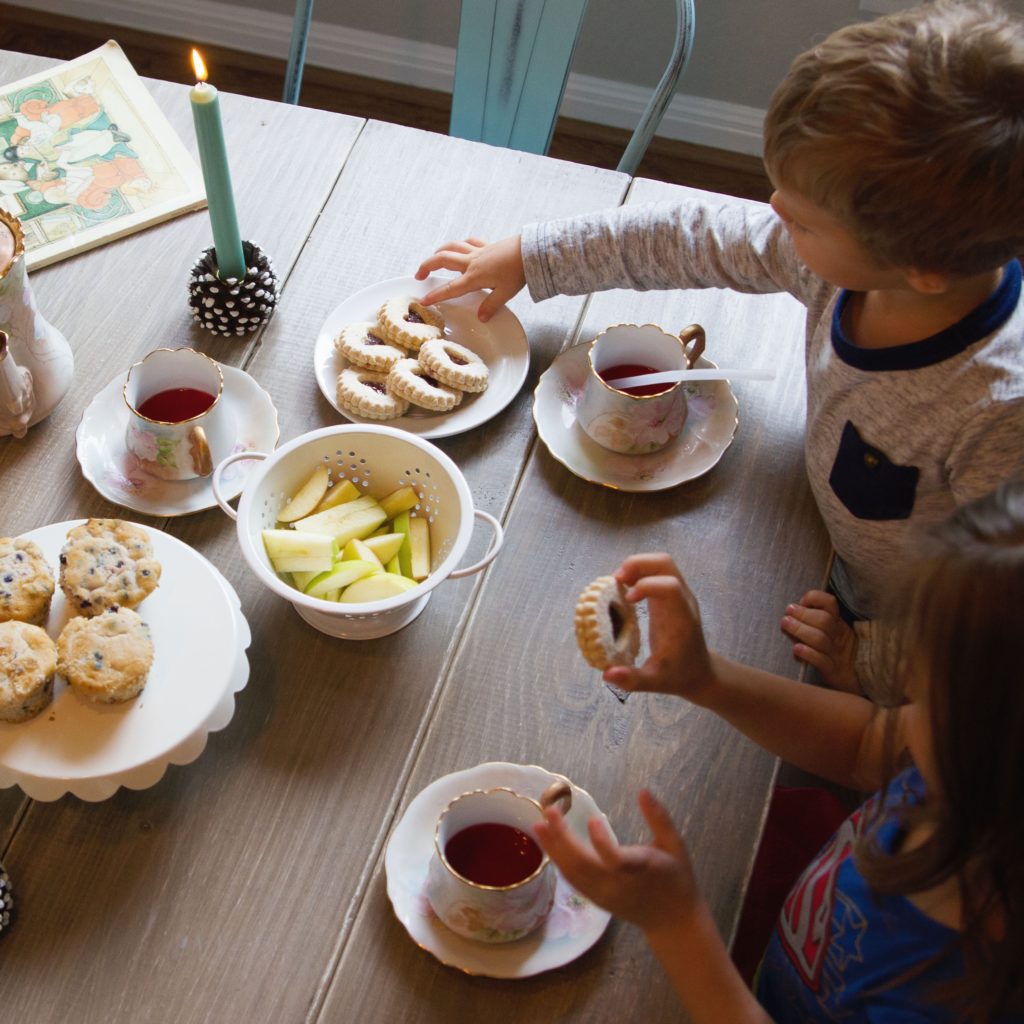 Sometimes we'll make a treat that goes along with our studies or a holiday or the season, and sometimes it's just chocolate chip cookies. Sometimes we serve fruit and nuts and sometimes we have a full spread with sandwiches and veggies and dips.
Books
We started out with one poetry book and have slowly added to our collection over time. Anything Dr. Suess or Shel Silverstein will do and you probably have one of those around the house. Some of our favorite poetry teatime books are:
I shop at thrift stores and library book sales to find poetry books to add to our collection. Usually, the older the better. I get seasonal or holiday themed poetry books from the library.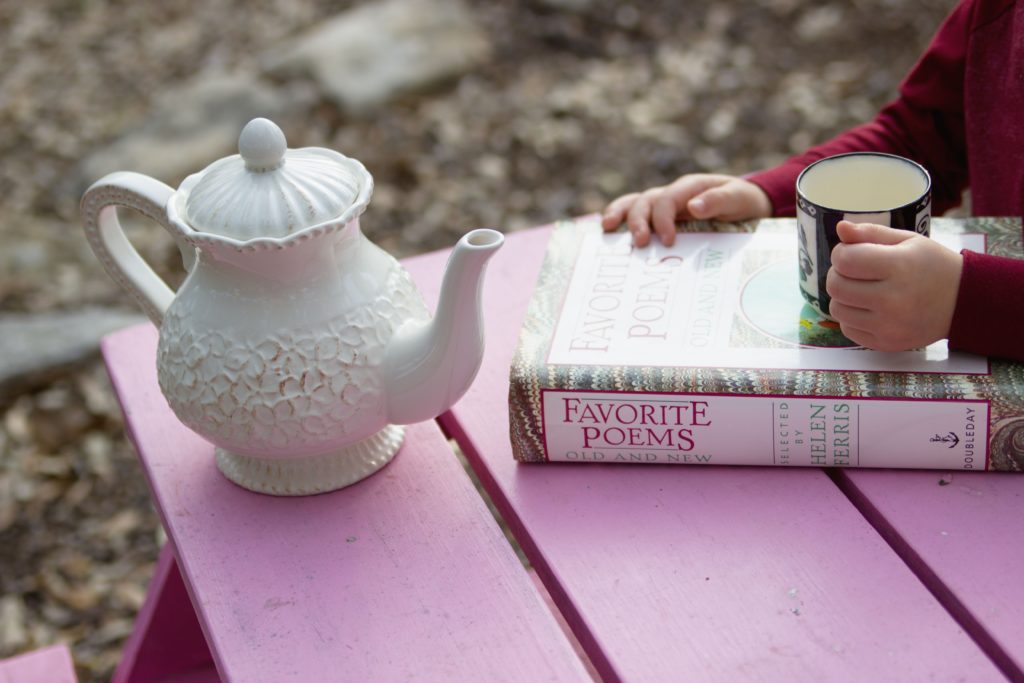 None of my kids can actually read yet, so most of our books have some illustrations. While I'm prepping the tea and snacks, the kids pick out a book from the shelves and bring it to the table to flip through. Everyone gets to choose a poem and once all of their little mouths are happily eating, we take turns sharing our poem.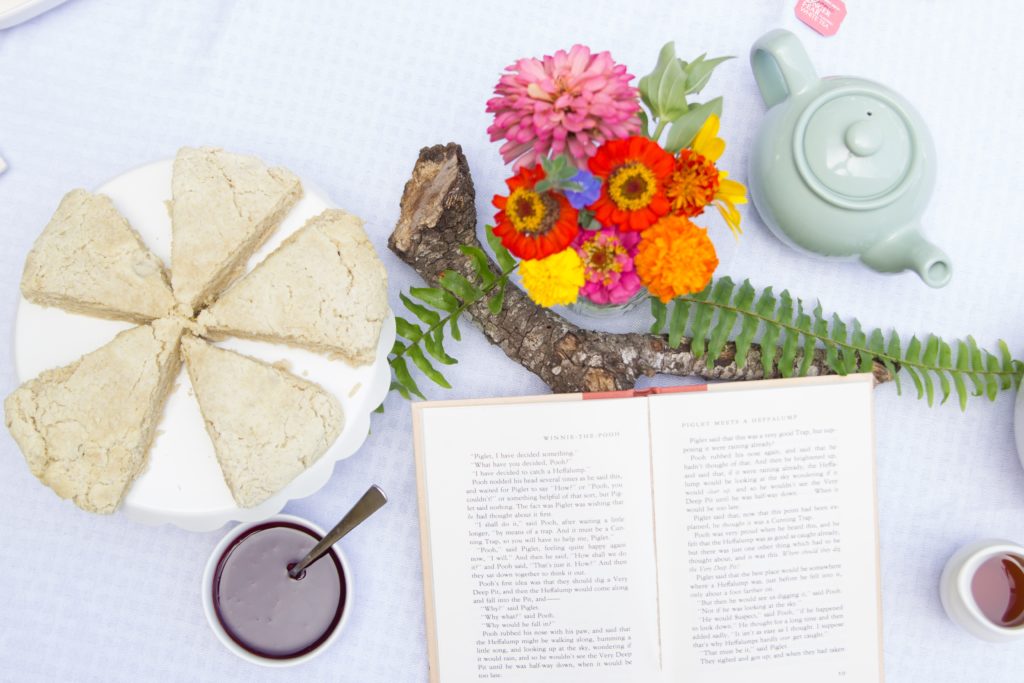 I read the poem and we soak it in.  When it's my turn, I read one or two pre-selected poems that fit our theme for the week or that I like. By request, I usually read each poem two or three times. Sometimes we talk about it and sometimes we just let it hang in the air. We often end up reading from our family read aloud or diving into conversations about life.

The important thing to remember about poetry teatime is that there is no "right" way to do it. What works for us might not work for you. And what works for me today might not work for me next year.
And way more important than doilies and matching tea cups and fancy food is the act of gathering together to reconnect and be inspired by words of great language.