Our weekly teatime has been a family favorite for going on five years now. Wow! When you do something for that long, so consistently, it really becomes part of the fabric of your lives.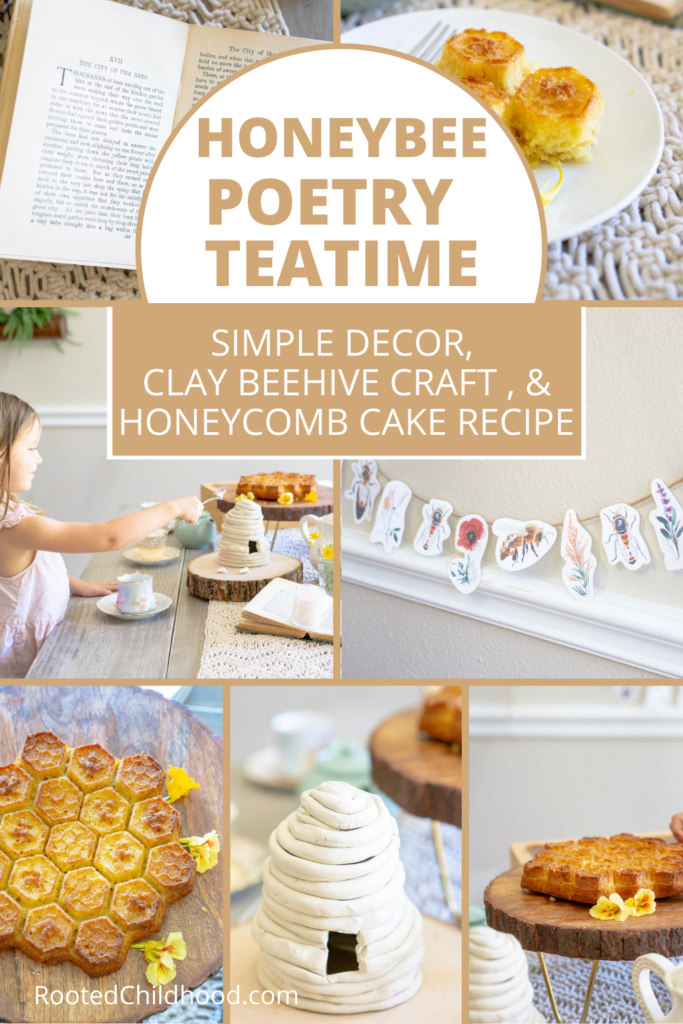 About Poetry Teatime
We started doing poetry teatime almost five years ago, inspired by Julie Bogart and the Brave Writer lifestyle. At its most simple form, we set aside time each week to gather around the table, share a cup of tea, enjoy a few snacks or treats, and read something.
While there are many times that our teatime is super simple and involves me throwing some crackers and baby carrots on the table to the throngs of celebratory cheers from the kids, more and more, we are putting intention and effort into our teatime. It used to be all me, saving up a bit of energy when I could muster it to gather a few flowers for the table or whip up a special recipe. But as my kids get older, they are taking on more and more of the ownership of teatime.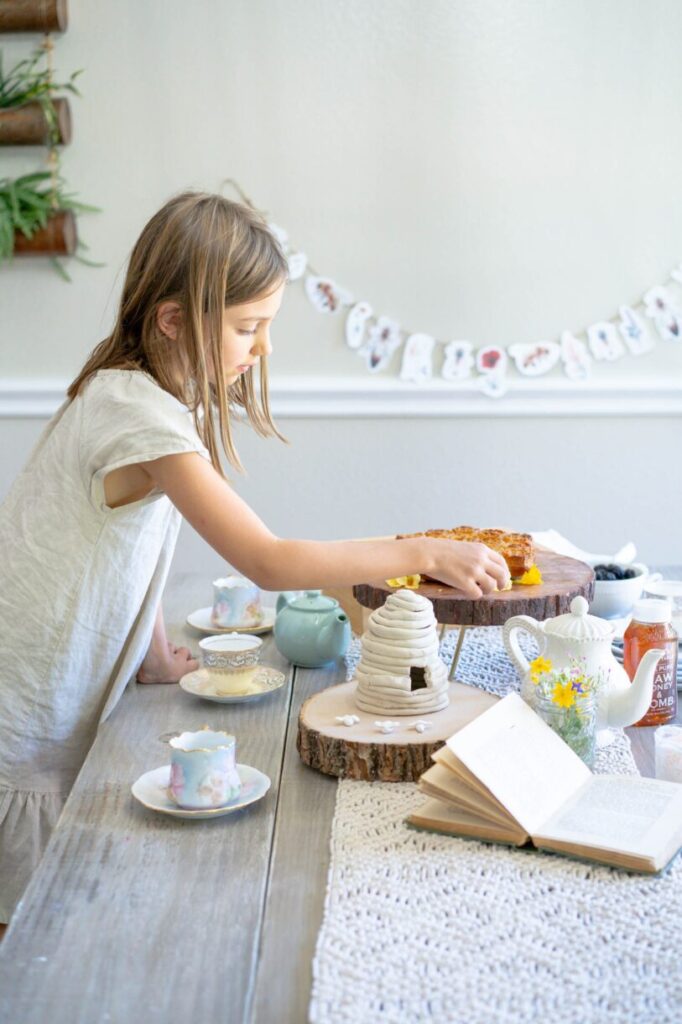 My 8 year old especially loves the planning aspect of teatime. She has a wonderfully keen sense of time and seasonal rhythms and loves to sprinkle in seasonal themes with our table setting or our menu. She takes full responsibility for the table decor now and loves to mix and match and hand make items to fit our theme. She is an amazing napkin folder, can bake recipes start to finish on her own now, and I can see first hand how all of these skills are going to translate into such a gift for her own family one day.
A Bee Themed Poetry Teatime
We've been studying bees all week and learning so many fascinating things! We had a honey taste test earlier in the week and got to taste some real honeycomb. We also rolled some beeswax candles and watched some incredible YouTube videos on bees.
So finishing off our week with a beautiful honeycomb cake just felt right.
I saw this honeycomb cake many months ago from my friend Christina on Instagram and I knew we had to make it. She has the recipe on her blog.
This week's teatime was incredibly simple, but so lovely. We often have an elaborate menu (like our Wheel on the School party), but this week we decided to just serve cake and berries along with our tea.
I'm the world's laziest baker and can't follow a recipe the same way twice, so our version turned out a little different than Christina's but it was soooooo good! I'm usually more into the icing than cake, and was tempted to put some whip cream or a honey glaze on top, but this cake was so delicious it didn't even need anything at all.
I got the silicone mold on Amazon; just a note that the color you get is random. I got a bright purple that doesn't match anything in my house and makes me cringe a bit, but I'll keep it hidden away for the rest of the year and just pull it out during bee week! I made sure to spray it liberally with cooking spray to prevent sticking.
Then I gathered the kids to begin baking. Cooking with kids wasn't always easy for me, but with practice and their age, it has gotten easier.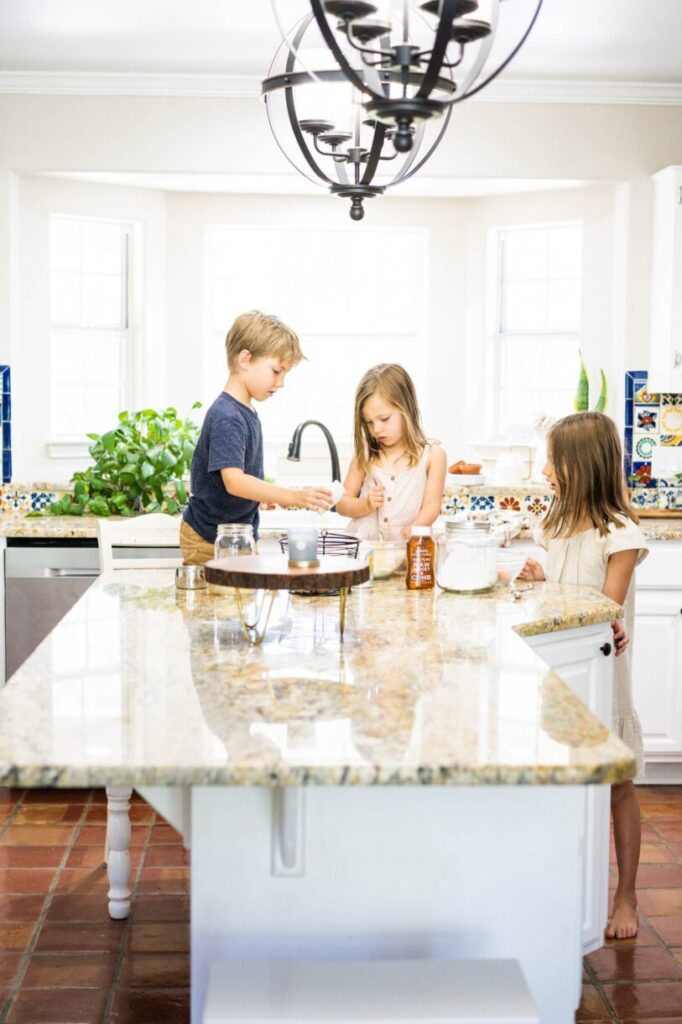 The Recipe
Ingredients:
cooking spray
1 1/2 cups flour
1 1/2 teaspoons baking powder
1/4 teaspoon baking soda
1/4 teaspoon salt
1/4 cup sugar
1/4 cup honey
1 stick unsalted butter (softened)
2 eggs
1/2 cup milk (any kind)
1 1/2 teaspoons vanilla
Instructions:
Preheat oven to 325 degrees F. Grease silicone honeycomb mold with cooking spray. Set aside.
In a medium bowl or electric mixer, combine the remaining ingredients. Mix thoroughly until combined. Pour the batter into the honeycomb mold and bake for about 25 minutes. Allow to cool slightly before inverting onto a cake platter.
We added some edible yellow nasturtiums that my girls grew in their gardens to the platter as a sweet little garnish.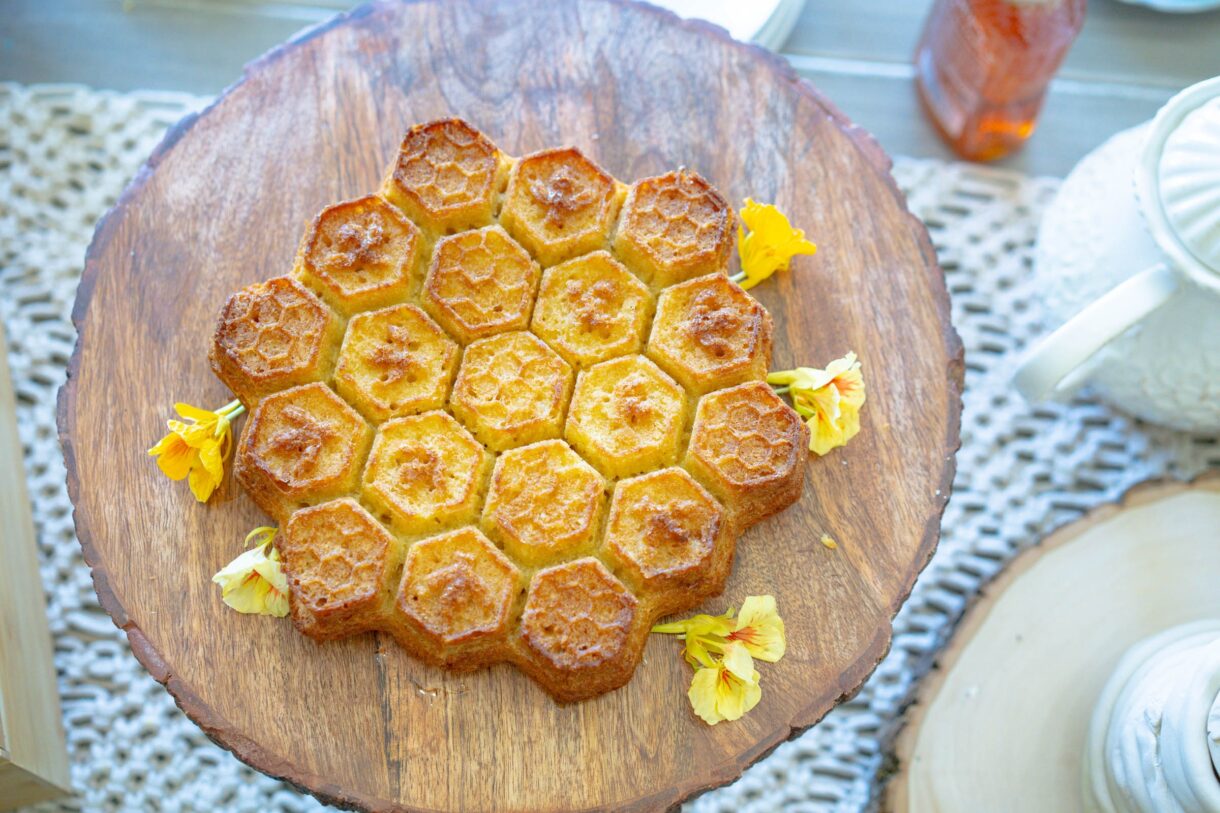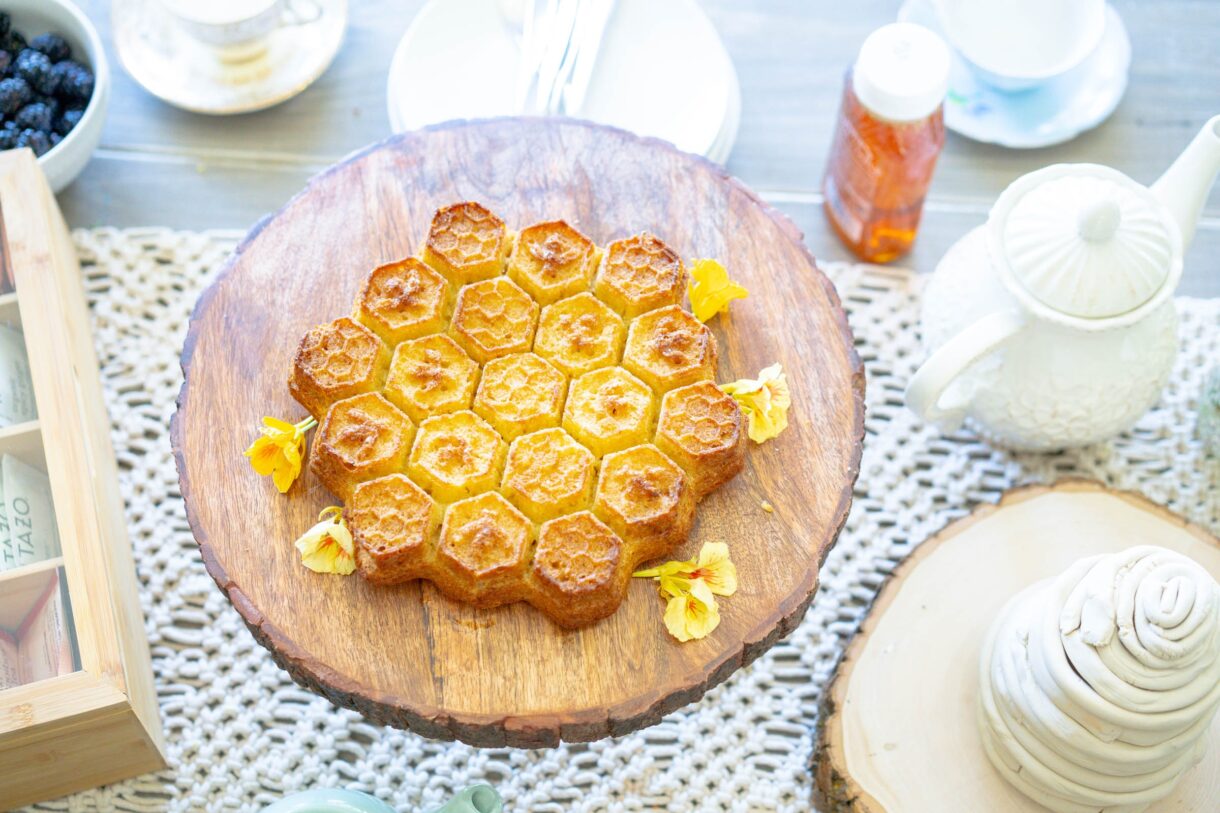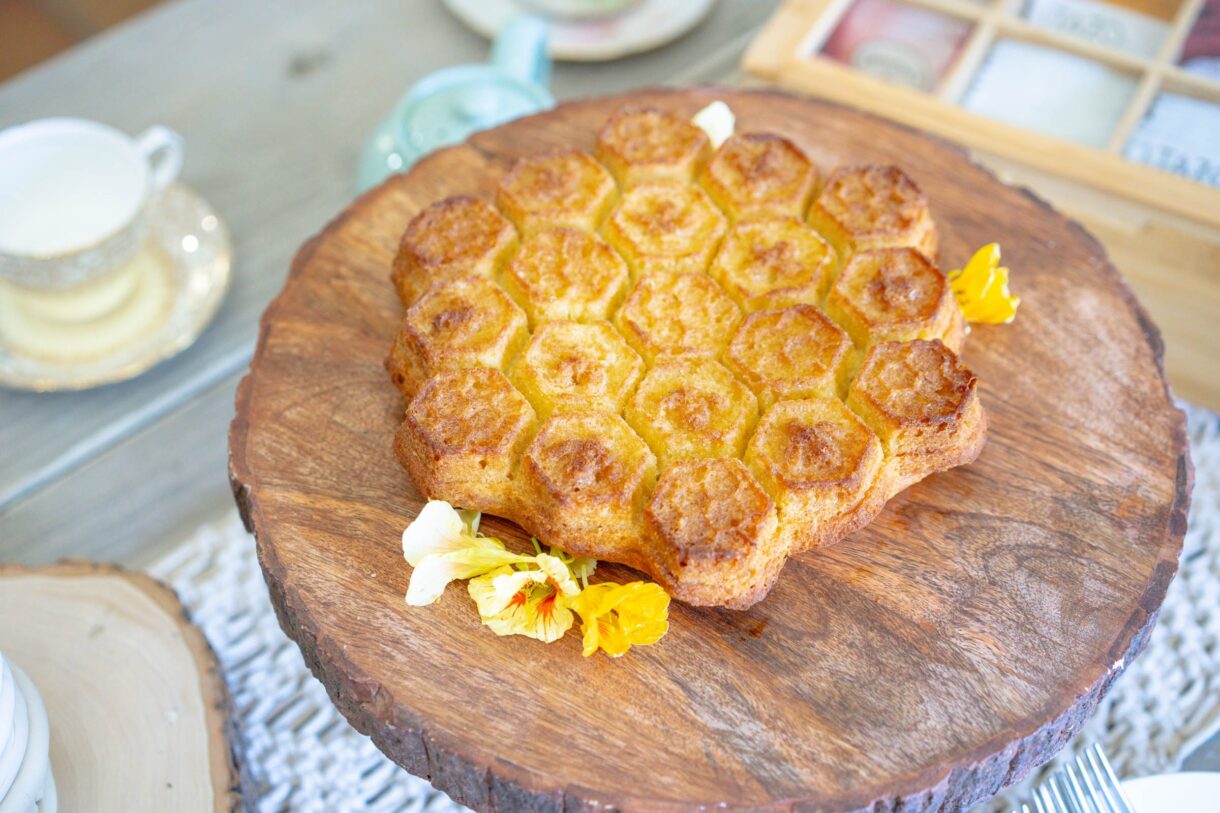 We kept the menu simple this week and paired the honeycomb cake with some juicy blackberries. Yum!
Bee Themed Decor
My daughter wanted to make a centerpiece to go along with the bee theme so we worked on this fun little beehive made out of air dry clay inspired by another Instagram mama Andrea Sparrows_In_His_Hands.
All of the kids helped roll the clay into long snakes and then we formed it into the shape of the beehive. I used an X-acto knife to cut out the opening.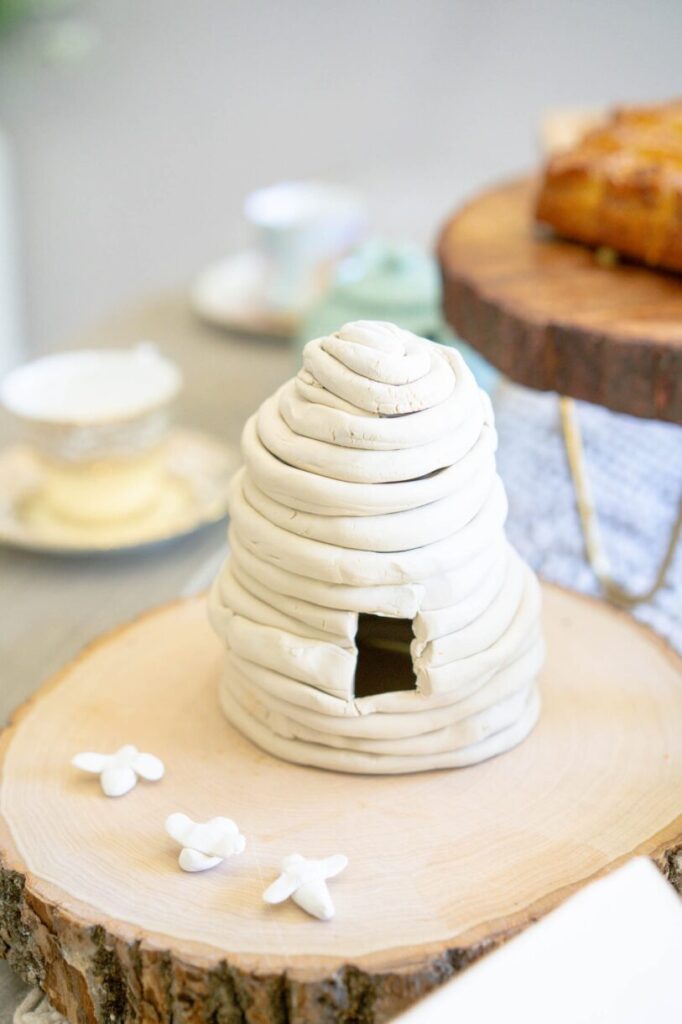 We also made some cute little bees out of the clay. I hot glued one to a stick for a set little flying bee to play with.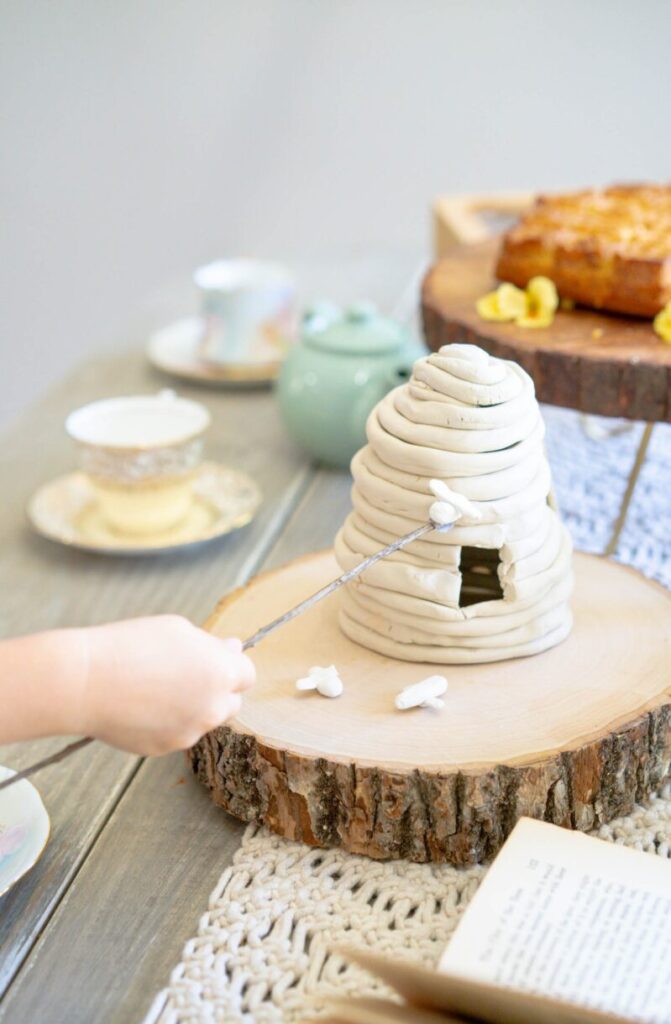 We gathered some wildflowers from the front yard and put them in a small mason jar for the "bees" to visit.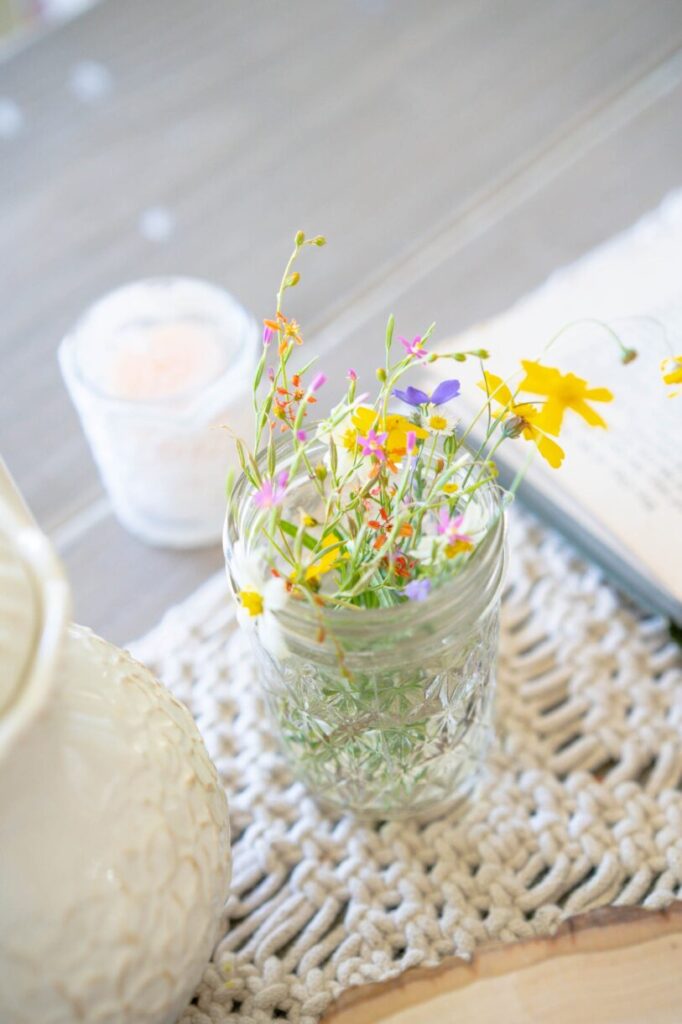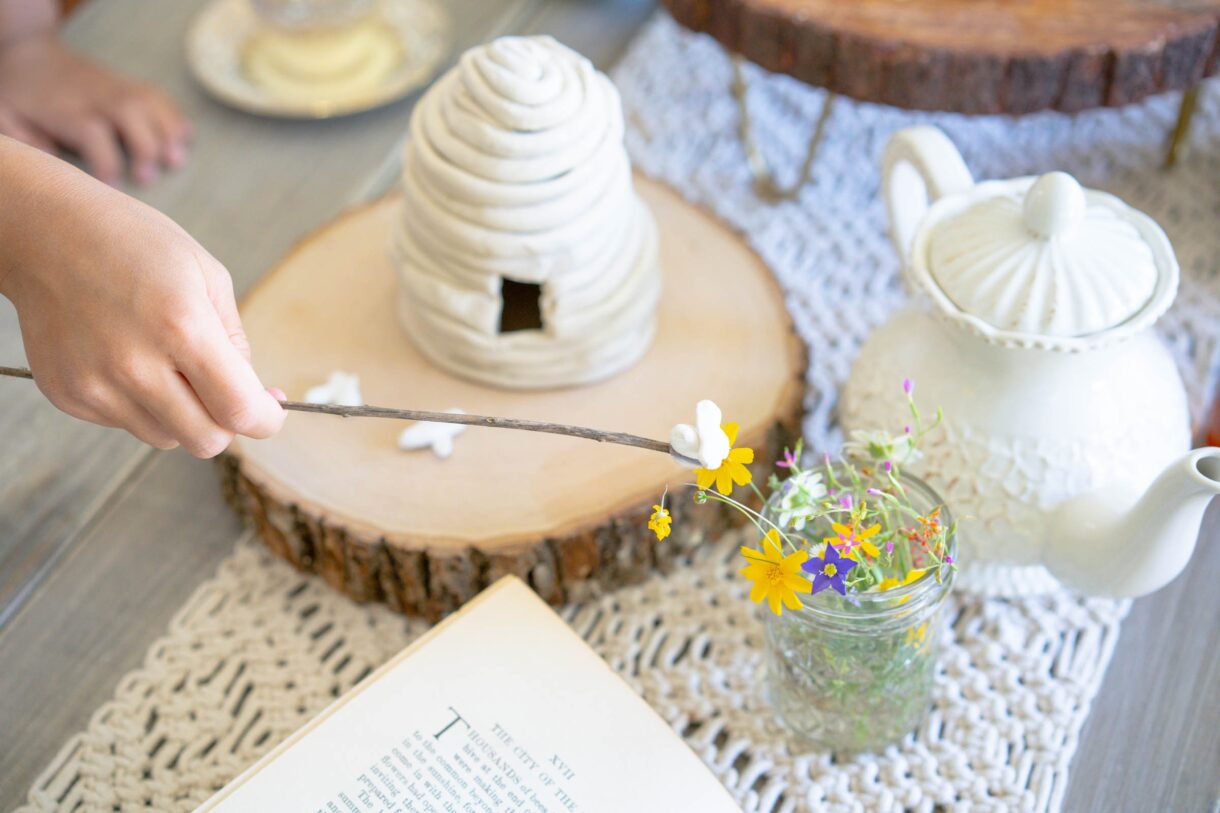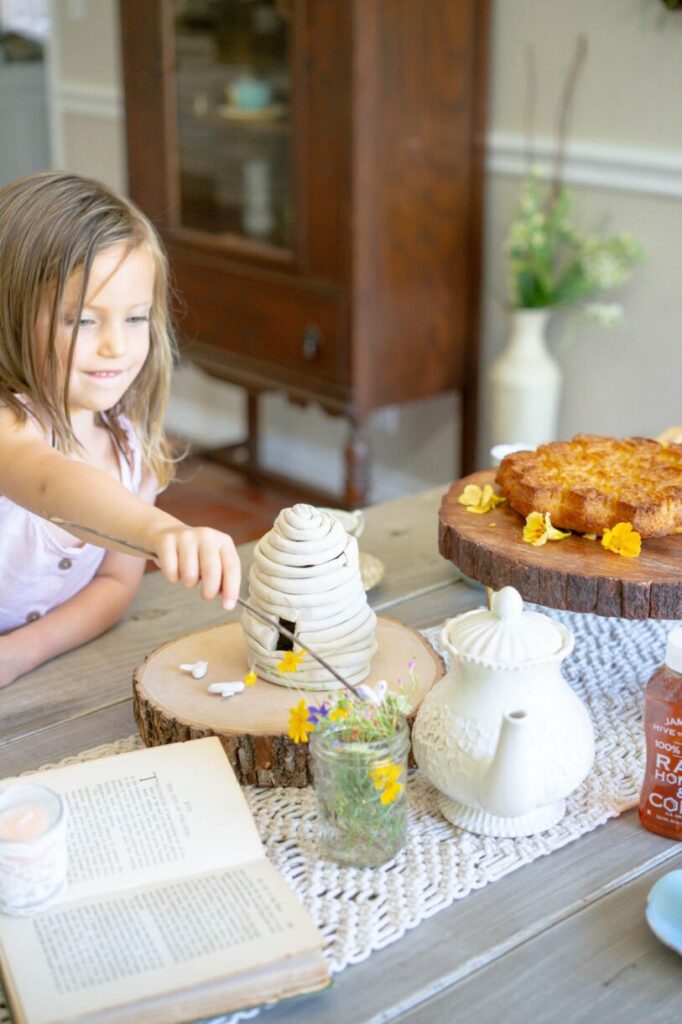 My three year old especially loved this little play scene.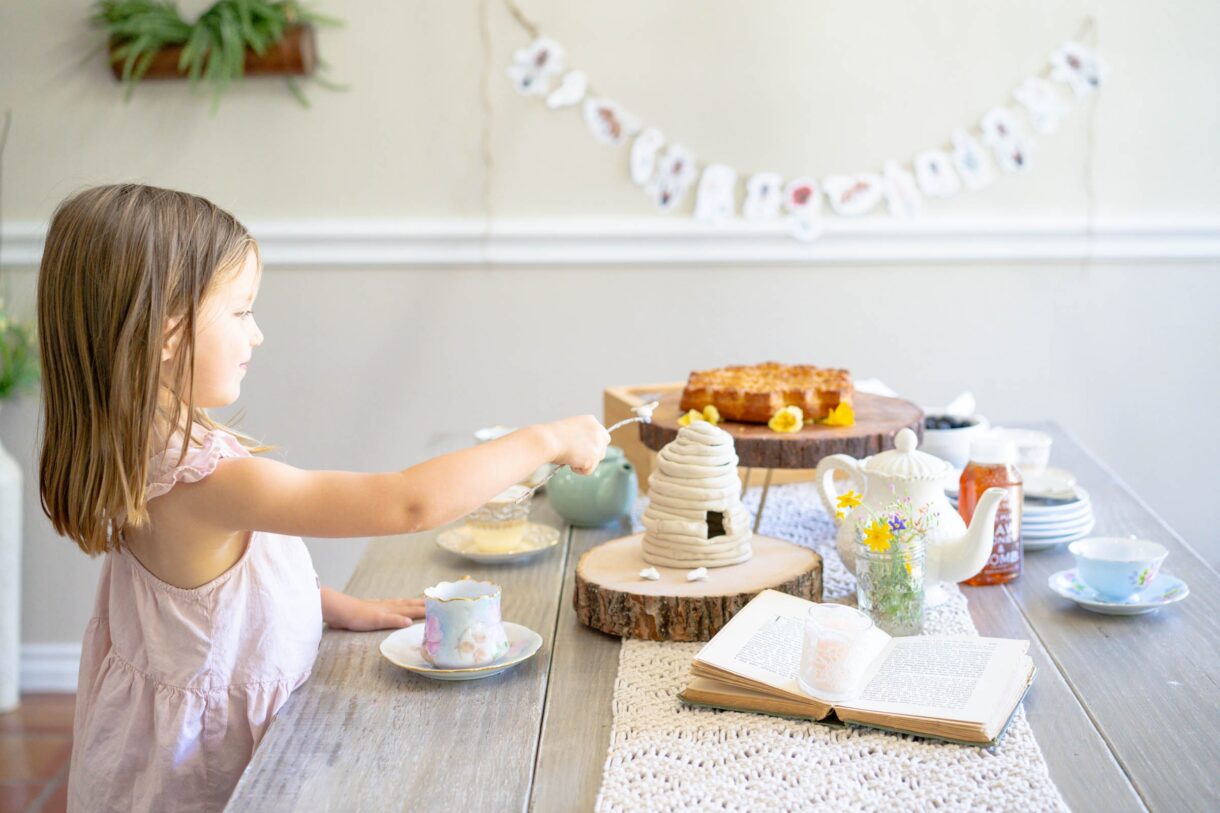 As a backdrop for our teatime, I hung this sweet garland we made earlier in the week. It was part of a bee printable pack from Mini Nature Explorers.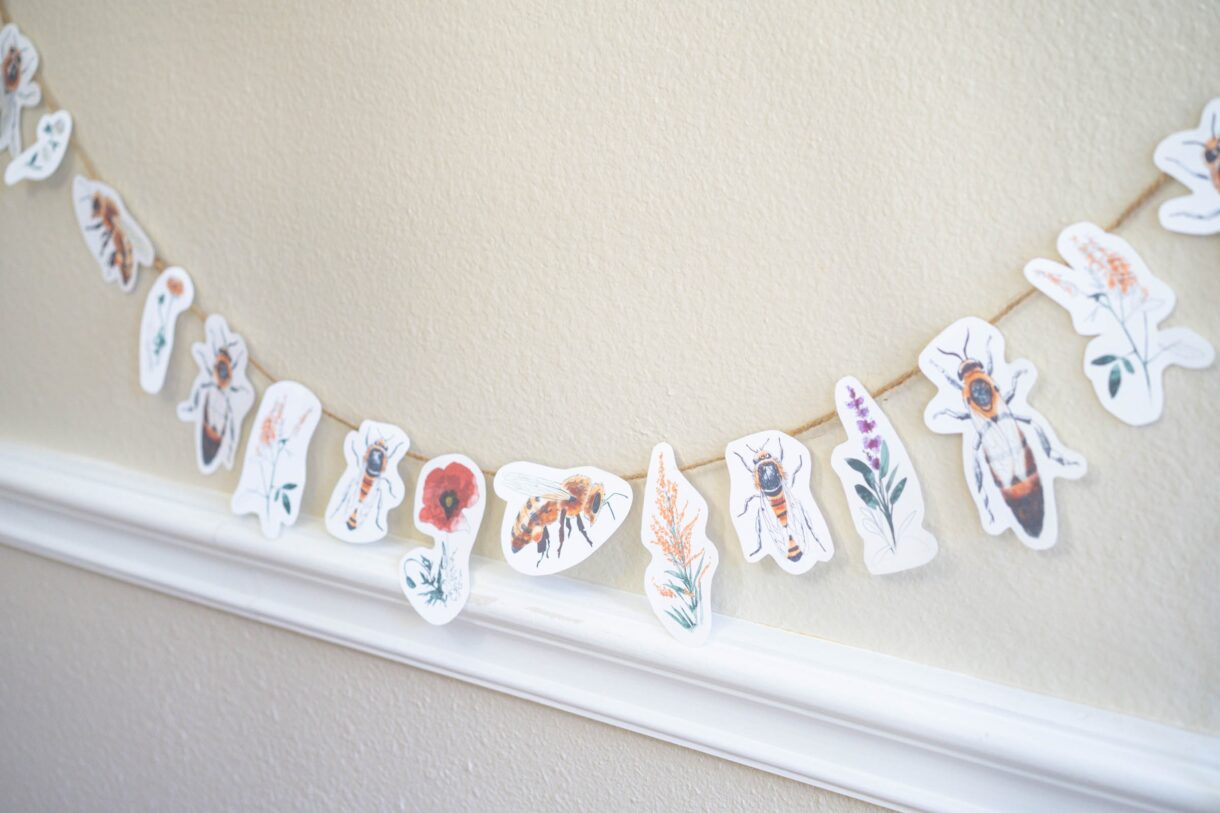 Teatime Reading
We almost always read poetry during our teatime, but this week, I remembered a sweet nature story from one of my vintage children's books. We read "The City of the Bees" from Nature Stories to Tell Children. This book is in the public domain and you can read the story here.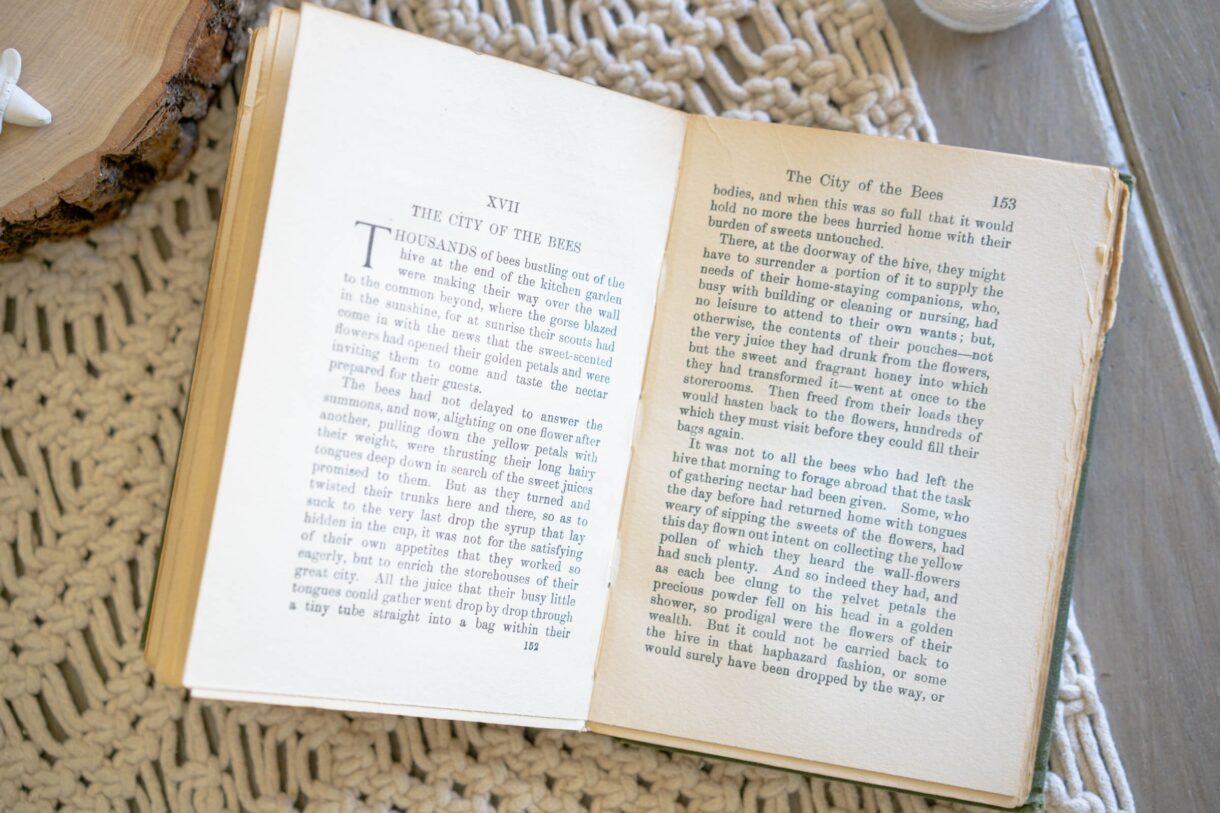 This story falls into the category of what I would consider nature lore. It shares nature facts in a story form, which really brings it alive for children. It was great to read this at the end of our bee week because it wrapped up a lot of what we had learned in an exciting way.
A Sweet Tradition
With the table set, the tea poured, and the cake cut, we were ready to dig in to our bee themed teatime!