Looking for some great Cindo de Mayo crafts?
Hey, hey it's fiesta time! Planning a Mexican themed party?  This DIY papel picado cake banner adds the sweetest handmade touch with a nod to authentic Mexican culture.
Let's be honest, Cinco de Mayo is a totally commercialized not-really-a-holiday that we celebrate here in the United States while Mexicans look at us scratching their heads. Contrary to popular belief, Cinco de Mayo is not Mexican Independence Day; that happens in September.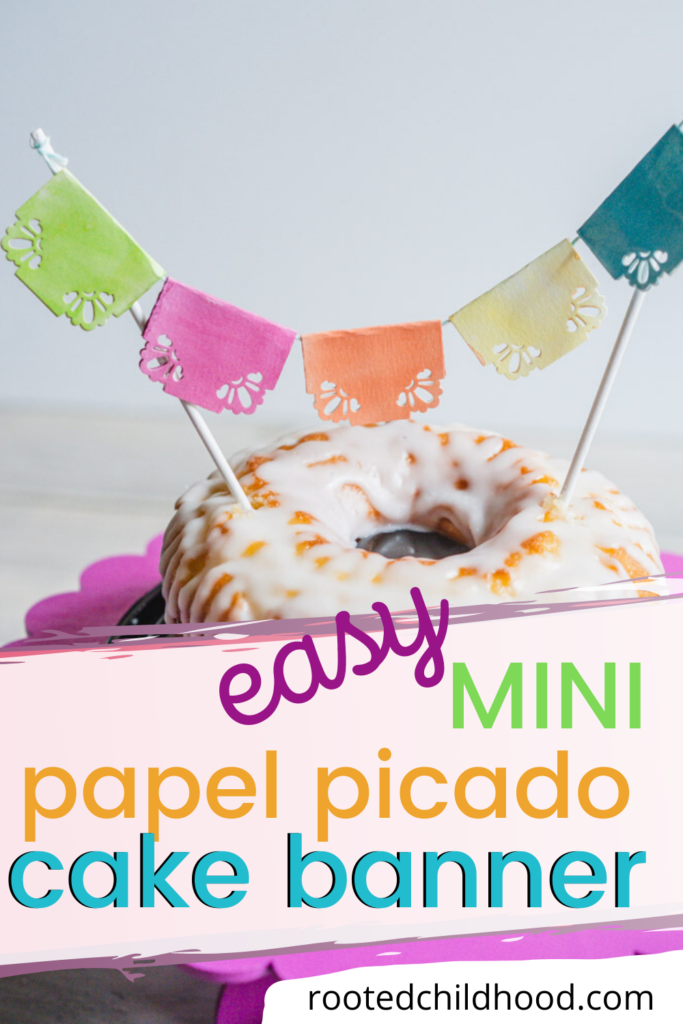 Why do we celebrate Cinco de Mayo?
So if Cinco de Mayo isn't really a holiday, why do we celebrate it? Basically, because Corona sells more beer on May 5th than any other day of the year. Seriously. It's 100% a commercial "holiday."
So do I take a stand and NOT celebrate Cinco de Mayo because it's basically ridiculous and walks the line of cultural appropriation depending on how you celebrate?
No way! I love holidays and festivals of all kinds, and there's no way I'm passing on a party.
But instead of throwing on sombreros and singing "La Cucaracha" I want to use this as opportunity to learn about Mexican culture and share some of the wonderful richness with my children.
How can we celebrate Cinco de Mayo with respect?
In our home, celebrating Cinco de Mayo means digging in and learning about Mexican culture. My hometown of San Antonio is exploding with Mexican culture.
Just a simple trip to a local tienda, or Mexican grocery store, is an amazing experience. We love going in to practice our Spanish, taste test Mexican sweet breads and cookies, and seeing the sights and sounds of Mexican culture.
When at all possible, we like to go straight to the source. Thankfully, we are in an area where learning from people born in Mexico isn't hard to do. We also have a rich community of artists who bring many of the arts and culture from Mexico to our city.
And in this day and age with the power of the Internet, there are so many way to learn about other cultures and dig deeper than the surface. With young kids, I don't find we need to know everything, it's enough to just learn about one or two things that make a culture special.
What is papel picado?
Papel picado  is a type of Mexican folk art made by cutting elaborate designs into colorful tissue paper. The Spanish name literally means "perforated paper." 
Common themes of papel picado include birds, floral designs, and skeletons. Papel picado is a popular decoration for many holidays and life events in Mexico. 
Traditionally, tissue paper was stacked and cut using a chisel and mallet to make as many as 50 banners at a time. Check out an awesome video of the process:
A simplified version includes folding and cutting the tissue paper with sharp scissors to create designs, similar to cutting snowflakes.
I've included a DIY version in the Rooted Childhood May Collection. It makes such a sweet decoration for any occasion!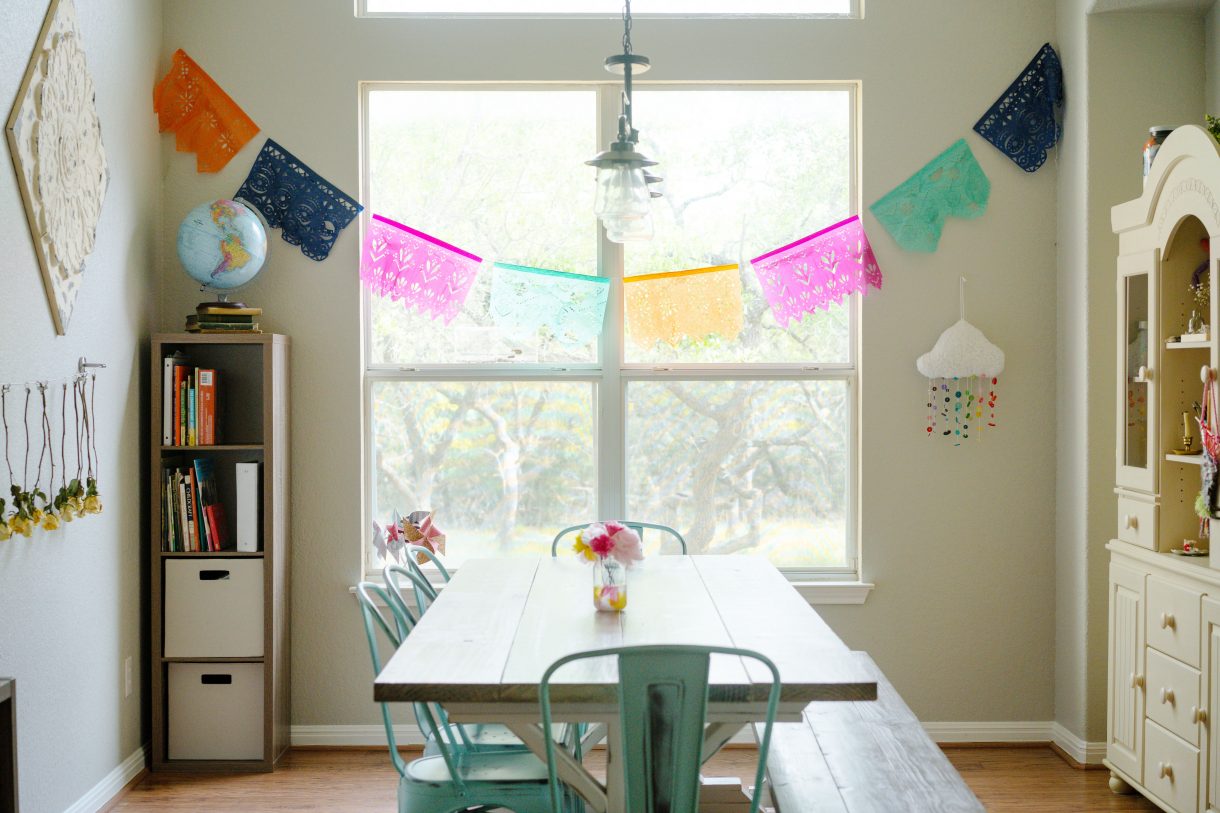 DIY Papel Picado Cake Banner
I wanted to create a mini version for a Cinco de Mayo party to go on the cake. Making cuts on full-sized papel picado takes a lot of precision so I couldn't imagine being able to make the cuts even tinier for this miniature version.
Instead, I opted to use a paper craft punch to make the holes which make this a super easy, quick project perfect for kids.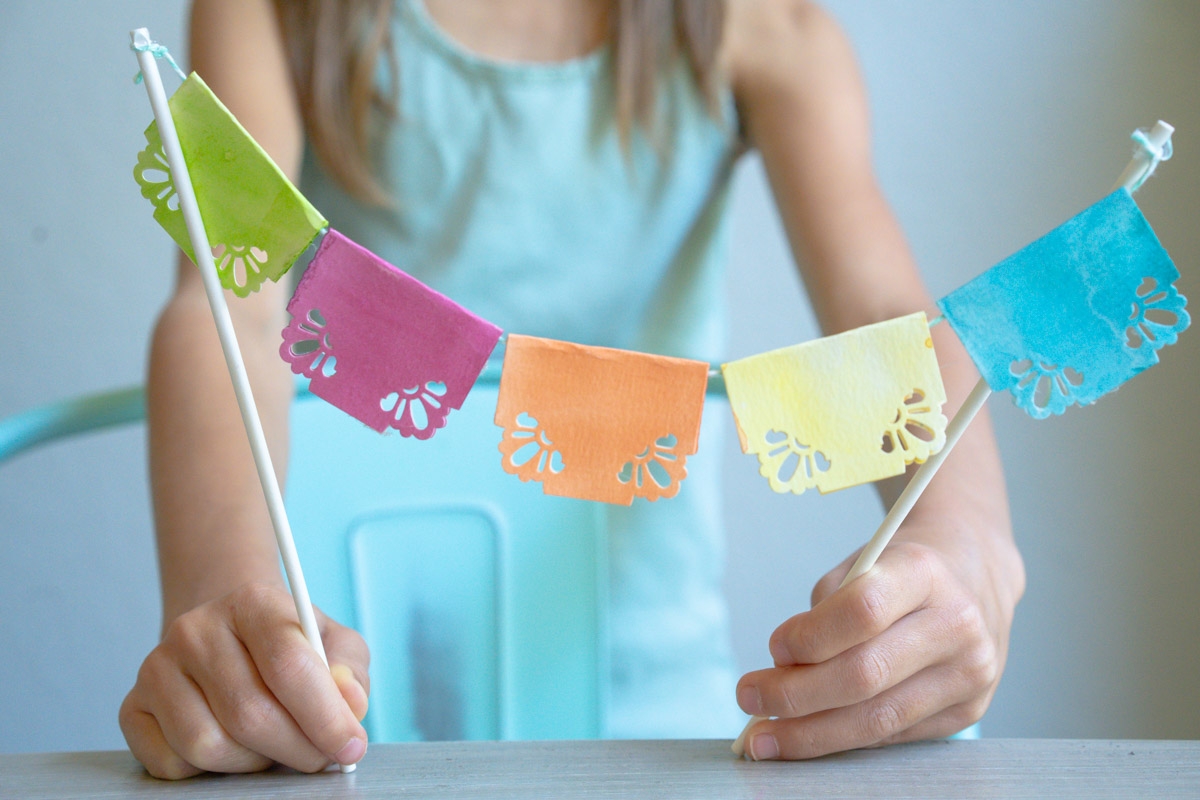 I decided to let the kids paint watercolor paper with tube watercolors, but you could totally use construction paper, color cardstock, or any other kind of paper you have on hand.
This project took under an hour to complete and that included about 30 minutes of dry time for the watercolor paper. If you're using colored paper, this would be a quick 15 minute project.
Materials:
Instructions:
Set up your work surface in a place that can get wet. We love using craft trays when my kids watercolor because things do get wet! Cut watercolor paper into five 2-inch wide strips.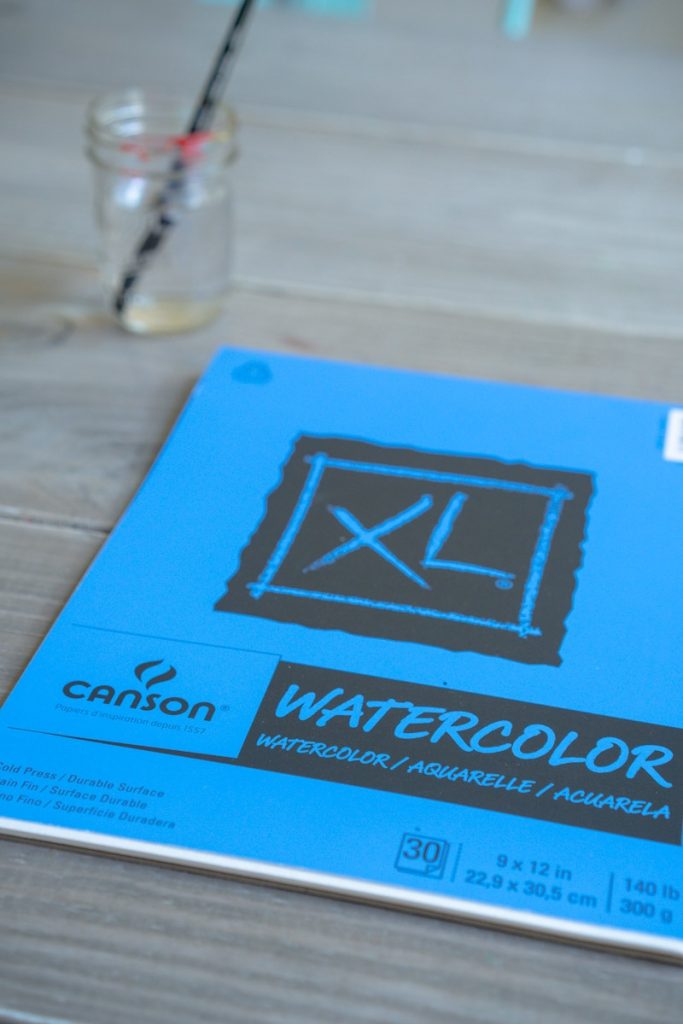 I used 9 inch x 12 inch watercolor paper so mine were 2 inches x 9 inches.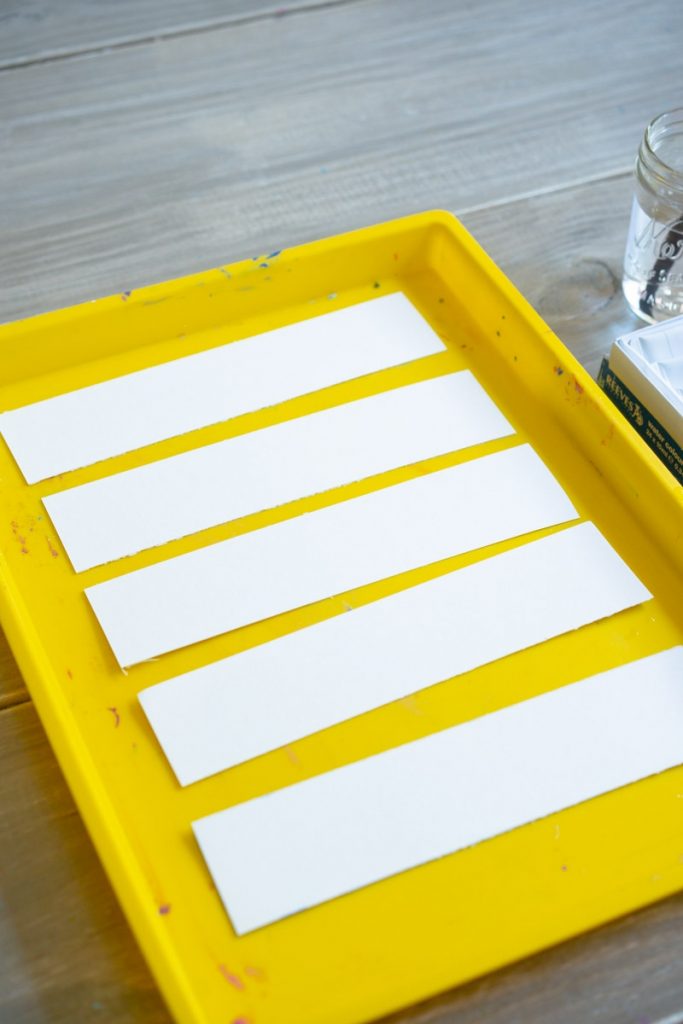 Paint the banner
Prepare your paint palette by adding your favorite watercolor paints or mixing your own colors. I used five different colors for my banner. You only need a pea-sized amount or less of paint- a little bit goes a long way!  If paint has separated, mix each color with a paint brush before beginning.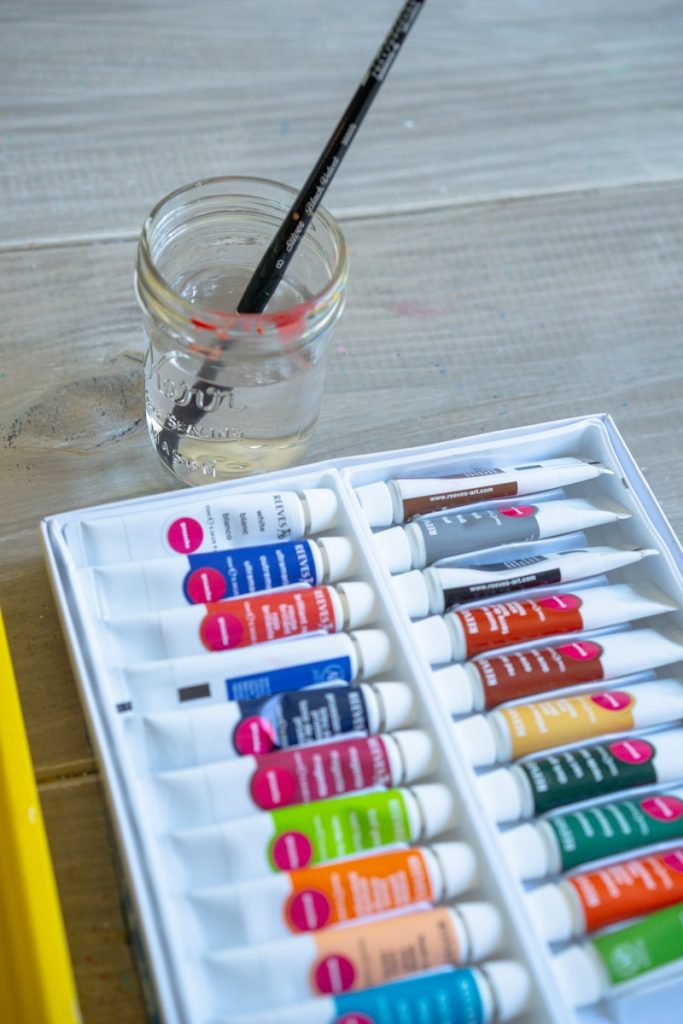 Paint watercolor strips with a wet-on-wet watercolor technique. First wet the entire strip of paper by using a paint brush to apply water.
Then, add a small amount of paint to your brush and begin to brush on the color. Watercolors will look darker when wet so I like to make sure it looks pretty bold at this point. Paint each strip of paper and let dry.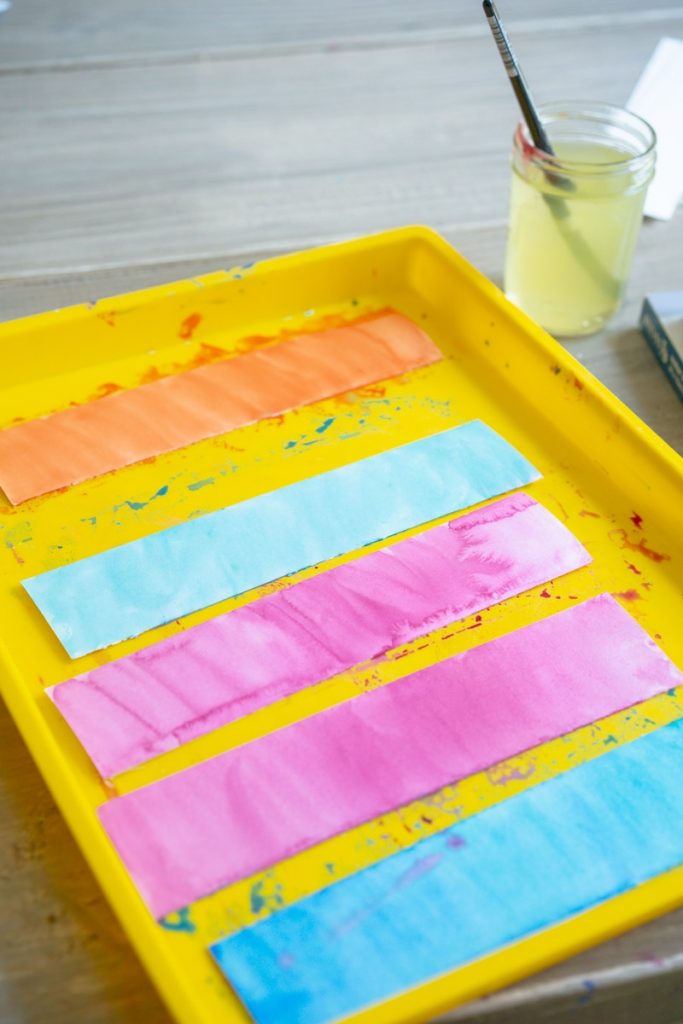 Add the cutouts
Cut each strip into thirds. If using a corner punch, punch each corner making sure you carefully align the corners with the guides. If using a border punch, align the punch on the short sides of the paper to punch both ends making sure you are aligning the punch to create identical designs.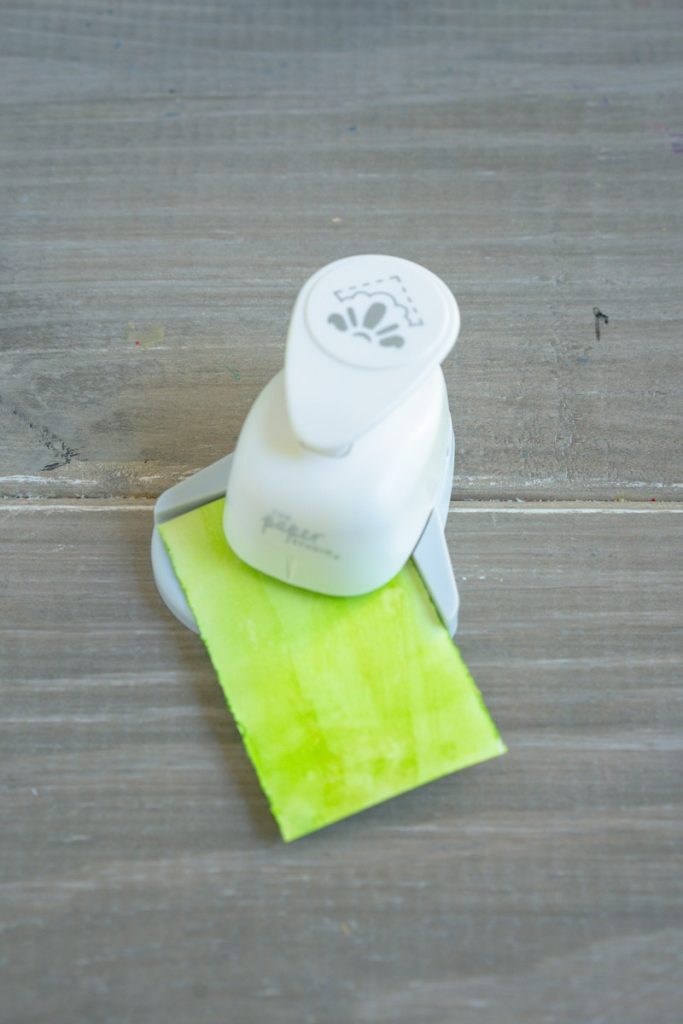 A border punch like this one would be ideal. I just used what I had.
Next, fold the paper in half matching up the cutout designs. Repeat until you have enough flags for your banner. My banner was going on a small cake so I did five flags.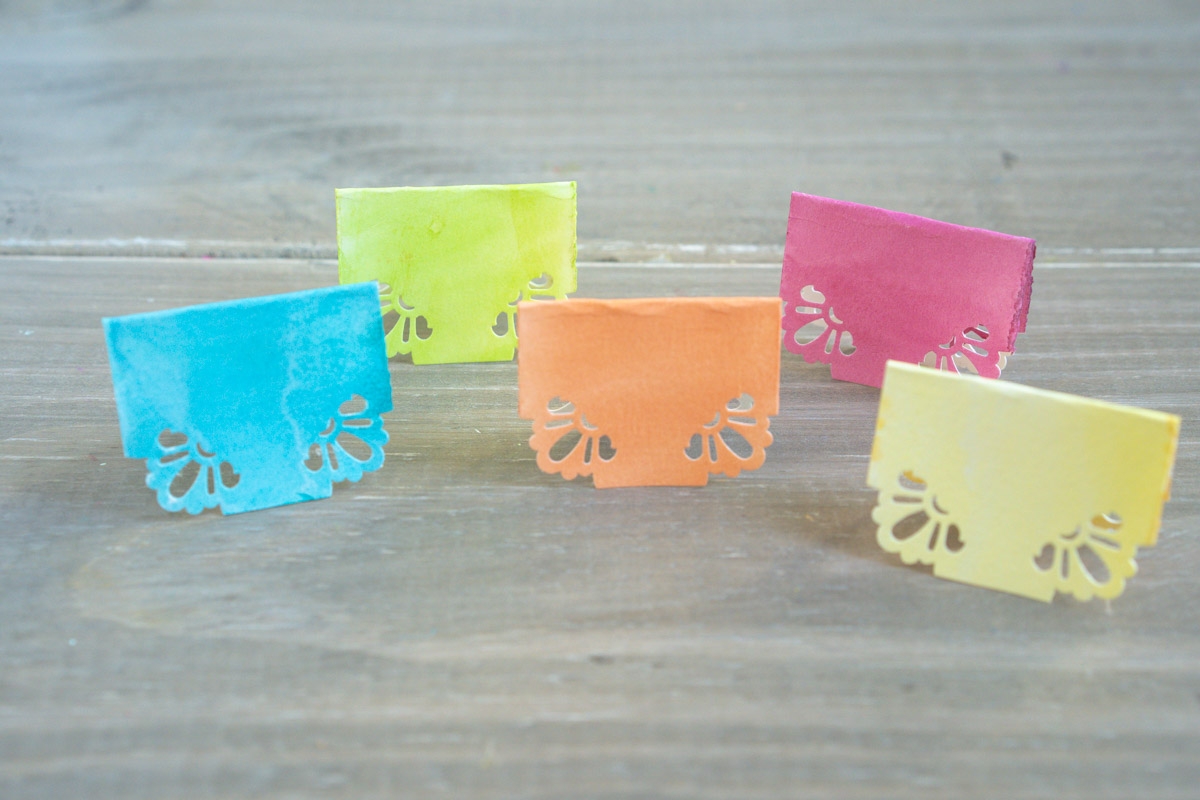 Hang the banner
Hang the banner on a length of string leaving enough string on both ends for tying. Use hot glue to attach the string to the underside of the fold.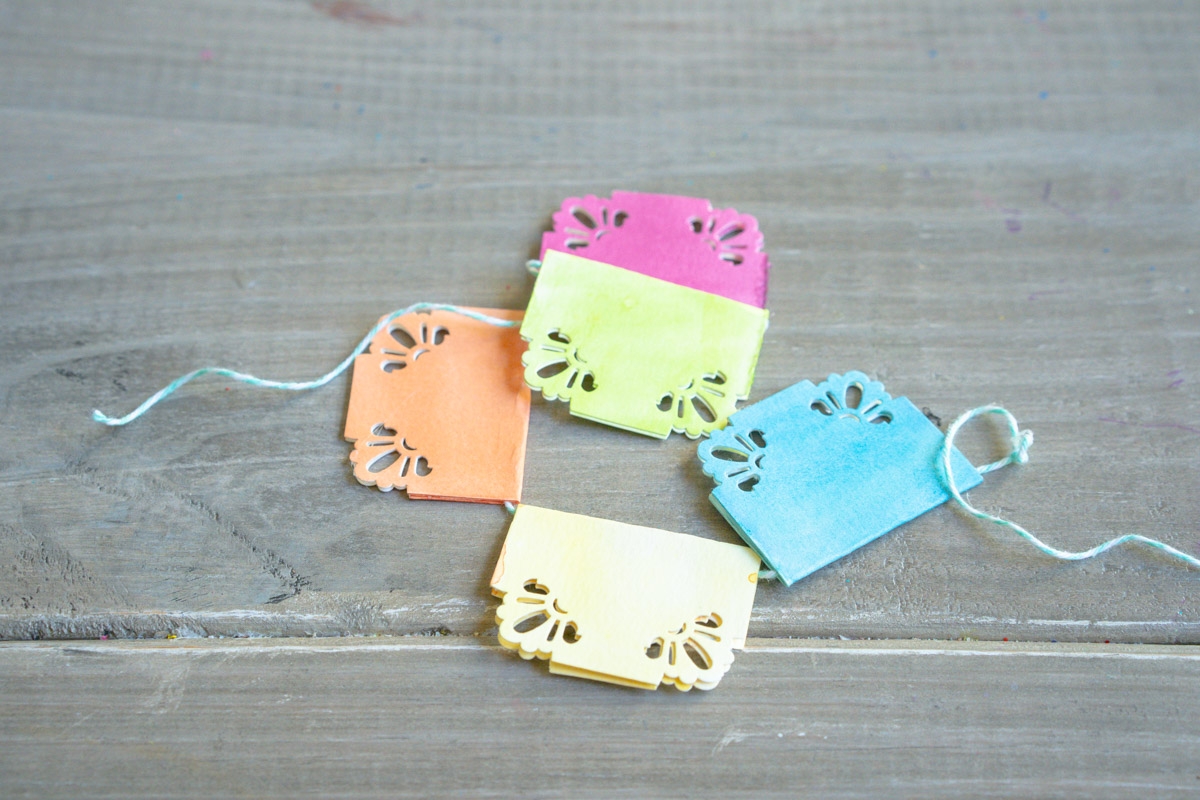 Tie each end to a stick. Use small wooden dowels, treat sticks, or anything long and narrow to hold the banner. I used treat sticks that you'd use for cake pops or caramel apples because that's what I had on hand.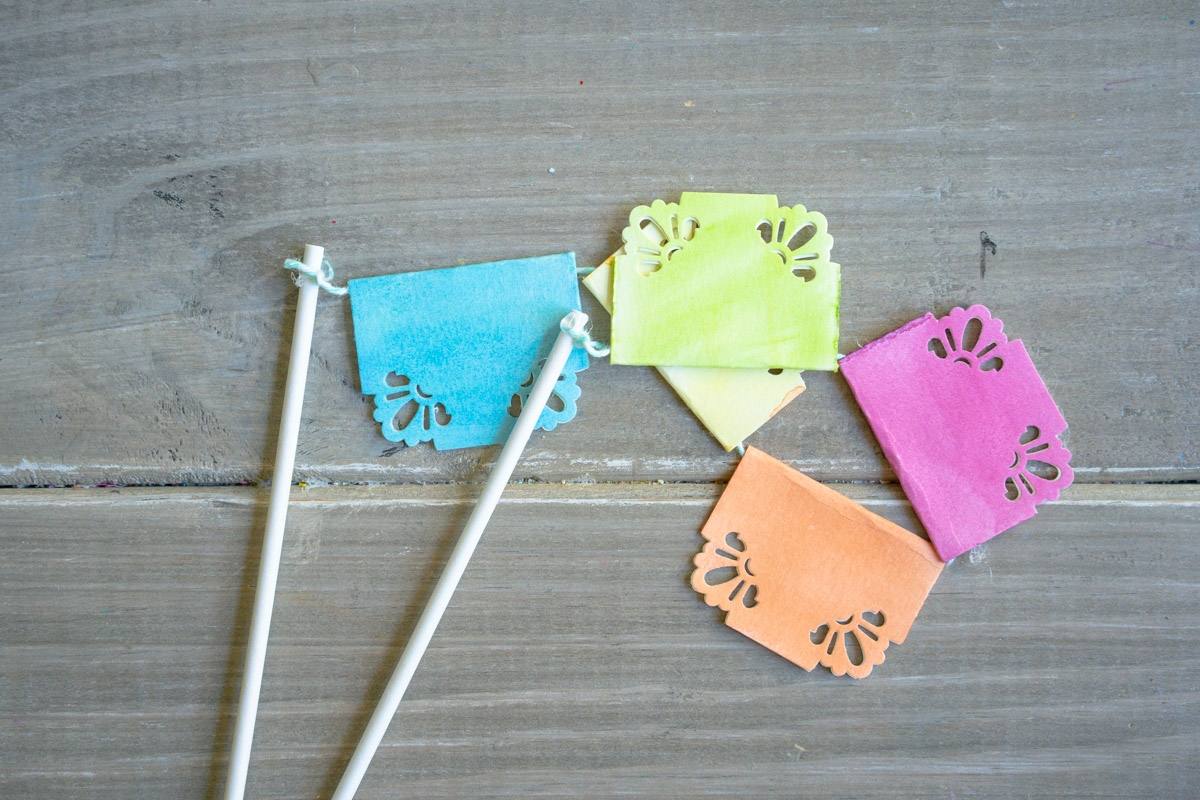 And that's it! Now your DIY papel picado banner is ready to go on your cake- yum! Pair this with DIY Mexican paper flowers and you are ready for a fiesta!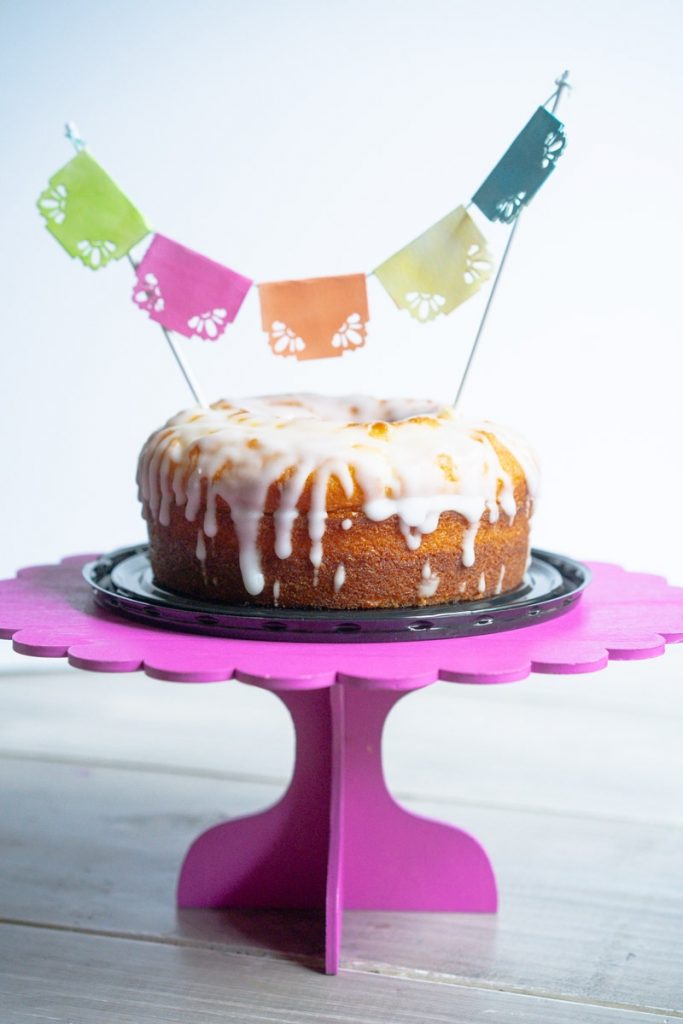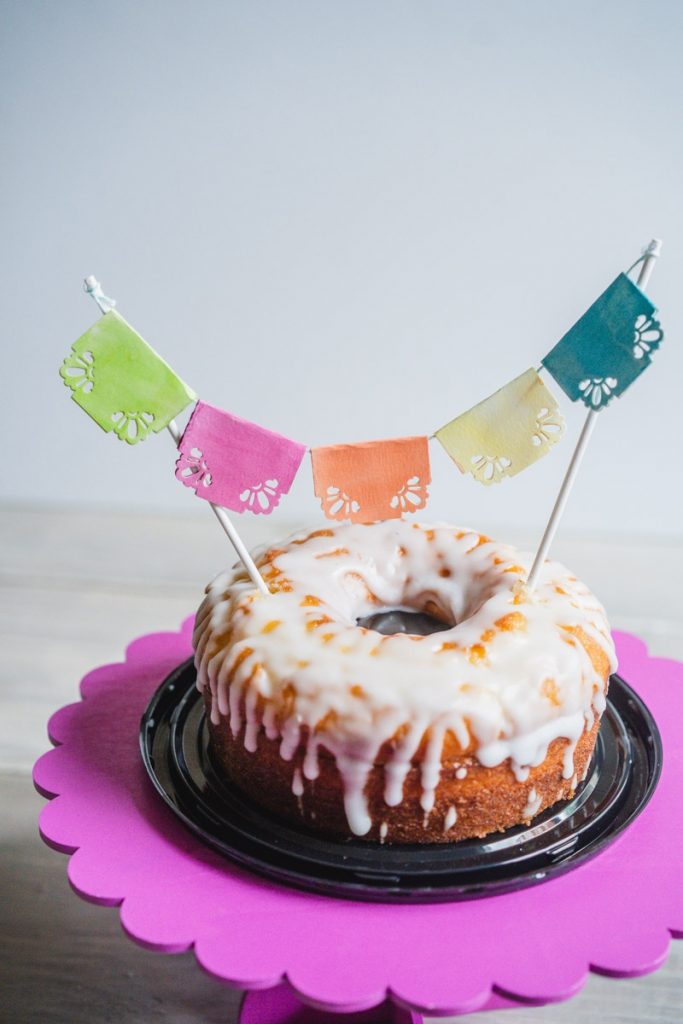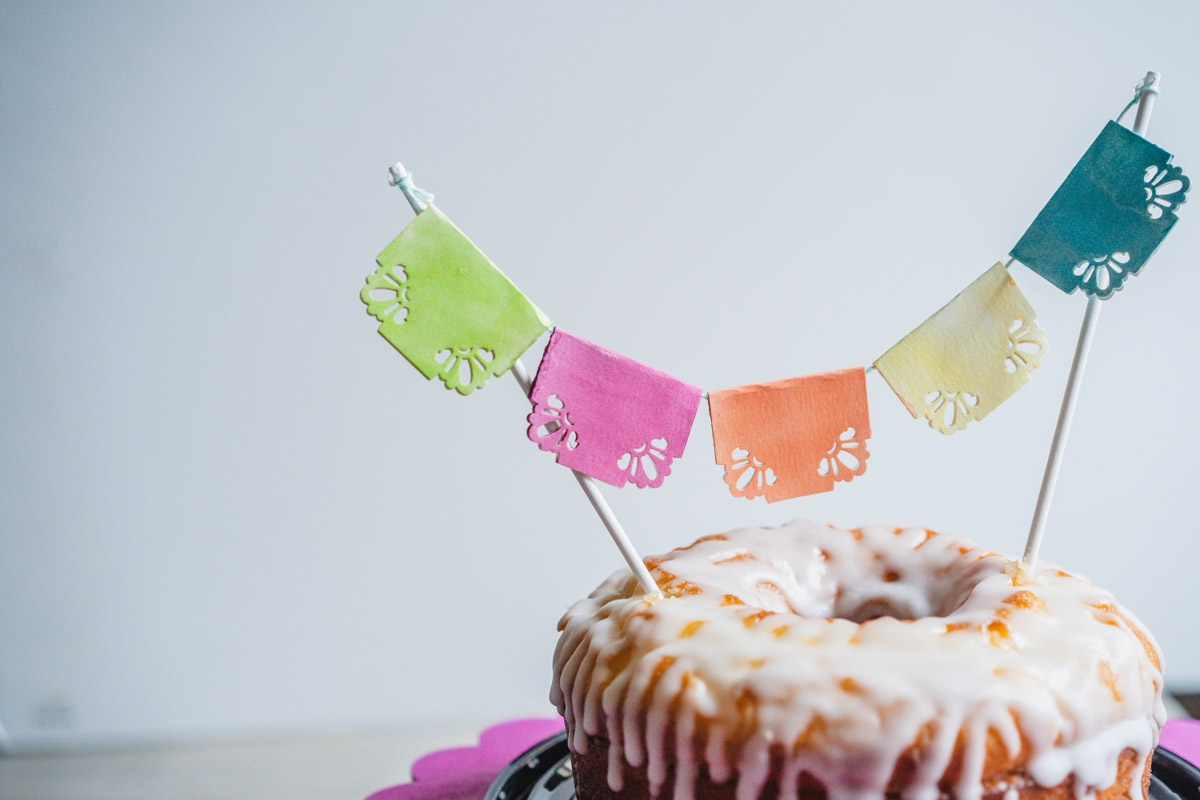 Doesn't it make such a festive little decoration? It's one of my favorite Cinco de Mayo crafts now! Try it out and let me know if it's yours too!