The holiday season is upon us!
I typically have most of my shopping done by Thanksgiving, but this year we've been traveling and had the flu so I am just starting my Christmas shopping now. I always get asked about what gifts we're giving our kids so I wanted to share some of our top favorite things all in one place.
These are all things we have and love that work for our family of five. Our kids are newly 6, 8, and 11.
Book Light
We got book lights for our kids last year, and they are used every single night in our home! My kids love these, and I'm putting one in my stocking this year too!
Amazon Fire
We are generally a pretty low-tech family when it comes to the kids. My oldest had a Kindle Paperwhite for a few years that she loved for reading books on Kindle. Unfortunately, we lost that Kindle on an airplane on a trip to Orlando.
My mom gave her an old Kindle Fire to replace it, and we fell in love with this tablet!
My kids use the Fire for reading free e-books and listening to audiobooks downloaded on Libby through our local library. They can also use them on airplanes or road trips to watch movies.I love that they can use wired headphones or bluetooth headphones for maximum flexibility.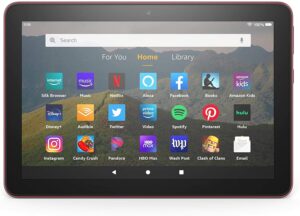 Roller Skates
Our family got into roller skating this year, which is so much fun!
My two older kids got skates last Christmas, and my 6 year old just got these light-up skates for her birthday. These kids' roller skates are great because they're adjustable and grow with the child. For each size of skates, you'll get at least three shoe sizes of of them, which is awesome because kids' feet grow so fast!
I even got some roller skates for myself. I highly recommend for extra fun with your kids!
Whittling Kit
We got into whittling this year, and it's been such a fun journey to do with my kids. We started with this BeaverCraft whittling kit which is perfect for beginners who want to jump right in.
Pickleball Rackets
Another activity our family got into this year was pickleball. My husband and I played a few times on double dates with friends, and loved it so much we got our own rackets.
We found a free court nearby us so that we can go as a family and play. We got more rackets for the kids, and it's so fun!
Junior-Size Guitar
We got this guitar last Christmas, and my kids have loved learning to play it. It's the perfect size for my 8 and 10 year old.
We aren't doing any formal lessons yet, but we have the Fender Play app that they use on the iPad to learn.
Flameless Taper Candles
I got these flameless taper candles last year, and they are awesome! They look pretty realistic and add just the right ambiance that real candles would, but they're completely safe for kids.
They have a small LED remote, and you can put them on a timer which is great.
Pocket Knife for Kids
We got this pocket knife a couple years ago, and it's a great starter pocket knife for kids. It's sharp enough to cut soft wood sticks or other nature items, but blunt enough that it's not going to stab anyone.
I would recommend this for responsible kids ages 6+.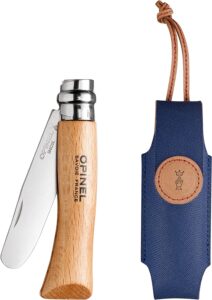 Air Tumbling Mat
We got this inflatable tumbling mat for my youngest's birthday last year, and all of my kids love it!
We use it outside, and it is great for kids to practice somersaults and cartwheels. It's made of a really sturdy material, and I can see it lasting a long time.
It comes with a pump and storage bag, but we store it inflated in the garage. We put a tarp under it when we use it outside on the grass just for a little extra protection.
Microwave Flower Press
We got this microwave flower press before our trip to New England last fall, and it is amazing!
I wanted to be able to preserve the fall leaves we'd see up in New England so that we could bring them home, and this press worked perfectly. It comes with two felt pads to absorb moisture and cotton sheets to place between layers. You stack everything in the press and microwave for about 30 seconds at a time until dried.
The colors are so vibrant and everything looks so good!
Stainless Steel Camping Mugs
We've had these stainless steel mugs for several years, and they're perfect for taking on camping trips or bringing out on a hike for hot cocoa. They have a ton of colors, and we each have one in a different color.
Round Knitting Looms
My kids are avid finger-knitters and also love to crochet and knit with needles, but projects are usually pretty time consuming. These round looms are awesome for super quick hat projects! The kit also comes with pom pom makers to make little poms for the hats.
My kids have made doll hats, baby hats, hats for each other, and hats for the homeless with these. My 6yo can make a hat with some assistance, but my 8yo can make hats all on his own.

Sewing Clips
These sewing clips are SO HANDY for doing sewing projects with kids. I'm going to vote that one of the worst parts of sewing is pinning fabric together, and these clips eliminate all the pain (literal pain!) of pinning.
I love that this set comes with a storage box to keep all the tips together.
Instant Camera
My daughter really wanted one of these cameras last year, and it's been fun for her to take pictures and print them for herself and friends.
The picture quality is pretty good for a Polaroid picture, and we haven't had any problems with the camera at all. The film is pricey, but it's a good opportunity for my daughter to save up her own money and buy the replacement film.
Sprocket Photo Printer
My dad got my daughter this Sprocket photo printer earlier this year, and it's been such a big hit!
The printer is super small- it can fit in the palm of your hand or your pocket. All you need is the Sprocket app, and you can print pictures from your phone on 2×3 stickers in seconds. It's pretty neat!
For 2023, we're going to add Sprocket pictures to a family calendar to document special moments.
Arduino Student Kit
We started using Arduino with our coding and electronics co-op, and my 11yo has really loved using this!
The student kit comes with everything you need except a computer with a USB port. You also get access to the online guide with 9 lessons and 2 projects.
We've worked through only three of the lessons this semester. The lessons are meant to take about 90 minutes and they're very thorough with lots of history and background information built in.
This kit is recommended for ages 11-14, and I'd agree with that recommendation. I think younger kids could do some of the lessons, but they wouldn't get the full understanding of the lessons because there's a good amount of math involved.
Cooler Backpack
With three kids, taking lunch on the go can mean a lot of bags and containers. Once my youngest outgrew the stroller, I was so sad that our built in portable storage was gone!
I got this cooler backpack, and it makes it so easy to pack lunch and carry it on short hikes or to the botanical garden. I don't use lunch boxes when I pack in this cooler
Compass
We've had a lot of compasses over the years, and they've all broken pretty quickly with kids using them.
This orienteering compass has actually lasted for years and been awesome. We use our compass on hikes, while camping, and even just playing outside in our own yard.
Turkish Beach Towels
I got these Turkish beach towels for the kids a few years ago in their Easter baskets.
They come in a ton of colors which means each person in our family can have their own color. I love that they're lightweight and can be rolled super small to pack in a pool or beach tote or in a suitcase for traveling.
Turkish towels aren't super soft and fluffy like a regular towel is, but the plus side is that they dry so fast.
Headlamps
We love these headlamps and have one in a different color for everybody in our family. They're great because they are rechargeable- they each come with a USB charger.
The headlamps get stored in our hiking backpacks, but we pull them out all the time.
Truffle Oil
We started a tradition of FRY-days this year where we eat French fries on Friday.
Our favorite way to eat fries is to fry them up in the air fryer and then sprinkle them with a few drops of truffle oil. This pack of truffle oil is so yummy! The black truffle oil is our family's favorite, but they are all tasty.
Puzzles
My youngest has loved this puzzle to death! It would be an awesome gift for kids 3-5ish. It's just the right size for them to sit and do on their own, which is great when mama needs a quiet moment!
We also LOVE Crocodile Creek puzzles. These are great for ages 2-5ish. They have a ton of patterns, and they're all adorable.
For the big kids, I discovered that Cavallini Papers has puzzles, and they're gorgeous! My kids are getting the National Parks puzzle for Christmas. We have a lot of the Cavallini Papers posters so I'm excited to start collecting a few of the puzzles, too. We love doing puzzles together as a family.
Tongue Drum
All three of my kids have loved this drum from preschool age and up.
What's nice about this drum is that it sounds beautiful no matter how the kids play it. Younger kids can just play it, but my older kids like to use a song book to play familiar songs.
Handbells
I remember playing handbells as a kid in church, and these handbells are just as much fun!
The set comes with some simple music to play, but we also love to use music study units from Growing Gardenside on Etsy.