I can't believe this will be our 8th year of homeschooling together!
Over the years our homeschool has evolved to look a lot like just living our beautiful life together. Our family loves reading together, listening to music, making things with our hands, and following our passions.
I've also learned to value the consistency of some set times that we reserve for certain tasks. I don't schedule out our work anymore; I learned a long time ago that schedules don't work for our family. But routines work amazingly well for us.
Our homeschool routine right now is to wake up, take a walk, ride bikes  and/or workout, eat breakfast, and then gather around the table for our morning work.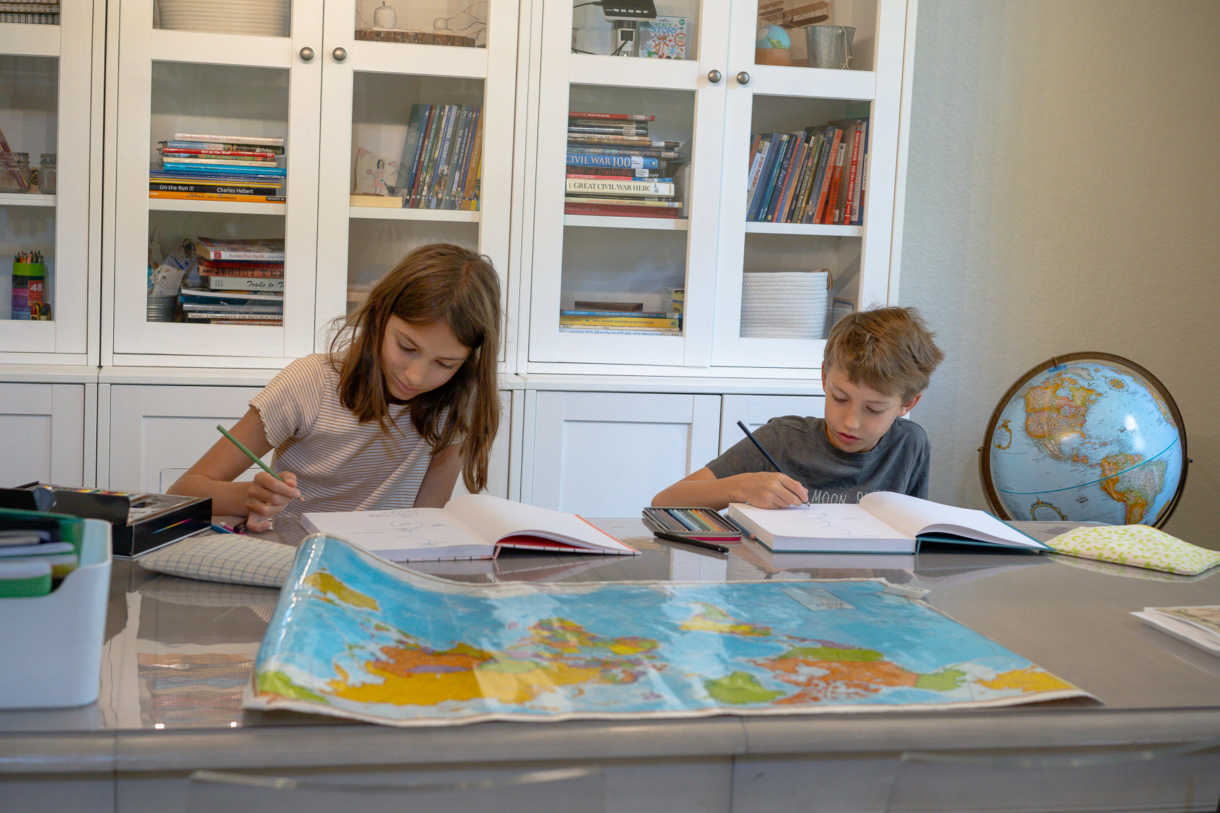 Morning Work vs Morning Time
We used to be big fans of "morning time" or the "morning basket" (I've even written about it here on the blog!) but as my kids have gotten older, they much prefer to work on skill-based subjects to start the day.
Morning Time is time set aside for family learning and often includes art, music, and reading together. When my kids were younger, we loved starting our day with gentle learning and a sweet time together. Because no matter how the day went, and it can go haywire really quickly with lots of littles, I felt good knowing we learned something beautiful together.
But now that my kids are 11, 9, and 6 years old, we prefer to get started with the work that takes the most brainpower first which is usually math. We use our mornings to work on skill-based learning that each of my kids does individually.
Morning Work vs Charlotte Mason Style Short Lessons
Charlotte Mason's philosophy includes morning lessons that are short and varied. Lessons would be timed and would alternate using the left and right sides of the brain. I wrote a whole post about scheduling Charlotte Mason-style lessons.
So a morning might look something like this:
20 minute math lesson
10 minute foreign language lesson
20 minute reading lesson
10 minute geography lesson
15 minute break for drill (P.E.)
10 minute nature lore lesson
10 minute handwriting lesson
20 minute history lesson
This type of schedule worked great for us when I had one child doing lessons. It became more of a challenge when I had two children doing lessons. And for us, it is impossible to do with three children doing lessons. There's only one ME and three of them so it's just not possible to fit it all in.
Also, my kids actually don't prefer switching subjects after such a short time. If we're reading a good book, they want to read the book and enjoy it!
I find that front-loading our day with our core work allows the rest of our day to unfold slowly and gently in a way that lets us savor the beauty and magic of homeschooling. It also allows me to use the time of day when I have the most energy to work with each child one-on-one.
Our Morning Work
Our morning work is when we gather around our school table for pencil and paper tasks. Each of my children is at different levels for learning so this is the time when I can work with each of them individually.
Our morning work currently consists of:
Math
My 6yo and 9yo are using The Good and the Beautiful and 11yo is using Teaching Textbooks.
We have used a lot of different math curriculum options and this is just what works for us right now. I like that TGTB Math is open and go, but I do feel like it is a little repetitive and wastes time on things I don't care f my kids learn right now like time and calendar work. I just cross out things in each lesson that they don't need to do. And I give them plenty of freedom to not do all of the review problems once they feel like they've mastered a skill.
I switched my oldest to Teaching Textbooks because I felt like she needed the immediate feedback of knowing whether an answer is right or wrong. There were many times last school year where she would do a whole page of problems only to realize she had the formula wrong or was doing a step incorrectly. I would much rather catch the errors right away with a computer-based math program so she's not frustrated by having to re-do work.
If you want to try Teaching Textbooks, make sure to do the placement test as I do think the program is not as challenging as others. My daughter finished The Good and the Beautiful Level 5 last year and tested into Teaching Textbooks pre-algebra, which is their level 8.
Handwriting
All three kids are using Handwriting Without Tears for handwriting this year. We've used these workbooks for forever and the simplicity is key. My 9yo and 11yo are doing cursive workbooks, and they just do a few pages each day.
My older two rotate between the cursive book and the Building Writers workbooks. These have super short writing assignments to practice handwriting, spelling, and writing. They enjoy these a lot!
Spelling
We're using Sequential Spelling this year for my older two and loving it! It's a super simple format but is very effective. We are using Sequential Spelling 6 for my 11yo, but I decided to start at level 1 for my 9yo as he has never done any spelling since he finished reading lessons last year.
The premise of Sequential Spelling is that each day the child does a spelling test. I read the word, they write the word, I write the word on a whiteboard, and they double check it. The words in each day's list build off of each other and then the words for the next day build off the previous day. It's pretty genius, and we're all enjoying it!
My 11yo wanted to take the spelling list further and likes to challenge me to see who can write a sentence using the most words from each day's list. The sentences turn out pretty silly, but it's a fun way to end each lesson!
Reading
My 6yo is still learning to read and we're using Logic of English Foundations. We found this curriculum two years ago, and I am so impressed with how it teaches reading in such a… logical way.
My 6yo finished level A last year and is halfway through level B. She can sound out and read CVC words and is working through learning two-letter phonograms like SH, CH, EE, TH, etc. in this level.
In addition to the main curriculum, I also have the game book because this child loves playing games, and it's such good practice for her. The game book isn't necessary as the main curriculum includes games in every lesson, but it's nice to have more options for games on a day when we only have time for a game and not a full lesson.
We also love the Dash Into Reading books for extra practice and reading fun.
Grammar/Writing
We are continuing MCT Island level for my 9yo and doing MCT Voyage level for my 11yo. MCT includes grammar, writing, vocabulary, poetry, and literature.
We found MCT last year, and it such a weird and strange curriculum but so perfect for our family! I'll have to do a more in-depth post about all the pieces and how we use them.
We're also adding in Writing & Rhetoric for my 11yo for more creative writing practice.
Typing
We started using Touch, Type, Read, Spell, and it's been great for my two older kids. We used the Good and the Beautiful for 2 (maybe 3?) years prior to this and just by using TTRS they've already made incredible progress compared to what they were doing before.
There are so many modules, and I love the multi-pronged approach. Some modules include seeing words on the screen and they have to read and then type them and others have audio so they have to type and spell the words.
My 11yo often does several lessons each day. My 9yo typically just does one or two lessons each day.
We won't start typing with my 6yo until she is reading fluently for quite some time, probably around age 8.
Spanish
We're all learning together this year. I am using my own lessons adapted from the Fluent Forever method for my kids. I wrote about it years ago on the blog, and I still think it's such a great way to learn a foreign language.
We'll also be using Homeschool Spanish Academy again, which we LOVE for one-on-one Spanish tutoring and conversation practice.​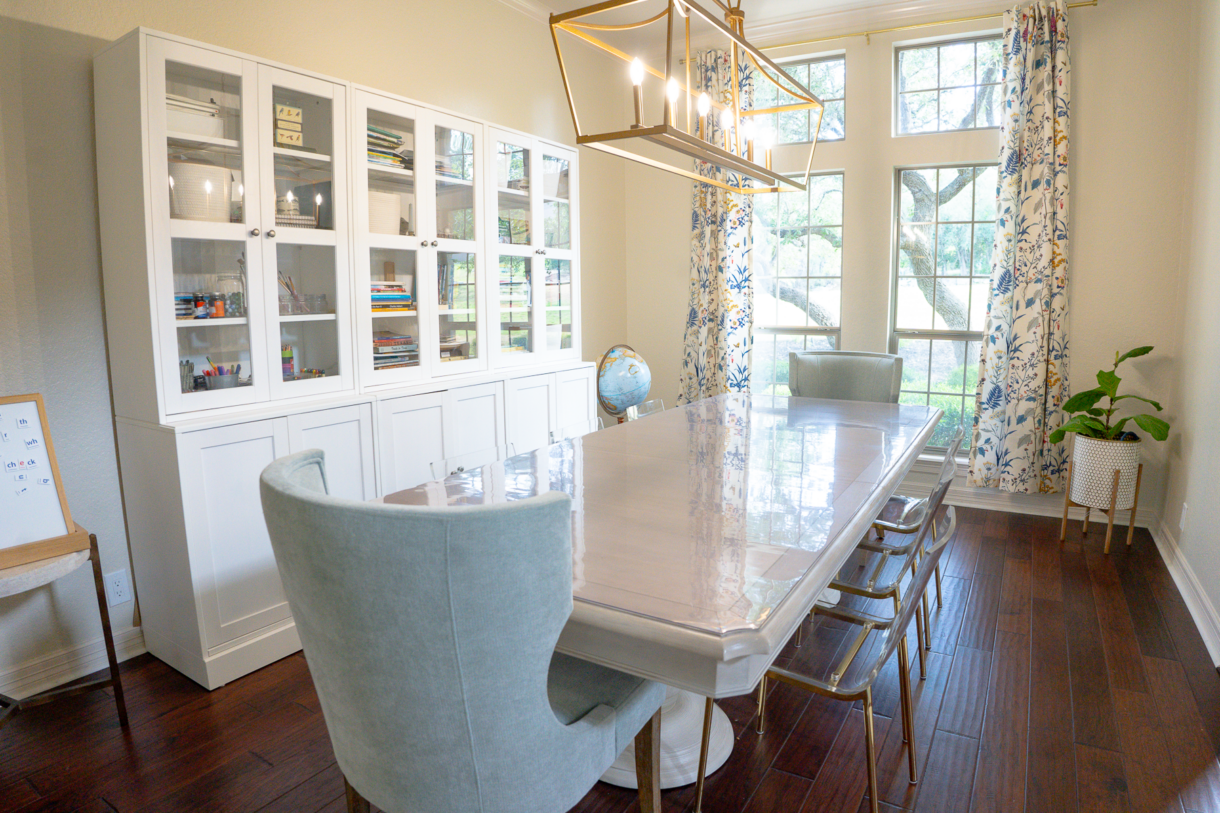 How long does morning work take?
Our morning work takes about 2.5-3 hours for ME to complete. The only independent work my kids are doing is Math for my 11yo, handwriting, and typing. Everything else requires my attention and presence.
The kids aren't working the whole time though. While I am working one-on-one with a child, the others are doing their independent work. Once they finish independent work, they usually work on a handicraft project, read independently, or practice piano/violin. They also use the downtime to play chess or other quiet games with each other.
We typically start our morning work by 9am and finish in time for an early lunch. I like to pack lunches each day and have them ready so that as each kid finishes their morning work they can pull their lunchbox out and start on lunch.
Why We Love Morning Work
While we used to enjoy morning time to engage in beauty subjects for a short time and then spending our mornings fitting in all of our short lessons in a timed format, we now really love getting to spend the afternoons lingering over our readings and discussing them as a family. We love having plenty of time for art and music, handicrafts, and games.
More to come with details of our afternoon work!