Cooking with kids can be a little intimidating, but once you find your groove with kids in the kitchen, it's really awesome. Within just a few years, kids can be a huge help when it comes time for prepping meals. Plus, it's nice to have company in the kitchen!
I start cooking with my babies right away.
First they're quiet observers in a wrap, but once they can stand up they are eager to help. Most babies under about 18 months are perfectly happy to play with a wooden spoon or measuring cups on the floor in the kitchen.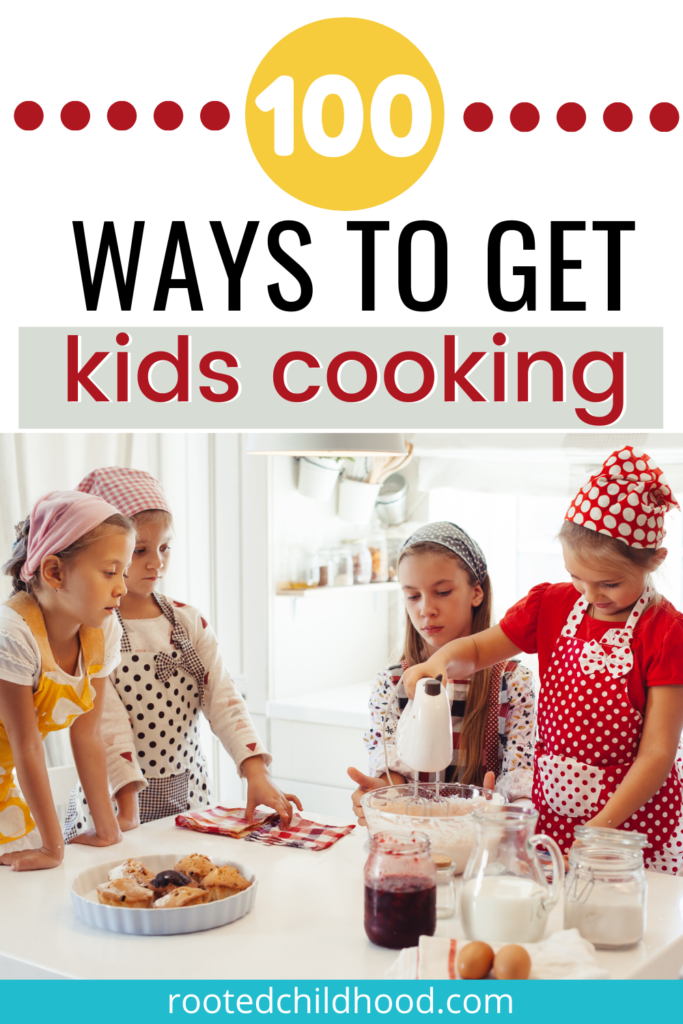 Around 18 months is a great time to start getting your baby more involved in the kitchen. Most kids love to stir ingredients in a bowl, and most of us are happy to hand them a spoon to do it.
But what else can they do? A lot!
Younger children will need more supervision, and safety should always be top of mind in the kitchen.
But don't underestimate what your child can do- they might surprise you!
Check out this video of my little guy peeling an egg at 22 months old. Besides being super cute you can see how great his concentration is and what a great fine motor workout this is for his hands.
If you want to start cooking with your kids more, here's a breakdown of 100 ways to get kids involved in the kitchen:
18 months old and up 
Wear an apron
Take items out of packages
Stir easy-to-mix ingredients with a wooden spoon
Rinse produce
Pluck grapes from stems
Peel bananas
Scrub potatoes with a vegetable brush
Pick herbs off of a stem
Peel a hard boiled egg
Tear greens into pieces
Taste test ingredients
Use a fork to mash bananas
Sprinkle salt or spices
Play fun music and do a little dance
Pick out fresh vegetables at the farmer's market
Pour pre-measured ingredients into a bowl
Turn on appliances like blender or food processor
Whisk a vinaigrette
Put paper liners into muffin tins
Knead dough
Use hands to mix ingredients
Stack foods like cucumber or crackers
Throw trash away
Use produce to teach colors
Bang a bowl with a spoon
Put toothpicks in appetizers
Harvest herbs and vegetables from the garden
Peel skins off onions
Peel garlic
Use a potato masher
Dip raw veggies into a dip
Toss a green salad
Stand on a kitchen helper
Learn the names of common foods in a foreign language
Scoop leftovers into storage containers
Ground spices with a mortar and pestle
Use a pastry brush to spread oil on a baking dish
Practice pouring water
Carry groceries in from the car
Put away groceries
Use cookie cutters for cookies, biscuits, or sandwich bread
Use a spiralizer with soft foods like zucchini or squash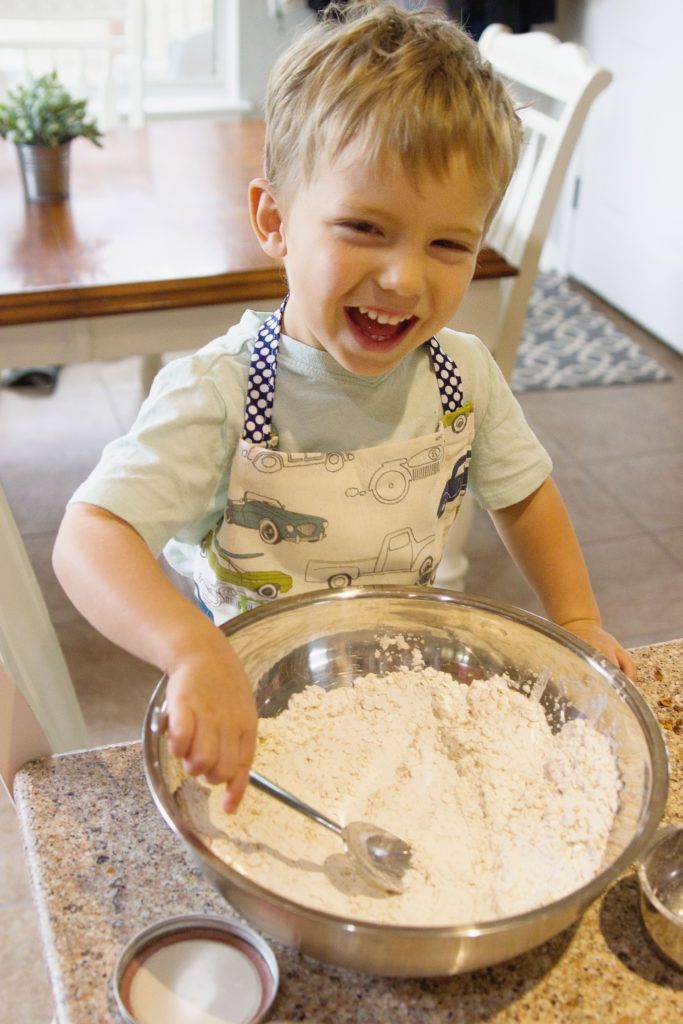 Ages 3 and up
Cut soft foods like banana, hard-boiled eggs, or cheese with a butter knife
Crack an egg
Set the table
Clear the table
Put away clean silverware
Measure dry ingredients
Spread butter and jam on toast
Juice a lemon with a handheld juicer
Roll out dough
Put soap in the dishwasher and start it
Snap the ends off of asparagus
Wipe down the table after meals
Peel fruits and vegetables
Use a box grater for cheese or soft vegetables like zucchini
Use a butter knife to slice butter
Put toppings on a pizza
Make a sandwich
Count items for a recipe
Use a salad spinner
Open a teabag and prepare a cup of tea
Put snack items into individual bags
Sift flour
Put food on a skewer
Start the Instant Pot
Use a food thermometer
Make toast in the toaster
Scoop seeds out of a melon
Fold washcloths, napkins, and dish towels
Fill a blender with frozen fruit for a smoothie
Shake a mason jar to mix ingredients for dips, pudding, or refrigerator oatmeal
Help with meal planning
Shape hamburger meat into patties
Use kitchen scissors to cut green beans, bell pepper or other veggies
Wash pots and pans
Stir hot foods on the stove with close supervision
Make a peanut butter and jelly sandwich
Create a centerpiece for the table
Shape food into balls like meatballs or energy balls
Make scrambled eggs
Wipe down countertops after cooking
Scoop batter into muffin tins
Drop cookie batter onto cookie sheet

Ages 6 and up
Use a sharp knife
Read a recipe
Gather ingredients for a recipe
Tear off foil and parchment paper
Wash dishes
Use a can opener
Load dishwasher
Use an immersion blender or hand mixer
Pour and measure liquids
Flip a pancake
Cut a pizza
Use a ladle to serve soup
Measure ingredients on a food scale
Start a timer
Use a mandolin with protective gloves
Write and decorate a dinner menu
[mailmunch-form id="568140″]
This post was written as part of the iHomeschool Networks 100 Things: A Cache of Homeschooling and Family Treasures Link-Up. Go check out these awesome lists of 100 Things covering everything from family life to high school to nature study.