We've had one kid under the weather this week so it seemed like the perfect time to set up a little invitation to play and this mini pumpkin patch was a huge hit!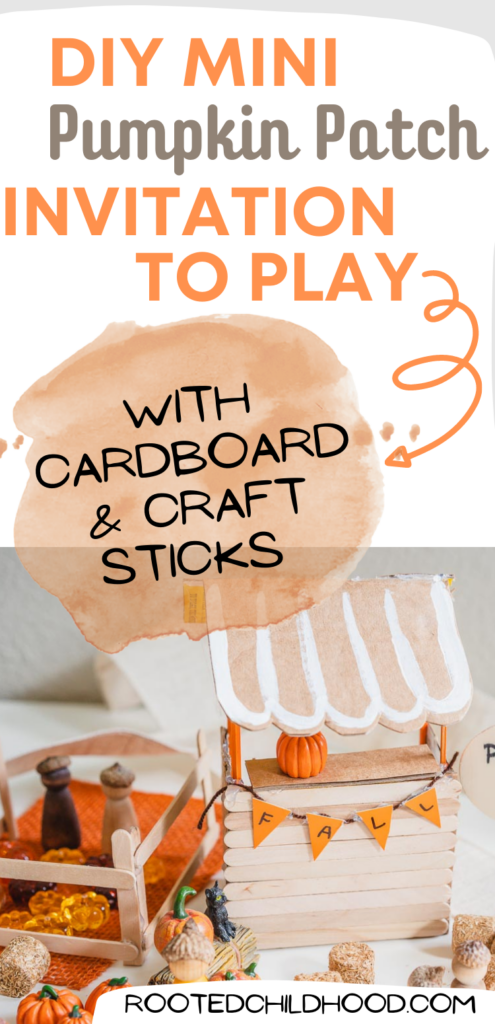 I saw the idea on Instagram and it looked so simple and fun, I knew I wanted to recreate it.
I gathered up a few supplies and got started crafting! If you're a rule follower like me, it's probably a little hard to create things without exact instructions, but I encourage you to just use what you have on hand and let the creativity flow. One amazing thing about kids is that it really doesn't take much to impress them!
Materials:
Scrap cardboard
Scissors
Craft sticks
Hot glue gun & hot glue
Black permanent marker
Miniature pumpkins, hay bales, fall figurines
Craft paint & paint brushes
Play dough
Putting It All Together
I started by cutting out the cardboard to form a three sided base for the pumpkin patch stand. I glued craft sticks to the front piece of cardboard and then added another piece of cardboard to create a "counter" or "shelf."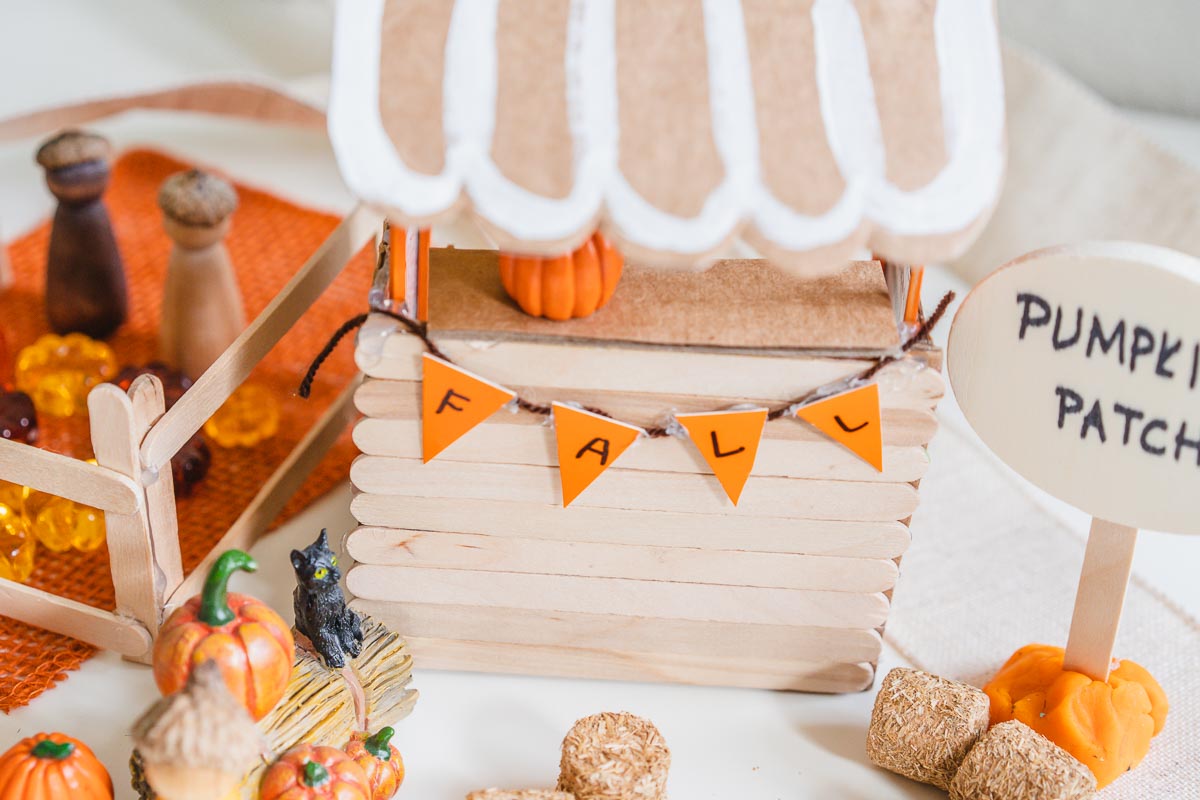 I painted the sticks to hold up the roof orange and then cut out the scalloped roof. The roof didn't lay perfectly, but I didn't measure a thing so I'm not surprised!
My 9yo made the cute "FALL" bunting from scraps of cardboard and strand of yarn.
Next, I made a little three-sided corral for the pumpkins. I snipped the ends of the sticks for the vertical posts and then used two sticks as horizontal crossbars.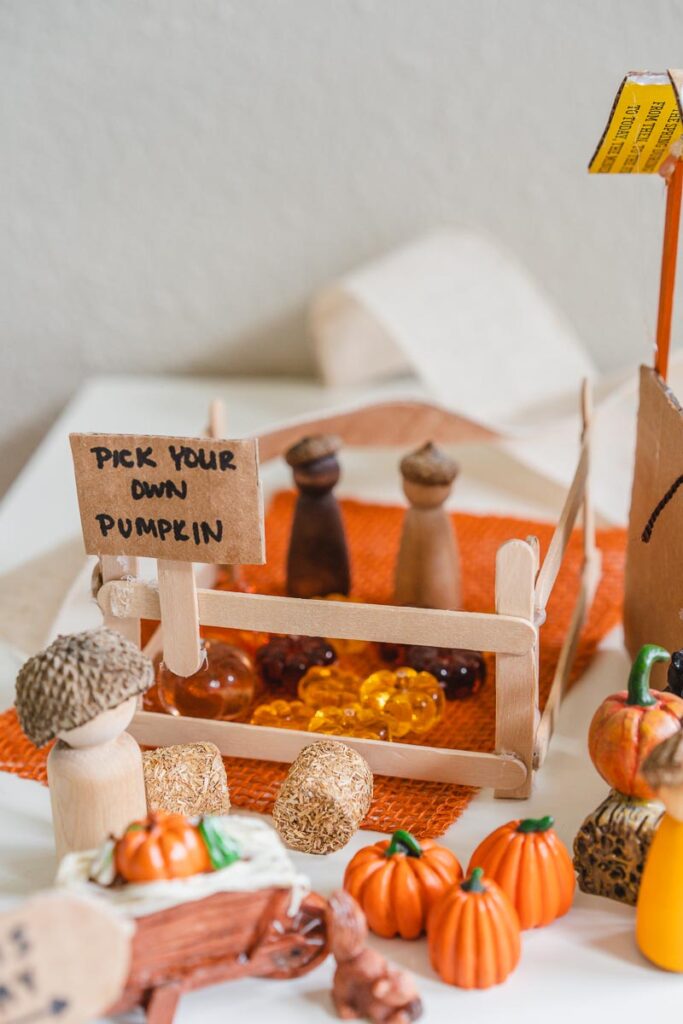 I had some little wooden shapes leftover from a stamp making project (part of the Rooted Childhood July Collection) so I grabbed an oval and wrote "pumpkin patch" on it with a permanent marker. I glued it to a stick and used a pinch of play dough to hold it up.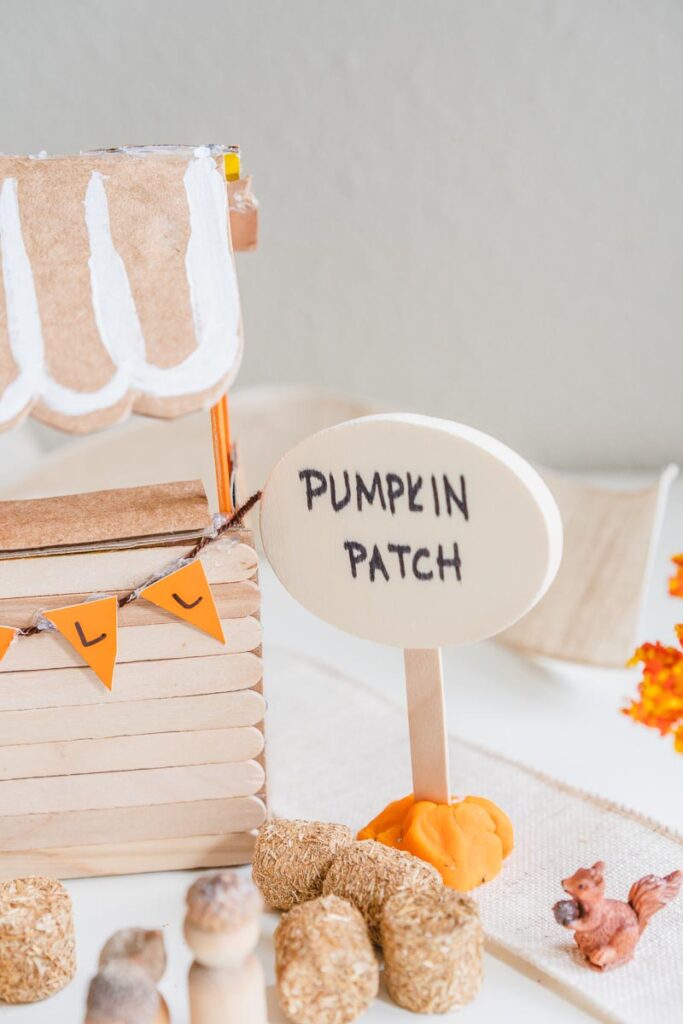 We gathered up some miniature figurines I found at Michaels and some things we already had on hand to set up the pumpkin patch!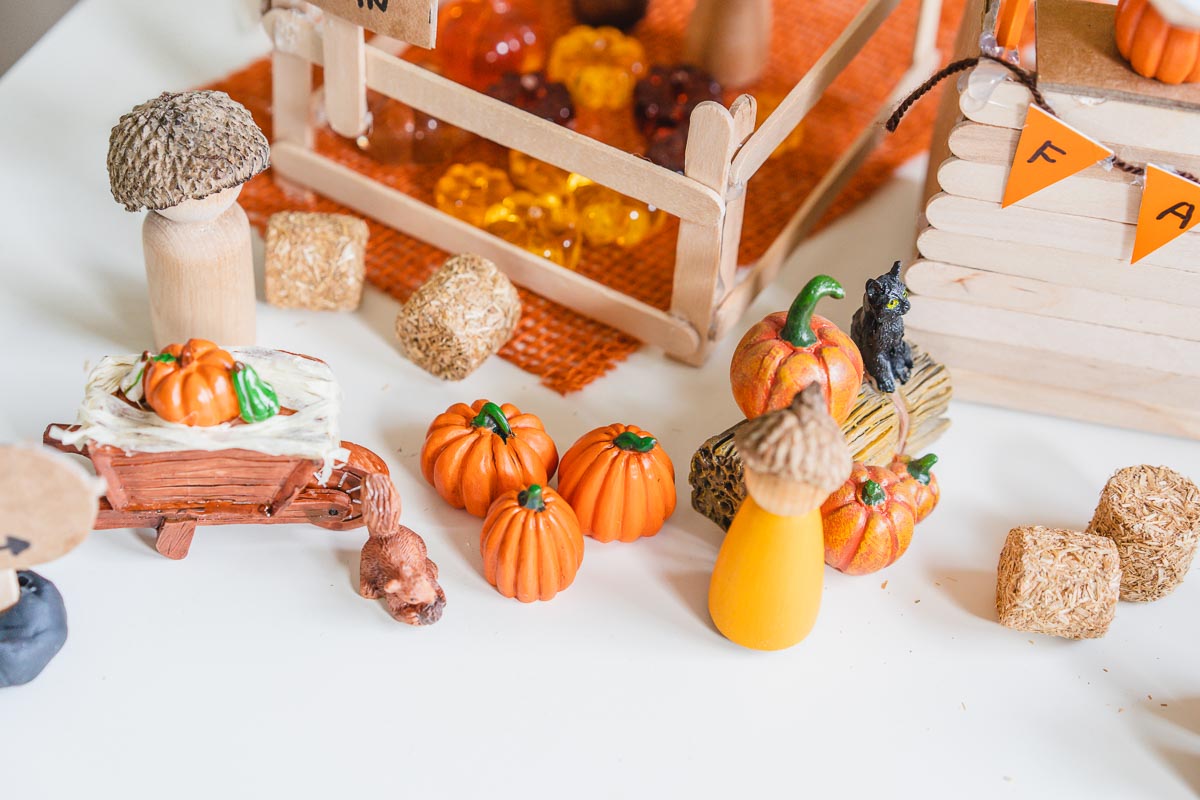 I just love how it turned out!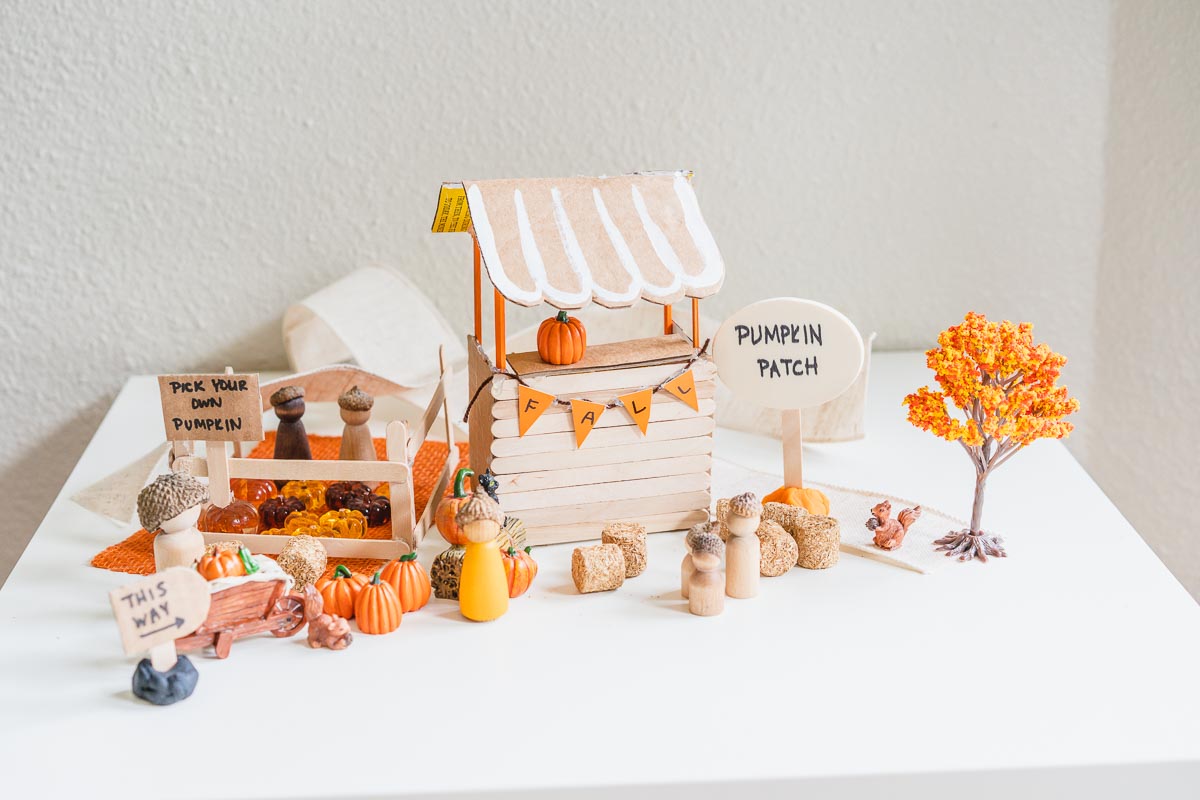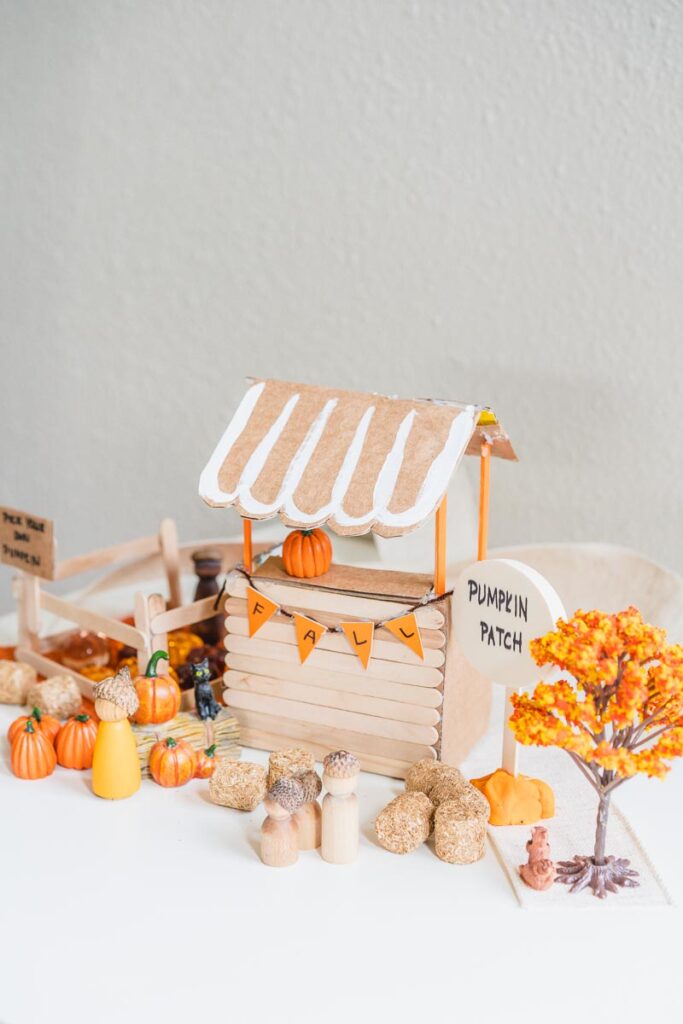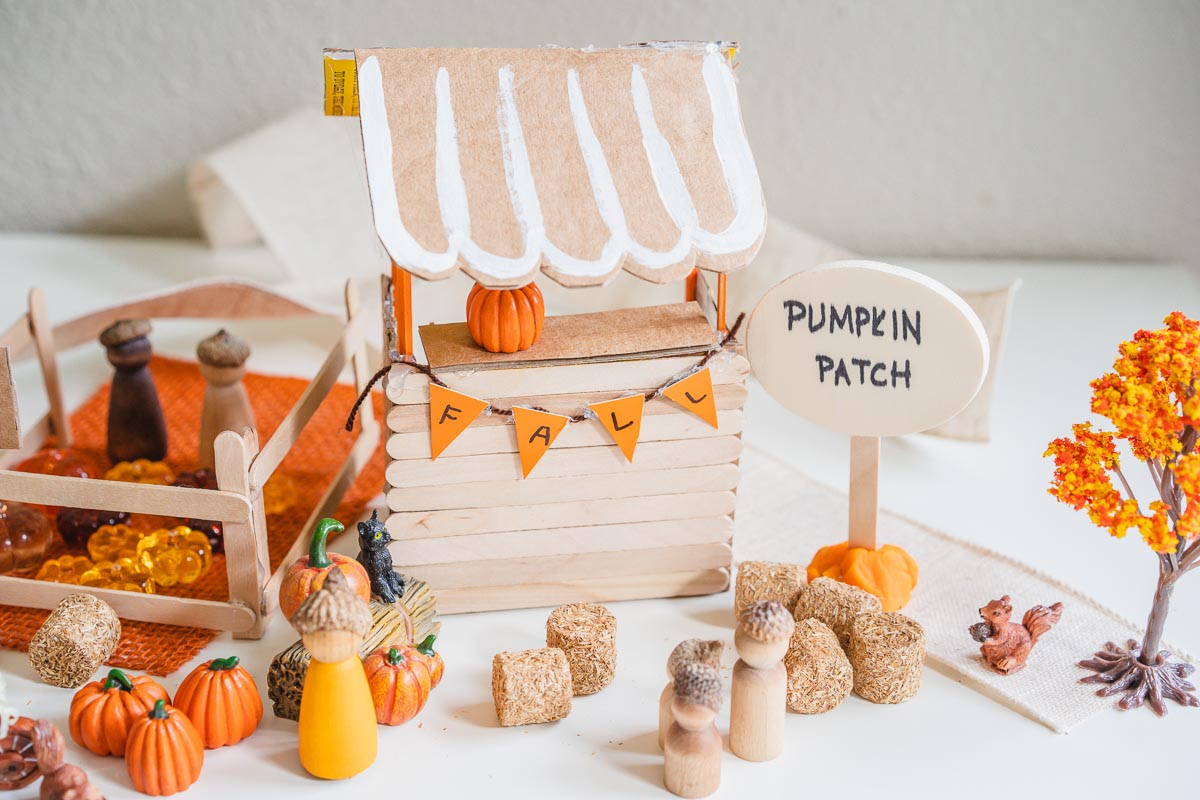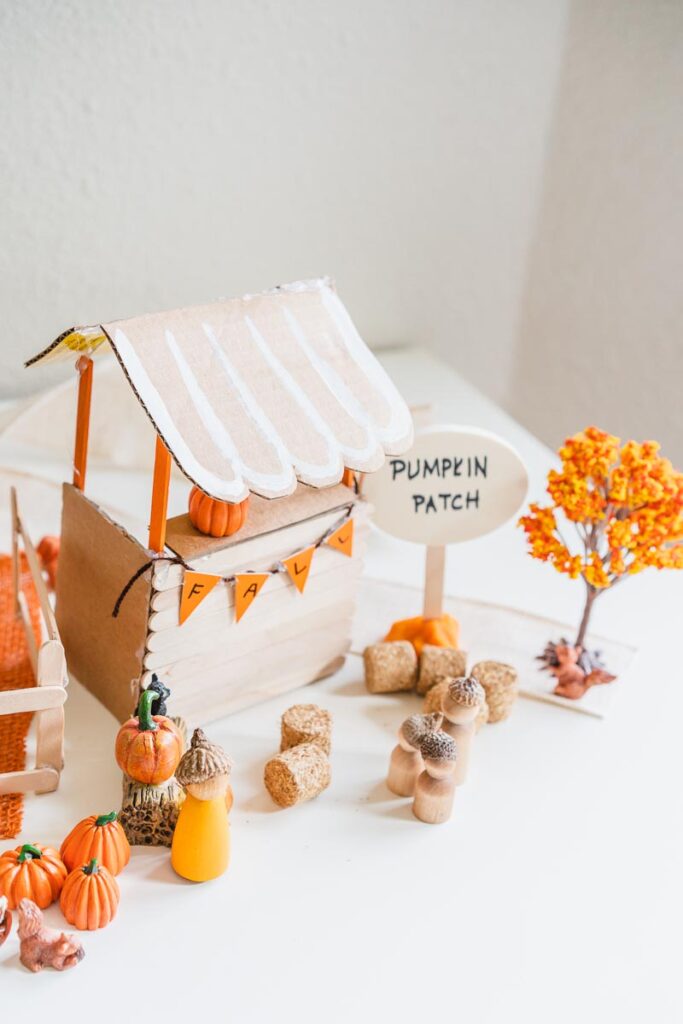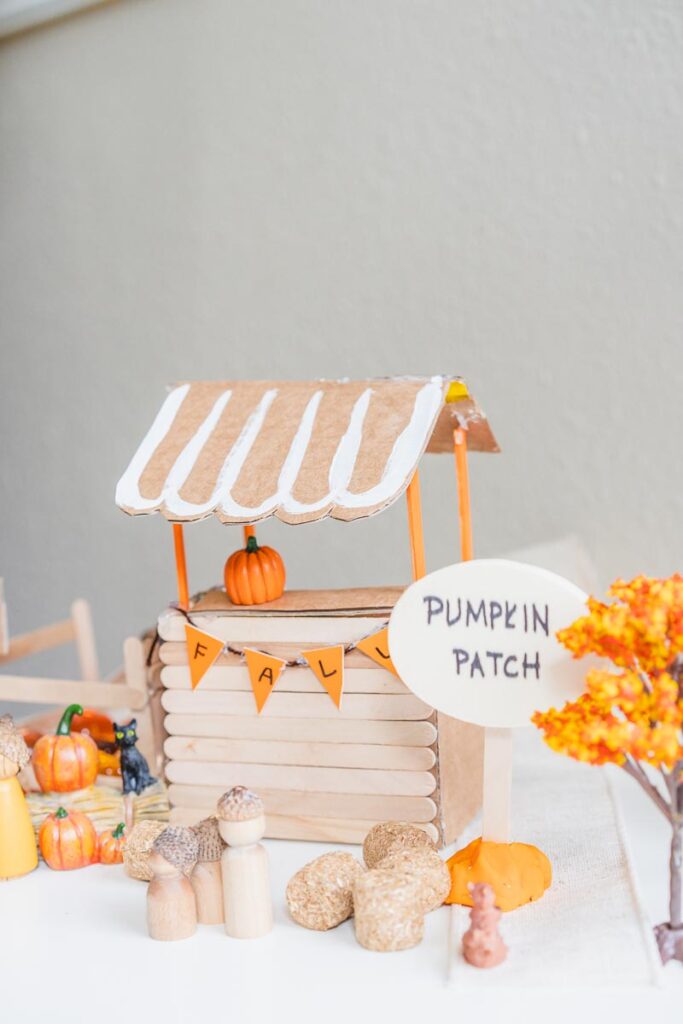 Setting Up An Invitation to Play
I set the scene up on a low, kids table in our dining room and it will provide countless hours of fun! I usually leave invitations set up for about 10 days before the thrill wears off. I'll spice this up with homemade spiced play dough (from the Rooted Childhood September Collection), some felt play mats, and some more fall themed play items over the next few days to keep it fresh.
My kids often play with setups like this first thing in the morning or while I prepare meals. It's great to have an option that engages the imagination and gives them a creative, hands-on outlet for play.
So what are you waiting for? If you make a mini pumpkin patch, tag me so I can share it!