Looking for a simple play idea to welcome in Spring? This flower potion sensory play provides endless fun for kids of all ages!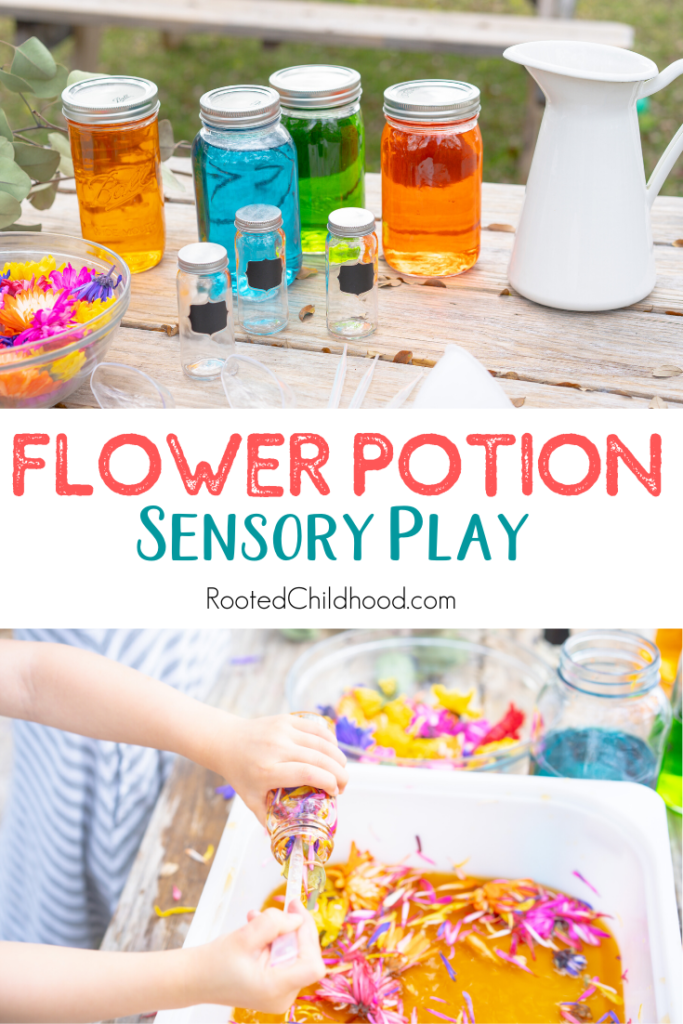 What is flower potion?
What exactly is flower potion? I have to give credit to my kids for dreaming this one up as my oldest daughter started creating "potions" a while ago by mixing up a bunch of gross stuff and putting it in a bottle.
We made pumpkin potion last fall, and I knew that flower potion would be a big hit too.
Setting up for flower potion sensory play
Whenever I plan a sensory play idea or special project, the key is gathering all the materials and getting it set up before my kids notice. Otherwise, they are impatiently waiting and hovering and that puts us all in a grumpy mood, which  is exactly the opposite of what we're going for!
I gathered all of the supplies for this flower potion sensory play and prepped everything in my kitchen before taking it outside.
Yes, I consider this an outside project. I'm sure there are many mamas who are braver than I am, but anything with water and food coloring is an outdoor project in my book.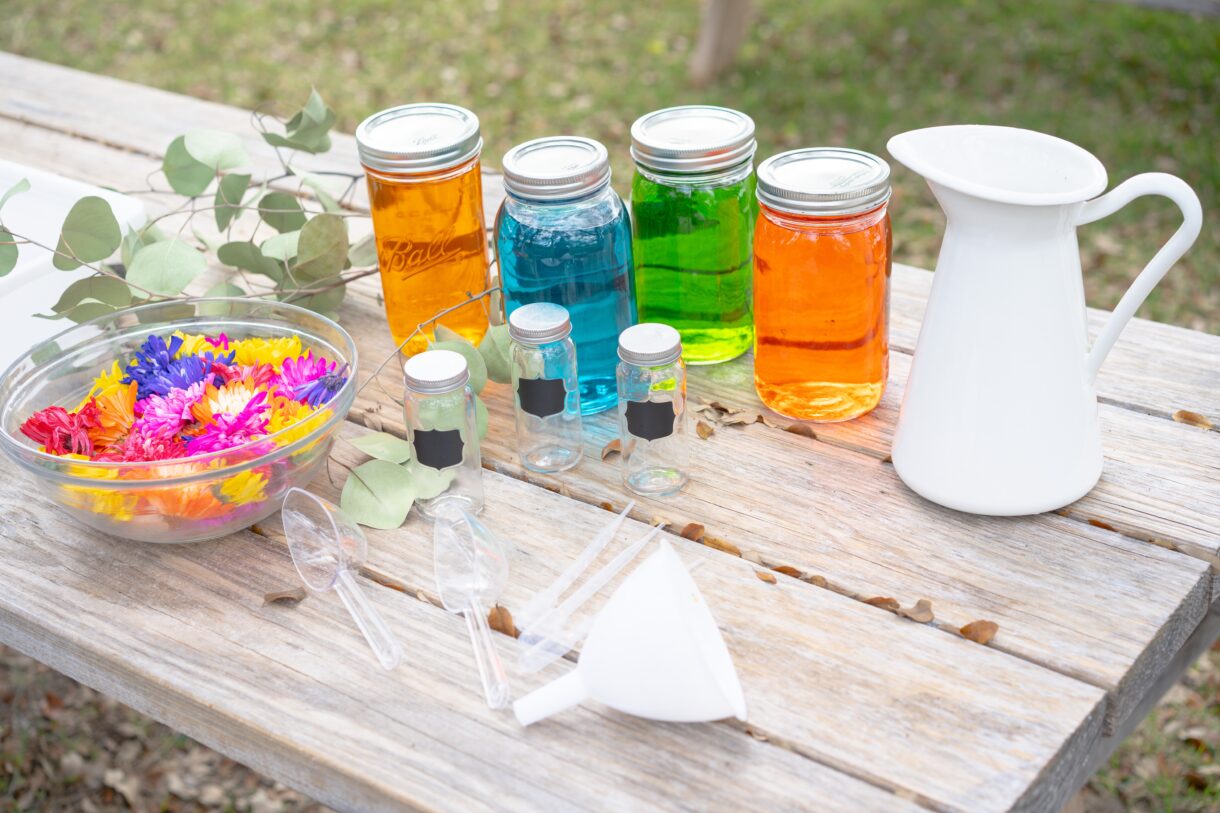 Materials
Setting up this flower potion sensory play is super easy and flexible. I'll share what we used, but you can use whatever containers and supplies you have on hand already.
The most important ingredient for flower potions is of course the flowers! My sister gifted us this beautiful bouquet and before we went on vacation I snipped the blossoms and put them in the refrigerator. These blossoms are actually almost three weeks old and still look super fresh.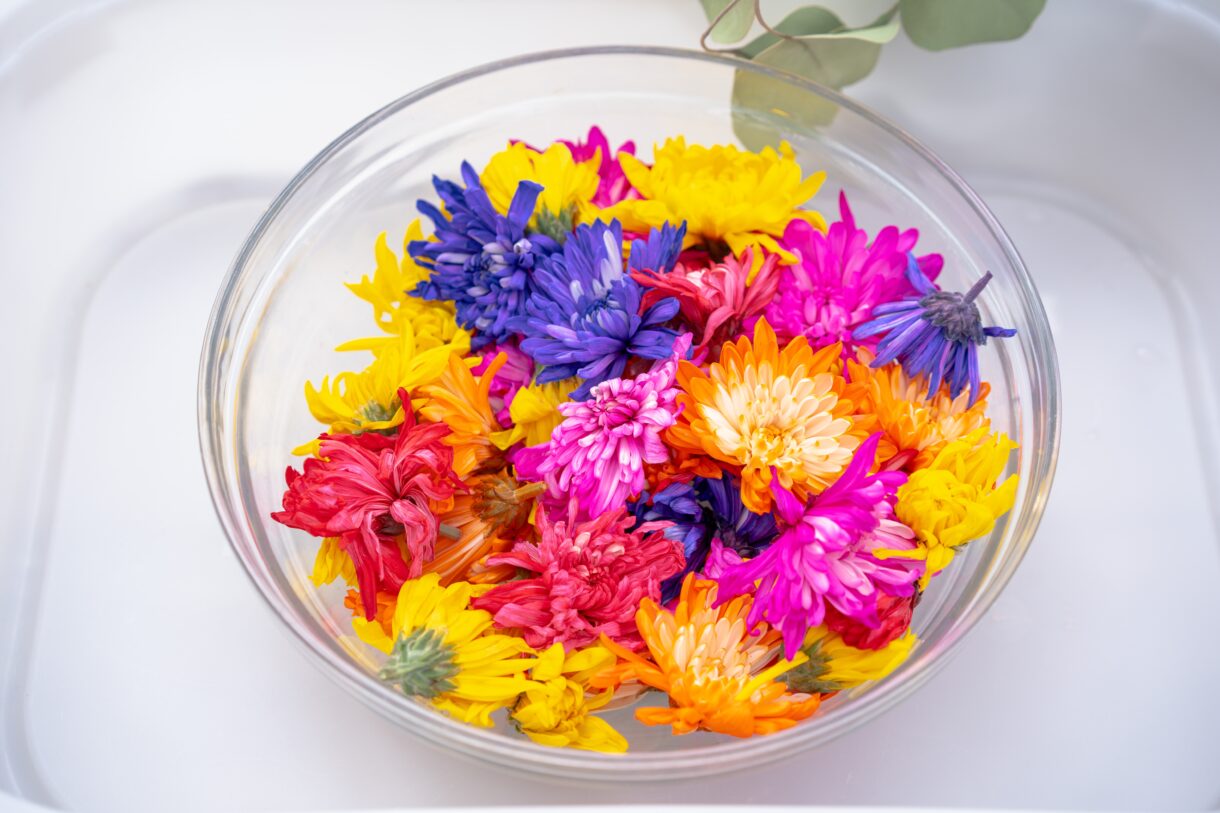 Whenever we have fresh flowers in the house, I save the blossoms to dry out for projects. Dried flowers would work great in flower potions too.
You could also go for a nature walk and collect wildflowers to use in your potion. Other natural items like acorns, pinecones, leaves, clover, or seeds would be a great addition as well.
For the water, I had a pitcher of plain water. Our pitcher is from IKEA and I love it because it is metal and indestructible. We have it in two sizes and use it for water play or self-serve drinks all the time.
For the colored water, I filled some quart size mason jars with water and added a few drops of liquid food coloring. The colored water can stain so use caution if your kids are wearing light-colored clothes (like mine!).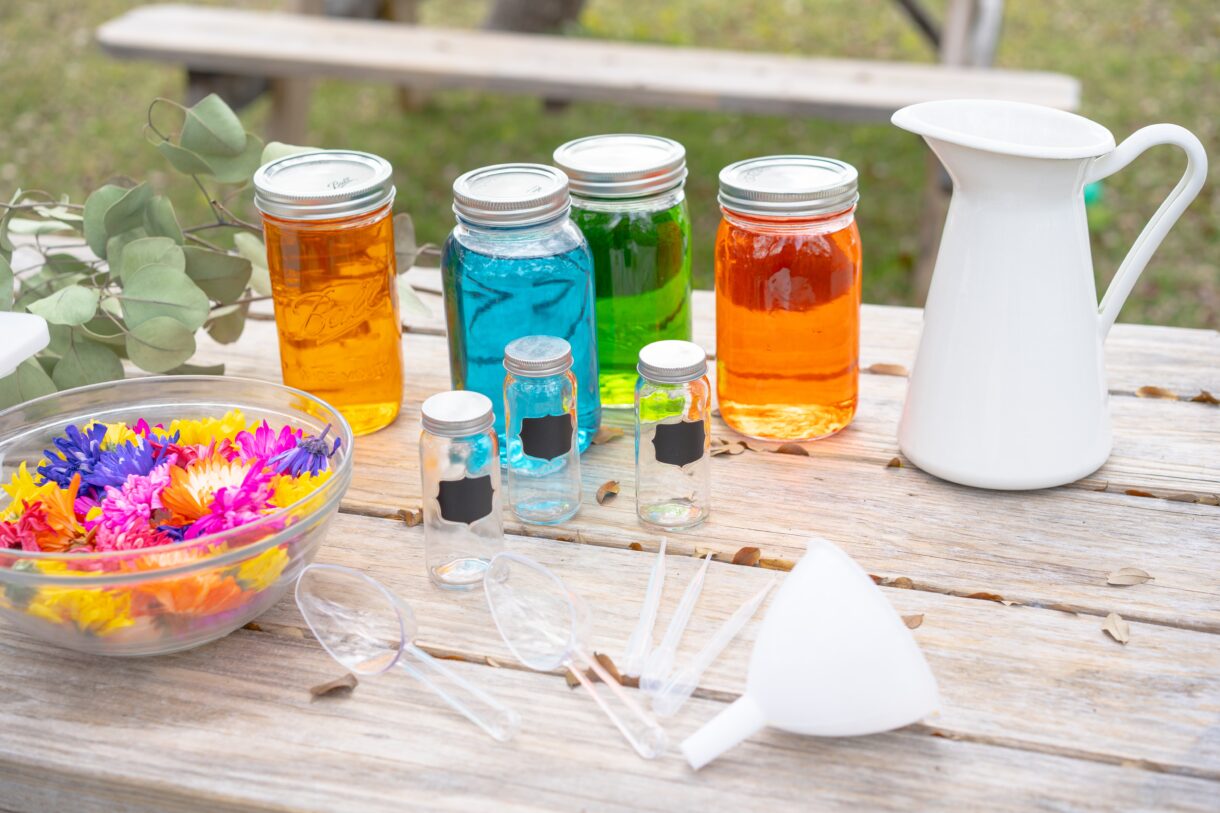 I gathered a glass jar with a lid for each of the kids to make their potion in. My jars are from Hobby Lobby, but you can use a pint size mason jar or a recycled plastic bottle or whatever you have on hand.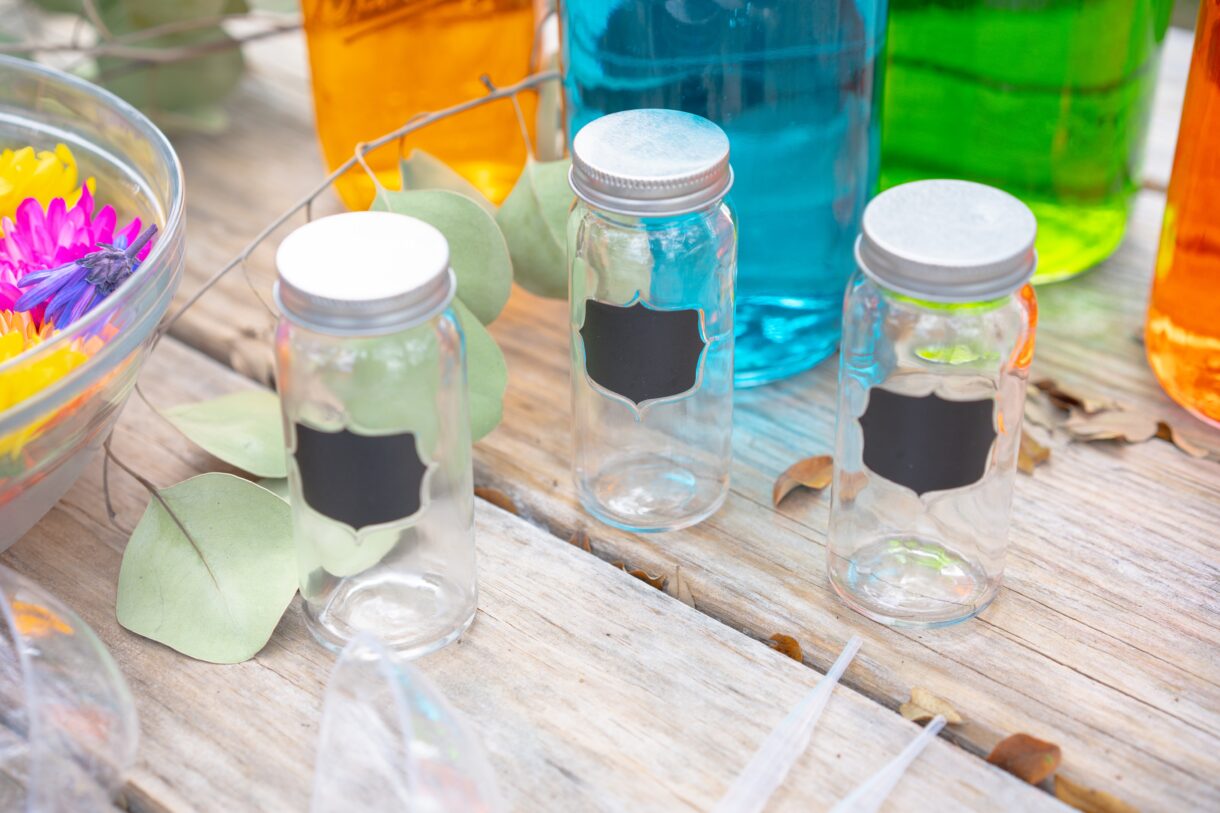 I added in a couple of plastic scoops, spoons, and pipettes along with a funnel to make transferring the water fun.
I ordered a 110-piece bag of these pipettes almost four years ago to go along with a project in A Year of Playing Skillfully and while we have gotten a lot of use out of them, I'm pretty sure I'll have pipettes leftover for my grandchildren to use one day!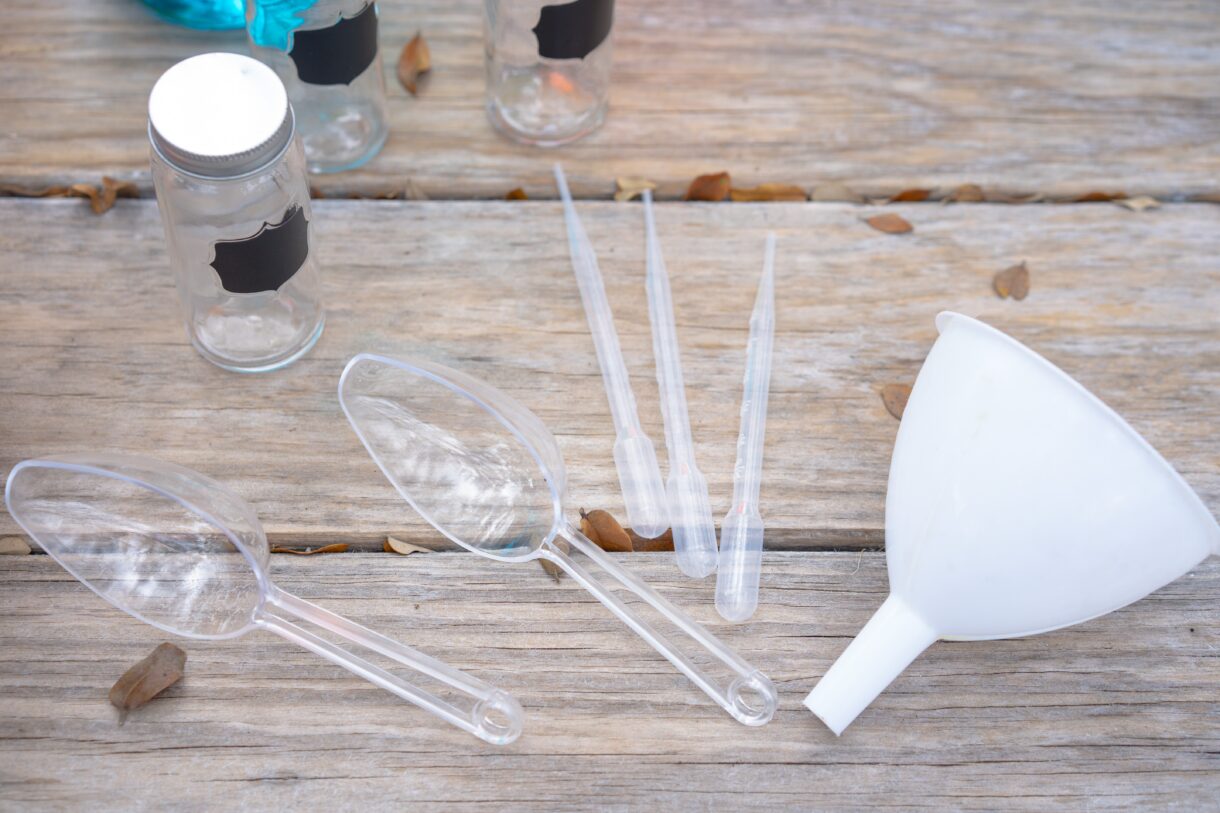 And lastly, we used IKEA trofast storage boxes to contain the flower potion ingredients. We have two trofast units in our playroom so when I need bins for sensory play I just empty out the toys and use the bin. They are sturdy and wash up great!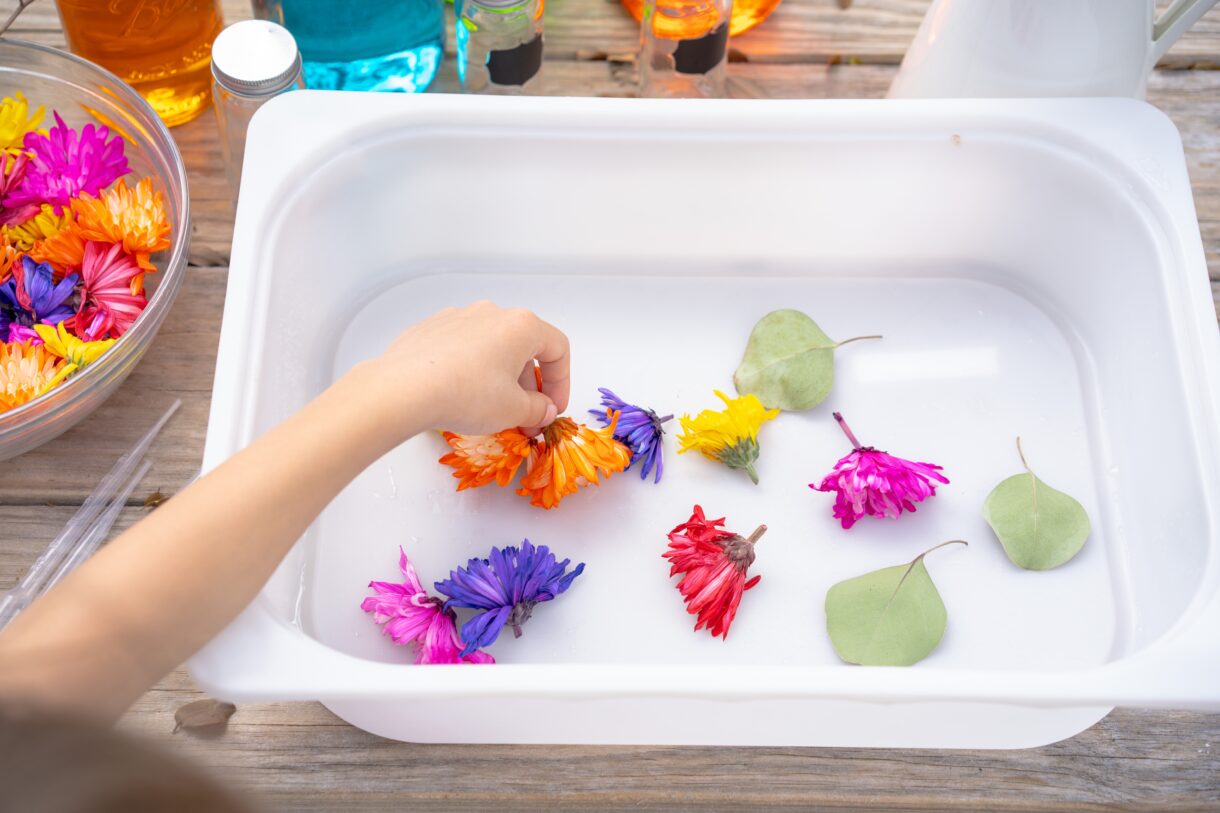 Invitation to Play
Sensory play is simple because it needs no instruction. It's just an invitation to play. Once I set out the materials, I stand back and wait for the magic to happen.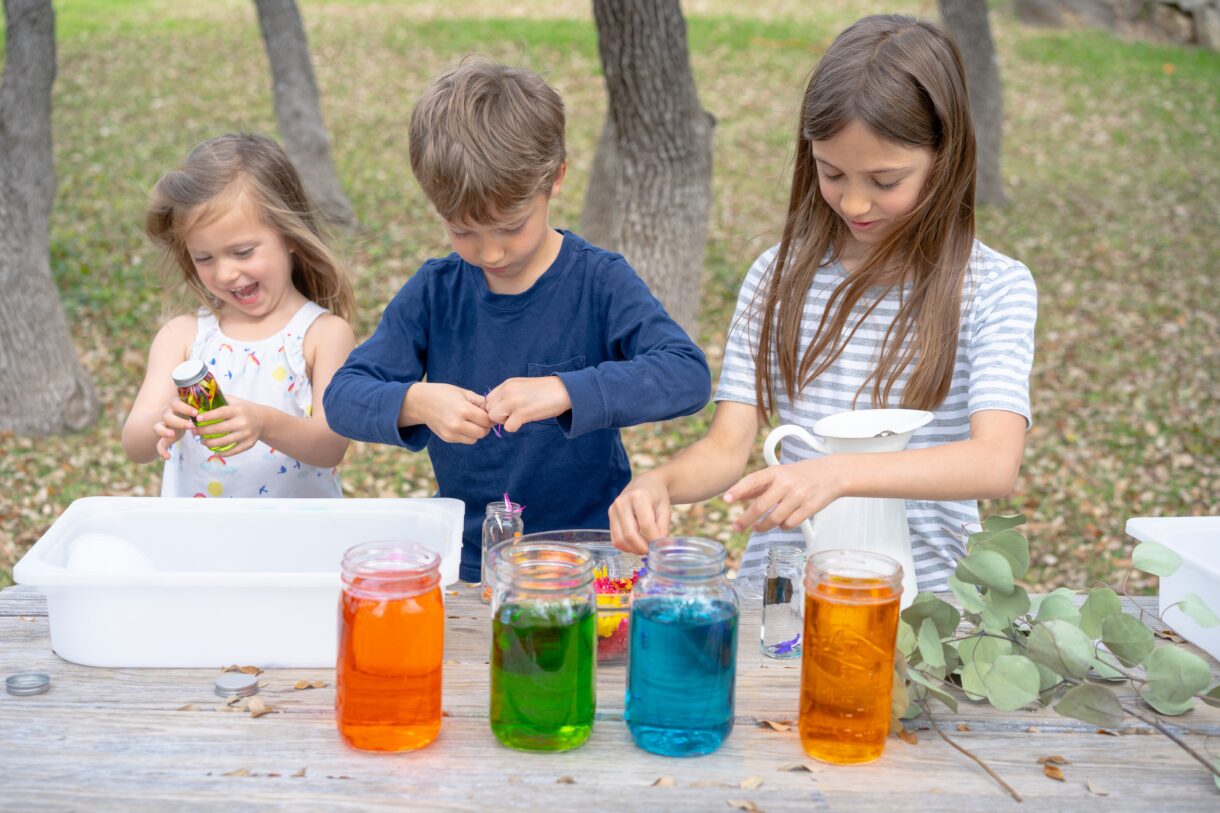 If a child is reluctant to approach the setup or is hesitant to start playing or even asks, "what am I supposed to do?" I might set the stage with something like, "We're making flower potions today! Can you show me you make a flower potion?"
They might start out testing the waters a bit before they get into it. My daughter started by placing a few flowers in the bin and pouring some water on them.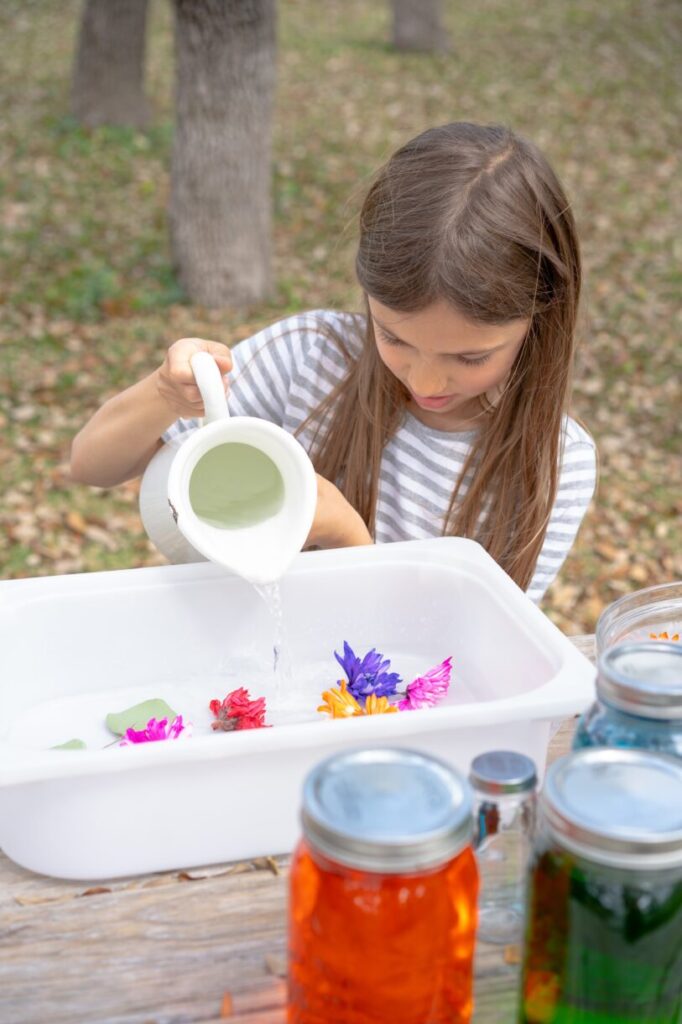 Then she wanted to tear off some petals to put them in her bottle.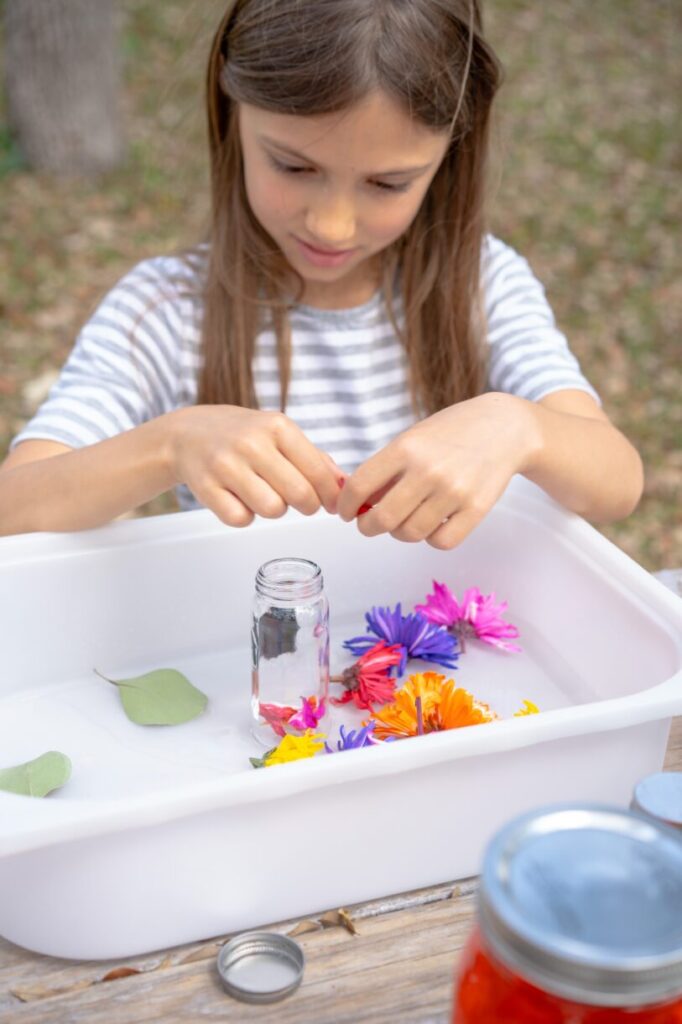 Next, she carefully transferred water using her pipette.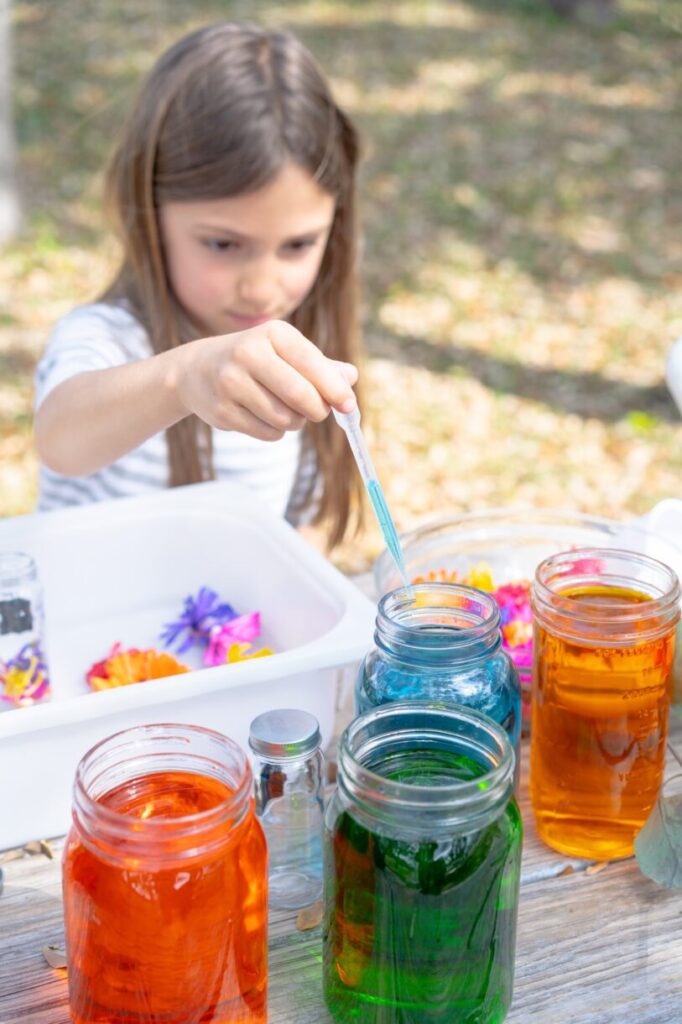 After she realized that was a slow process, she decided to pour the colored water in the potion jar using the funnel.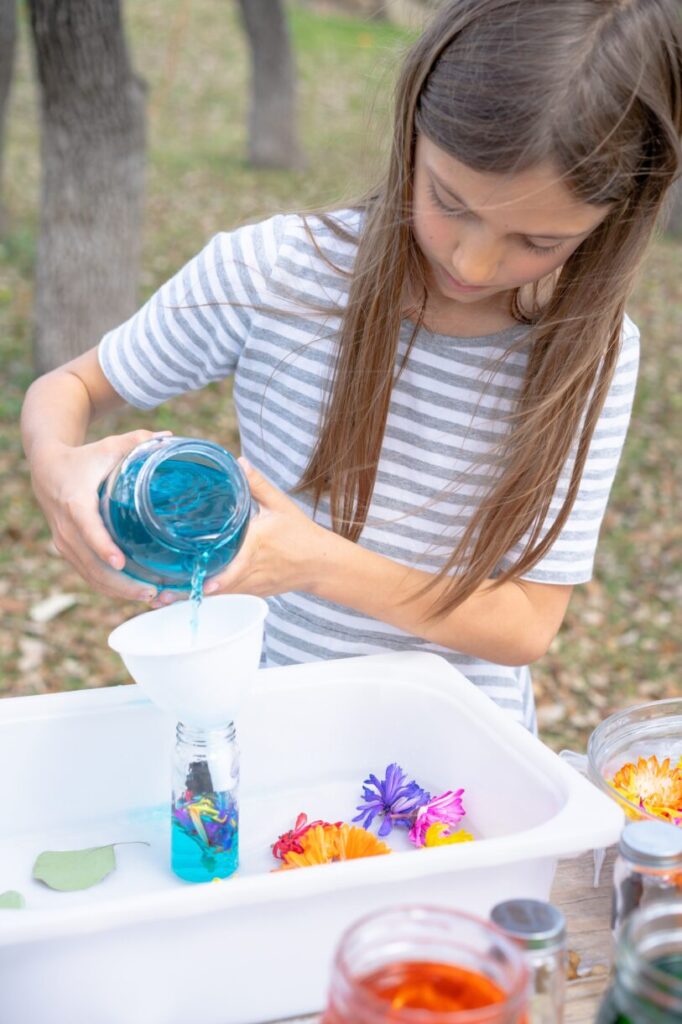 And voila- flower potion!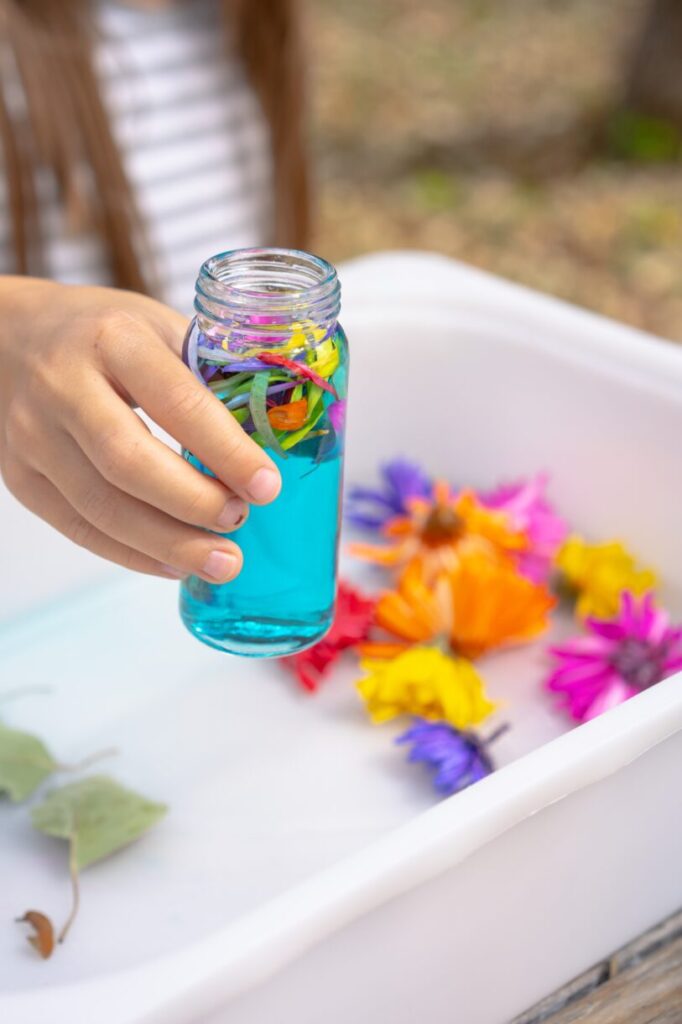 Once my oldest made her potion, the other two joined in and things got messy really quick. My 3 and 5 year olds have no concern for keeping water in the jar or the bin and thoroughly enjoyed the freedom to do whatever their little hearts desired.
They tore up flowers, poured water everywhere, mixed colors, stirred the mess in the bin up vigorously, and generally had the time of their lives with this!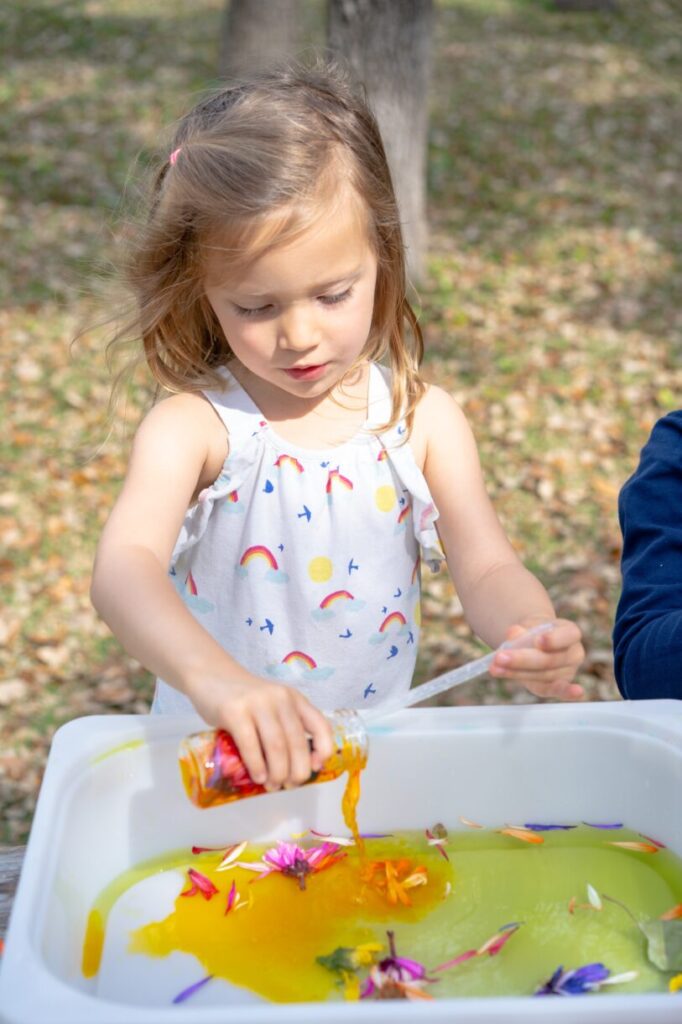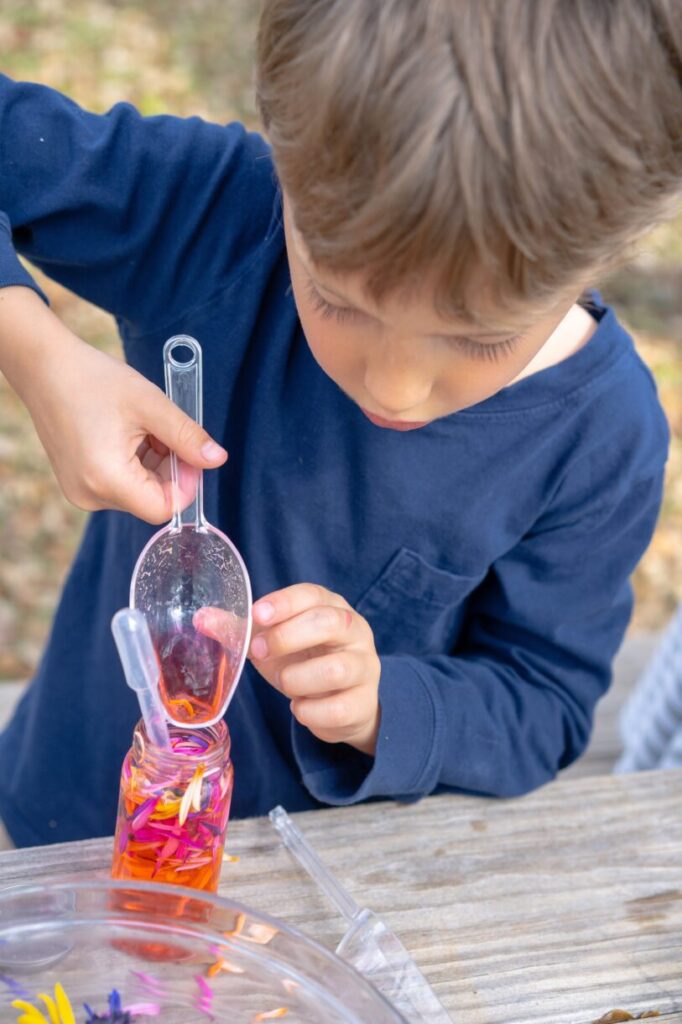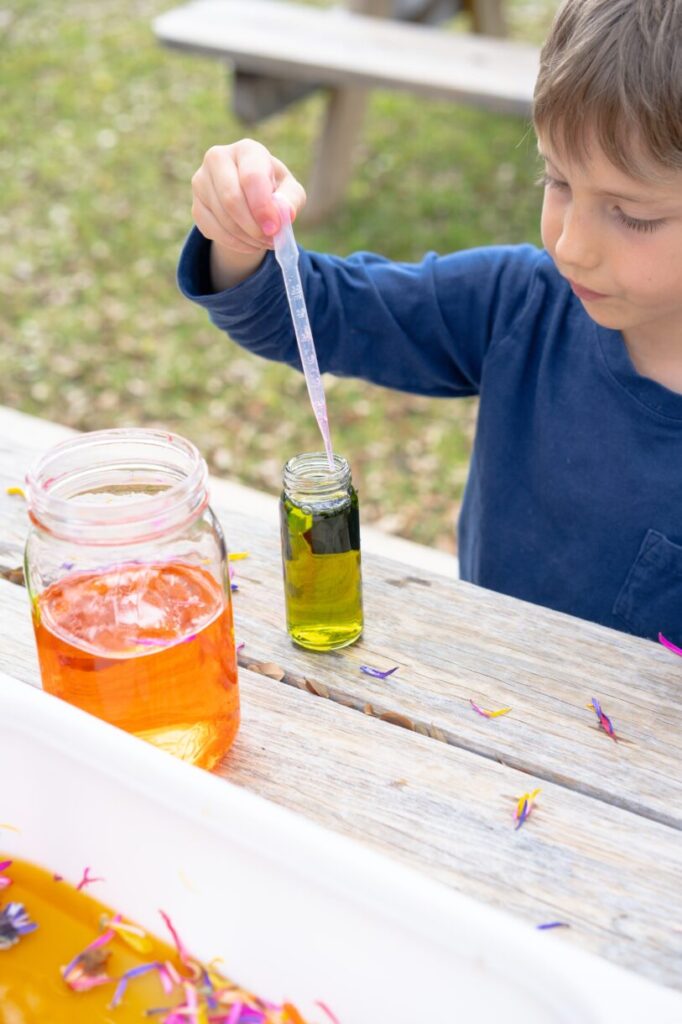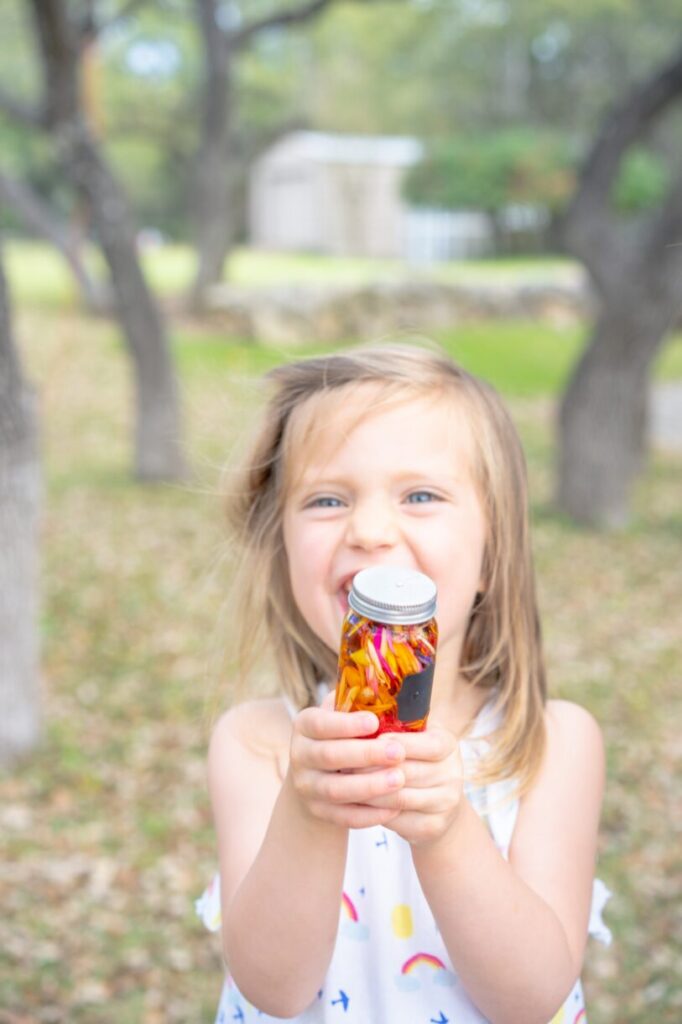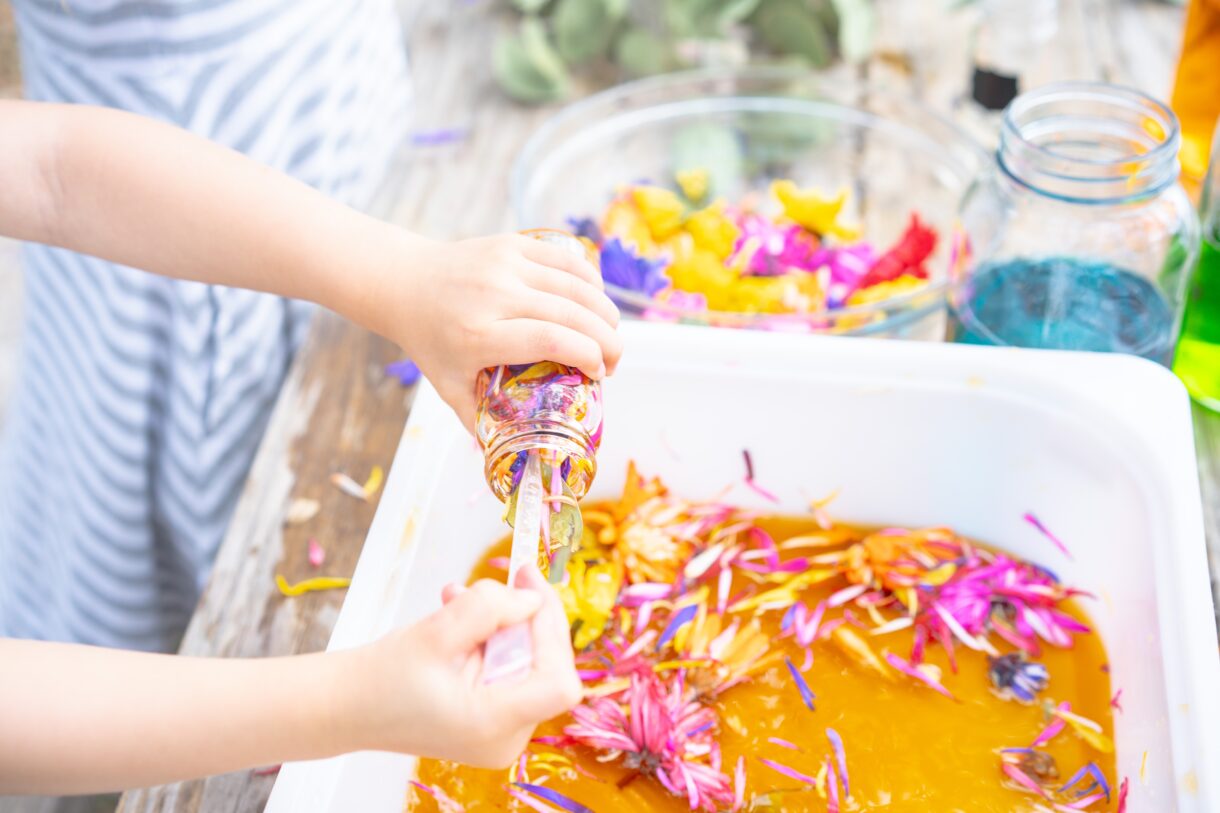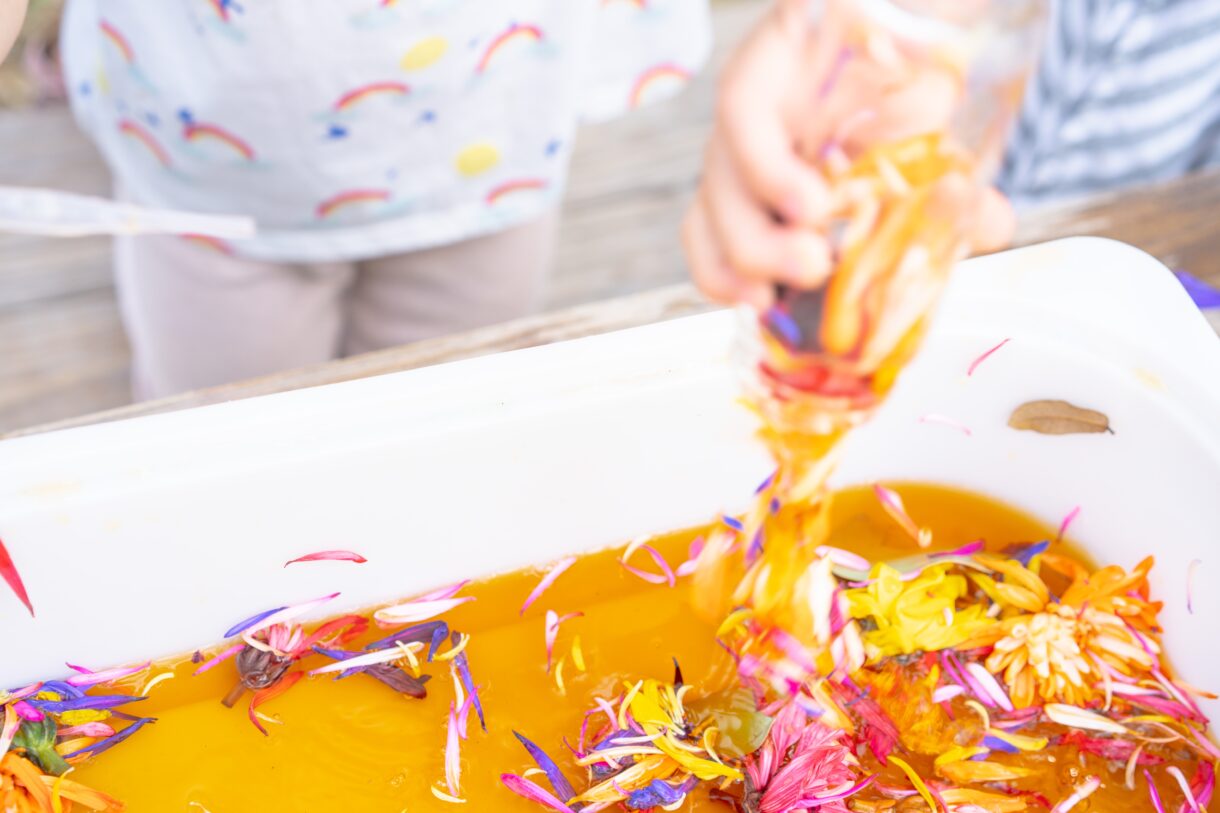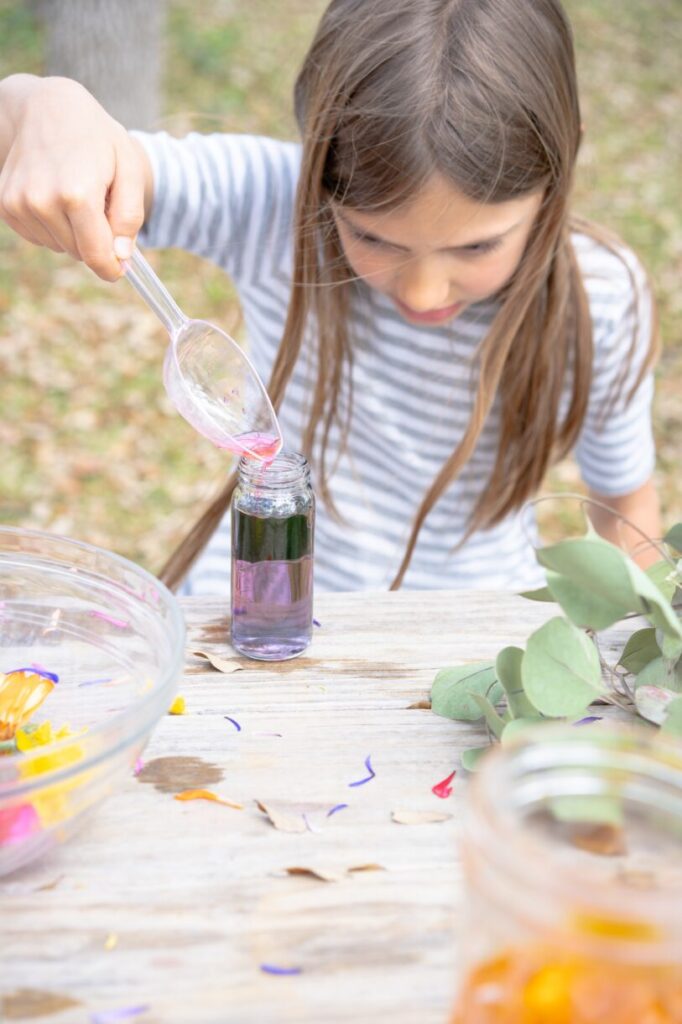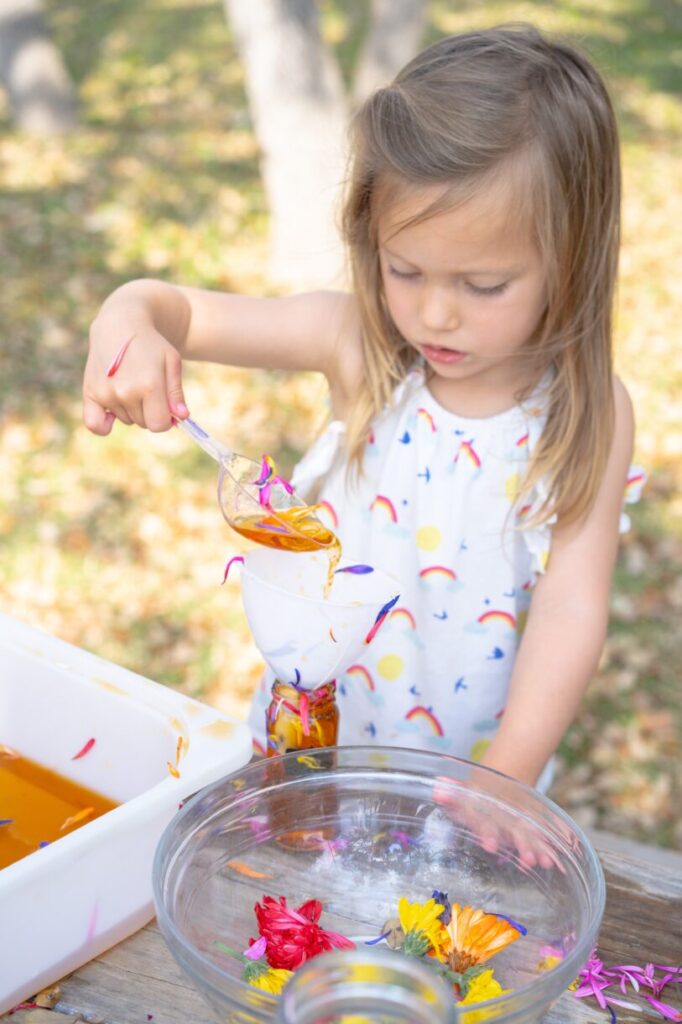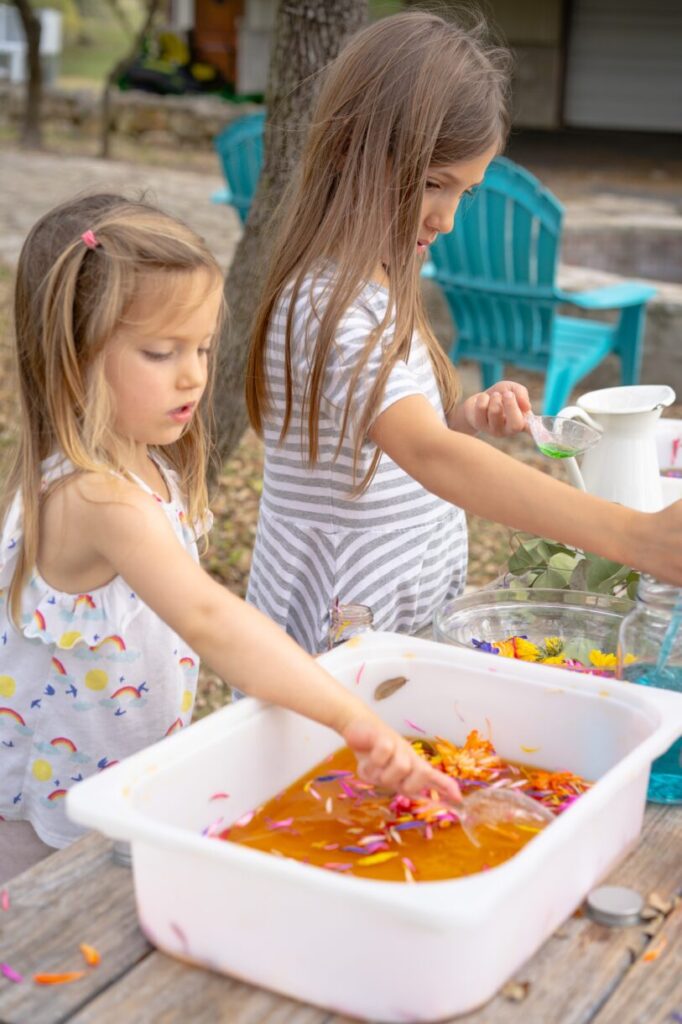 As the weather warms up and flowers start peeping out of the ground, this flower potion sensory play is truly the perfect way to spend a spring afternoon!