It has been a loooong time since we've had a proper poetry teatime in this house.
For years, we had poetry teatime weekly, every Friday afternoon, without fail. More kids, more school work, and more extracurricular activities pushed this family-favorite tradition off of the schedule. As we've settled into our rhythm for this school year, I've felt a strong pull to make sure that we're not missing out on homeschool magic and fun.
Last school year, we had a big focus on academic basics. My oldest wanted to learn to spell and write, and my middle wanted to learn to read. I also wanted us to do math consistently. Consistency isn't a strong point of mine so it was a challenge, but we started each day with math and language last year and now it has become a routine.
I've added in another child learning to read and between all three kids, sometimes it seems like we spend all day on the academic basics. I've learned that I have to be intentional about adding in the extras to breathe life into our homeschool.
One of those "extras" is poetry teatime. I looked out our schedule and tried to find a day and time where we could consistently make it happen. We cut back on our park days so that every other week, we can do a themed poetry teatime.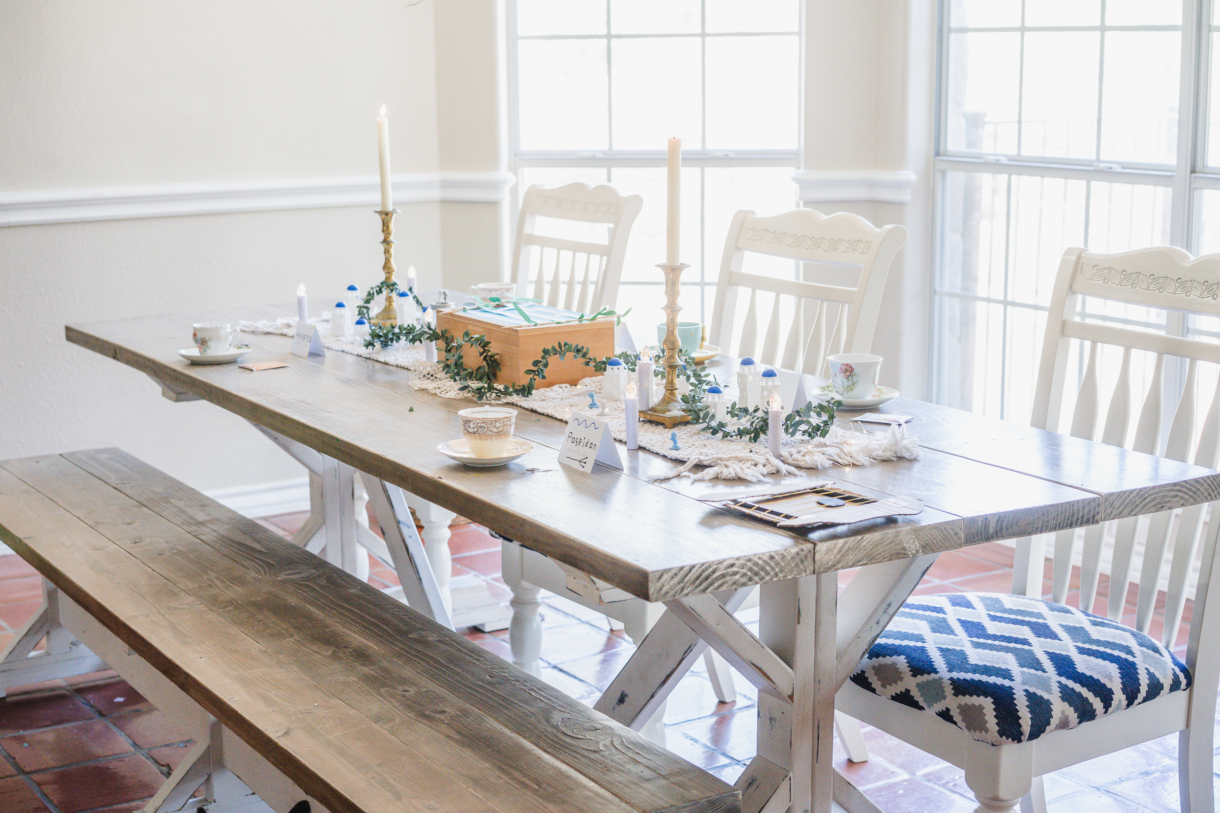 Poetry Teatime
The basics of our teatime are pretty simple. We choose a theme, plan the food and drink, make decorations, and think about any extras to make it more fun.
Theme
First we think of a theme. Of course you don't have to do this part. But we love a good theme around here! Our themes are usually related to something we're learning or something the kids are interested in. I let the kids lead the way on choosing a theme.
A word of caution: Don't choose a theme as a way to mask a learning experience as fun. Manipulating your children into thinking they're going to have fun when in reality you want them to learn something is a surefire way to get them to resist and reject the fun next time.
For this teatime, my kids chose a Greek theme. We aren't studying Greek mythology this year, but they've been reading the Percy Jackson series and are very into the gods and goddesses.
They decided that we should each choose a god or goddess to be during the teatime. We had Circe, Poseidon, Athena, Artemis and Zeus at our tea. Each person worked on some elements to be in character.
My son made a triton to be Poseidon, the god of the sea.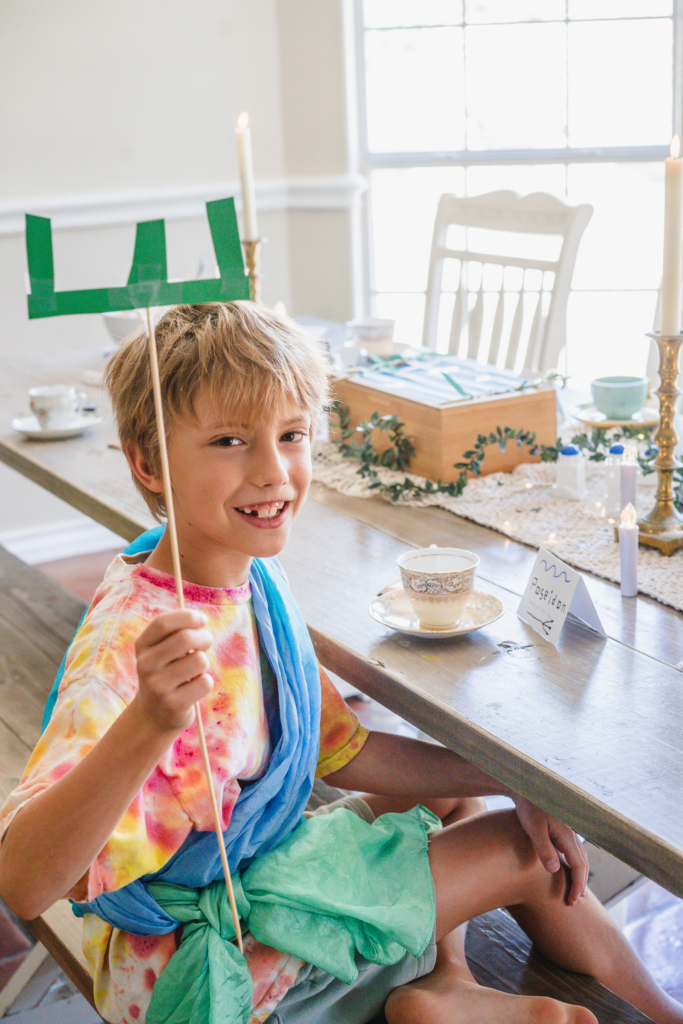 My daughter made a spell book and wand for Circe, the goddess of magic.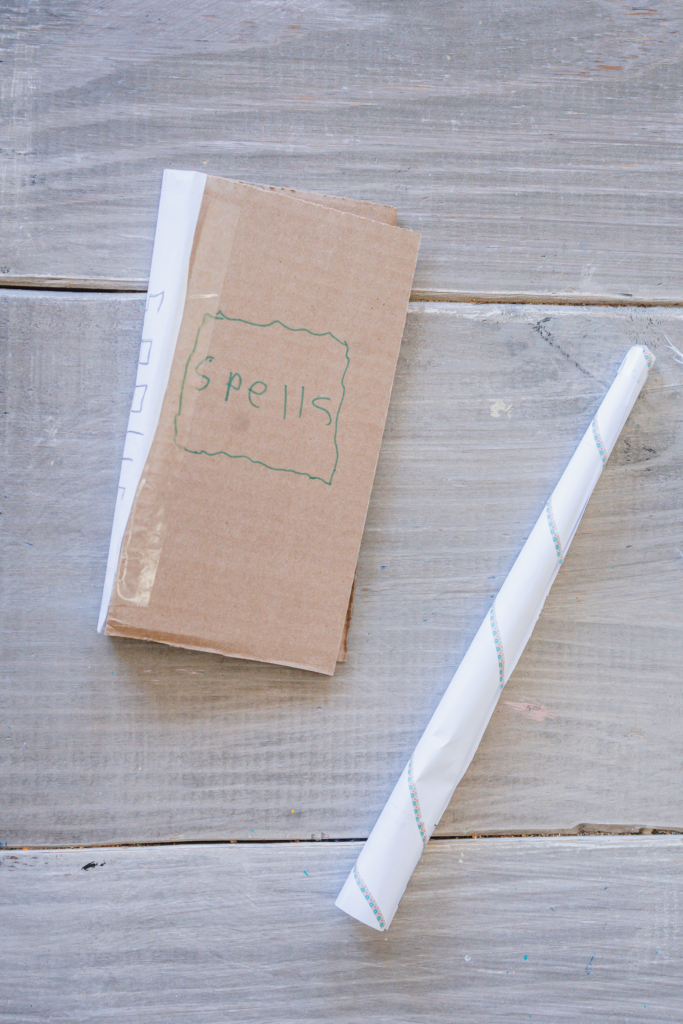 And the little one had a spear as Athena, the goddess of war.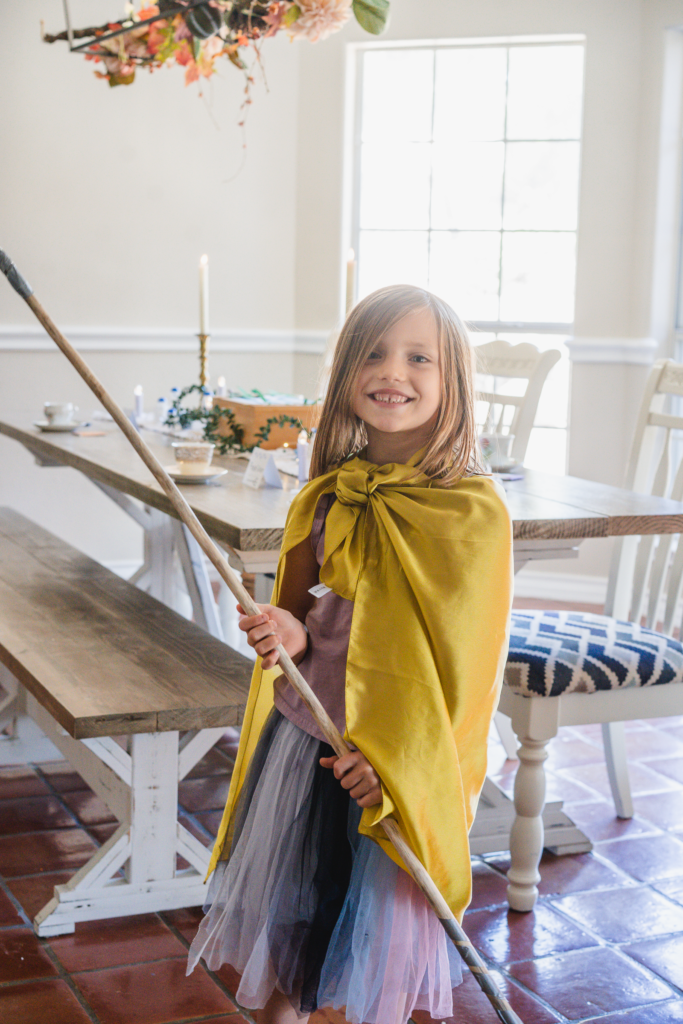 They gathered some play silks as costumes, and their characters came alive!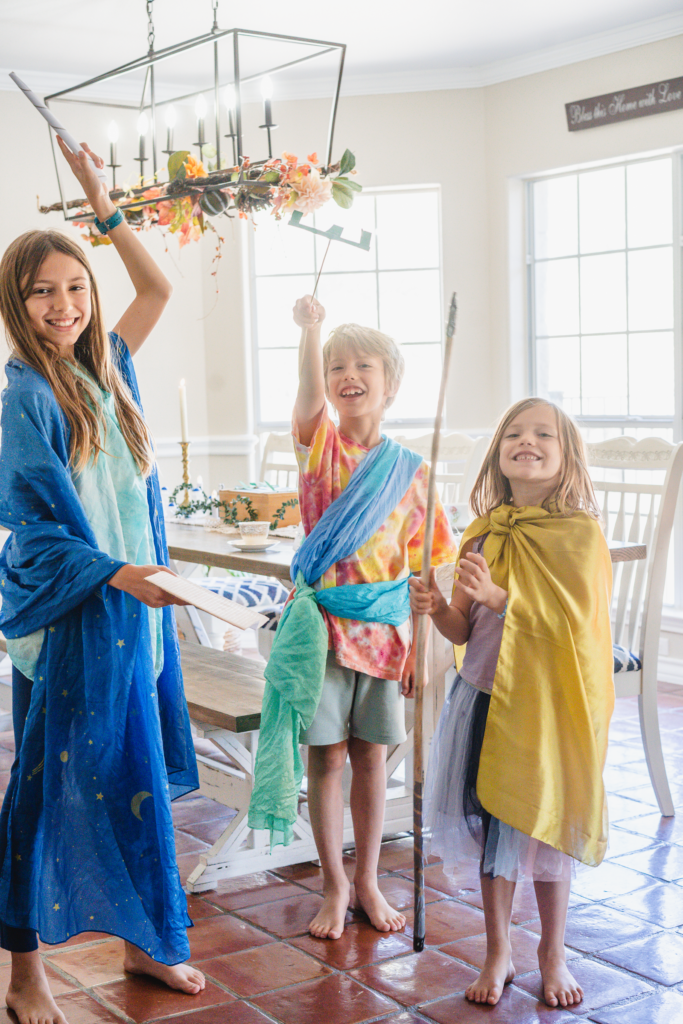 Food & Drink
Once we have a theme, we think about our food and drink. We often do our regular non-themed teatime around 3pm, and at that time it usually involves just a snack. When we do themed teatimes, we often have more foods we want to incorporate so we'll do it around lunchtime or even an early dinner.
Our Greek-themed teatime included ambrosia salad. Ambrosia is considered the food of the gods and was thought to bring long life and immortality. We mixed up a healthier version of ambrosia salad with fresh fruit, homemade whipped cream, shredded unsweetened coconuts, mini marshmallows, and chopped walnuts to top it off.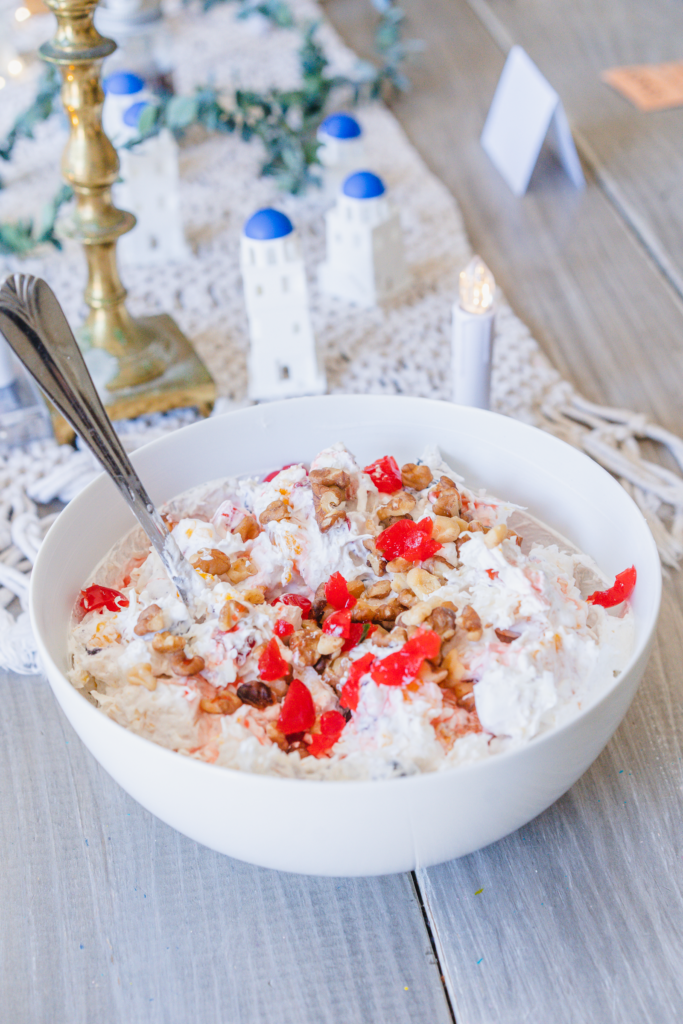 We also made homemade spanakopita, or Greek spinach pie. I've eaten and loved this at restaurants, but never made it before. I found a simple recipe and gathered the ingredients.
The girls were in charge of making the spinach pie the day before. They had a lot of fun with the phyllo dough and brushing on the butter. It turned out way better than all of us expected, and we ended up eating all of it! We would totally make this again.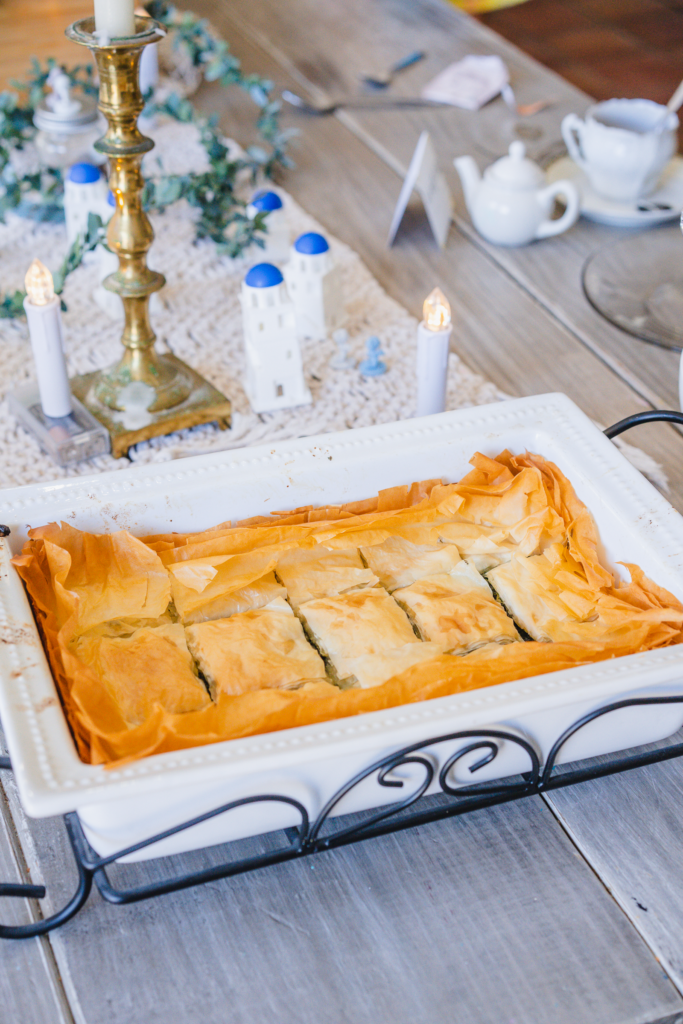 We also had tea of course! But for fun, we called it nectar. I know some kids don't like tea, but mine are obsessed with it. They drink decaf chai tea with milk and honey or sugar.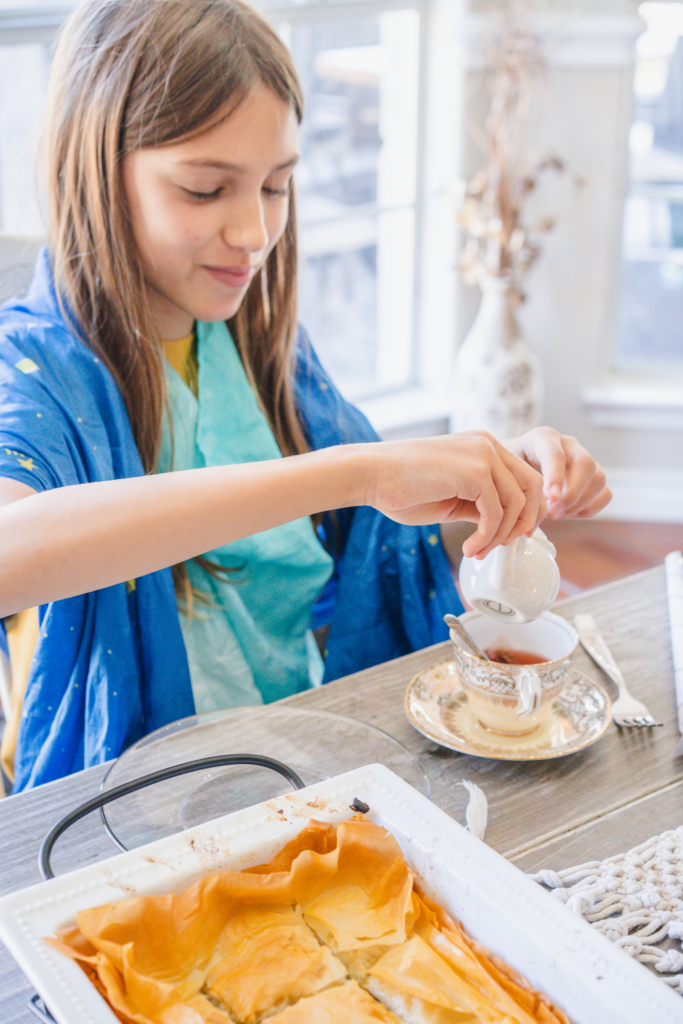 Decorations
Decorating for a themed party is fun! Whenever we decorate, I try to use whatever we have on hand or can make. For kids, things don't have to be elaborate to be magical. Just a few small touches make a big impact!
My daughter made a Greek flag out of colored cardstock. We taped it to our tea box as a nice centerpiece. My song made a few olive branches with wooden skewers and green cardstock, and those went nicely with the flag.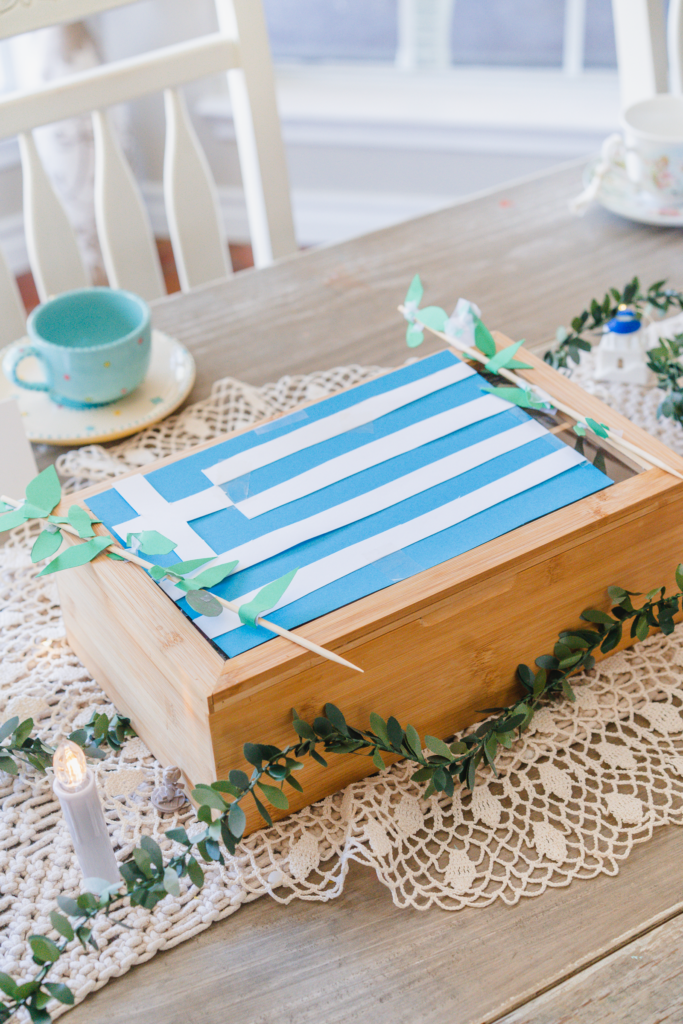 I had some greenery that looked like laurel leaves so we added that to the table along with some LED candles that my daughter dug out of the Christmas bin. We also have the game Santorini which added the perfect Greek touch to the tables!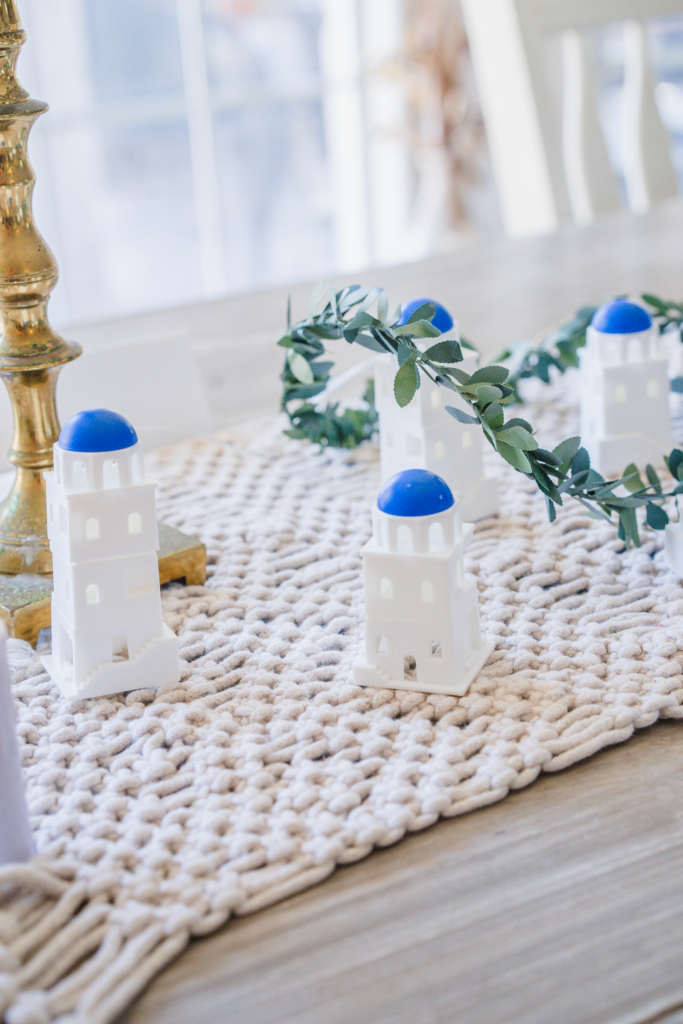 The kids decided to make cardboard lyres to add to the decor. I found instructions online which were perfect for making a simple and functional lyre. We read a story about Pythagoras and music recently which made them super interested in making sure the rubber bands actually made the correct tones.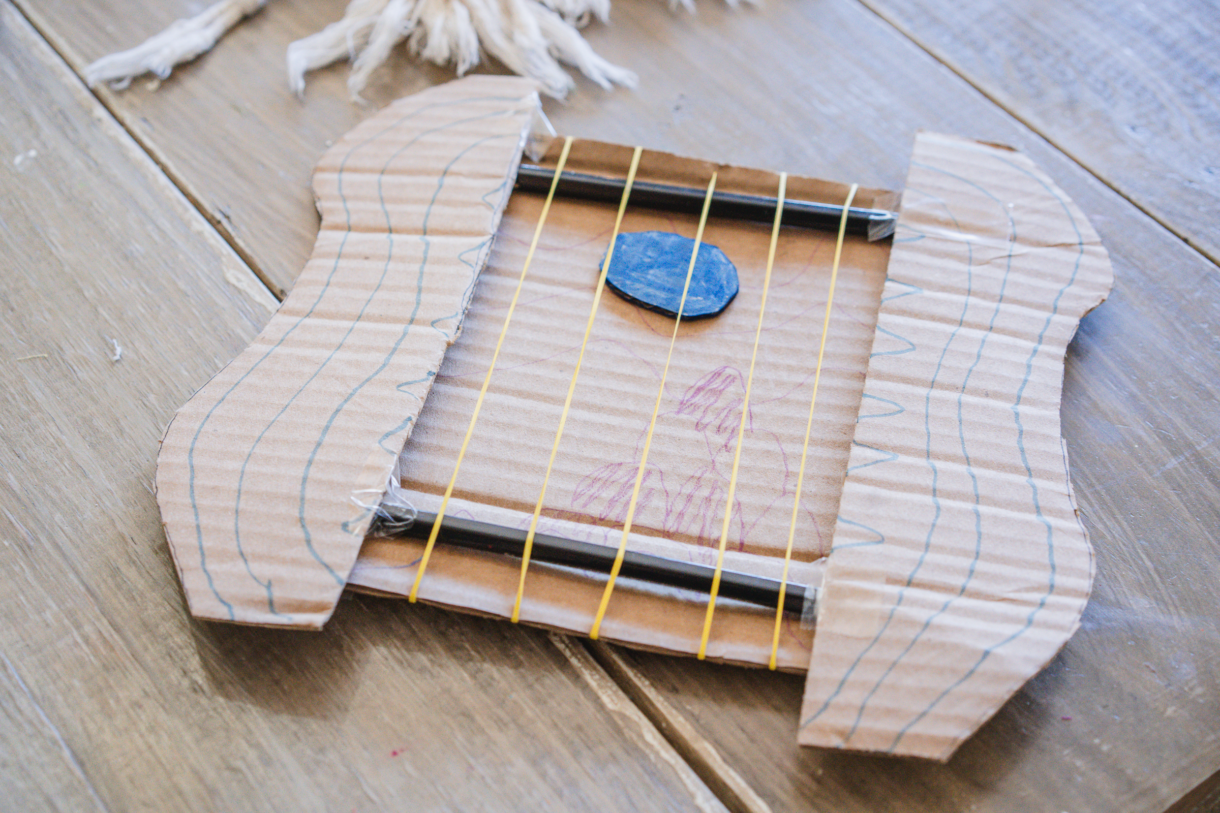 The kids decided we should have place cards so my daughter made some with all of our characters.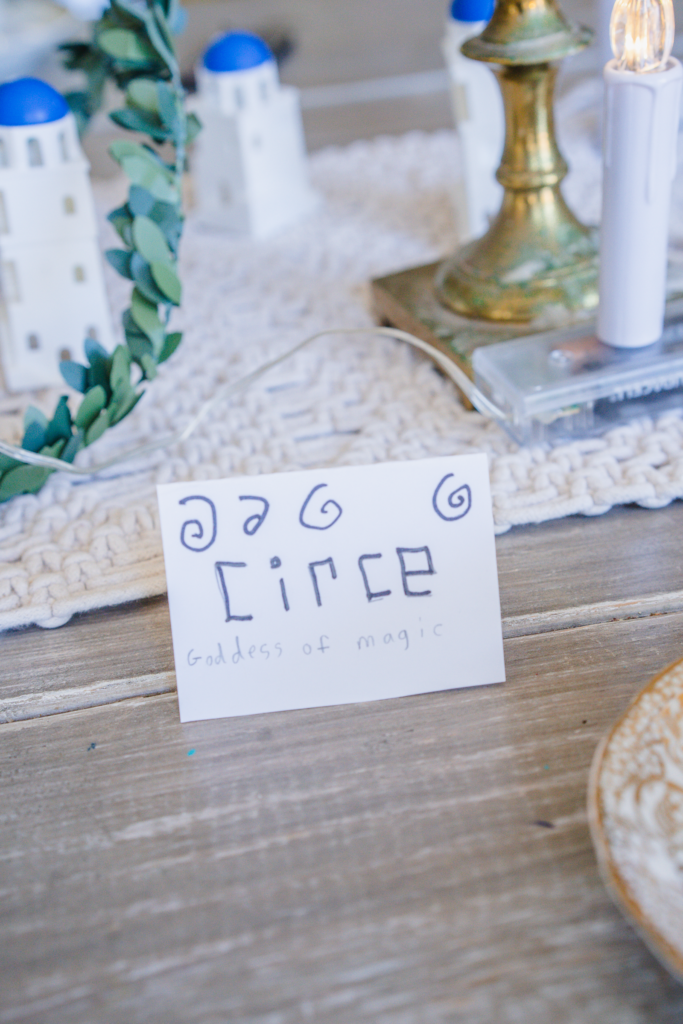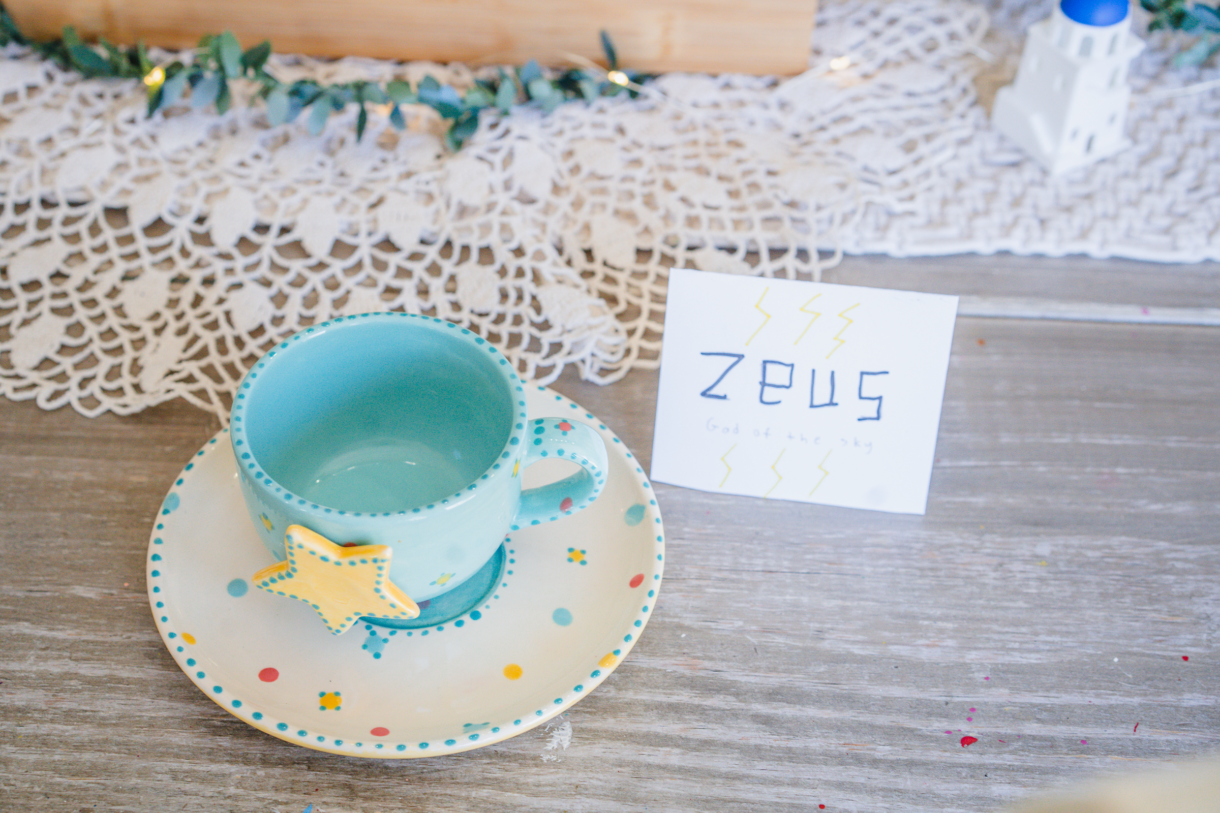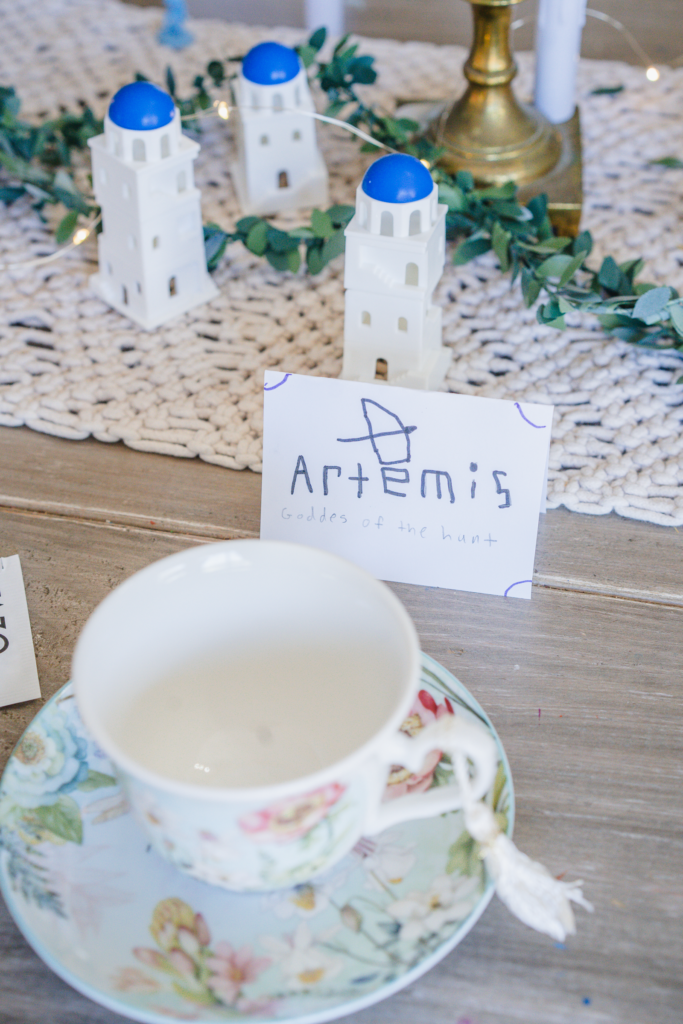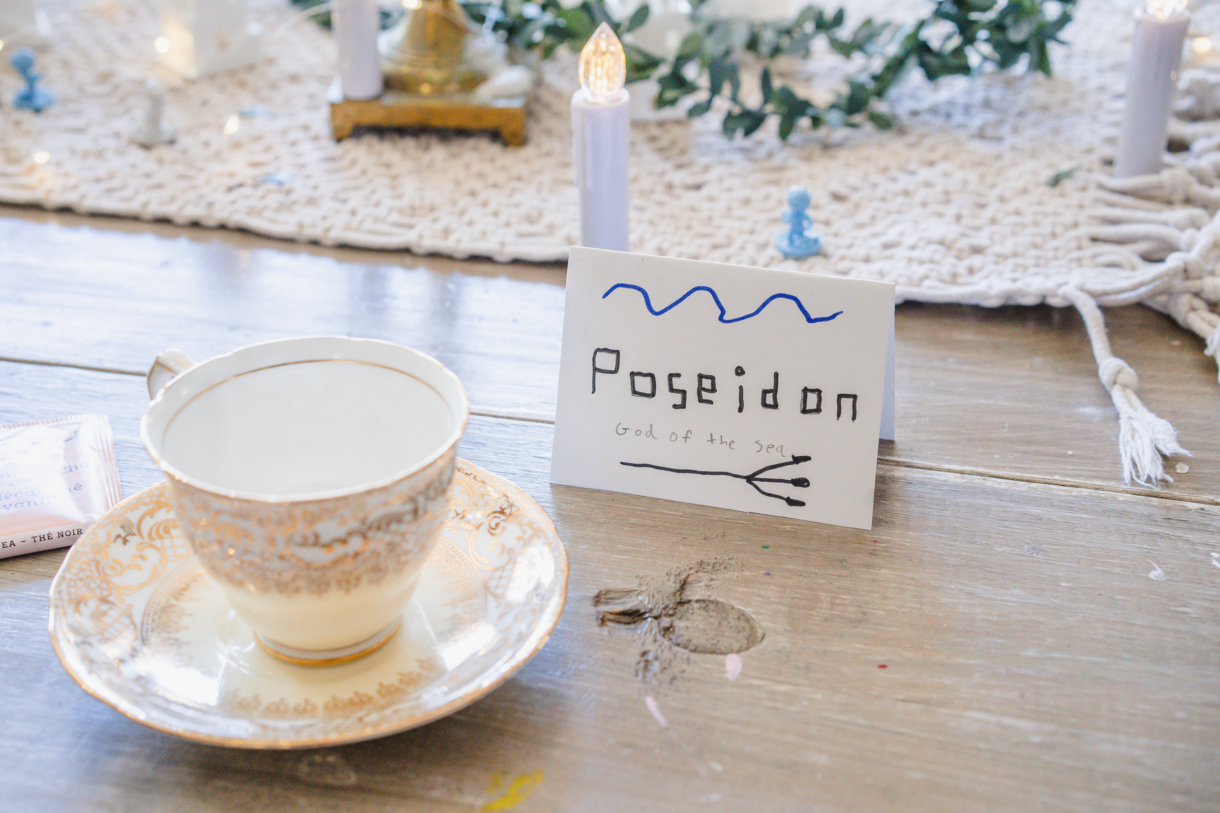 The Poetry
This is a gorgeous book for incorporating Greek-themed poetry.
We don't always stick to just poetry at teatime. These are some other books that would be super fun to include:
Extras
We made a Greek-themed playlist to have music for our teatime. We also watched some travel videos of Santorini and Mediterranean cruises to feel like we were really there!
Homeschool isn't all about academics
Our Greek-themed poetry teatime was a big success! It was simple, but wonderful, and truly brought the magic back to our homeschool.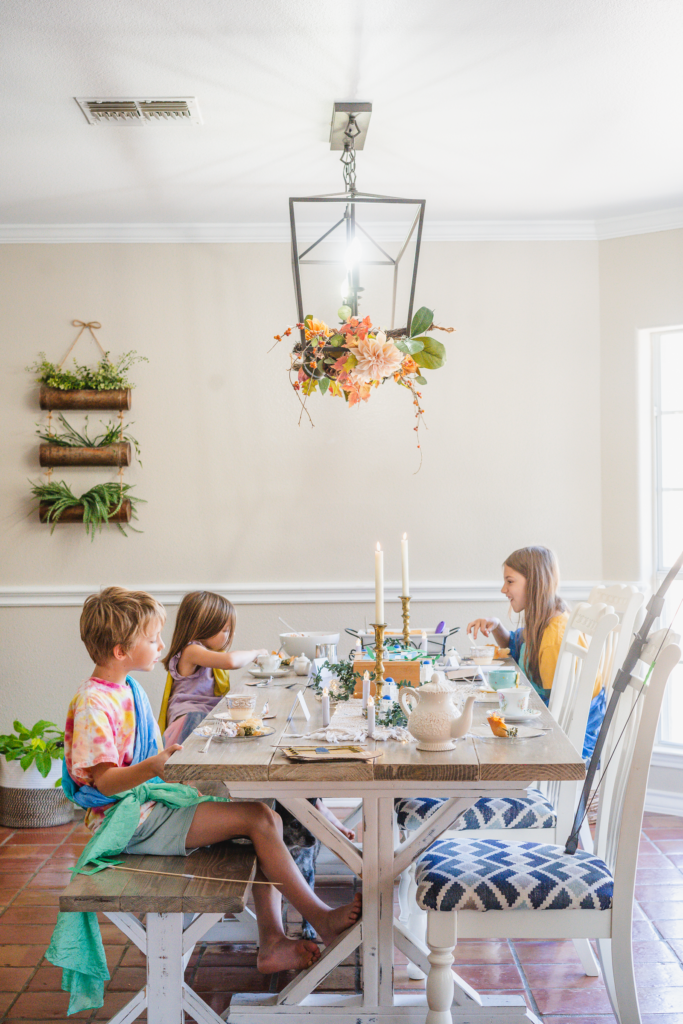 We've already picked out the theme for our next teatime in two weeks, and the kids have started dividing up responsibilities.
I hope that you can see how much fun and real learning goes into these themed teatimes. The next time your kids are inspired or interested into a topic, go ahead and make it a theme and throw a little tea party! You can build memories, make magic, and experience the joy of homeschooling with a themed teatime.