We are finished with our homeschool year and cruising into our homeschool summer break!
I know a lot of homeschoolers school year round, and while in reality we do too, we need an extended break from the structure and amount of lessons we cover during the school year. My oldest daughter just finished 4th grade and was covering more than 20 subjects a week, which took a lot of time, preparation, and dedication. My kids would love to keep going all year, but this mama needs a break!
Scroll to the bottom of the post for a free editable summer checklist!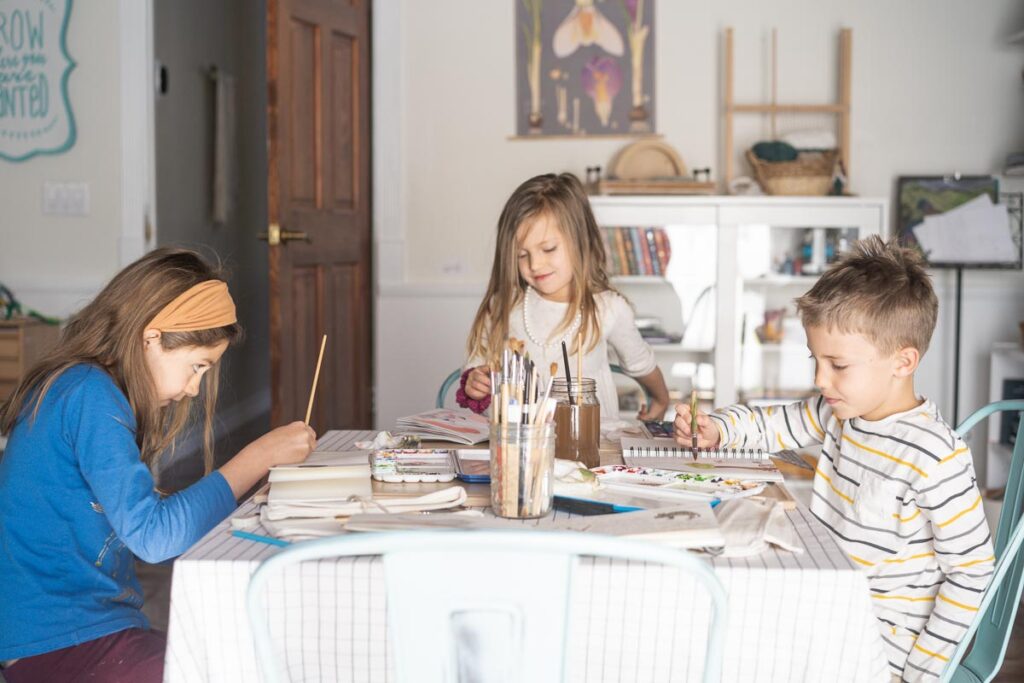 Summer in Texas is HOT so we try to finish our school year by mid-May while it's still nice out. By mid-July, it will be so oppressive we will only be able to be outside for water activities past about 10am so we will start easing into our next school year then. So what will we do with our two month break?
Preventing the summer slide
After working so hard all school year, the worst thing would be to drop all of our subjects and see the "summer slide" where we lose gains in math and reading in particular. To prevent that from happening, we're going to aim to do math and language arts three times a week.
My 6yo (he turns 7 this week!) will continue using the Delightful Reading kits from Simply Charlotte Mason and the readers from Dash into Learning. We started with Delightful Reading Kit 1 last July and finished it by our holiday break. We are about halfway through Kit 2, and I expect we'll finish it over the summer. These kits are simple and so fun. Each lesson includes a short, no-prep activity or game so it hardly feels like a lesson at all. We will aim to do three of these lessons a week, and then spend time reading one of the Dash into Reading books once a week.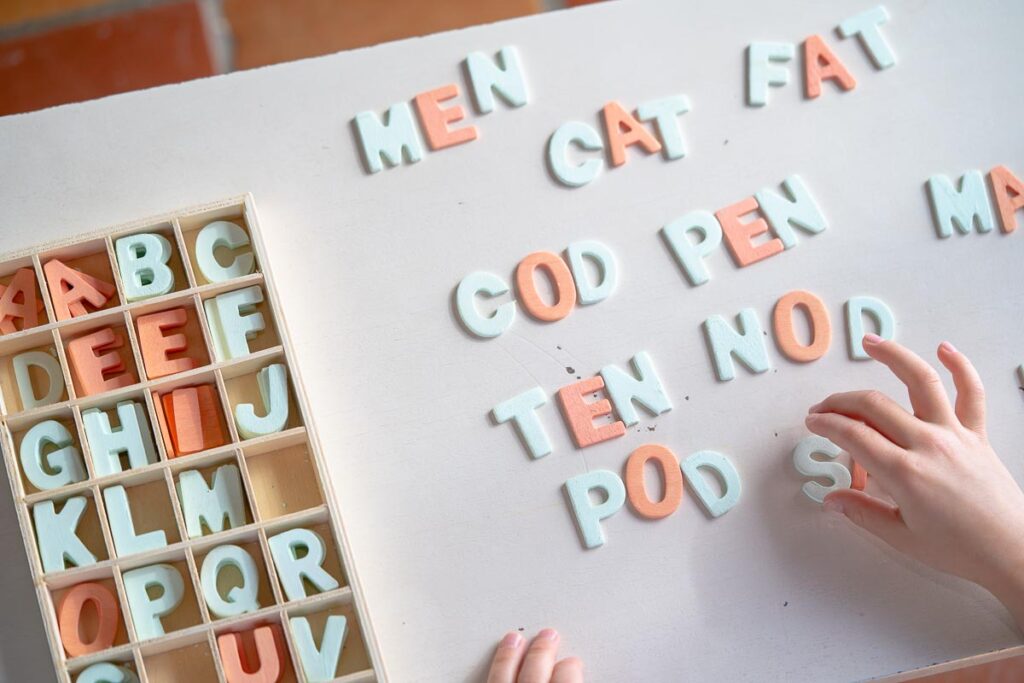 My son will also continue doing handwriting lessons with Handwriting Without Tears.
For my 9yo, we will continue to use materials we were using during the school year. We are using the spelling and writing workshops workbook from the Good and the Beautiful. You can download the curriculum for FREE, but I purchased the printed and spiral bound workbook to make it easy for us. She typically does the spelling and the writing assignment in one lesson. She will do this workbook once a week.
Once a week, we'll use Primary Language Lessons by Emma Serle. These are simple, short lessons that help introduce grammar rules, spelling rules, and basic composition. We have enjoyed using this book and will likely continue with the next in the series, Intermediate Language Lessons, when we finish. My daughter had a lot of resistance to spelling and writing before this year and this book has helped build her confidence.
For the third of her three lessons, she will either do copywork, a free write, or writing in her nature journal. Since we're on summer "break," I want to build in as much flexibility and choice as we can to make sure it feels leisurely and FUN and not like we're still doing school.
Both of my school age kids have been using Elementary Arithmetic by Simply Charlotte Mason for math lessons this past year. We adore this resource for its simplicity. Book 1 works with adding and subtracting numbers up to 100. My 6yo started the book in July, and we are about to begin the 70s.
My 9yo started Book 3 in July and finished it at the end of our school year. We are patiently (or maybe not!) waiting for Elementary Arithmetic Book 4 to come out so in the meantime she will do review and practice online with Beast Academy. We tried this last summer, but it was really frustrating for her. She actually requested it again for this summer and said she feels more confident with it so we're giving it a shot. If that doesn't work out, I'm just going to grab a math workbook from the teacher supply store and have her do a page three times a week for practice.
My daughter will also continue work on a handicraft project we started last summer to review her multiplication tables. She's hand-sewing beads onto fabric pages to make a book. I'll share when it's done for sure!
She will also practice cursive with a Handwriting Without Tears workbook.
Prioritizing Subjects That Build
When I was thinking about our summer schedule, there are a lot of subjects that seem to work well for taking breaks. We finished Texas history, and can take a break before beginning world history without losing anything. We studied several poets last year, and we can easily take a break from studying poets and poetry before picking it up again next year.
But there are some subjects that are just easier to continue with, even if we do it less often or in a lighter way. For us, those subjects include Spanish and piano.
We have made some big gains in Spanish this year, and I don't want us to lose any of it! So we'll continue with Spanish three times week.
My daughter and I are taking one-on-one, live Spanish lessons through Homeschool Spanish Academy. These lessons work through their curriculum to introduce vocabulary, practice pronunciation, and practice conversation. We have each taken six lessons so far, and our Spanish has skyrocketed since we started. The lessons introduce a topic, and then we continue practicing the lesson material throughout the week at home in daily life.
In addition to each of our weekly lessons and practice, I also try to get a few library books in Spanish each week to read and enjoy.
The other subject we'll continue for the summer is music. Both kids have ben doing virtual piano lessons since the fall, and it has worked out great. My daughter is not as keen on piano as my son, so we agreed she would take 4 weeks off and then begin again. She'll replace piano lessons with sewing lessons for that time. My son wants to continue with his lessons through the summer.
What else?
Besides our math, reading, Spanish, and piano, there are still so many other things my kids requested we keep doing.
Each week we will plan to:
Go on a nature adventure with friends;
Add to our nature journals;
Do a science experiment;
Do a writing project from Bravewriter's Jot It Down
Host a poetry teatime (preferably with friends)
Reserve one evening each week for The Children's Hour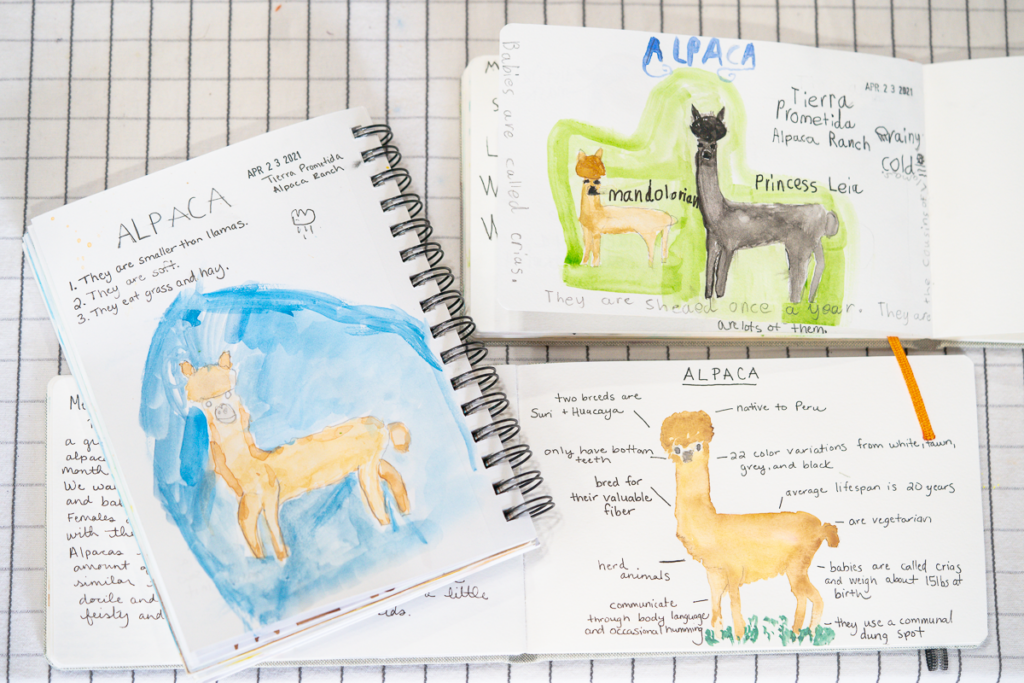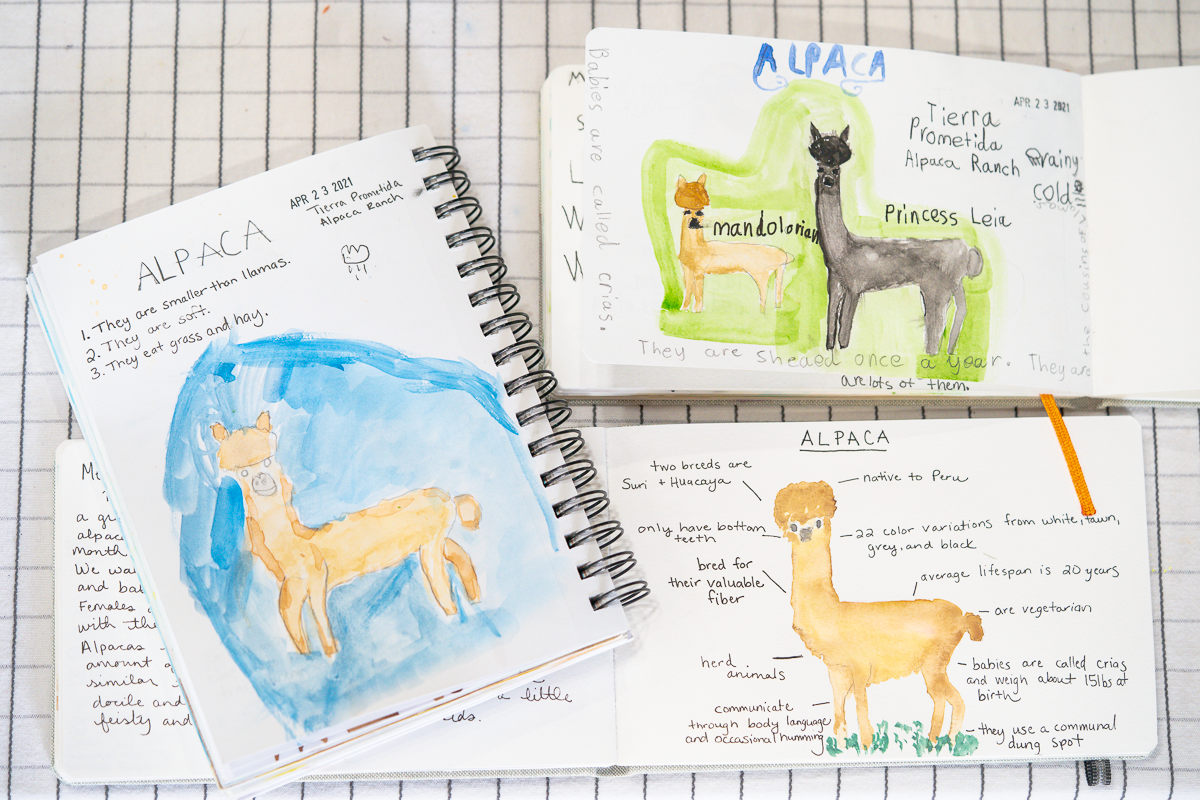 My 9yo will also do typing lessons from The Good and the Beautiful and weekly art lessons with Waldorfish (the weekly art opens for enrollment twice a year- in January and July!).
And besides that, we'll do lots of unstructured free play, chess, board games, process art, handicrafts, cooking, and swimming in the pool!
I shared our summer schedule on Instagram and got a lot of requests for the template so I went ahead and made a sharable version HERE that you can adjust with the free version of Canva.
I included a color-coded checkbox for "daily" activities for each kid, a checkbox for each of our three times a week actives, and a checkbox for our weekly activities with the activities we'll do as a family in gray.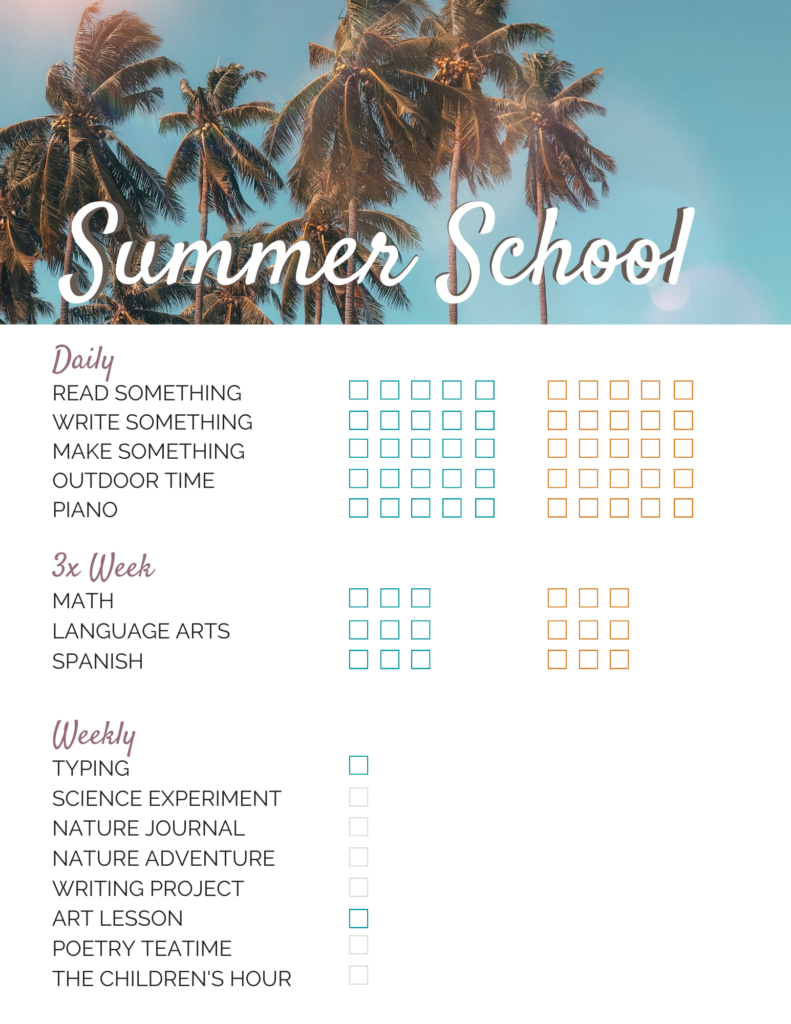 Download & edit this checklist template free in Canva!