Summer is nearing an end and school is almost back in session!
This year I'll have a first grade and a fourth grader doing lessons and my 3 year old tagalong learning alongside us.
I always get questions all year long about what curriculum we use and it's not an easy answer so I wanted to put it all down on paper this year for you guys!
Planning for a DIY Charlotte Mason Education
I'll start by saying that we don't use an out-of-the box or pre-planned curriculum. What I've put together is custom designed for my kids and my kids only so the chances that you can take this and use it as is are slim to none.
But…I hope to give you some ideas about what resources are out there and possibilities about how you can design your own curriculum that's a perfect fit for your kids. For more on how I plan our Charlotte Mason education, I've got a post all about planning here.
Also if you can't tell from reading this…I kind of love getting to plan our our own curriculum. For some, this would be a huge chore and going with something more out-of-the-box is a better option.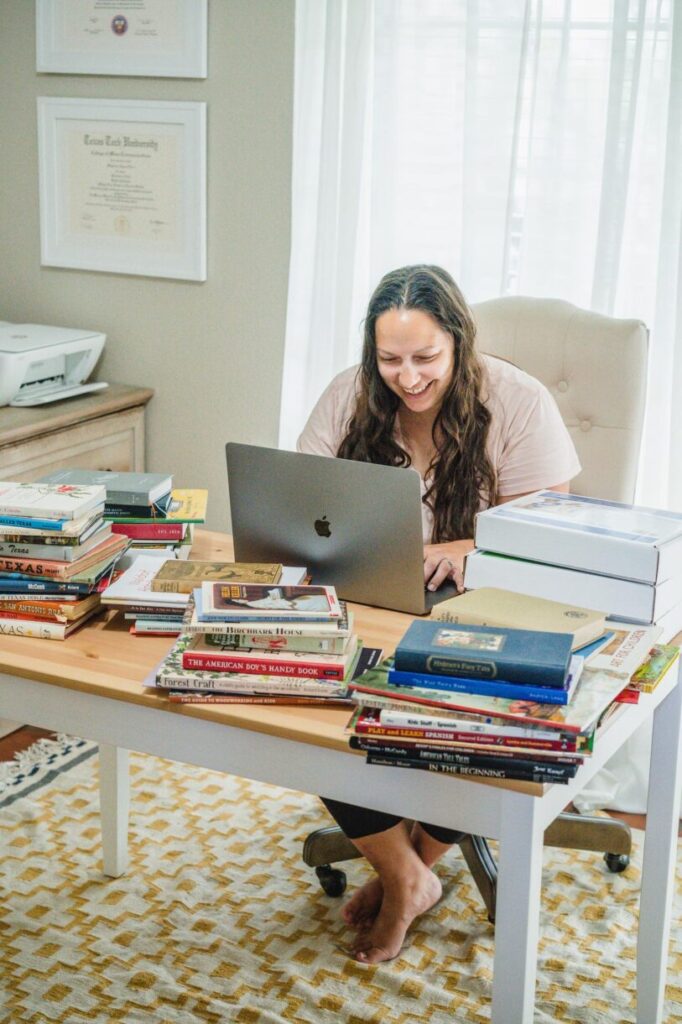 Curriculum for Multiple Children
This is my first year to have two children doing lessons, so we'll be doing a lot of adjusting as we go through the year. My goal is to combine as much as possible to make the least amount of work for myself so that I have more time to spend with my three year old and we have more time to spend outside of our lessons as a family.
My children are three years apart academically so that doesn't make it easy to combine much, but I'm pretty happy with how things have worked out.
My oldest is an excellent reader so she will be taking on a lot of the reading independently this year which will be a big change from previous years. That will allow us to do some lessons simultaneously even if we are not combining them.
I haven't quite worked out our schedule yet, but I'll be using out scheduling cards from A Delectable Education to get our days all planned out.
Our Picks for the 2020-2021 School Year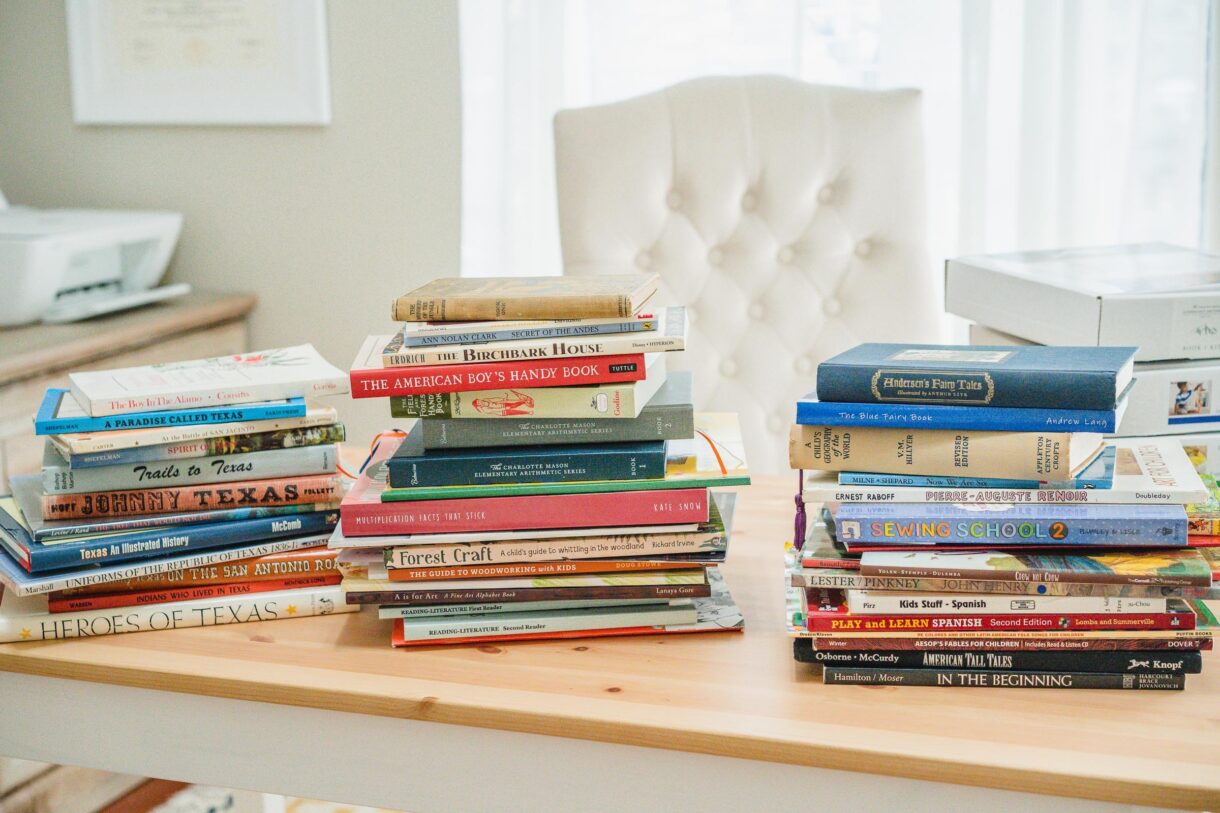 World Religion & Character
We are not a religious family, though we are spiritual. This is one area that we did not do well in last year because I didn't have resources I loved. I am so happy with these books, and know that my kids will love them too.
I want us to have some moral teachings about virtues, be exposed to the basics of world religions, and have a knowledge of the stories of the Old Testament as they are extremely culturally relevant.
We will study world religion and character as part of our morning time as a family.
The Family Virtues Guide
In the Beginning: Creations Stories From Around the World
The World of the Old Testament
One World Many Religions: The Way We Worship
See Inside World Religions
Handwriting/Copywork
We have used Handwriting Without Tears from the beginning for learning handwriting and love it.
My fourth grader will continue practicing cursive and my first grader will continue practicing print letters. They will both be using a book a year "behind" where they are but I like to use these books to reinforce neat letters and we will supplement with additional practice outside of the workbooks.
For copywork, each child will get to choose a passage from a lesson reading to copy into a notebook. My first grader will start very small, maybe just a few letters at a time because he is still learning handwriting basics. My fourth grader will be requires to copy two perfect lines each day in cursive.
We will also continue our creative notebooking, which has become a tradition in our homeschool. We use a method outlined by Jodi Mockabee in her Notebooking Manual.
Our notebooking pages include written narrations of one of our lessons with an illustrated image. We aim for one notebooking page each week and rotate the subjects and books. We will do the notebooking as a family on the same subject each week, but my son and daughter will work individually on their pages.
Grammar/Composition/Dictation
Grammar, composition, and dictation are new for my fourth grader this year. We will incorporate lessons from Brave Writer's Dart which uses classics read-aloud novels to teach language arts skills.
This year's read aloud selections are:
August: Charlotte's Web (E.B. White)
September: The Prairie Thief (Melissa Wiley)
October: Finn Family Moomintroll (Tove Jansson)
November: The House at Pooh Corner (A.A. Milne)
December: The Mouse and the Motorcycle (Beverly Cleary)
January: Mr. Popper's Penguins (Richard & Florence Atwater)
February: Sarah, Plain and Tall (Patricia MacLachlan)
March: The Trumpet of the Swan (E.B. White)
April: The Year of the Dog (Grace Lin)
May: Encyclopedia Brown, Boy Detective (Donald Sobol)
We read a few of these several years ago, but I know she'll enjoy them if we read them again. I will probably ask my daughter if there are any she would like to replace with a book we haven't read and if so, replace them with another book and design my own similar lessons.
We usually have several read-aloud books going at once that we read at different times of the day. I will probably make these books part of our pre-nap/quiet time routine.
We may also pick a few projects from Brave Writer's Jot It Down that my first grader will enjoy as well. Jot It Down is a collection of writing projects for kids 5-8 that focus on a lot of the skills kids will need before doing formal composition like gathering ideas, organizing ideas, summarizing, etc. We have used this for several years, and every project is always a hit with the kids.
History
We'll be studying Texas history this year as a family. Fourth grade is typically the year to study state history in traditional schools and Charlotte Mason recommended that form 1b/first grade students begin with the history of their own country or land. Texas has such a rich history and I didn't live here in fourth grade so I am excited to learn alongside them!
I landed a huge stack of living Texas history books and really had too many to choose from. We are going to use an out-of-print book about how Texas was settled as our main spine. This book shares stories from many of the different cultures that came to settle in Texas.
We'll also use Twenty Texans: Historic Lives for Young Readers as our main resource for biographies and learning about some of the people who helped shape our state. I love that this book features men and women heroes of all colors and backgrounds.
We will also supplement with picture books about specific events or landmarks in Texas history. One that I am looking forward to is The Tree That Would Not Die (which also appears to be out of print, sorry!), a story about a several-hundred year old tree in Austin that I hope to turn into a field trip.
There are so many great books about Texas that we can't possibly fit them all into our lessons. Charlotte Mason always had a list of "Sunday" reading for students to read at home. I plan for these to be done as read alouds for the whole family.
My fourth grader will also have some assigned free reads to go along with our study of Texas history.
We'll use Texas History for Kids: Lone Star Lives and Legends to go along with some of the things we study. We have the American history version and loved the activities in it to help spice up our lessons occasionally.
In addition to Texas history, my first grader will also learn about some American legends. We'll use Mary Pope Osborne's America Tall Tales. Per the recommendation of Wildwood curriculum, we will also use this separate version of John Henry, which my daughter loved as well.
My fourth grader will also begin British history with Our Island Story this year. Some Charlotte Mason curriculum guides include this for year 1 students, but I'm glad we waited as I feel like my daughter has a lot more context at this age to learn about another country now.
Citizenship
My fourth grader will use Stories From the History of Rome for citizenship. This was one of the books used by Charlotte Mason and is supposed to be a necessary foundation for the study of Plutarch next year.
Geography
As a family, we will study Texas Geography this year focusing on the four distinct ecological regions of Texas: the Gulf coastal plains, the Great Plains, the interior lowlands, and the basin and range provinces.
For my first grader, we will use Living Geography for the Primary Grades (an updated version of Charlotte Mason's first geography book) which is a gentle introduction into geography.
He will also learn to make in a tray of sand islands, isthmuses, straits, mountains, lakes, valleys, rivers, hills, and villages. We'll spend plenty of time outside so that he will be able to describe and draw the boundaries of three fields or places he loves.
Together we will read Jenny Goes to Sea and The Wonderful Adventures of NILS which are sweet stories that include many adventures in geography. 
We will continue doing activities from Mapmaking With Children to help establish a sense of place and develop the ability to tell stories through maps and interpret maps in a deeper way.
And last but not least, I am so excited to use Pin It Maps this year! I got the World Map set and I think it will be great to be able to refer to the map for all the different places we'll encounter in our lessons.
Natural History
We will study natural history as a family. On our nature walks and family outings, we will watch for wild fruits, birds, and other animals.
We each keep a nature journal and make at least one entry a week.
We will also focus on three special study topics each semester and use a variety of picture books to supplement learning about those. This year, we will cover weeds and grasses, water plants, small mammals, deciduous trees, and fish.
For nature lore, we will read Pond & Stream and Wonders of the Jungle.
For my first grader, we'll focus on lots of outdoor time and studying what we observe on our walks. For my fourth grader, we'll add a few resources to go more in depth into topics and questions she has.
We also subscribe to the Flower of the Month Club by Chickie and Roo and love getting to study a new flower each month. We usually learn about the flower and do an art activity to go with it.
Picture Study
We will study two artists this year: Pierre-Auguste Renoir and James Abbott McNeill Whistler.
I have a book I thrifted on Renoir that we will use and then we will use the Picture Study Portfolio from Simply Charlotte Mason for Whistler. We have used these for several years and love them! The prints are excellent quality and having everything all in one place for picture study is great.
Math
We will continue using Simply Charlotte Mason's Elementary Arithmetic series. My first grader is using Book 1 and my fourth grader is using Book 2. I expect that she will finish Book 2 and move on to Book 3 later in the year.
In the afternoons, we love to play math games. We will continue to use these great books to reinforce math facts we learn during lessons.
We also love math board games and play these during the afternoons or when we need a break from lessons but want to fit in some math.
Spanish
Last year, I set up an in-person weekly family Spanish class with a native Spanish speaker for my kids and a few friends. I hope to be able to do that again this year and have someone come share picture books, nursery rhymes, and songs with us as well as share seasonal celebrations typical in Mexico and Latin American countries.
If we cannot do this in person (hello pandemic schooling), we'll do this on iTalki. We have used iTalki to connect with tutors all over the world for a few years now and love it! Sign up through my link and we'll both get a $10 credit.
In addition to our face-to-face lessons, we will continue to use custom-made flash cards to help expand out vocabulary.
We'll also use these books and albums to help guide our at-home learning.
Drawing
We started using the online art lessons with Waldorfish last year and fell in love!!! My fourth grader will continue with the Weekly Art classes next year. This class only open twice a year and will open in a few weeks! I purchase these classes, but love them so much that I've come an affiliate. You can sign up here when it opens July 27-August 5, 2020!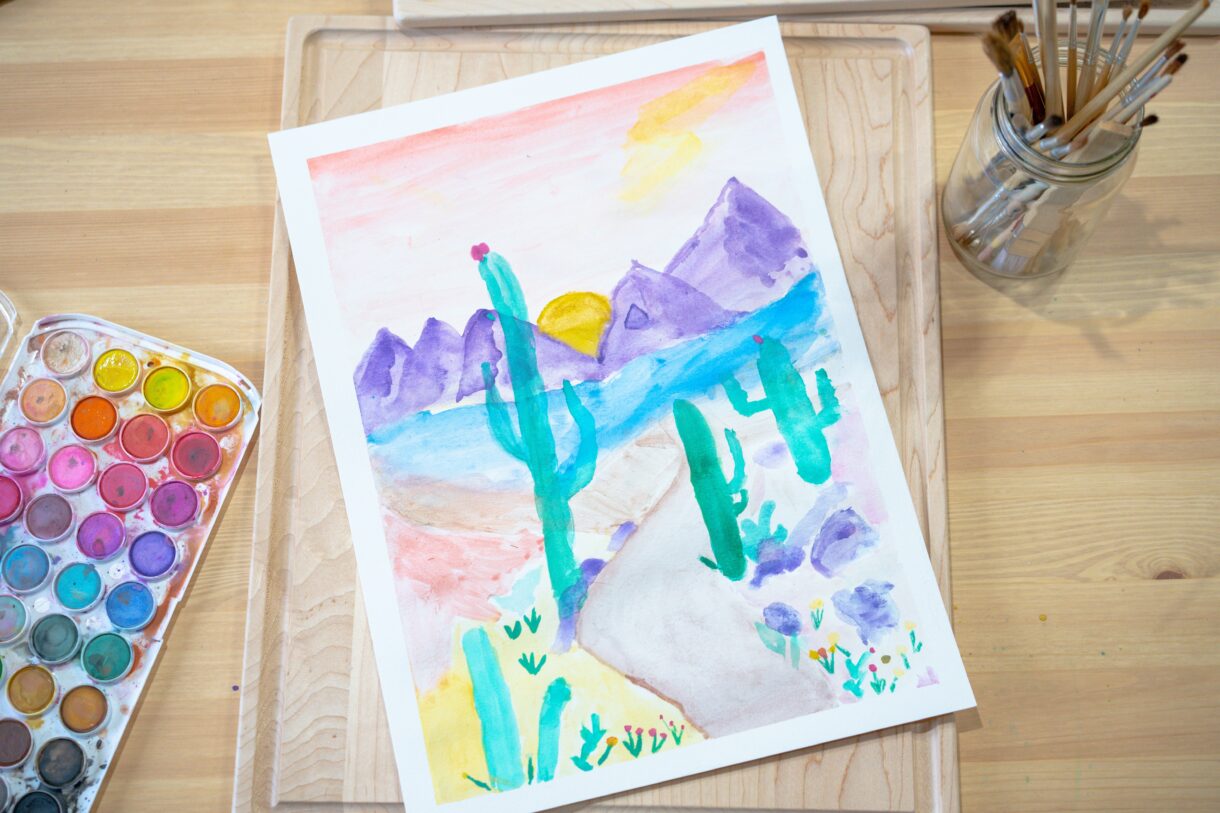 I will do the Waldorfish Grade One Painting course with my first grader. This course is meant to be reviewed by the parent and then the parent teaches to the child. I know he is going to love having that special one-on-one painting lesson time!
We will also go through Brushwork: Elementary Brush-Forms as a family. This book starts with very basic techniques that are essential to brush drawing. We used the Brush Drawing Course from 20/20 Press with my daughter, but it didn't hold our attention at all and became very repetitive. I appreciate that this moves quickly from practicing brush strokes to creating patterns and design elements. You can see the whole book online, but I opted to get the printed version for ease of use.
Recitation
We'll study two main poets this year: Henry Wadsworth Longfellow and Maya Angelou. In addition to focusing on these poets, we'll also read from a variety of poetry collections for our weekly poetry teatime. Teatime is the perfect opportunity to practice our recitations in front of a "crowd."
For my fourth grader, each week we'll choose one poem or section of a larger work like Shakespeare to read daily. The goal isn't to memorize the poem, but that does happen sometimes. The goal is for the child to be able to recite it beautifully with their own emotion.
For my pre-reader, we'll choose short seasonal rhymes that he can easily memorize.
Literature
For my first grader, we will be reading through the Beatrix Potter collection and loosely following A Year of Tales. A Year of Tales is wonderfully put together and designed as a full year curriculum. We will follow the order and use some of the activities in the curriculum, but we won't do everything in it. She also has a preschool version which we'll use for my preschooler so that we can all enjoy the tales.
We will also read fairy tales and fables throughout the year. With my daughter we used the Blue Fairy Book by Andrew Lang, but this time I wanted to use an illustrated collection so we will use Classic Fairy Tales Vol 1 by Scott Gustafson. We use the illustrated Aesop's Fables for Children by Milo Winter for fables. We will read 9 fairy tales and 9 fables over the course of the year.
For my fourth grader, we will study Norse mythology with Heroes of Asgard.
We will also read some classic novels as part of our lessons.
And we will also begin our study of Shakespeare. We will use the method outlined in How to Teach Your Children Shakespeare. We will follow along with Wildwood Curriculum and study Tempest, Winter's Tale, and Macbeth.
Reading
My first grader will begin reading lessons this year. As he had a very full and lovely "quiet growing time" we are truly starting at the beginning with learning the alphabet and letter sounds. My oldest picked up on letters and sounds when she was a toddler so this is all new to me. I taught my daughter to read without a curriculum, but this time I decided I needed some help.
I have found that my son really needs diversity and repetition so we are going to be using several resources for reading to keep it fun. All of these resources could absolutely stand on their own, we're just choosing to use bits and pieces of each in combination with each other.
We will introduce letters and their shapes through story with these Waldorf books.
We will follow the order of learning letters and use the nursery rhymes to make connections with The Mindful Alphabet from My Little Robins. This is a sweet and gentle resource for learning letters through nursery rhymes and comes with a lot of hands-on, simple activities to practice writing the letters and becoming familiar with the sounds.
I also ordered the Delightful Reading kits from Simply Charlotte Mason. These kits are so well put together and the curriculum is so well thought out! I am more than pleased with the kits and wish I had them with my oldest. We will work through the kits in order beginning with Level 1 Playing with Letters and Sounds.
Once my son has the letter sounds solidified, we will use the Dash Into Reading books as a bridge to reading real books. I am so excited about these-they are adorable!
Music
Music is one thing I am happy to outsource. Both of my kids will take piano lessons taught online with a private tutor for now until we can do in-person lessons again.
Composer Study
We will study Schubert, Bach and Opera this year, following Wildwood Curriculum's composer rotation.
For opera, we will listen to Pirates of Penzance, The Magic Flute, and Amahl and the Night Visitors.
We also will continue to listen to Maestro Classics. We adore the songs and stories as part of this collection!
Singing
We will choose a new song to sing weekly and will alternate between English and Spanish folk songs.
I like to use this list of top folk songs for inspiration on which songs to sing.
I also pull songs from the Rooted Childhood monthly collections to find seasonal songs and fun folk songs to learn.
Drill
Charlotte Mason included "Drill" as a part of daily lessons. For us, this is our P.E. time. We are going to focus on yoga and traditional P.E. games during this time. We have used a lot of yoga resources in the past, but my kids prefer when I'm not the teacher and it's nice to have a little break so we will be using yoga videos online this year. I'm still searching for some good ones that are focused on breathing and inward centering and not so flashy and colorful.
For P.E. games, we got this book which has awesome games perfect for 2-3 people.
Handicrafts
We like to focus on learning one new handicraft skill at a time. This year we will learn macrame (knot tying), paper modeling, whittling, and woodworking.
Here are a few resources we'll be using:
And of course, we'll also work through seasonal handicraft projects included in the Rooted Childhood monthly collections as well!
Beyond the Curriculum
Our curriculum choices are actually just a small part of each day. My first grader will do school for about 1.5-2 hours and my fourth grader will have about 3 hours of work, including a 30 minute recess for both of them.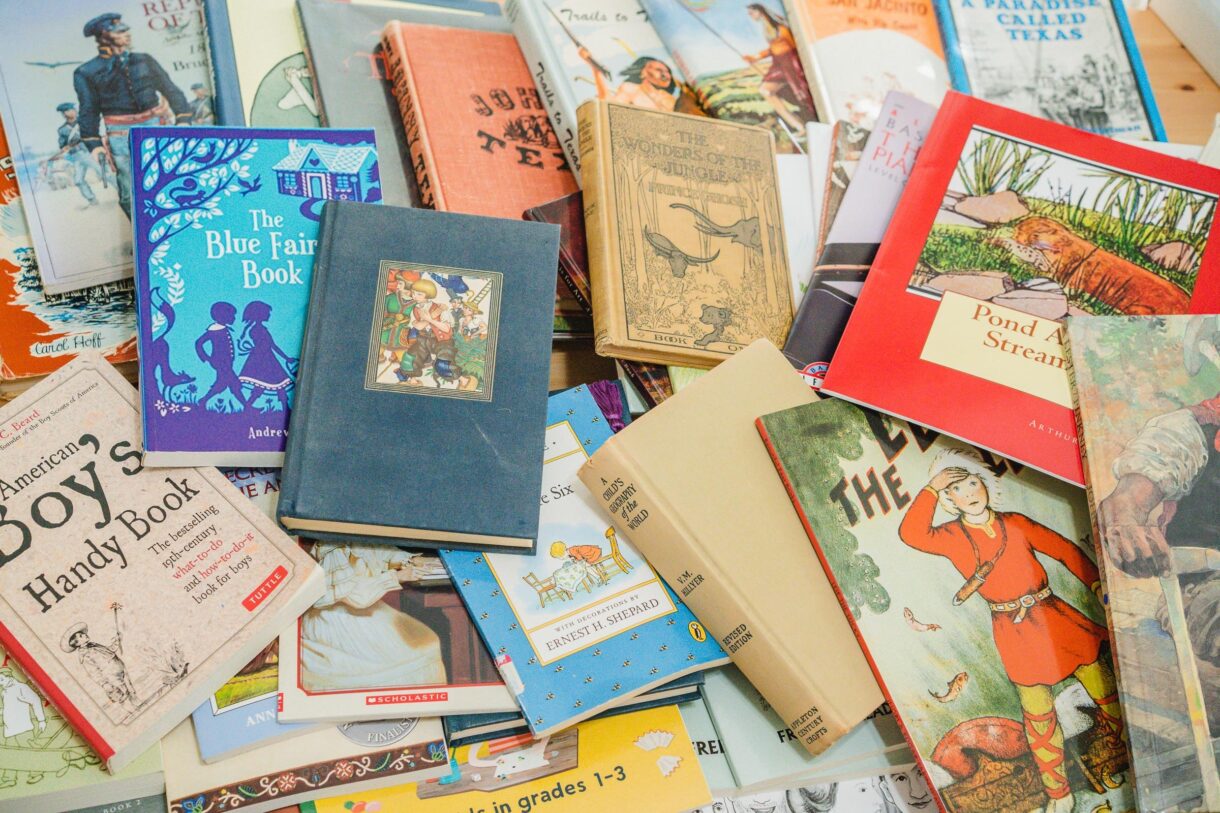 So what do we do the rest of the day? We live life! Life and creating an atmosphere of education even outside of the curriculum is so important. We will spend time reading aloud, have free time to play and explore outside, get to practice art and handicraft skills learned during lessons to make gifts and decorations, explore interests and dive deeper into topics that are especially fascinating.
My fourth grader will have an assigned list of historical fiction that she will be required to read on her own time in addition to her leisure reading. We will also have several "Sunday reading" books that we will read as a family that correlate to what we're learning in lessons.
We'll also take lots of field trips to make real life connections- we'll visit lakes and rivers and the Alamo and the San Jacinto monument and the Capitol and so much more!
Each and every year that we homeschool I am more amazed at how homeschooling is so unrelated to my capabilities as a teacher and more tied to giving our children the freedom and the guidance to learn in ways that come so naturally to them. It's a beautiful thing to watch, and I am so honored to get to walk alongside them on this journey.
Questions about our curriculum? Check out my highlights over on Instagram for more information and send me a message if you still have questions!