We've spent the summer studying oceans and sea life, and we never want the fun to stop!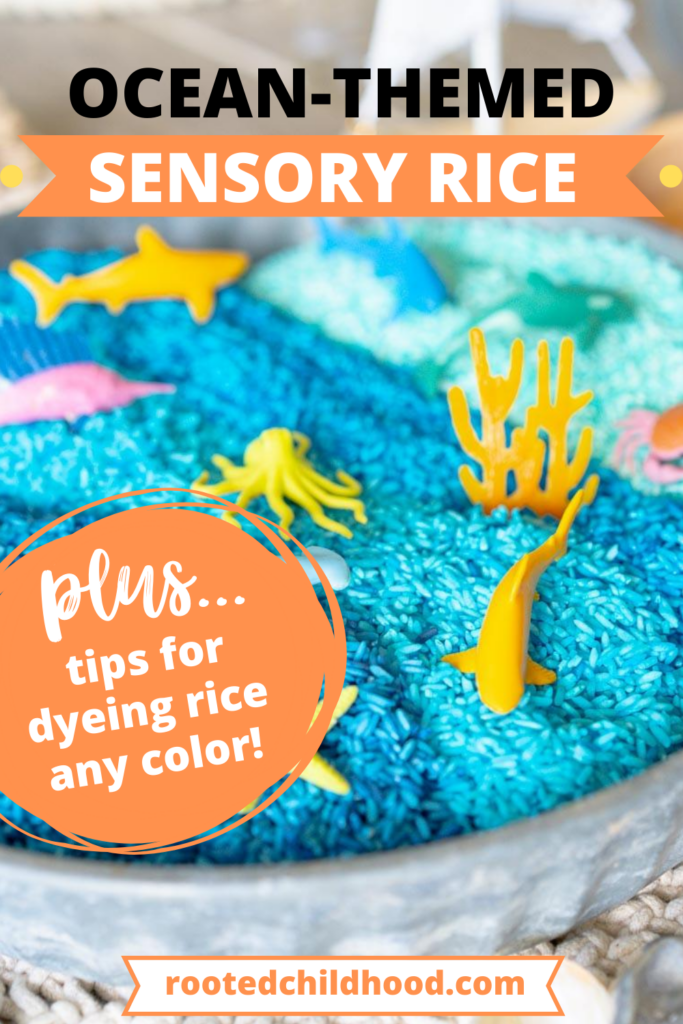 Learn About Oceans
After a trip to the beach a couple weeks ago, I wanted to find more ways to bring some of the ocean into our play.
I tried dying rice for my oldest about 5 year ago, but honestly, it just wasn't worth the mess for me! I thought I'd give it a shot again for my 3 and 5 year olds and though it was still a little messy, they LOVED it.
Before we get to how I set up this sensory play activity, let's talk about dyeing rice.
How to Dye Rice for Sensory Play
Dyeing rice was totally intimidating at first, but it was so easy! I knew I wanted to do shades of blue like ocean water. I could have just used blue food coloring and done different amounts for each batch to get a range from light to dark blue, but I wanted a range of colors so I used different blues.
Both liquid and gel food coloring worked fine though the liquid was slightly easier to work in to the rice.
Food coloring options I used:
The Process
To make colored rice you'll need:
uncooked white rice
food coloring
white vinegar or alcohol
gallon-sized Ziploc bag
cookie sheets or paper plates for drying
I made 2 cups of each color. I have three children so I wanted enough for them each to play with, but if you only have one or two kids, one cup of a few colors is probably fine!
I put the uncooked rice in a gallon-sized zip top bag with a few drops of one color of food coloring and 1/2 teaspoon of vinegar. You could also use alcohol instead of vinegar or leave it out completely. Like with dyeing eggs, the vinegar helps the rice take on the color more quickly and bind more permanently.
Then zip up the bag and let the kids help smush it around until the rice is completely coated with coloring. If you see white spots, add another drop or two of food coloring and mix it around again.
When the rice is completely coated and the color is mixed thoroughly, spread the rice out onto a cookie sheet, plate, or parchment paper to dry. The dyed rice dries pretty quickly when spread out, but I let it sit overnight just to be sure it was completely dry.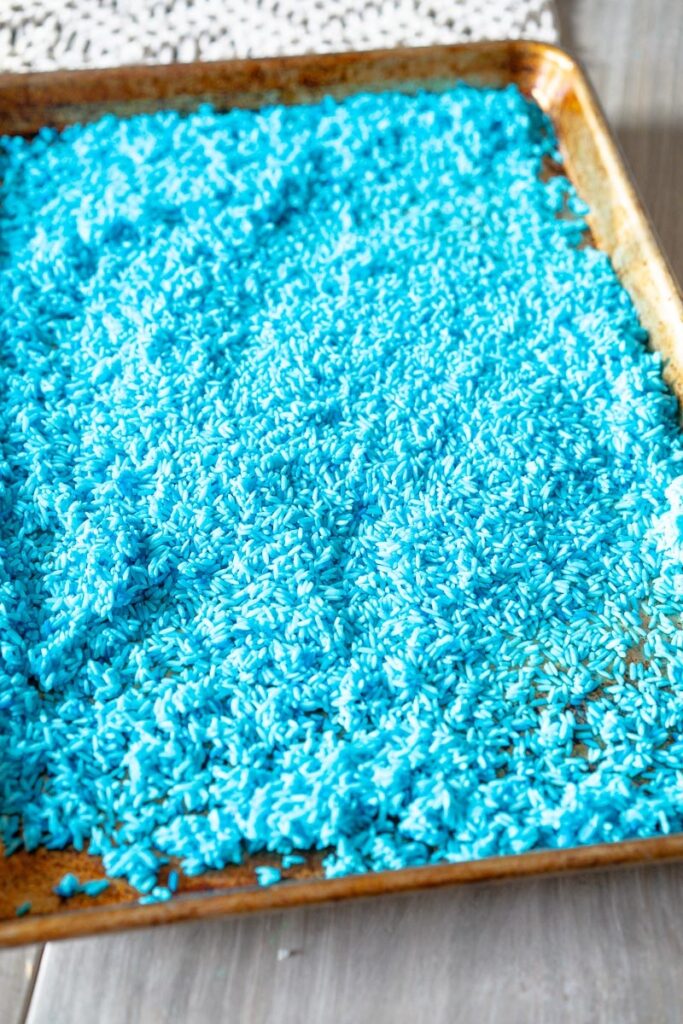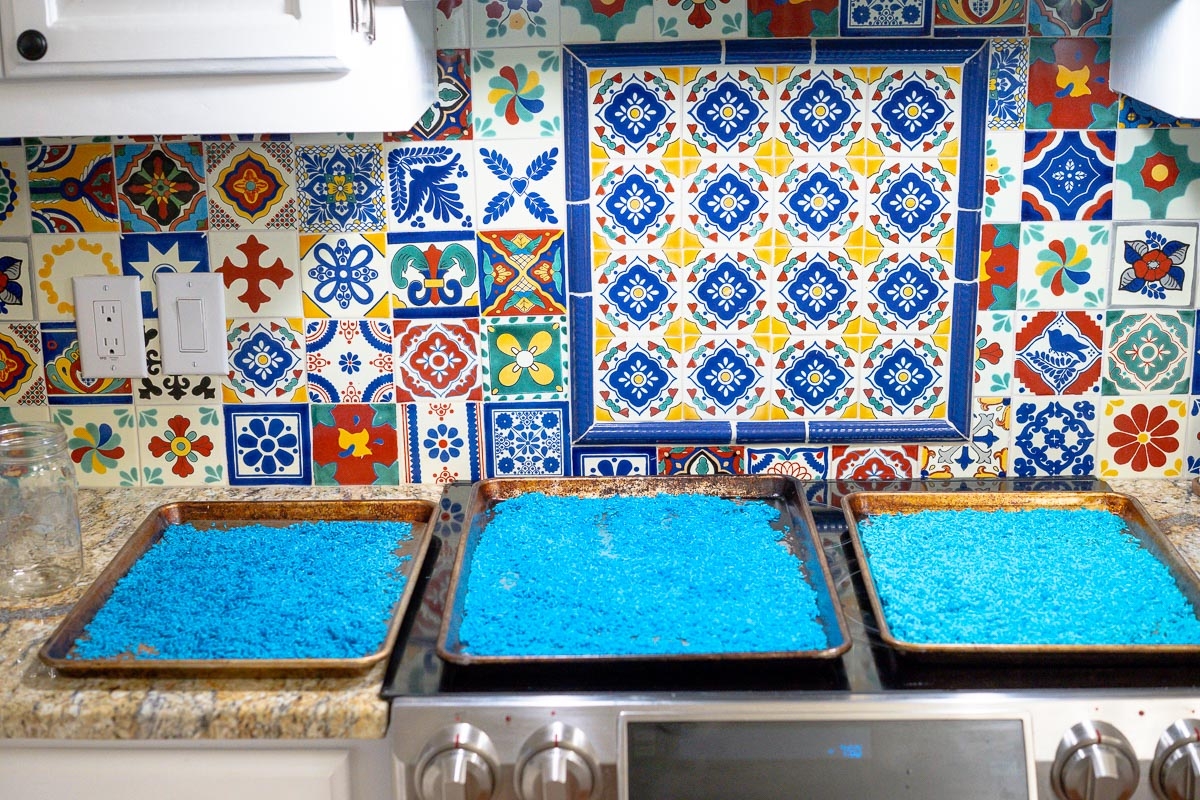 Store the dried, colored rice in mason jars until you are ready for play. I love how these colors turned out! They are so soothing just like the ocean.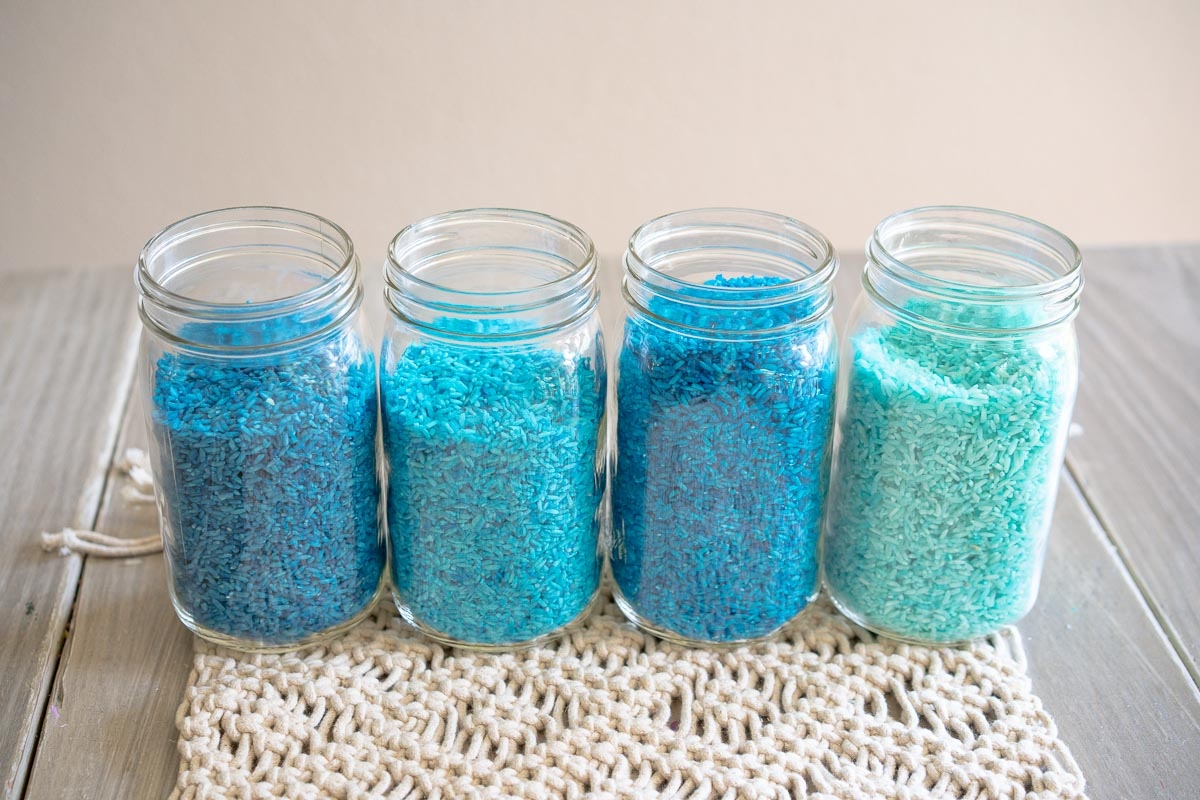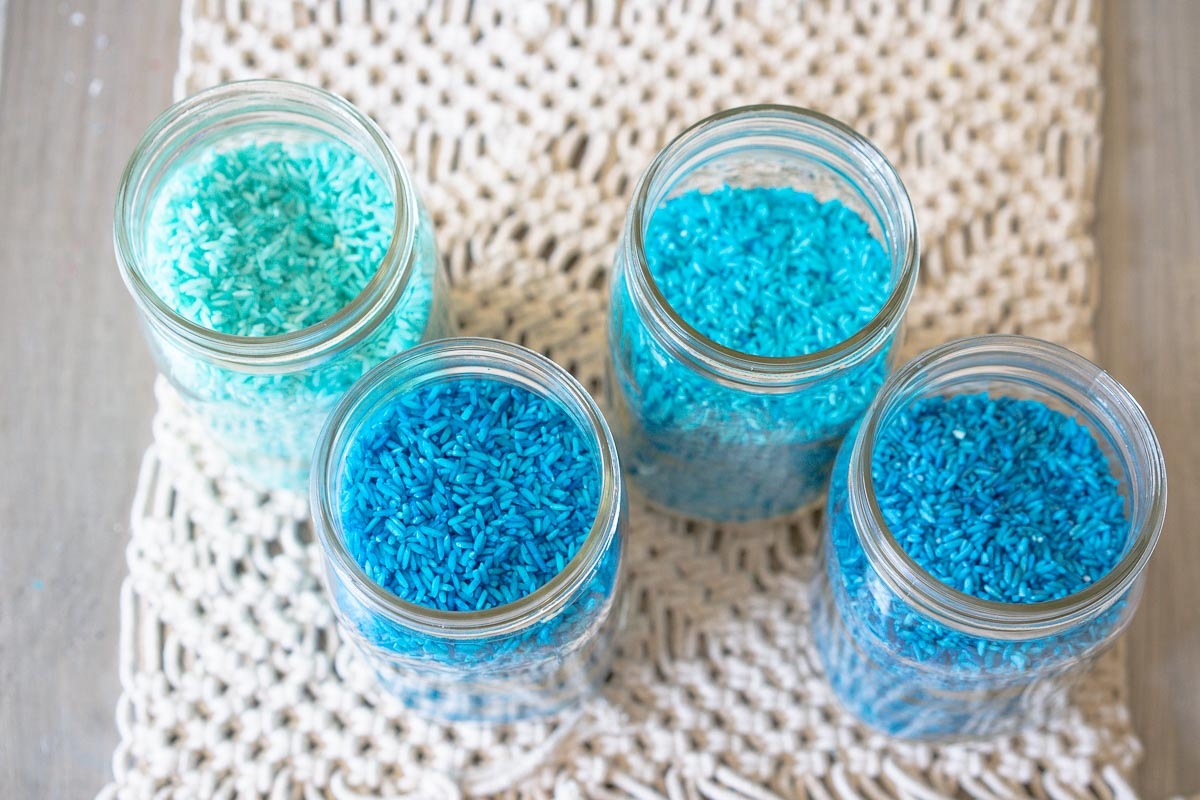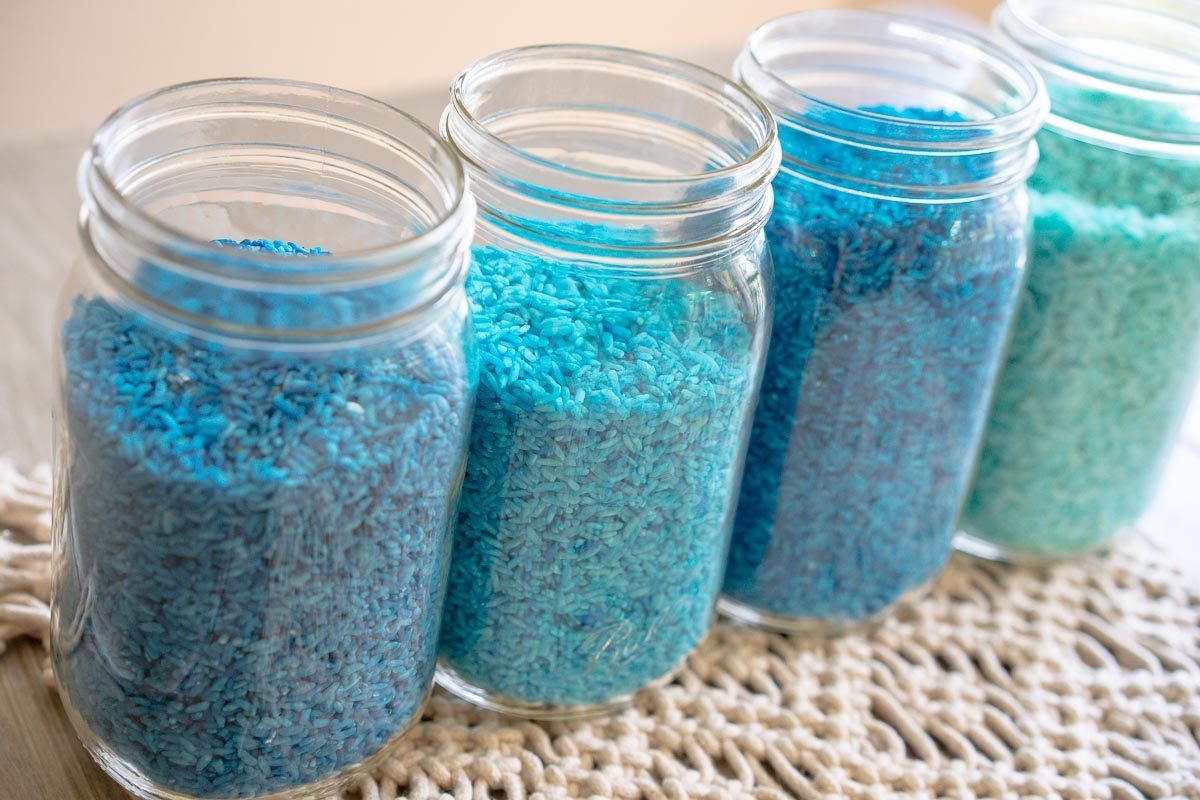 Setting Up for Sensory Play
When I set up for sensory play, I keep two things in mind- ways for my kids to have fun, and most importantly, my sanity! I do not like messes and typically avoid messy play inside our house as much as possible. We're currently in the middle of summer with triple-digit heat so we're inside a lot more than usual these days.
I wanted to make sure to use a container with high enough sides to actually contain the rice. I'm a big fan of using what you have on hand so I used an old pan we use for taking food scraps to our chickens. Repurpose and reuse!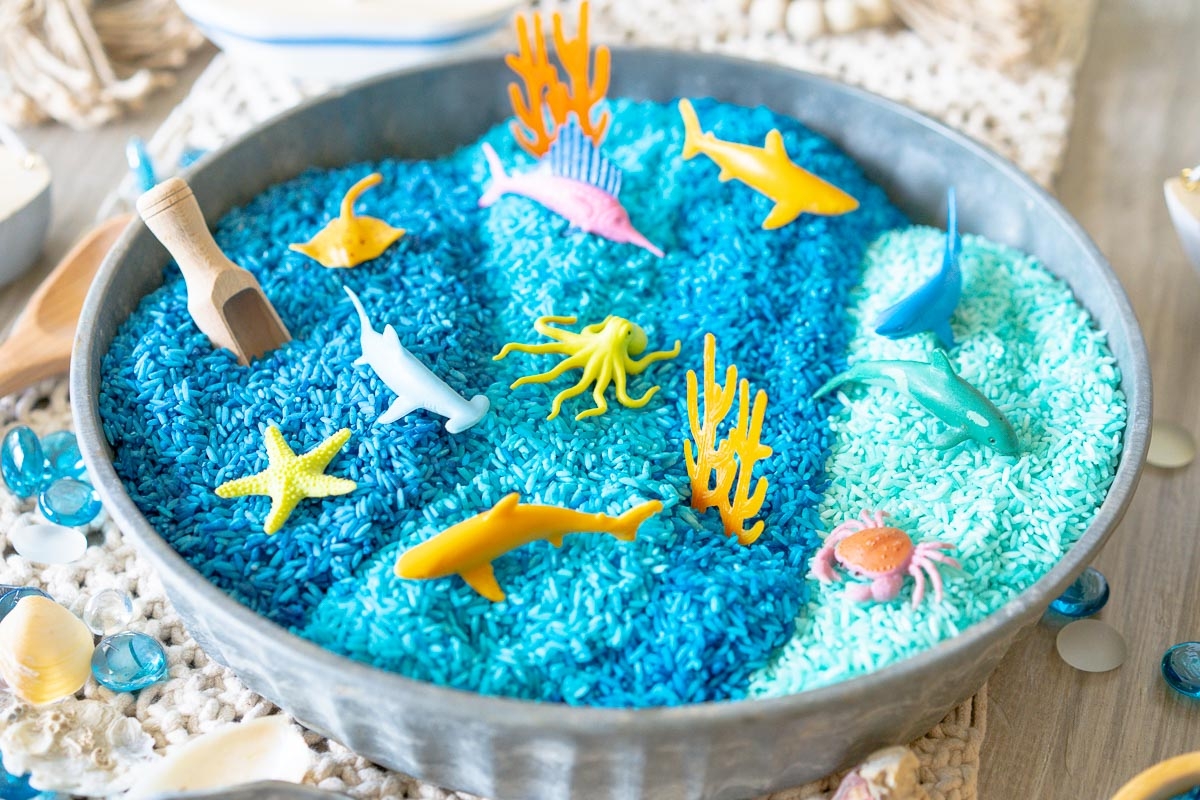 Next, I found a few little trinkets to go along with the play. For this theme, we used:
Seashells we found and collected on beach trips over the years
Glass gemstones found at the dollar store in the floral section
Sea animals (ours was a gift, and I can't find the same one but we also love TOOB mini figurines)
Wooden boats from the Target dollar spot that we had on hand from our Wheel on the School party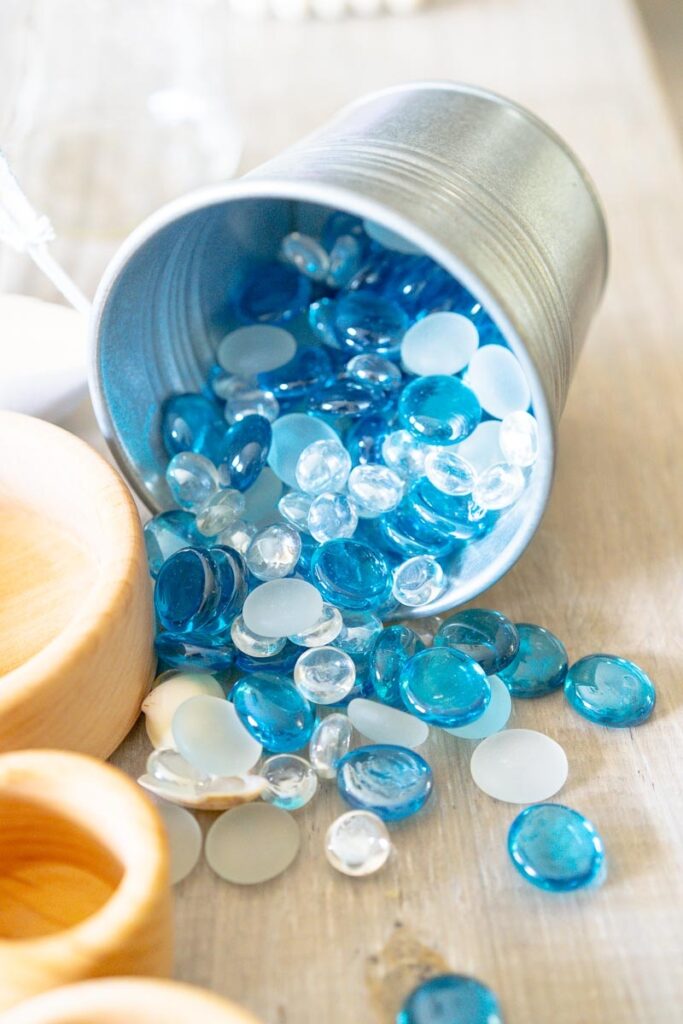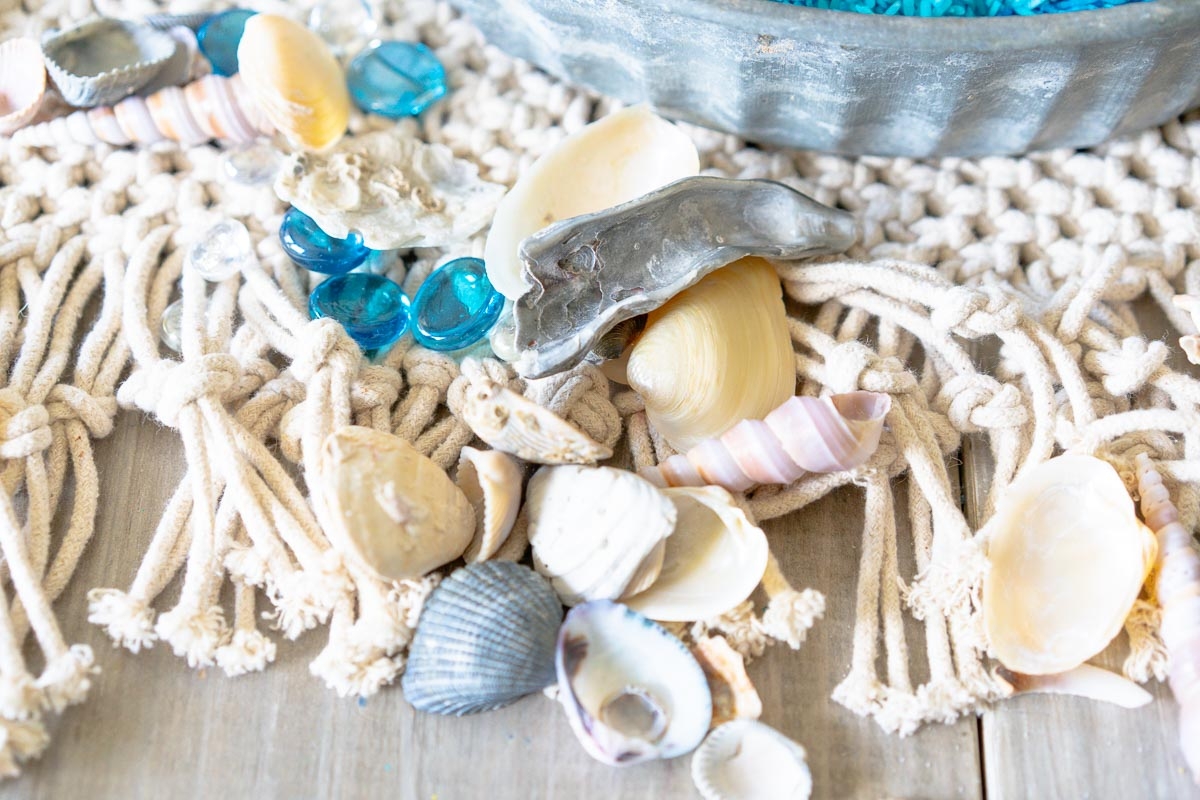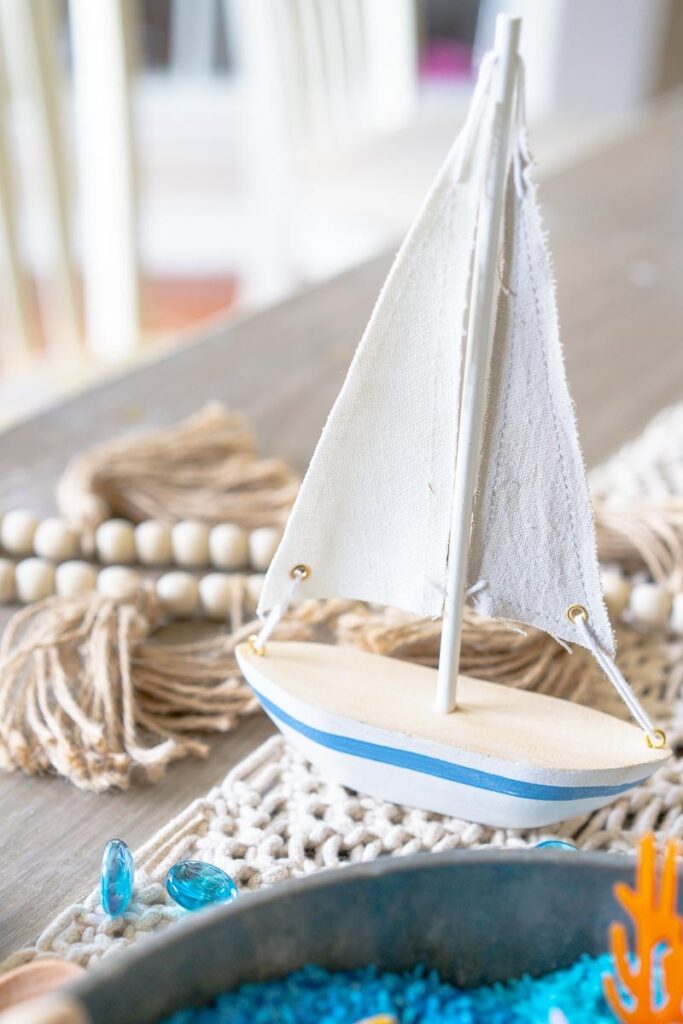 A huge part of all the sensory play is scooping and mixing and transferring so I gathered up a collection for bowls, scoops, and spoons.
We used: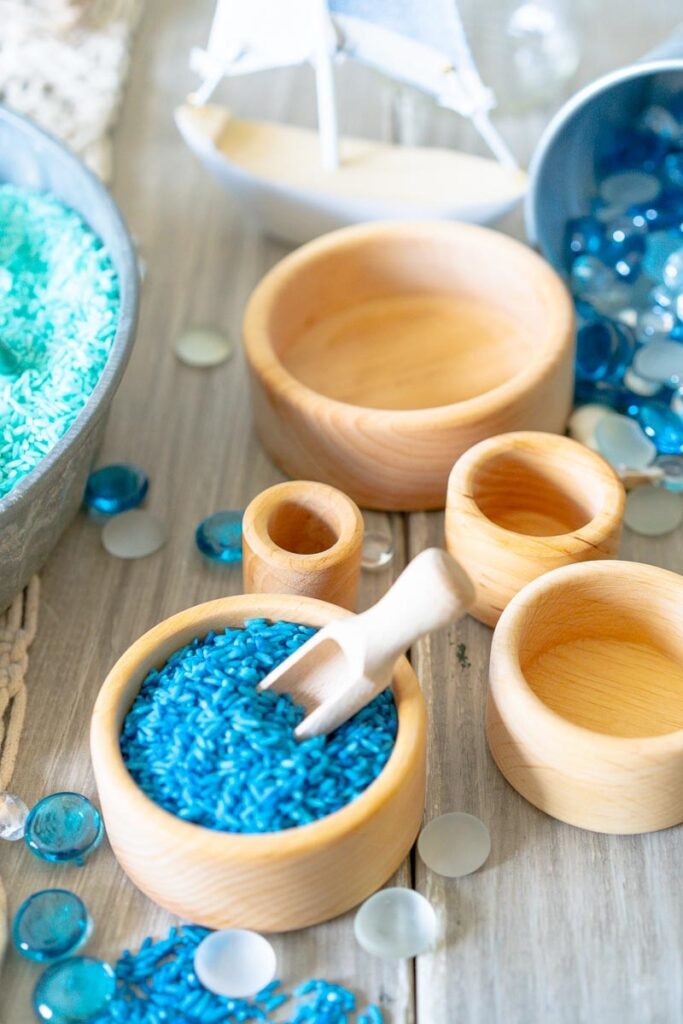 Final touches
I layered the rice in the metal pan so that it looked wavy and ocean like. Don't stress about how it looks at first because this lasts all of about 2 minutes before it's all mixed together!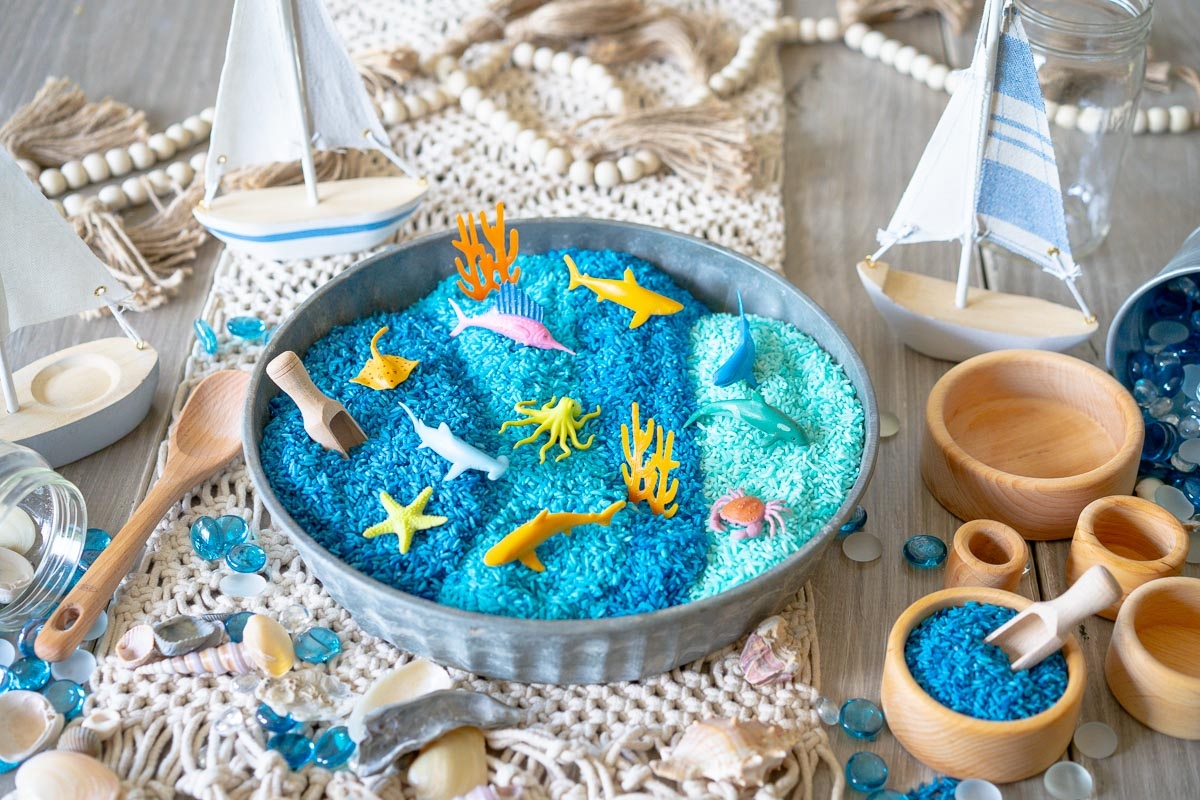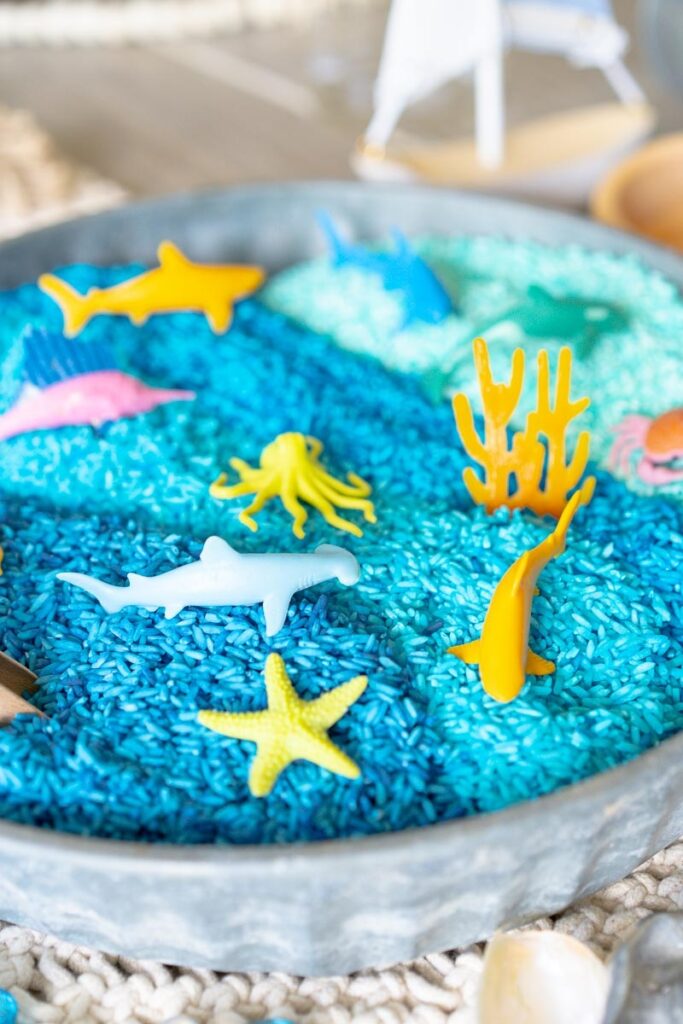 And then let the kids play! I set a few ground rules like try to keep the rice on the table, but I didn't stress about rice that ended up on the floor. And it did end up on the floor! I just swept it up, and it was fine.
My 3 and 5 year olds played with this setup for hours on the first day and several times throughout the week. Even my 8 year old joined in on the play a few times!
Sensory play is great because there is no right or wrong way to play. The child's imagination can go wild and dream up different scenes and bring them to life.
We had so much fun dyeing colored rice for this ocean themed sensory bin and will definitely be dyeing more rice for other themes! Give it a try and watch how much fun your kids will have too!
Storing and Re-using Colored Rice
We kept our rice out for about a week, and then I had the kids help sort out all of the treasures to store for another time. I made sure the rice was dry and put the rice in a big jar, but you could also store in a gallon size bag. The shades of blue are of course all mixed up now, but this will still make for a fun time for any kind of water theme or even as part of a sky or rainbow. I am certain we'll get to play with this rice many more times!