Our homeschool third grade is in the books!
We've been homeschooling form the beginning, but this year felt like our first year really homeschooling.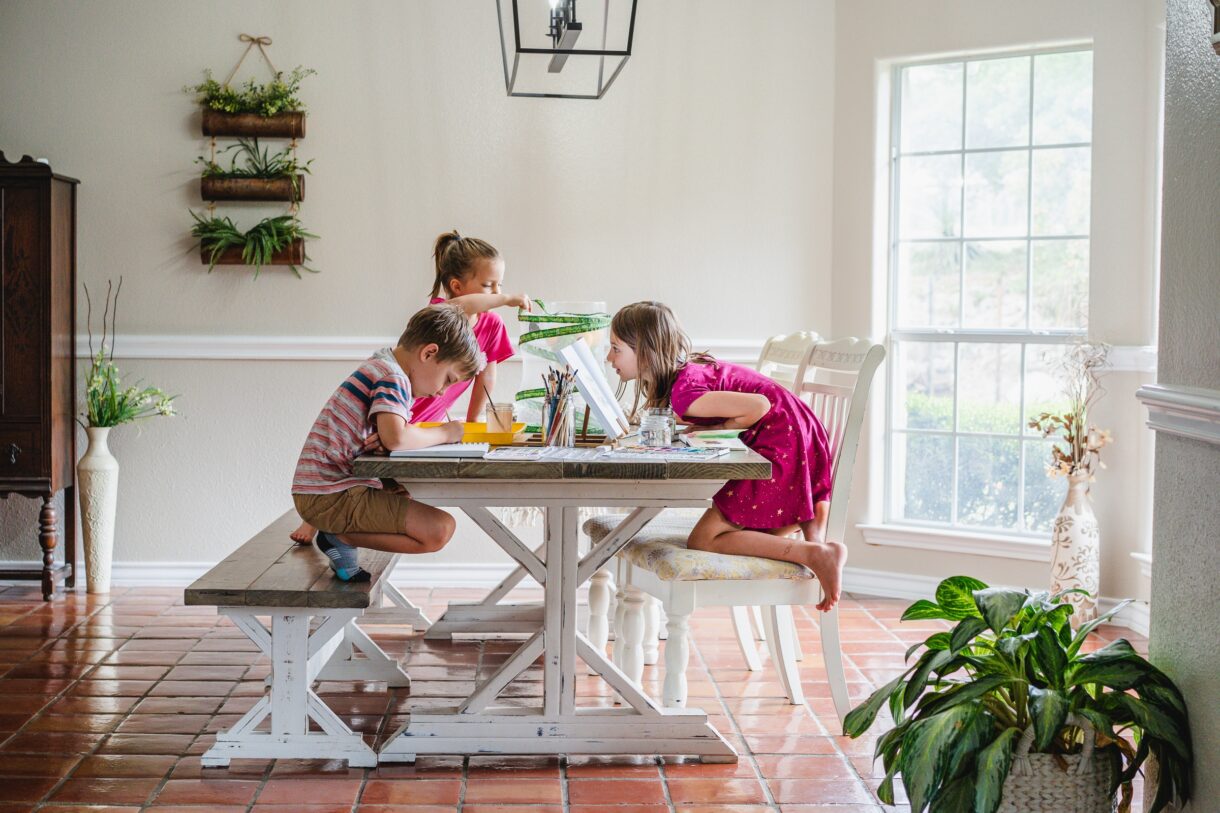 My oldest daughter  is 8 years old with a Sept. 1 birthday and we started with homeschool kindergarten right when she turned 5. I quickly learned that things don't always go as planned and she needed more time before we jumped into more academic work.
We took it easy our first couple of years with very short lessons and plenty of time for free play and getting outside. But this year, I could tell my daughter was ready for more. Her questions became more in depth and she was seeking in depth answers, too. Her reading took off and she was reading multiple books a day. Her attention and ability to focus shifted where what once was challenging became effortless.
Third grade was good to us, but it wasn't without some struggles. We moved a few weeks into the school year, which I definitely don't recommend! We took a few weeks off to get settled and regroup, but the move gave us a lot more time due to a shorter commute to our extracurricular activities.
We also ended the year with the coronavirus pandemic that kept us at home and isolated for more than two months and brought all of our extracurricular activities and group outings to a halt. It was an interested end to the year for sure!
Planning a Charlotte Mason Curriculum
I planned out our lessons last summer using the scheduling cards form A Delectable Education which I still love. I also used the form guides from A Charlotte Mason Plenary which are invaluable in planning a customized Charlotte Mason education.
As for the actual resources we used, I had a consult with A Delectable Education, which I highly recommend if you're just getting started! I really love the book recommendations these ladies provide. With years and years of experience and an extensive living books library, they are able to recommend books that I would never have known about.
For the main framework of our subjects, I follow Wildwood Curriculum. Wildwood is amazing-it's a free online resource and the creators have done so much research and put so much effort into sharing a modern day curriculum outline that adheres to the spirit of what Charlotte Mason created for the PNEU schools during the time she oversaw them.
As with most things in my life, I've taken a bit of inspiration from here and there to create something that works for our family. I love the Charlotte Mason method, but I am no purist and have found there are some areas where we may need to do something differently than Ms. Mason would have. And that's OK!
The Reality of a Charlotte Mason Homeschool Curriculum
The reality of a Charlotte Mason homeschool curriculum usual looks a little different than the best laid plans. This year, I had a third grader, a kindergartener, and a 2/3 year old toddler. It was an adjustment easing into having to give two children my attention for lessons and keep a little one engaged. It seemed like as soon as we found something that worked, things changed and we had to find a new groove.
We ended up doing school lessons about four days a week. I am not a super scheduled person when it comes to school so there were weeks when we did five days and many weeks when we did three days. I just trust that it all works out in the end.
Our lessons take about 1.5-2 hours to complete. At least once a week, we did a seasonally inspired morning time to engage my littles ones and give us songs and poems and fun to inspire the week.
Every afternoon we spent hours outside on our new 7-acre property, exploring and working to bring it to life with our chickens, garden, planting flowers, and more. Even though we only moved about 20 minutes away, we encountered so many different special of birds and plants so the majority of out nature study was done right in our own backyard.
About once a week, we enjoyed poetry teatime. This sweet family tradition is always a beautiful way to pause, enjoy each other's company, and enjoy the finer things in life.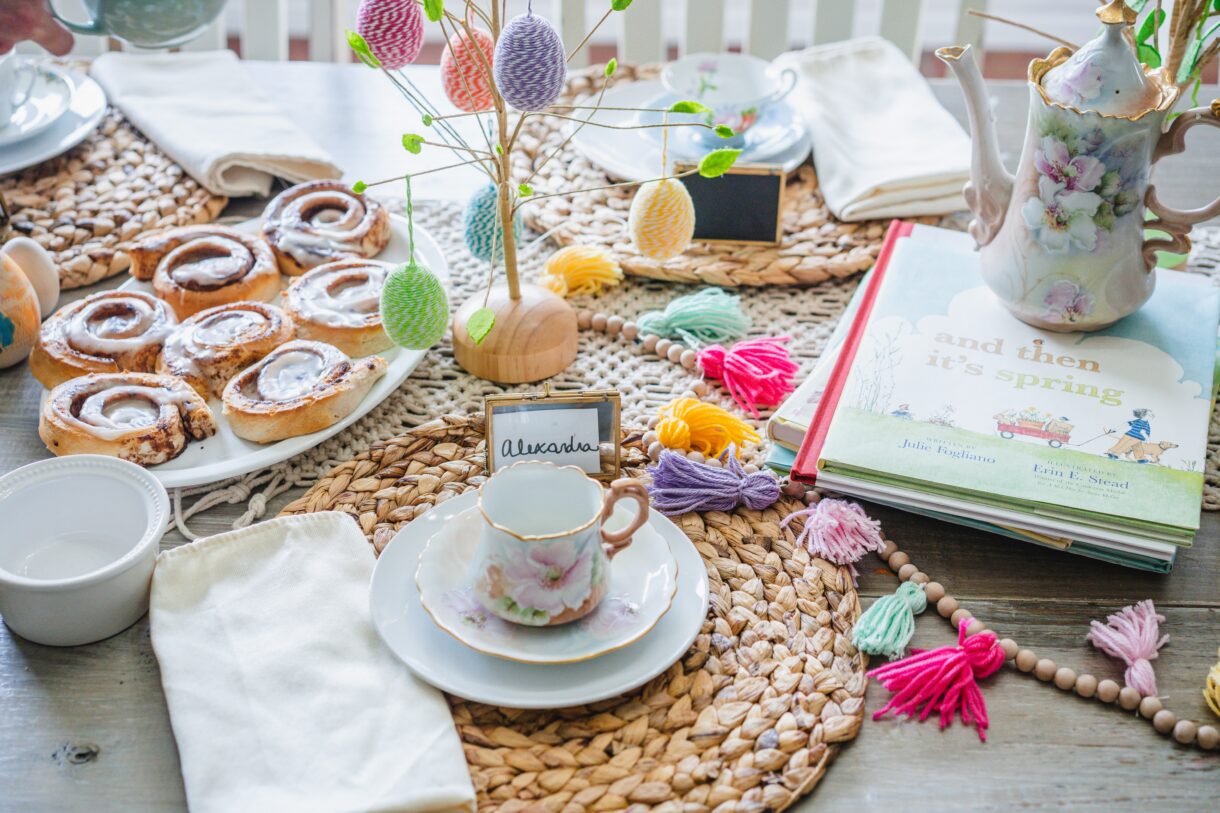 I'm not big on setting up themed activities or doing extra things to entertain my kids, but this year we enjoyed lots of sensory activities, had a super special party for one of our favorite read aloud books, and did lots of handicrafts that we gave as gifts or sold at our local homeschool group's handcraft fair.
We signed up for several extracurricular activities this year including dance, piano lessons, and a family Spanish class. We also met with a group for gameschooling every other week and did Girl Scouts. We met friends for a park day every Tuesday afternoon and had friends join us for seasonal celebrations like Martinmas, winter solstice, and Valentine's Day. We also observed festivals and holidays of a variety of cultures including our first passover seder.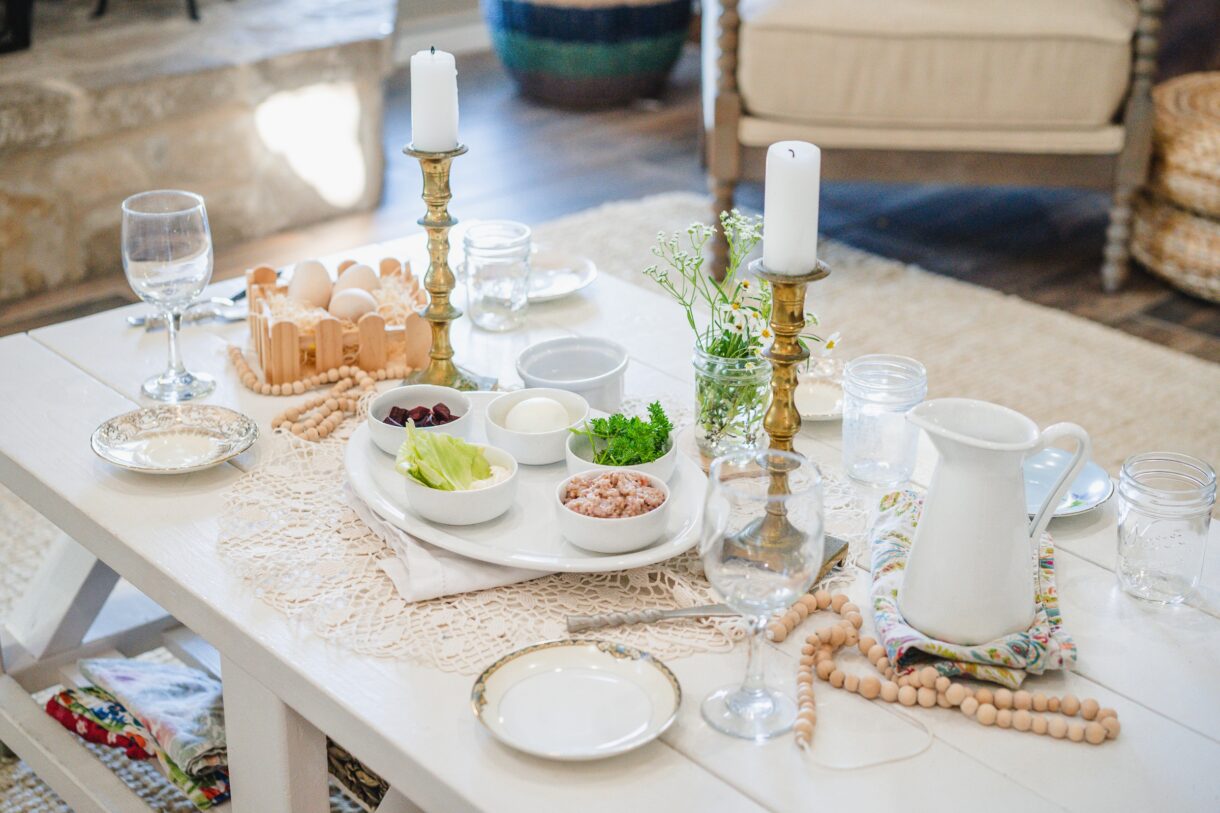 During out afternoons at home while my toddler napped, my older two got to practice handicrafts like knot tying and paracord bracelets, sewing on the sewing machine, embroidery, and more. They also practiced piano and my oldest did typing lessons on the computer and online math practice with Beast Academy. We also played a lot of games together and did recycled art with cardboard and found materials. There was also lots of free play with open ended toys and reading aloud as a family.
We enjoyed some great family read aloud this year including The Jungle Book, The Borrowers, The Moffats, Children of Noisy Village, A Tree for Peter, and Ginger Pye. We made a sweet habit of reading aloud at breakfast, often outdoors, and before nap time each day.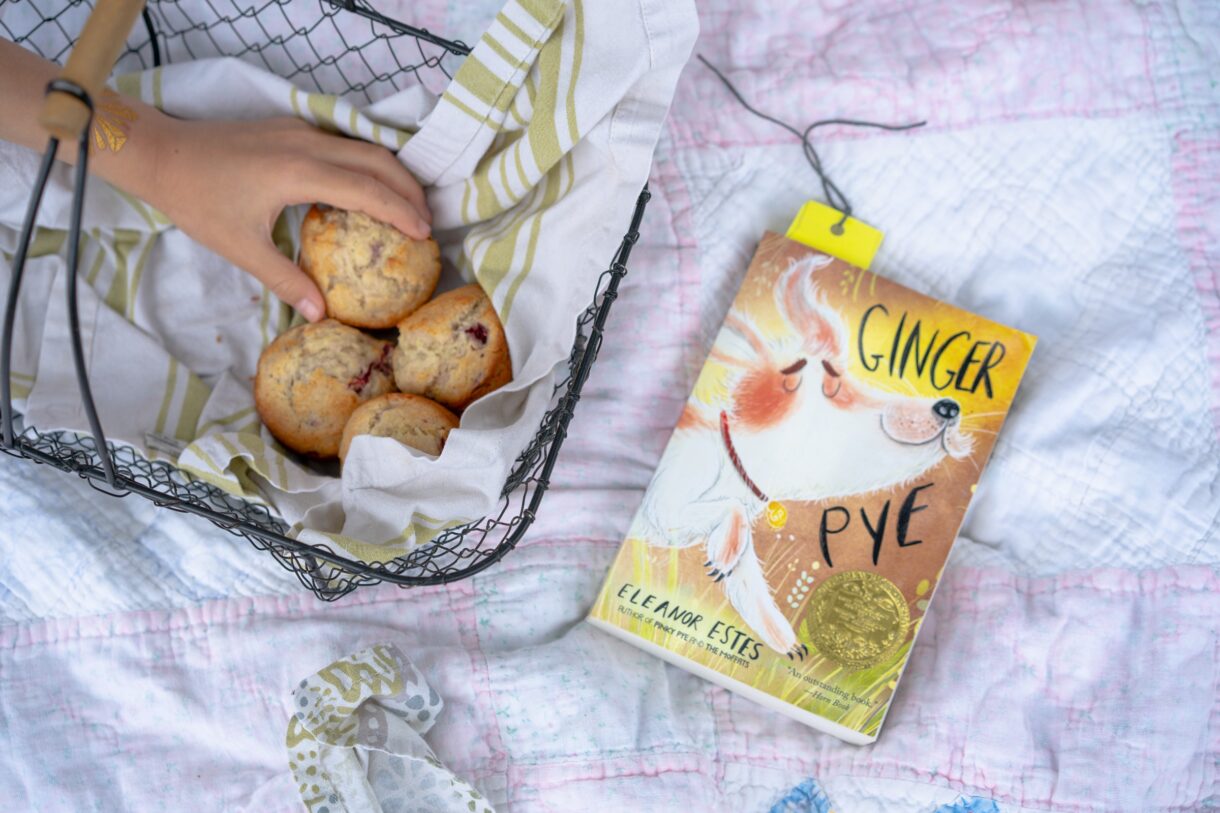 Homeschool is way more than just what happens during our main lessons- there is so much learning that happens through living!
Our Subjects Covered
To finish off the year, we did a Charlotte Mason style exam with our own personal twist of course! I spread out a long sheet of butcher paper and brought out the books we've used this year. We sat and went through each subject  and celebrated what we learned. I say "we" because I truly learned just as much as my daughter!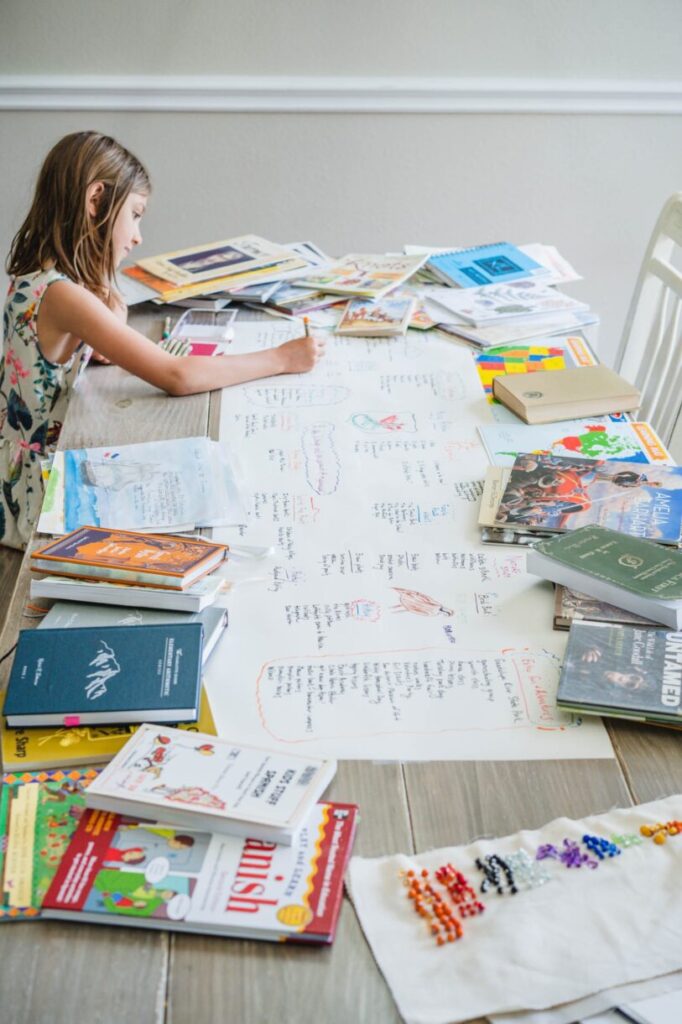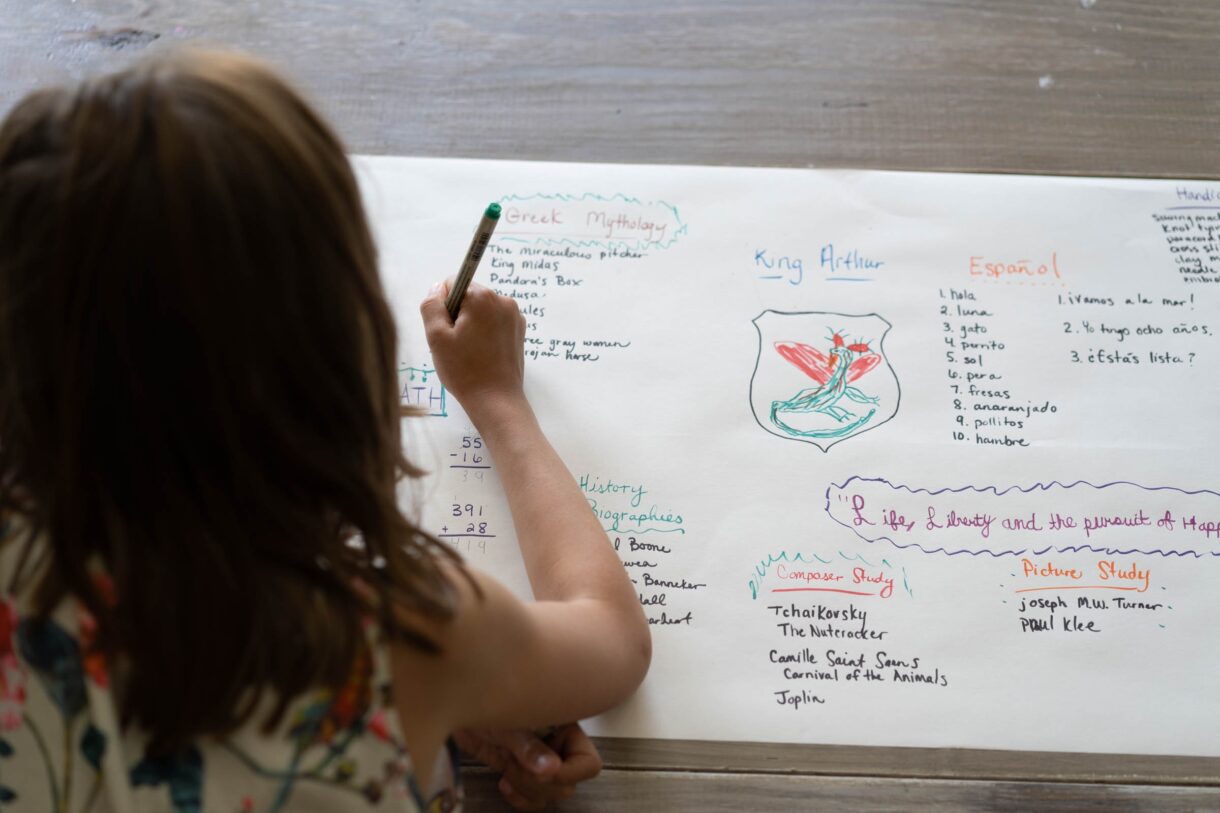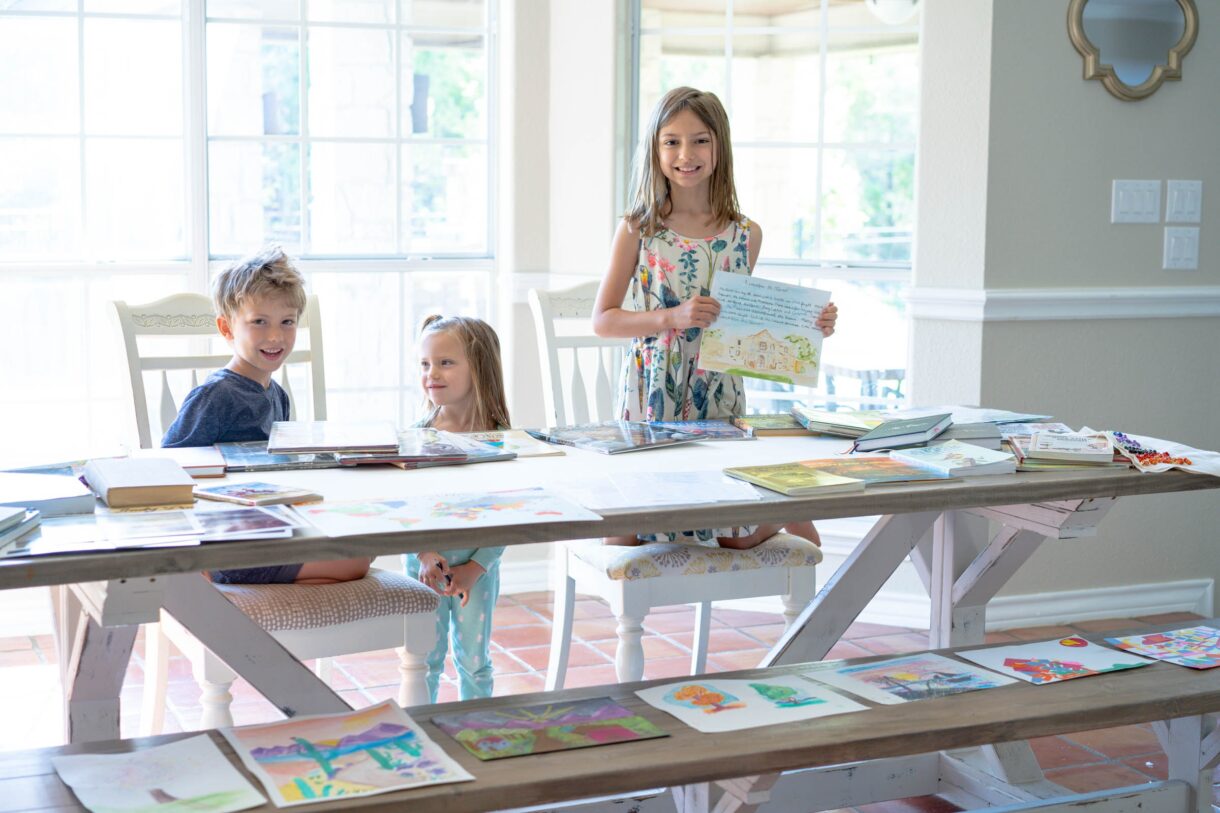 I jotted down some notes on the paper and took video of my daughter answering some questions. It was a great way to recap and celebrate the year! And- it gives me a great way to show off what we learned too!
Here is a video with some of her exam answers so you can see what narration looks like (for us):
 Math
This is our second year using Elementary Arithmetic by Simply Charlotte Mason and we absolutely love it. We've gone through a few math curriculums and lots of tears, but since started these simple, straightforward lessons, my daughter has started to love math- she even says it's her favorite subject now!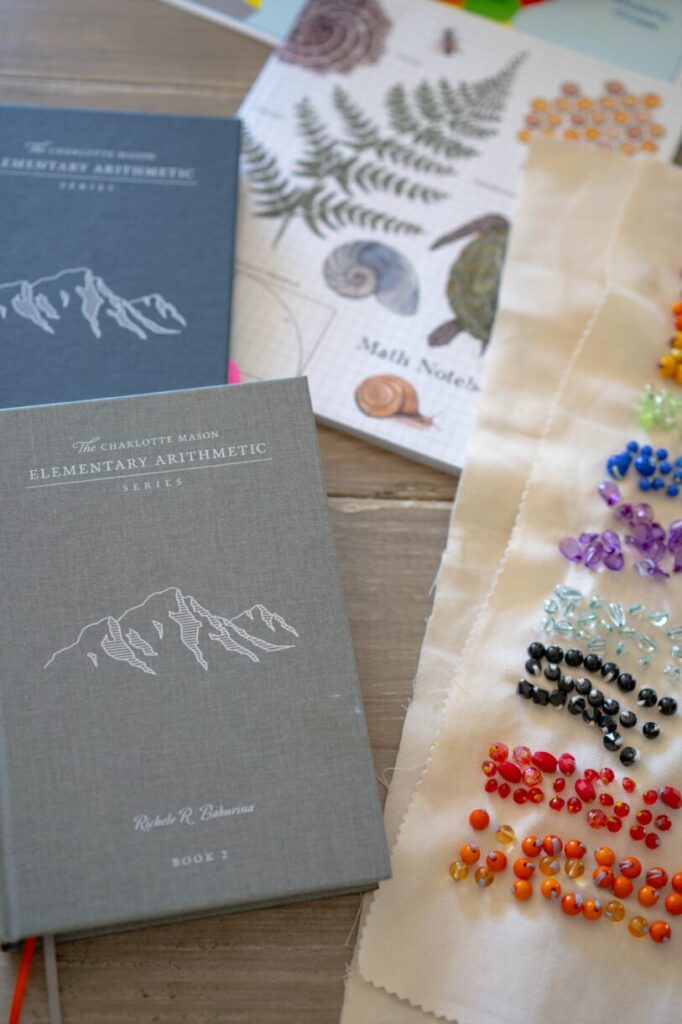 We finished up book 1 this year with addition and subtraction up to 100 and started book 2 which included some review along with adding and subtracting larger numbers and the introduction of multiplication. We finished about 3/4 of the book and will pick up with the introduction of division in the fall.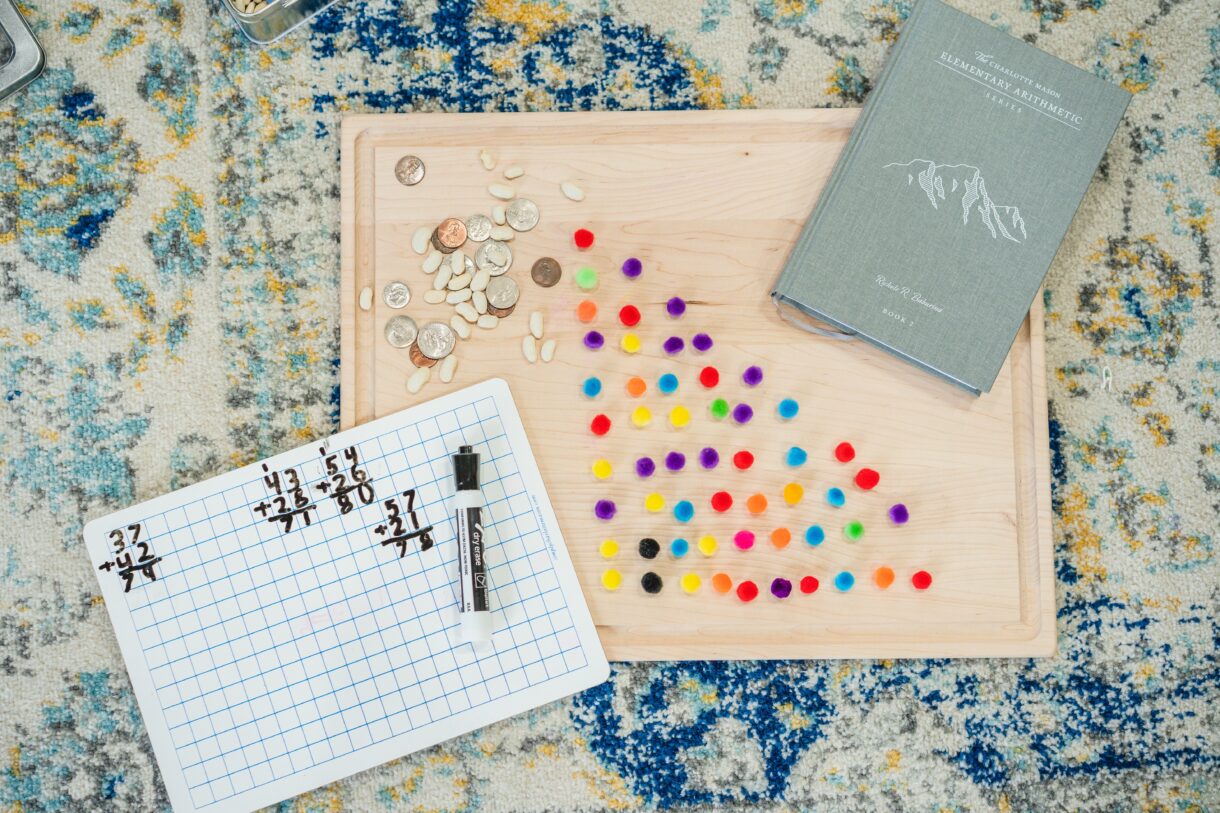 We'll spend the summer playing math games and using Multiplication Facts That Stick to reinforce the multiplication tables and finishing a hand-sewn multiplication table book.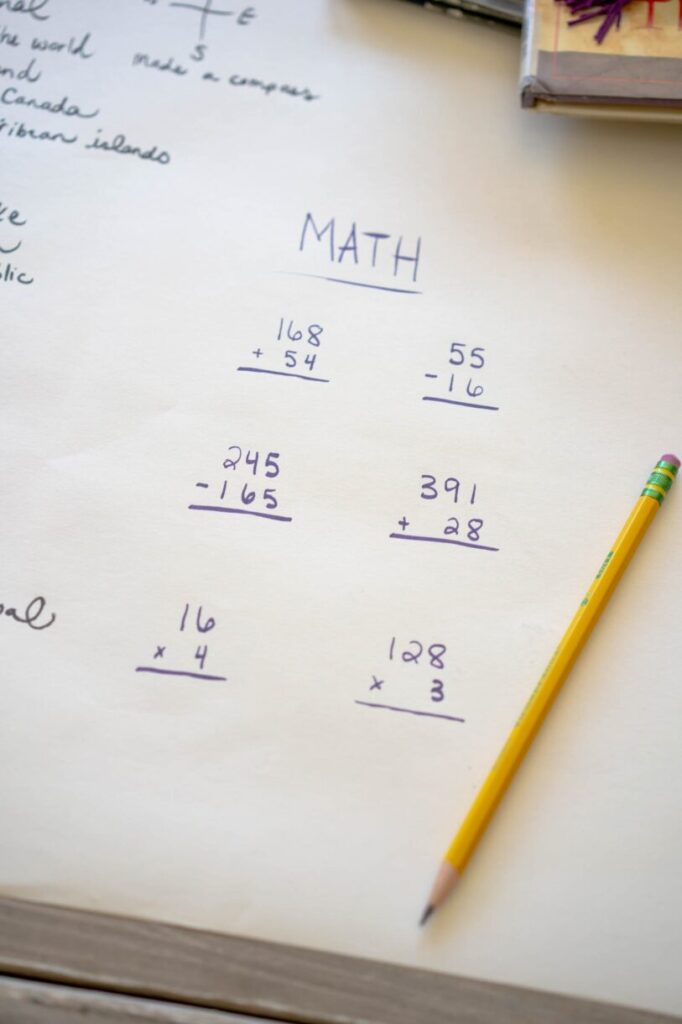 Copywork
We used Handwriting Without Tears to learn cursive this year. Each day, we did about 10 minutes of handwriting. Either in the HWT notebook or copying a passage she selected from something we read.
Once a week, we turned one of her oral narrations into a creative notebooking page which combines narration, copywork, spelling, brush drawing, and more. These were a highlight of our year!
I got started in notebooking with Jodi Mockabee's Notebooking Manual.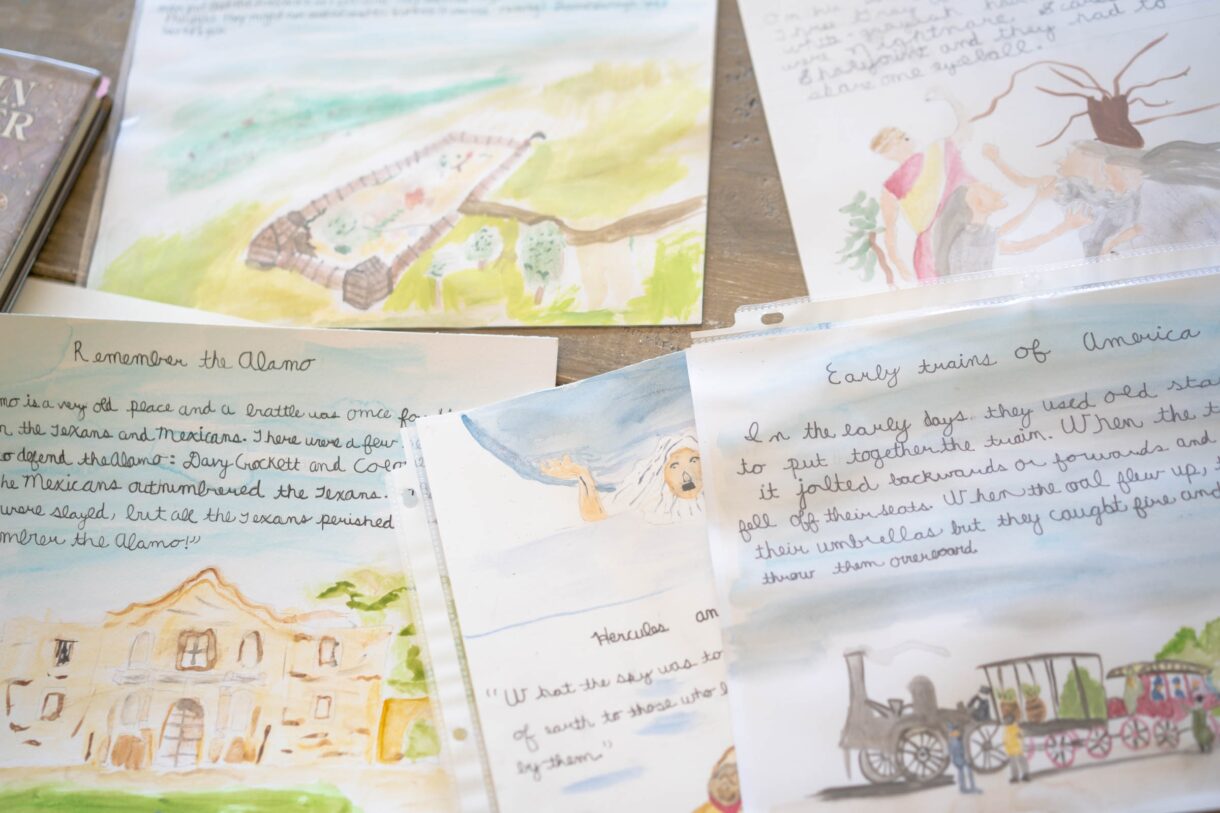 History
We used America First as our spine last year and this year. We didn't make it all the way through the book, and I'm at peace with that. We'll go through it again when my son begins 2nd grade so she'll get to absorb more then.
Each chapter of America First tells a short story and is a great jumping off point for mapwork and additional discoveries. We started this year at the American Revolution and made it through Texas' independence. Which is actually perfect because we will study Texas history next year.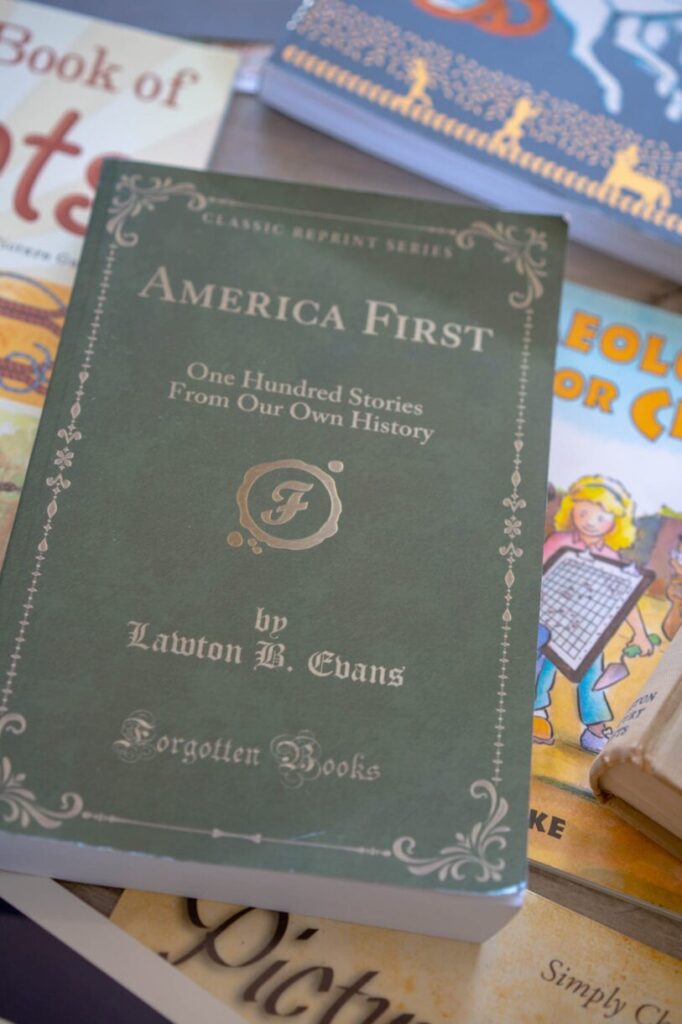 We also read several biographies of famous Americans (plus Jane Goodall at the end of our year just because!). Reading biographies is such a great way to get to know the people of a certain time and dive into the culture. We feel like we really know these people and learned so much from these!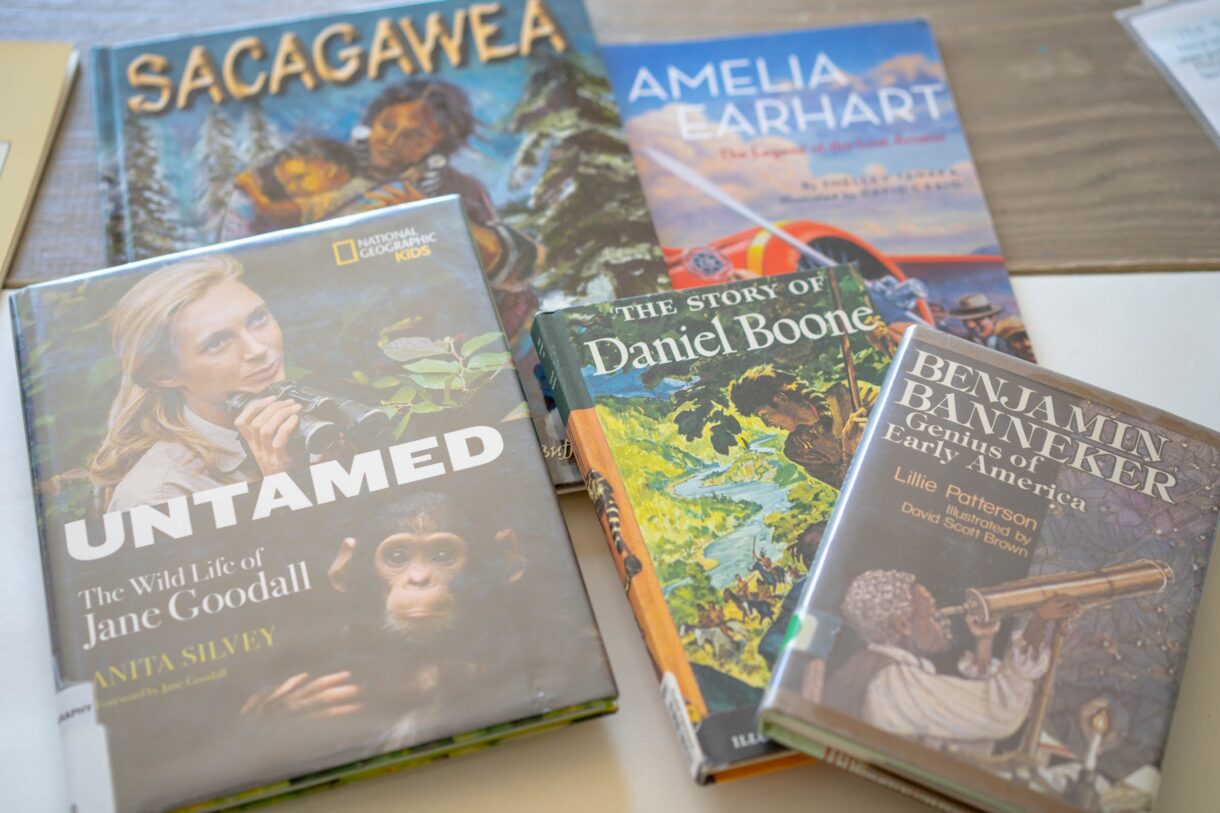 For all of our lessons, I am still reading aloud the majority of the material. Each day, I have my daughter take turns reading with me in at least one or two books to start to build up her stamina and move toward more independence in reading her lesson materials.
Squanto was the first lesson book she read totally independently. I pre-read the book so that I could evaluate her comprehension during her narrations.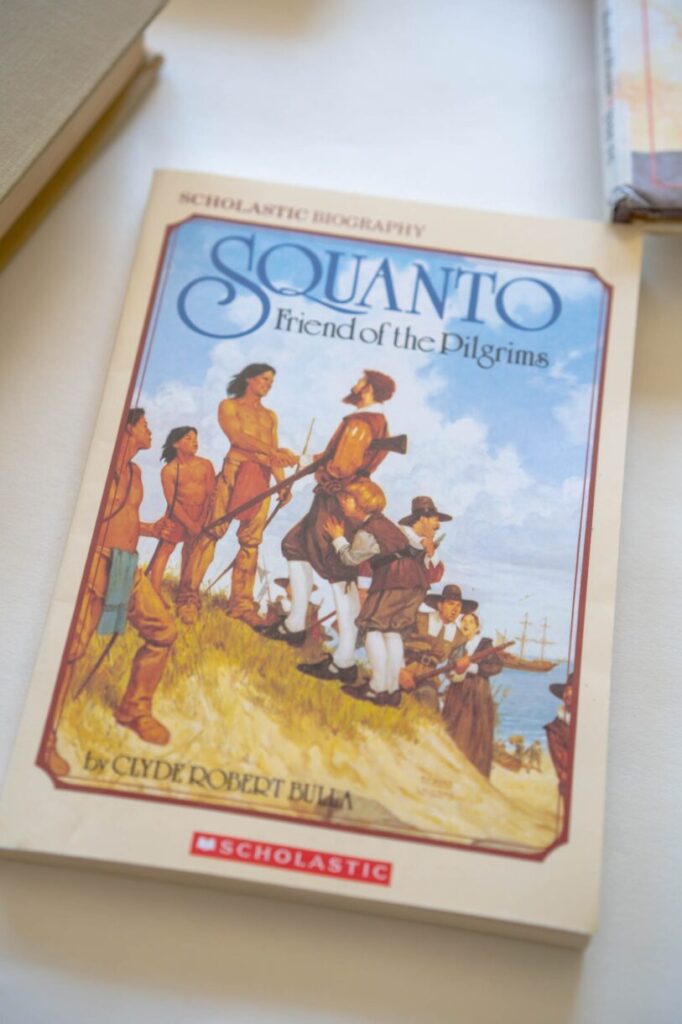 Because Charlotte Mason lessons are short- history lessons are just 20 minutes twice a week- we read these books once a week and they took us a long while to get through. This was great because it allowed for exploring topics and places we read about more during the rest of the week. We watched several documentaries, built a pioneer fort like Daniel Boone's, and wrote our own almanac inspired by these stories.
We also really loved Post from the Past a fun way to bring history alive through a letter from a historical figure. My kids were in awe of this beautiful letter from Amelia Earhart.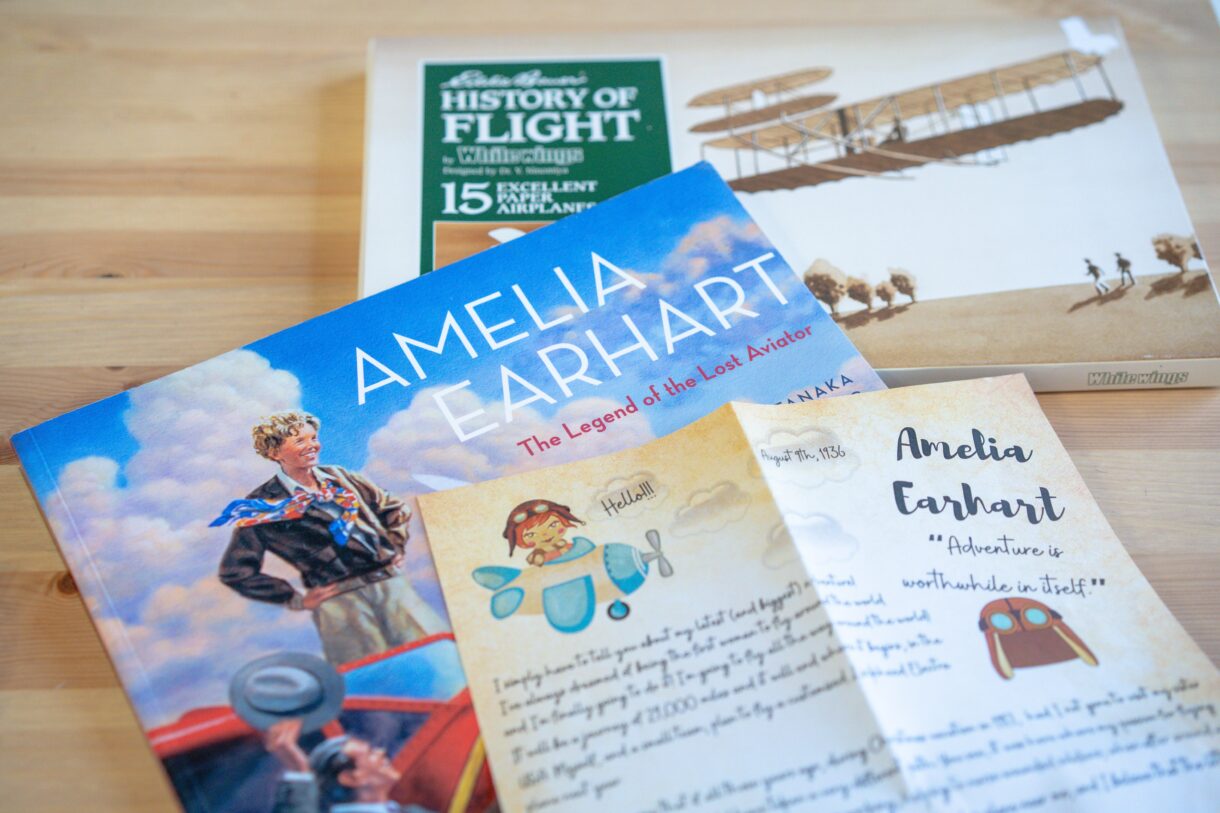 Literature
Our literature selections spanned two years- that is a long time to spend with these books! It was bittersweet when we were done with them.
We studied Greek Mythology with D'Aulaires Book of Greek Myths and Nathaniel Hawthorne's Greek Myths. We had attempted using Tanglewood Tales last year and it wasn't a good fit. We thoroughly enjoyed these though!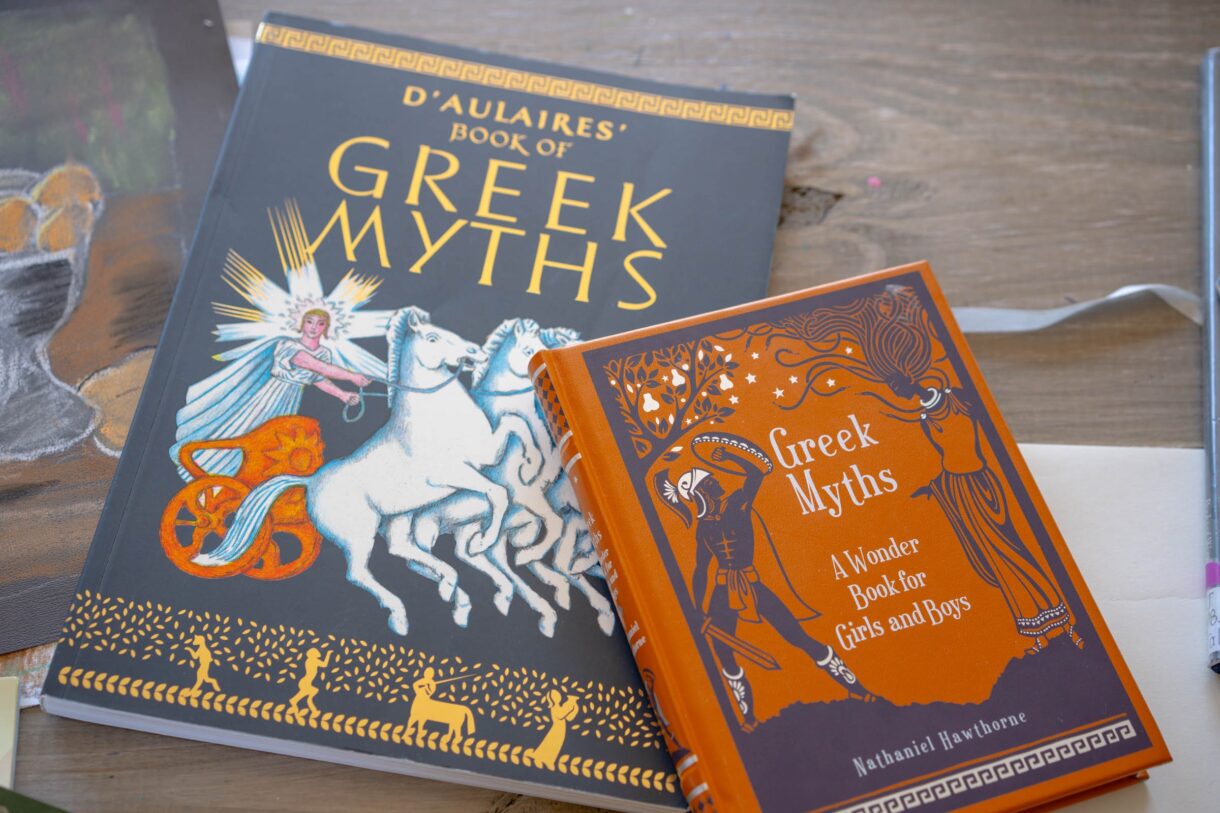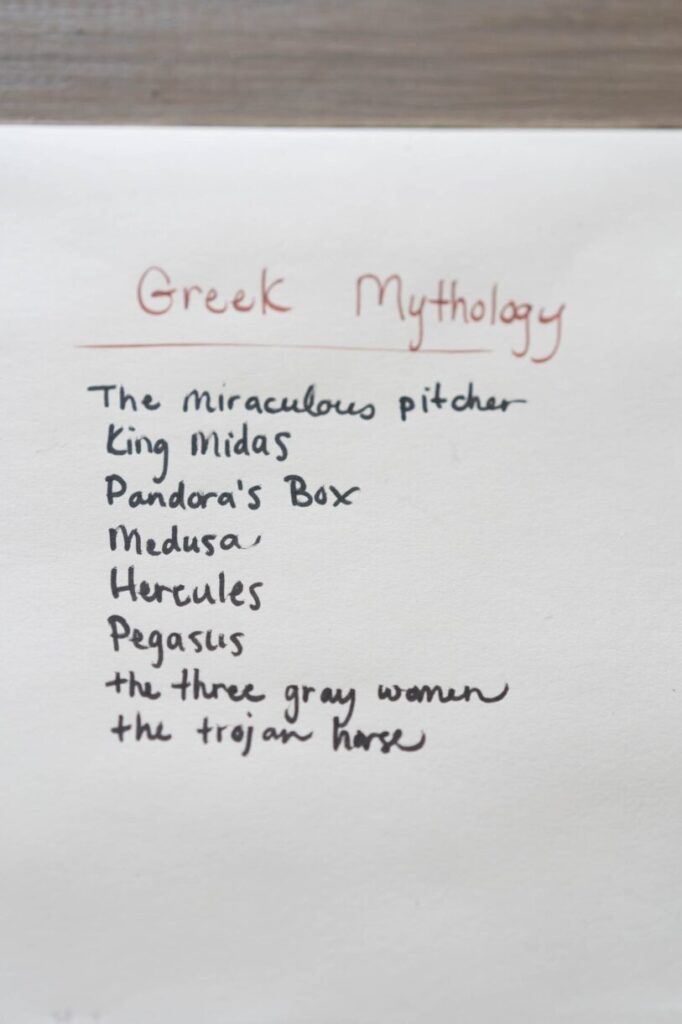 We also worked through the story of King Arthur. We again had to try a few resources before settling on what worked best. These picture books by Hudson Talbott were great. They are long enough that they take about a term to finish and the story is retold well in language we could understand, but was still challenging.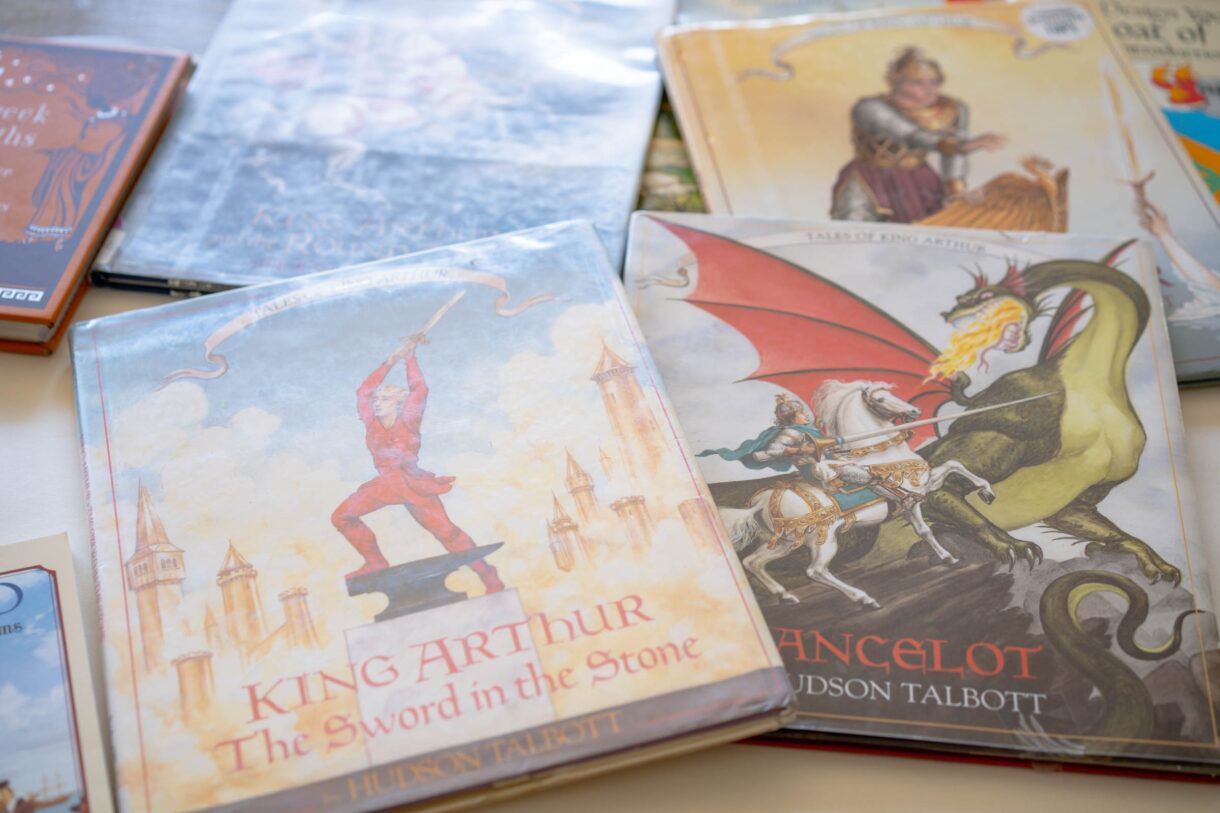 Reading this type of literature is so interesting because once you know the stories, you will find references all over in pop culture. We watched Disney's Onward and my daughter instantly picked up on the van's name of Guinevere and was so excited!
Geography
Geography has turned out to be something we all unexpectedly love. We finished up Charlotte Mason's Elementary Geography which has short, simple lessons of matters of physical geography.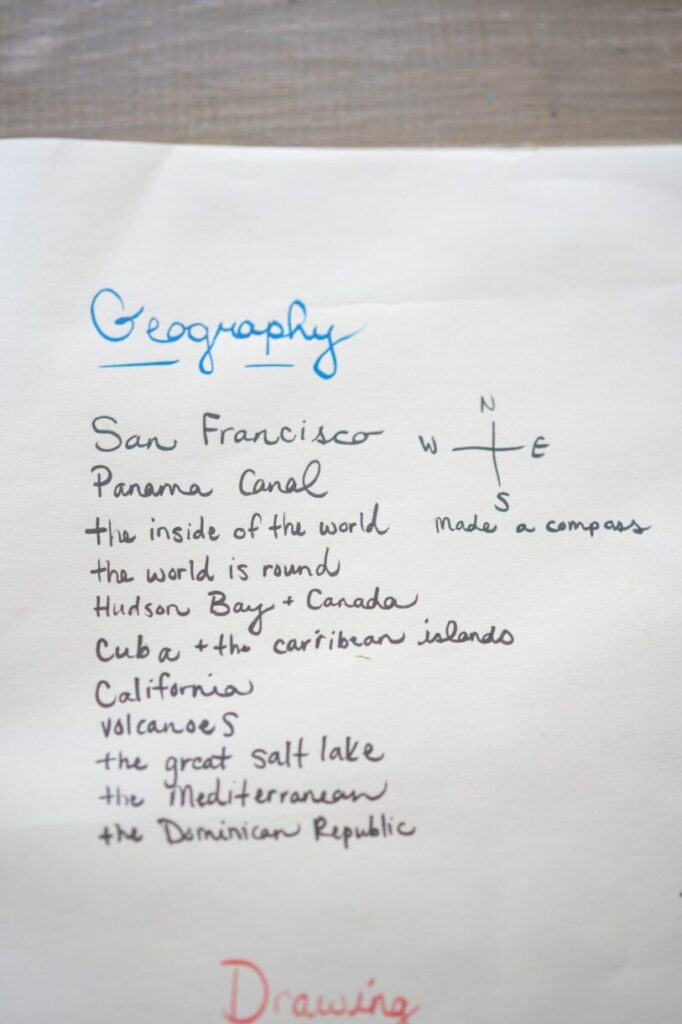 We also used a Child's Geography of the World, which though it needs some editing for language and point of view regarding people of color and updates based on political changes in the world, it is an incredibly engaging story. We didn't finish this book but will probably pick it back up next year because it's so good.
We also continued with activities inspired by Mapmaking with Children. This is a teacher resource for teaching about maps, and I try to create one activity every week or two to go with the ideas included in it. Here's one activity we did where we built a map of our property using pattern blocks.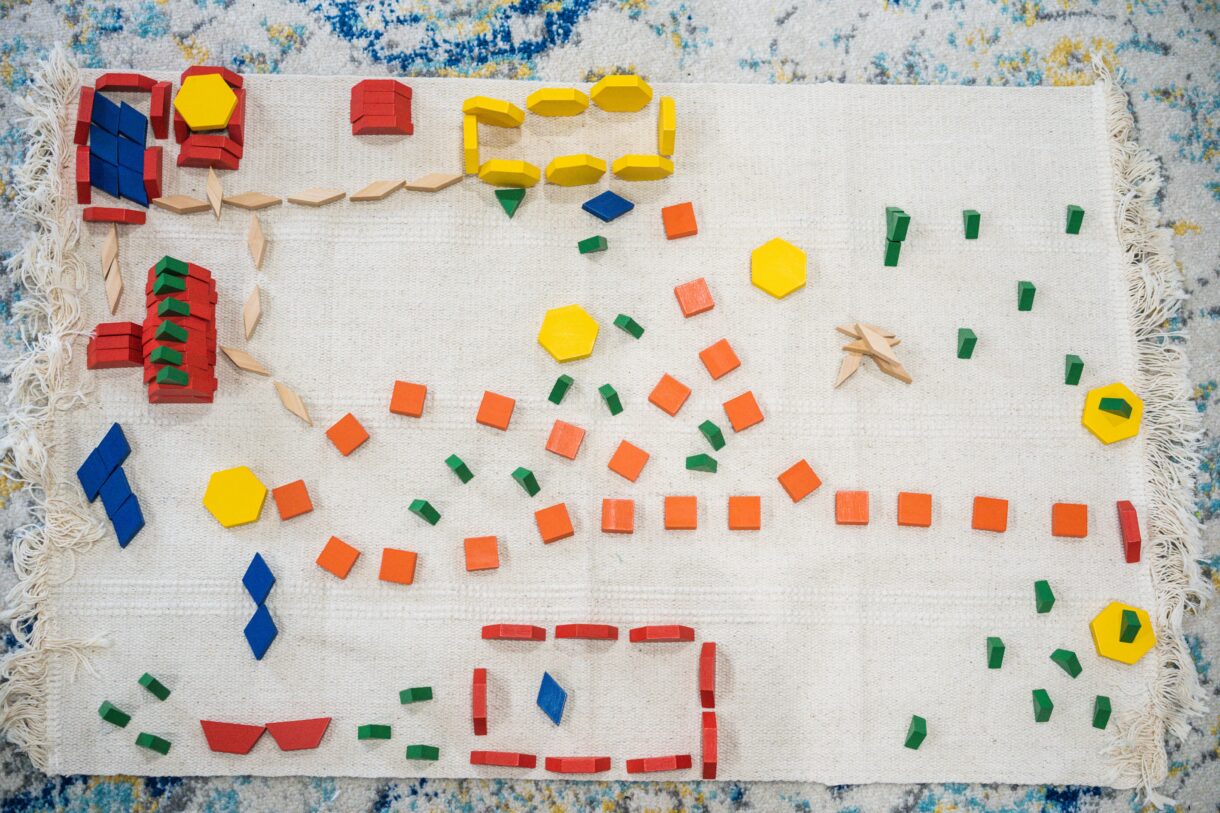 Art and Drawing
My daughter is way more talented creatively than I am. I had been able to keep up with teaching her drawing, but this year I knew I needed some help! We signed up for Waldorfish's weekly art lessons and I couldn't be happier.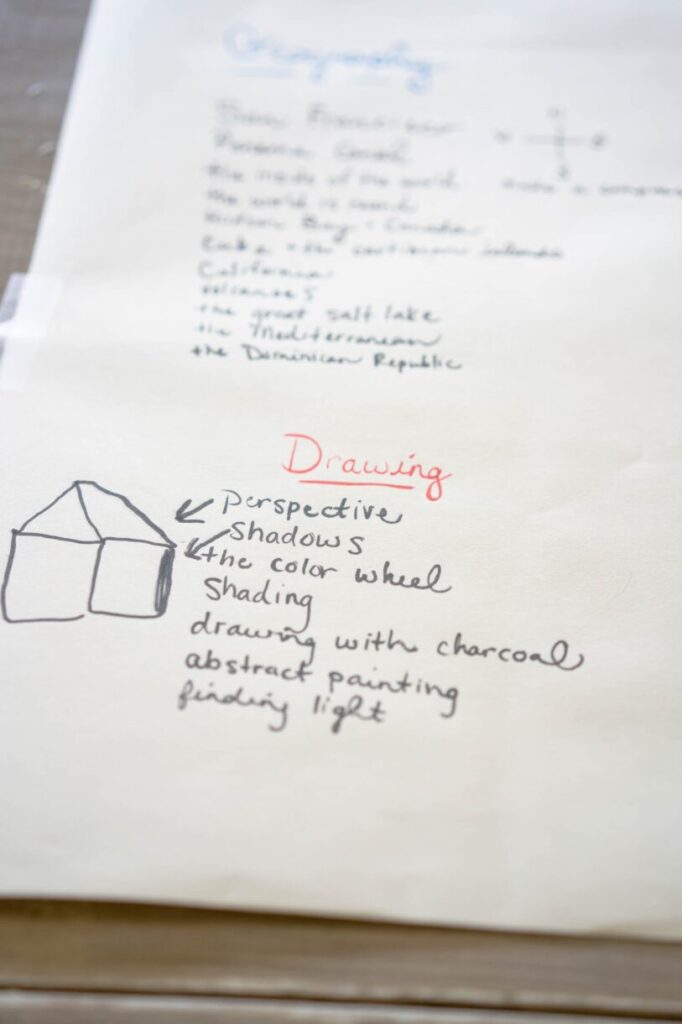 We set aside time every Wednesday afternoon and all I had to do was get out the supplies. The video lessons were easy for her to follow, yet challenged her and inspired her so much!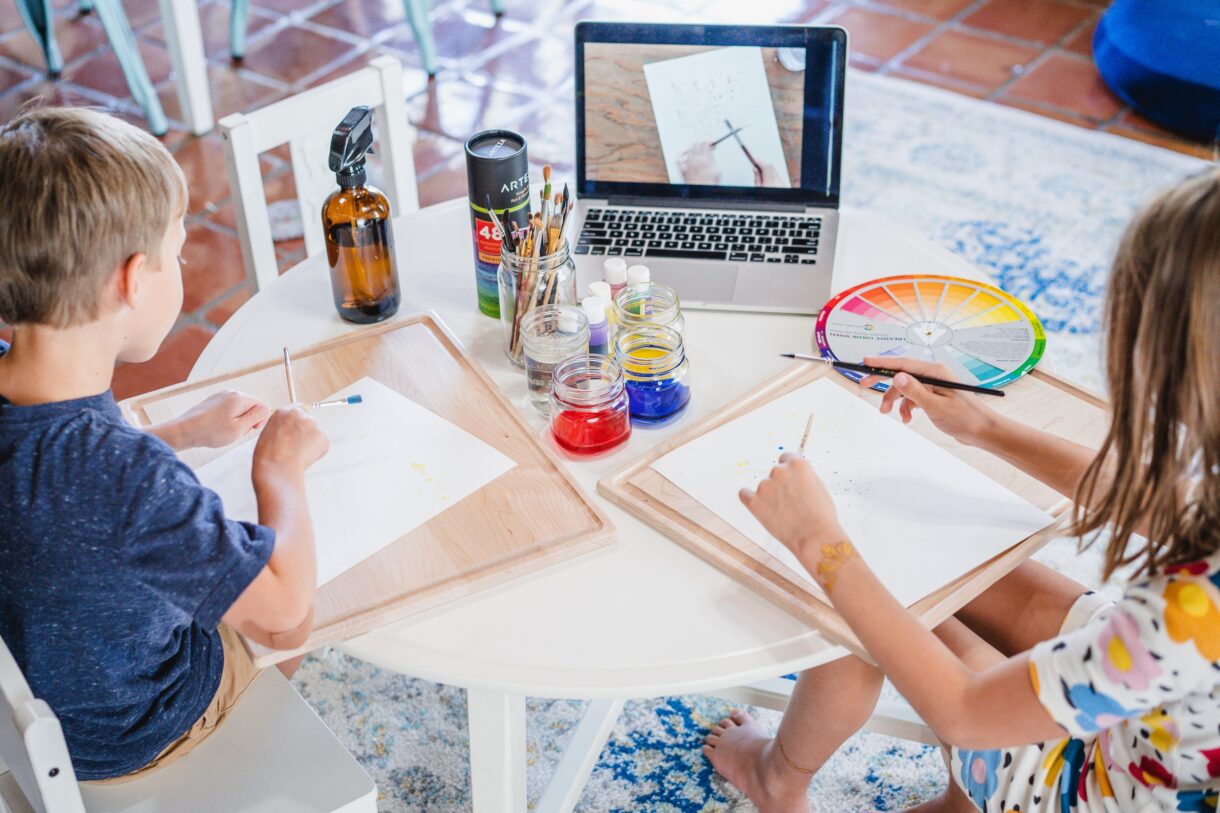 I was blown away with some of the things she created and all that she learned.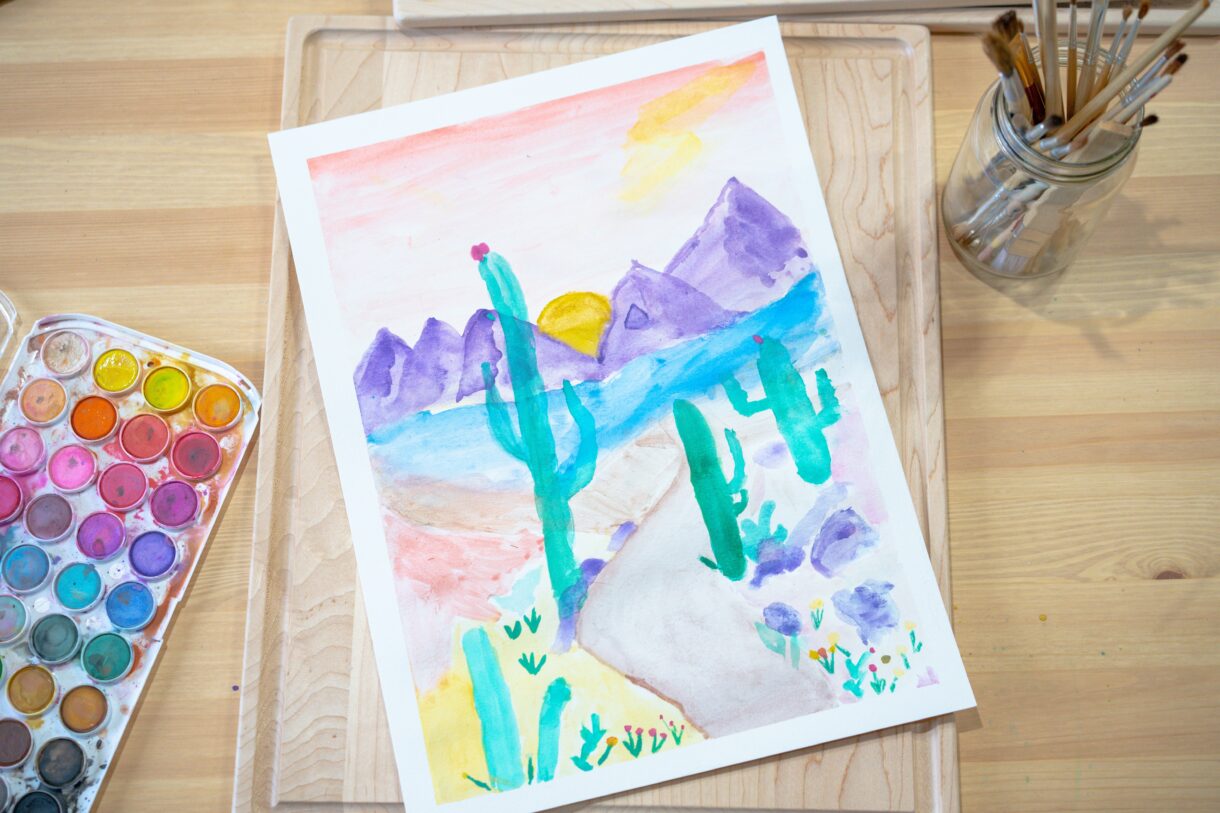 Composer Study
We studied Tchaikovsky in the fall along with the Nutcracker track from Maestro Classics. We got to go to the Nutcracker after Christmas and it was a great culmination to our study and made it much more meaningful to see it because we knew the story.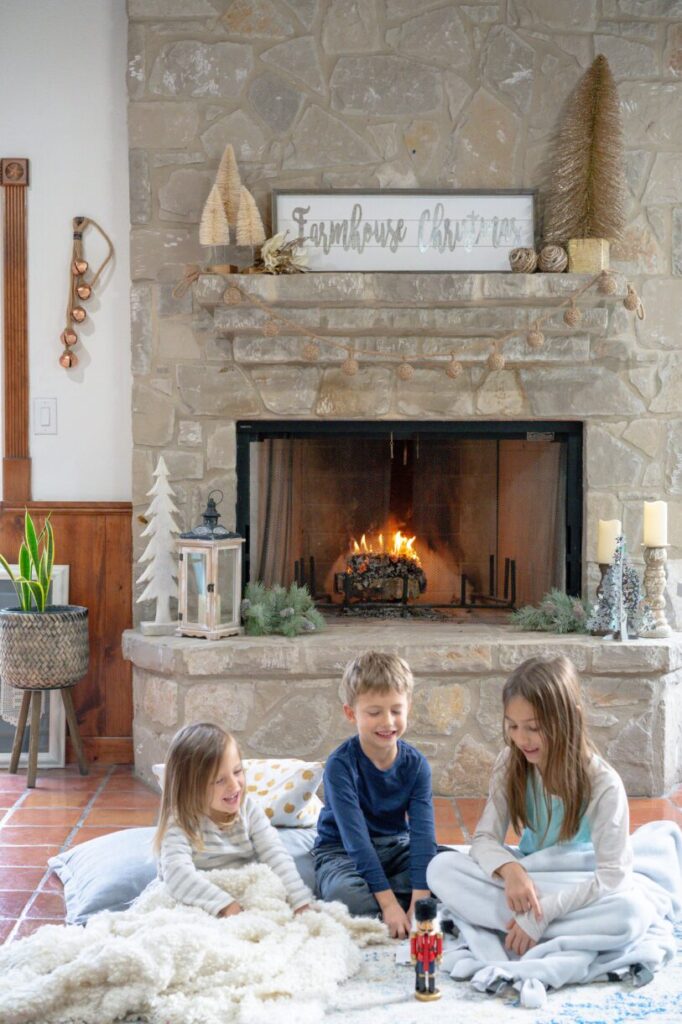 We also studied Scott Joplin and Camille Saint Saens along with the Carnival of the Animals track from Maestro Classics.
We really love Maestro Classics for composer study. Each track has a narrated version of a musical piece with background on the composer or the arrangement along with a story. Some of the tracks have coloring pages and other supporting materials as well.
Picture Study
We love using the picture study portfolios by Simply Charlotte Mason. We studied Joseph M.W. Turner in the fall and the kids were captivated by the art. Our picture study includes studying one new art piece every other week.
We also studied Paul Klee inspired by a fun activity we did that was part of Math, Art, Drawing Games for Kids.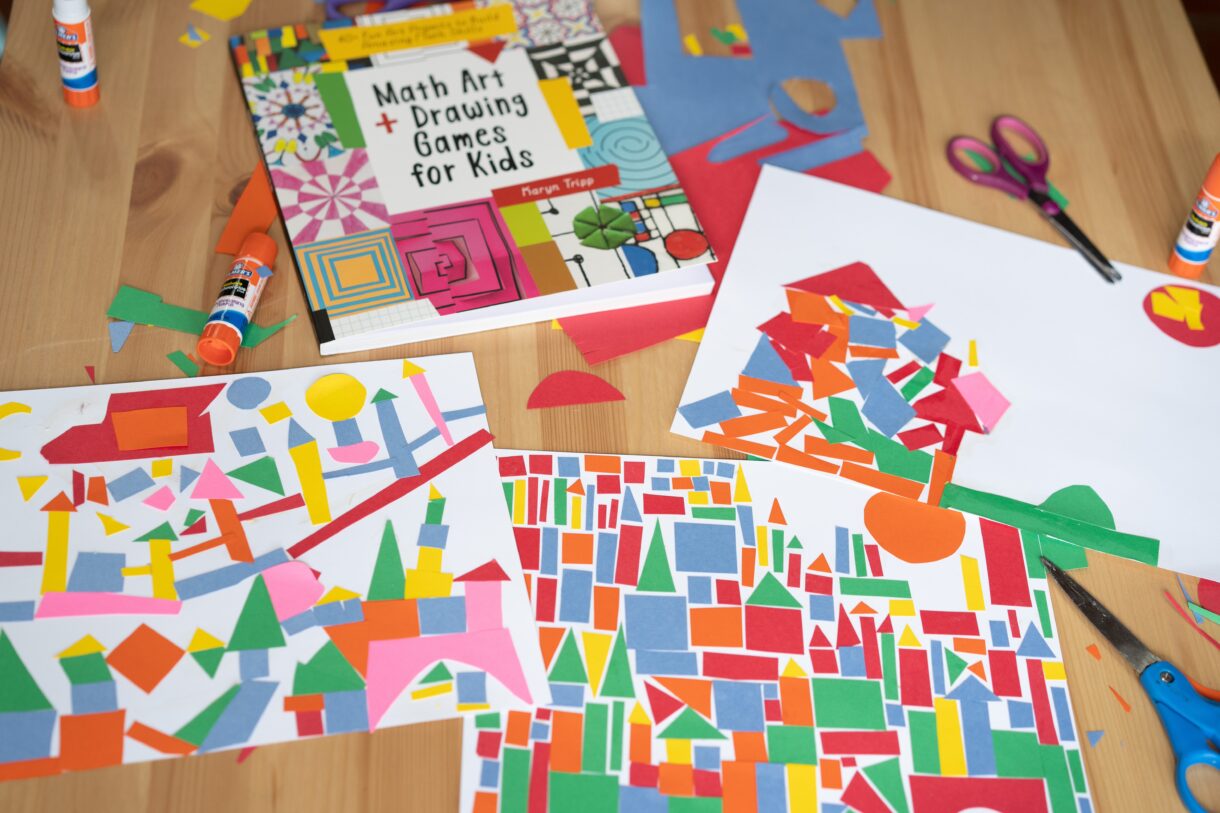 Nature Study
Our nature study was mostly informal, hands-on learning while outdoors exploring at our new house. We discovered new plants, saw new birds, found bird's nest, and watched how the land changed with the seasons. It really is amazing what you can see in your own backyard when you have your eyes open to seeing nature's beauty.
For nature lore, we continued using Dallas Lore Sharp's seasonal series for the second year. We all enjoy the story in these, but we live in South Texas and much of the flora and fauna mentioned isn't found here so I don't know that we'll use these again.
We studied several special topics including mushrooms, wildflowers, butteries, salmon, and more.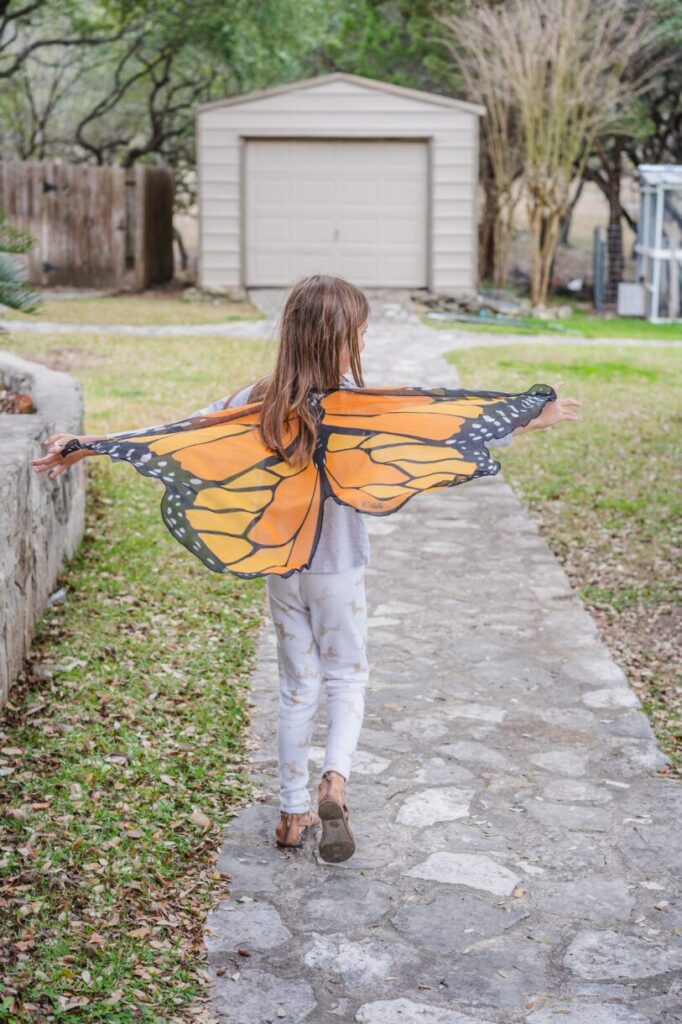 We also continued reading the Burgess Bird Book. We're still only about halfway through it, but we'll continue it next spring!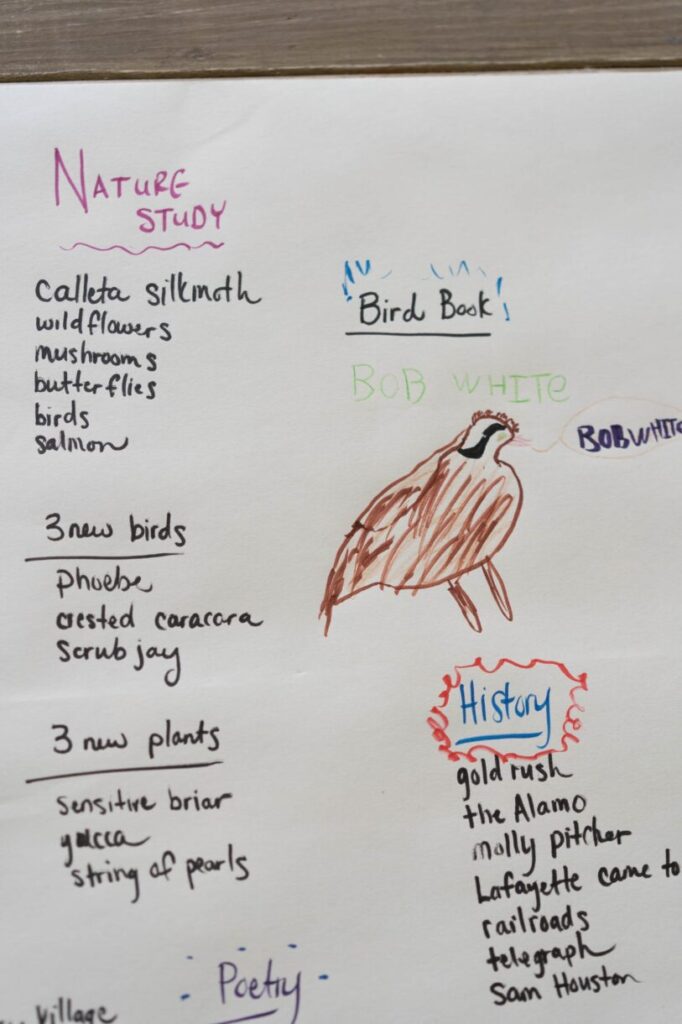 We got much more consistent with natural journaling this year. I gave up a lot of preconceived notions about nature journaling and made a commitment to setting aside time for us to make an entry a week. We did a lot of watercolor, but also used colored pencils or even markers. More importantly, we focused on recording memories and practicing our observation and recording skills.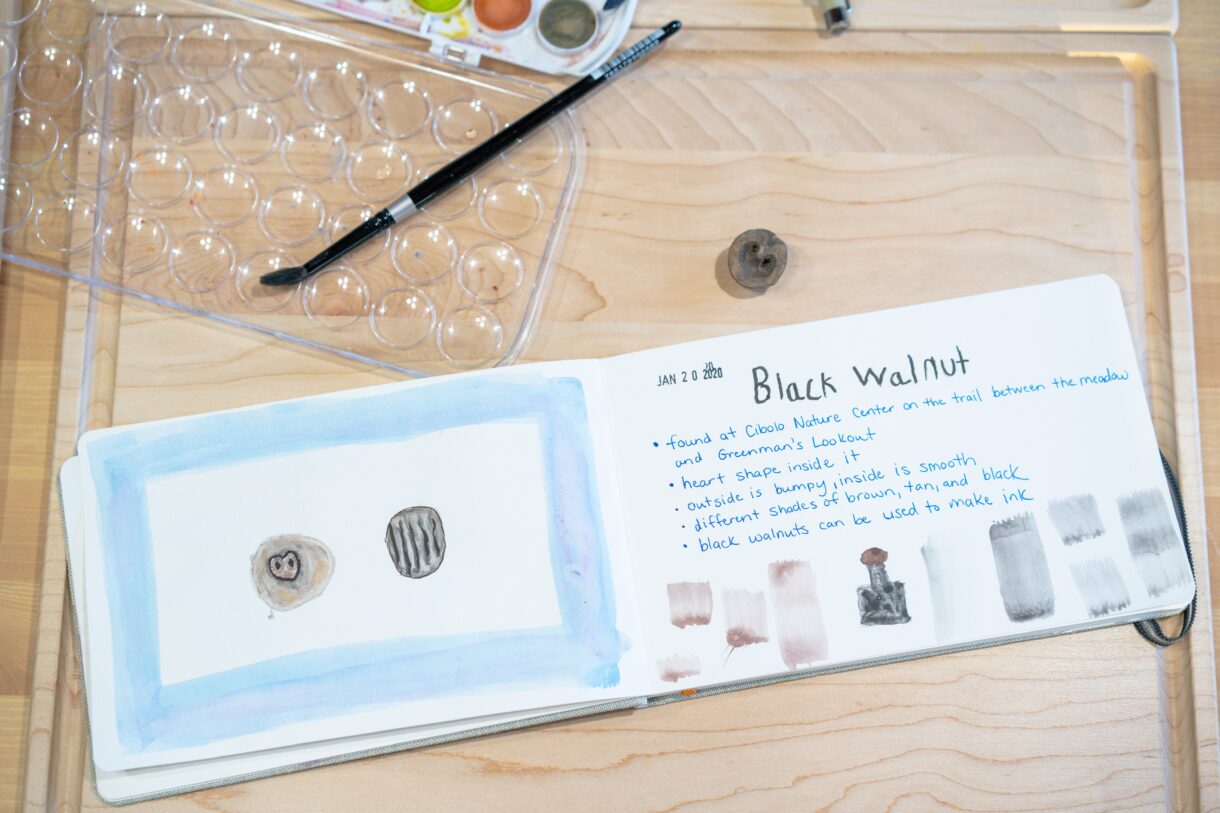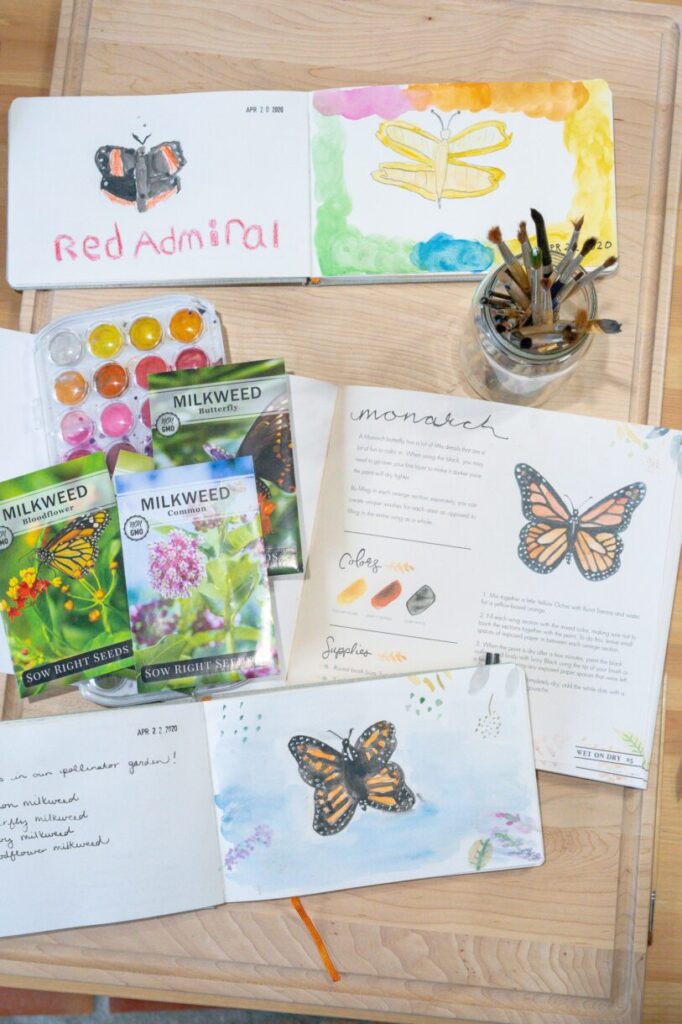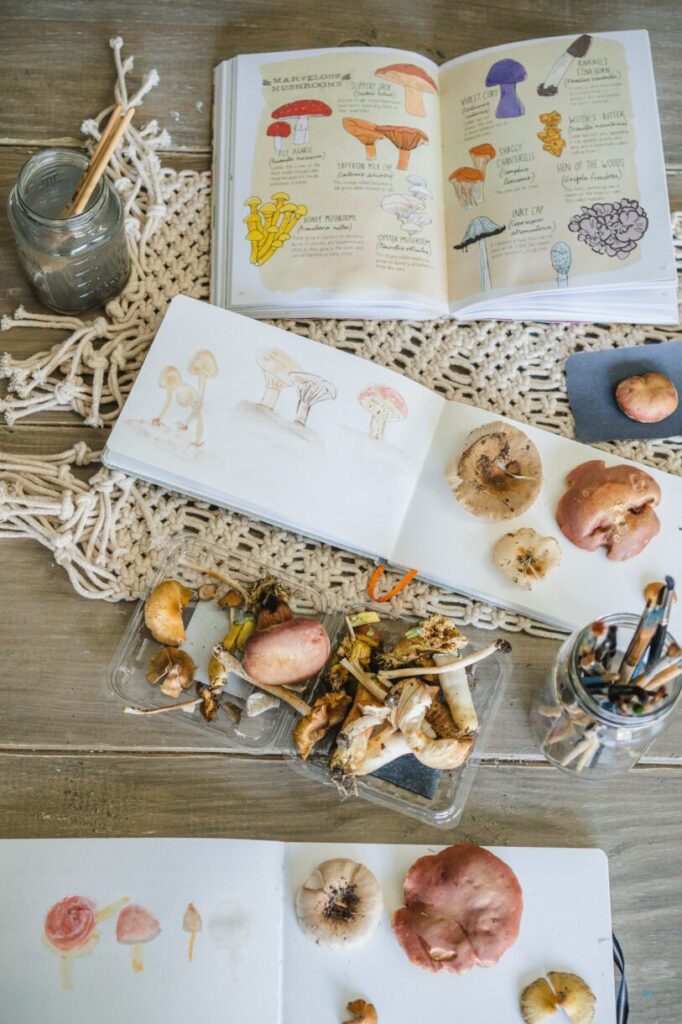 We also enjoyed the Flower of the Month club from Chickie & Roo! Each month she releases a new flower that has a coloring page and other resources, and I love that it is inspiration to look at one seasonal flower in a more in-depth way.
Spanish
For Spanish this year, I arranged a Spanish teacher to teach a family class for a few friends and our kids. Our teacher was wonderful, but the class didn't go exactly as I had hoped so I will probably try something different for next year. I really wanted a native speaker to do something similar to a library story time with the kids- songs, stories, rhymes, etc.
In addition to our weekly class, we continued to use three resources we have used in the past and love for our lessons at home. We did Spanish 2-3 times a week and tried to incorporate words and phrases we learned into daily life as we learned it.
I have learned that like many other subjects, consistency is key when it comes to learning a foreign language. I am teaching Spanish even though I don't speak it, and sometimes it feels so slow and often repetitive, but little by little I noticed my kids picking up more and more.
In addition to these main resources, we checked out Spanish story books from the library and learned seasonal songs and poems.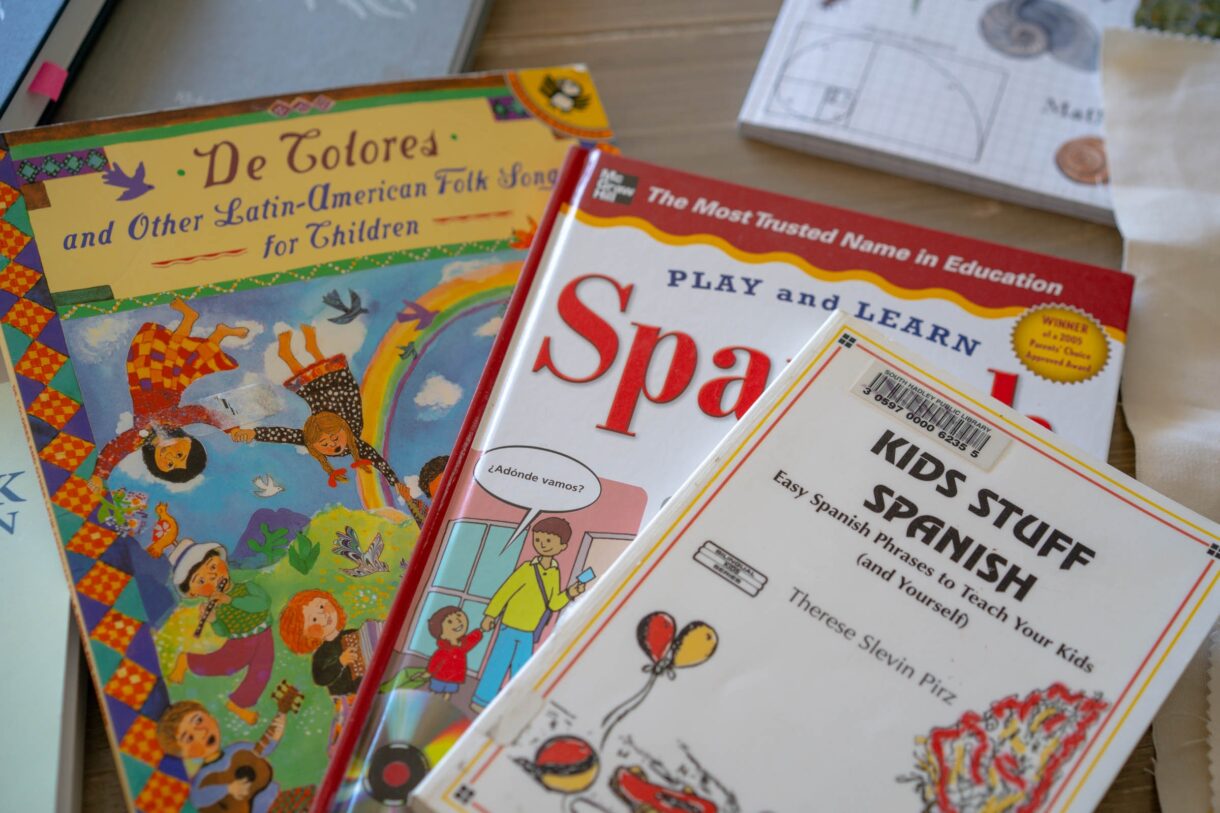 For our exam, I asked my daughter to tell me 10 Spanish words, 3 phrases, and to sing a song in Spanish. She did so great!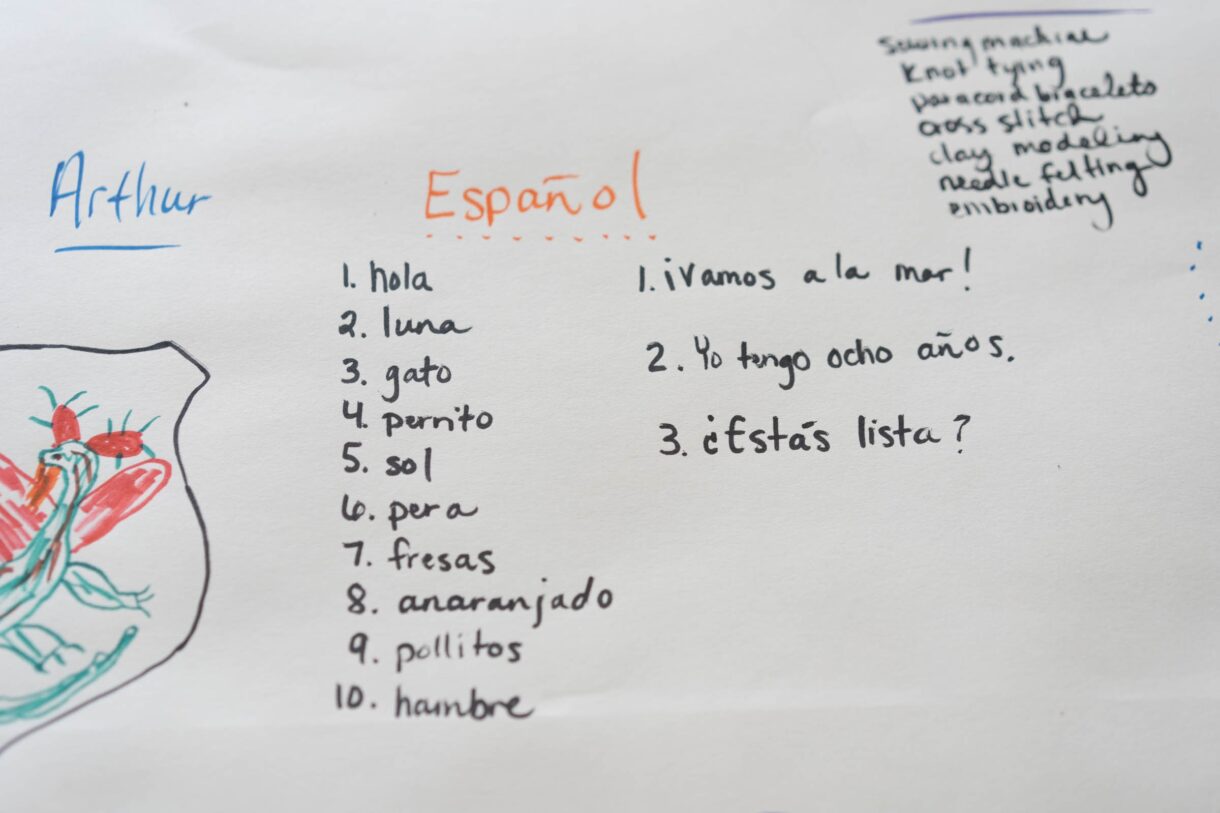 Handicrafts
Despite the fact that I have created an entire curriculum featuring handicrafts, this was one area where we slacked a bit this year. I had planned to focus on one new handicraft during each of our three terms during the 20-minute time slots we had twice a week for handicraft lessons.
I learned that 20 minutes isn't realistic for us and felt rushed and pointless. We prefer to do our handicrafts in the afternoon and give plenty of time to learn and practice the skill. With the trouble adjusting, my planned handicrafts didn't happen, but we did end up creating lots of beautiful things.
We got a sewing machine this year and my daughter learned to sew with the Sewing School 2 book. This book was great because once I taught her basic skills, she could use this book to work on and complete a project in an afternoon.
We also worked on clay modeling using A Manual of Clay-Modelling, which is a recommended Charlotte Mason resource. The book has a solid sequence of objects to learn, but as someone without any experience in working with clay, I felt pretty lost in teaching this. I've decided that we need in person or video lessons if we are going to try this again.
Besides machine sewing, my daughter also did a lot of needle felting, finger knitting, hand sewing, embroidery, and baking. Our local homeschool group hosts a handcraft fair twice a year, and my kids were so excited to create items to sell at our December fair. My kids made winter floral crowns, felt trees, and mosaic ornaments.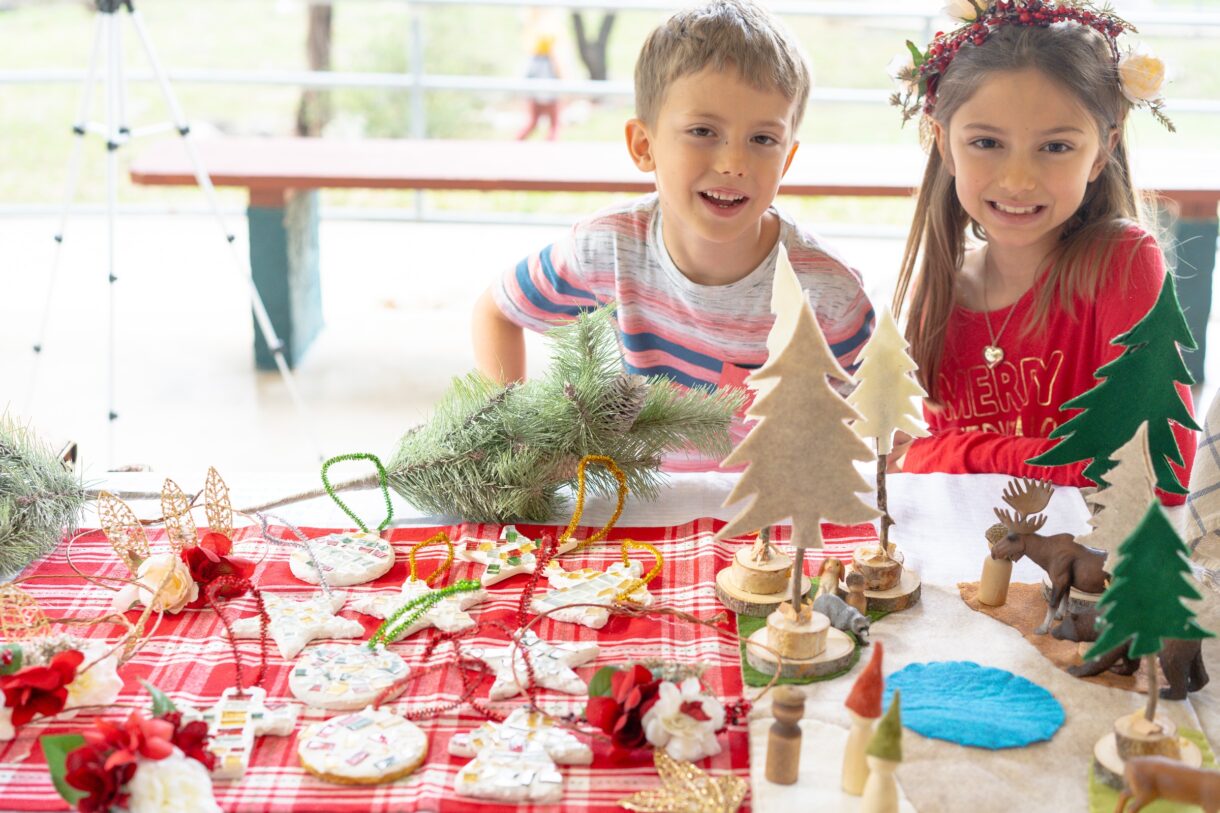 Recitation
For recitation, each week my daughter read a poem or other written work each day until she could read it beautifully. She often memorized it, but that wasn't necessarily the goal.
I tried to vary our selections between seasonal songs and poems and historical works allowing my daughter to choose pieces occasionally as well.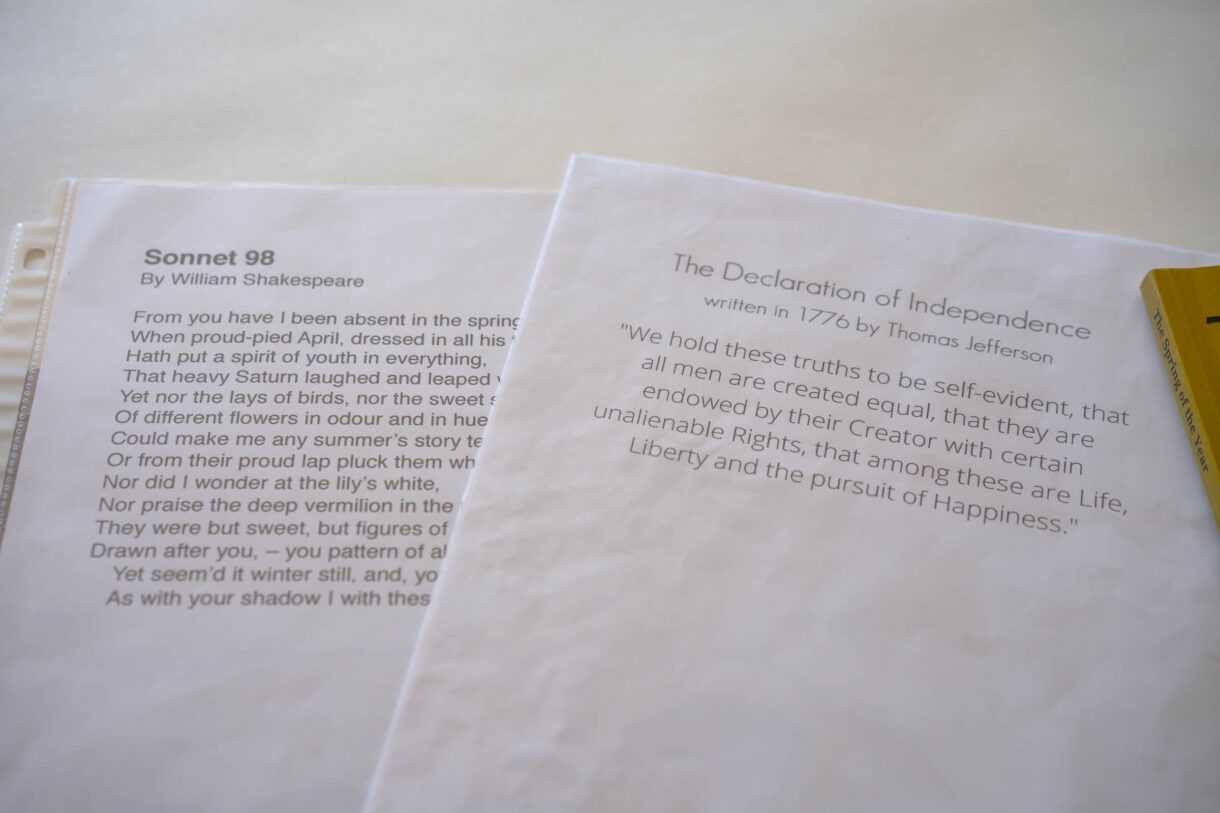 Education is an Atmosphere
With short lessons, so much of our learning happens outside of school time. During our final exam, we made a short list of some of our favorite "extras" from our school year.
We frequently visited some nearby nature spots, we did field trips to local museums, we did hands-on science experiments, we had fun with sensory play, and we loved seeing our friends regularly for outdoor free play and games.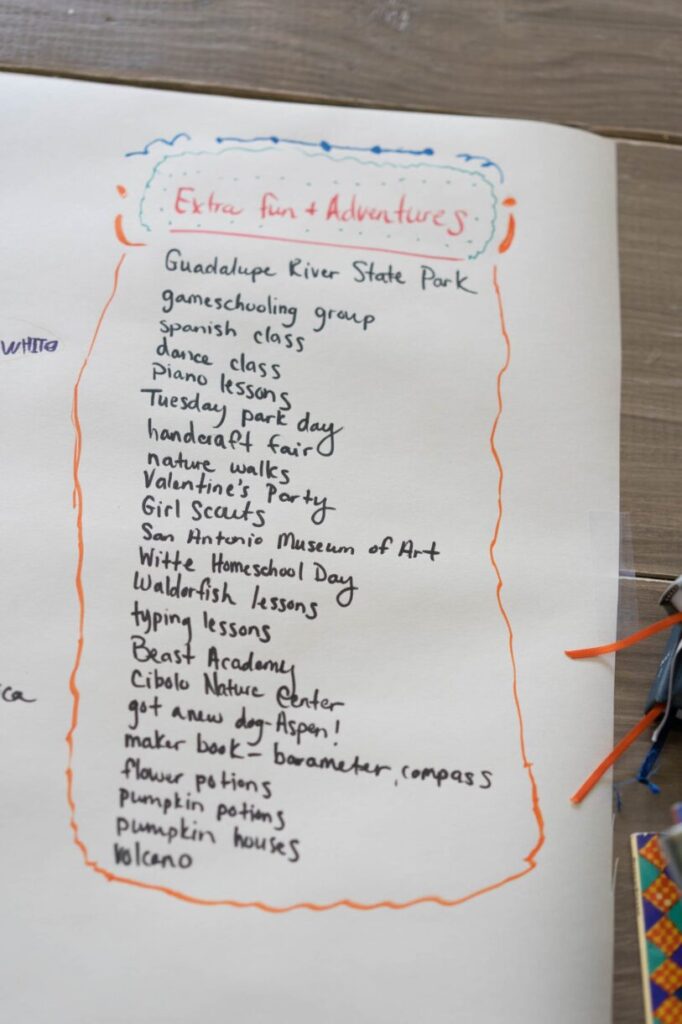 Looking ahead
Thinking back on our third grade year, it was so, so good! I consider myself a very relaxed homeschooler. We don't do lessons religiously, we don't do things at a set time or on set days, we take days off when needed and I never consider "making up" days. But even so, we covered so much!
I have seen first hand how much kids learn just by living a rich life, and therefore if I focus on creating a full and wonderful home life, I am giving them the very best education I can. I also see the value in expanding their world through great, living books to share new ideas and introduce them to people and concepts they wouldn't encounter in our own life.
Homeschooling is a delicate dance between living and learning and loving each other. I feel honored to be able to serve my children as their guide through this process, and I'm looking forward to what's next.
We'll spend the summer learning in an even more relaxed way before we pick up with fourth grade, form 2b, in the fall.